« Closer Look Corsair Carbide 678C
|
Final Thoughts »
Hardware Installation and Clearance Issues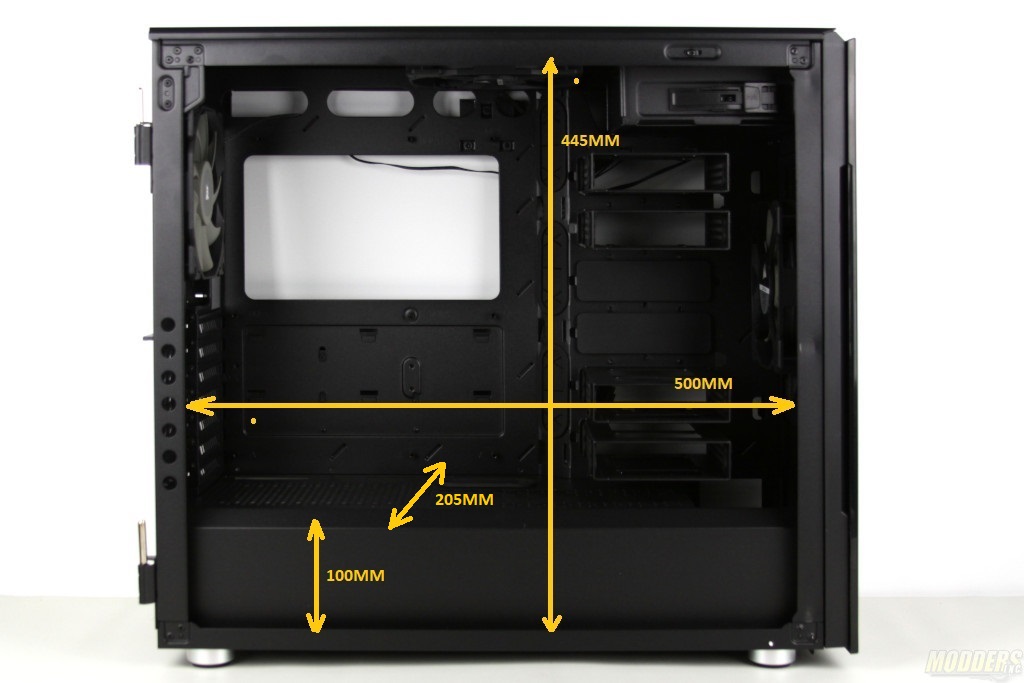 Internal length: 500 mm.
Internal height: 445 mm.
Internal depth: 205 mm.
Front mounted:
Radiator support for 280mm and 360mm.
Fan Support 2 140mm or 3 120mm.
1 Front: 140mm Corsair Fan (Included)
Rear mounted:
Radiator support for 120mm and 140mm.
Fan Support 1 140mm or 1 120mm.
1 Rear: 140mm Corsair Fan. (Included)
Top mounted:
Radiator support for 420mm and 360mm
Fan support 3 140mm or 3 120mm.
1 Rear: 140mm Corsair Fan. (Included)
Bottom mounted:
2 Bottom mounted 120mm or 140mm Fans.

Power Supply:
There is no removable plate for installing PSU.
Maximum length PSU is supported. (225mm but could fit extended PSUs if needed)
Video Card clearance:
There is 500mm of clearance before the reaching the front of the case if the HDD cage is removed. Suggested/Supported video card lenght 370mm.
CPU Tower coolers:
CPU heat-sink height clearance is about 170mm.(from motherboard to the glass)
Large CPU backplate cutout.
Assembly of the components in to this case was pretty easy as the Carbide 678C has plenty of space to work around the tight spots. The area of concern in my build was the power supply. I am using a Cooler Master 1200 Gold power supply and it just barely fits into the power supply space but without any clearance space on the top. Fan set up and Radiator set up was a breeze as well. The entire fan system was attached to the PWM repeater and connected to the PWM controller on the motherboard. No issues with rear cabling but I wish there was more room on the back between the internal frame and the door.