Specifications »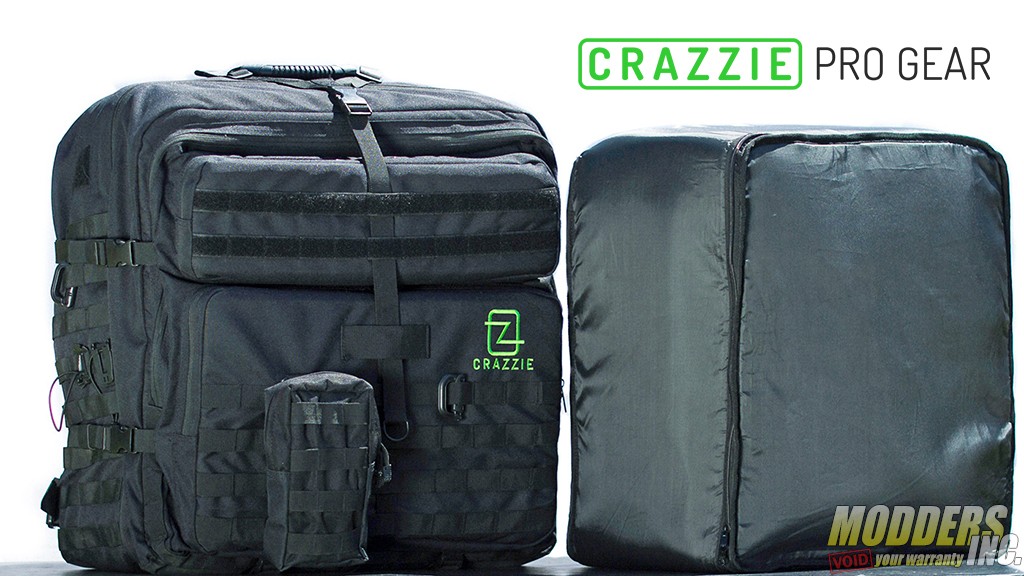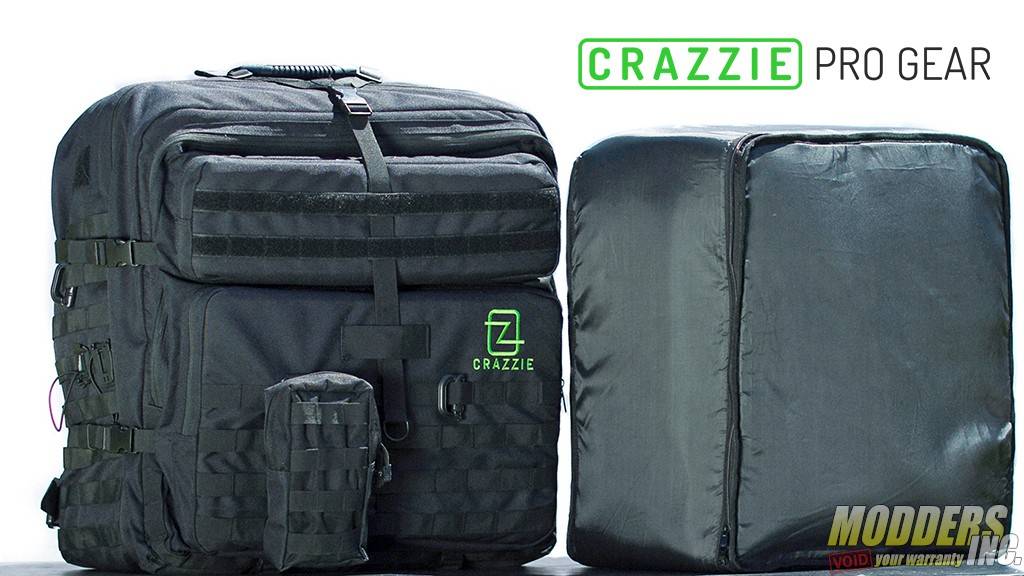 Whenever I attend a LAN party- and I've been to dozens- there's always this moment when I ask myself why the hell I'm even going. Invariably, this moment occurs when I'm about to wrest my tempered glass and extruded aluminum Phanteks Enthoo Evolv case, crammed with a kilowatt power supply, triple-slot graphics card, dual HDDs, and a 280mm closed-loop AIO from its comfy home on my desk. Then there's my full-size keyboard with a built-in wrist rest and 28-inch monitor. And my gaming chair. Like Princess Vespa from Space Balls, I CAN'T. LIVE. WITHOUT IT!
Nothing about my carefully-built gaming setup was designed to be easy to move. When I built it, I agonized over every component, but my priorities were performance, an ever-constrained budget, and (embarrassingly) aesthetics, not how well it all would fit into the backseat of my Honda Accord. And that's just the first of several hurdles. Getting it from the backseat into the event can be harrowing. Like most of the rest of the Midwest, Nebraska is cursed with spastic weather, and wouldn't you know it, our bi-annual LAN party occurs in rainy November and snowy February. Do you have a poncho for your PC? Because I do. To date, I always just grit my teeth and set about the laborious task. It's worth it in the end, but those pre-LAN reservations hit me every time.
There's Gotta Be A Better Way
I imagine the folks at Crazzie (pronounced "crazy") Pro Gear are a little bit like me, but instead of just subjecting themselves to the same frustrating cycle over and over again, they got out their digital calipers, fabric shears, dismembered a JanSport, and created the Giant Tactical Rucksack, or GTR-1. It's a premium over-sized backpack that's big enough to hold your entire PC tower, a large full-sized keyboard, mouse, and half-a-dozen other peripherals you would take with you when attending a LAN party.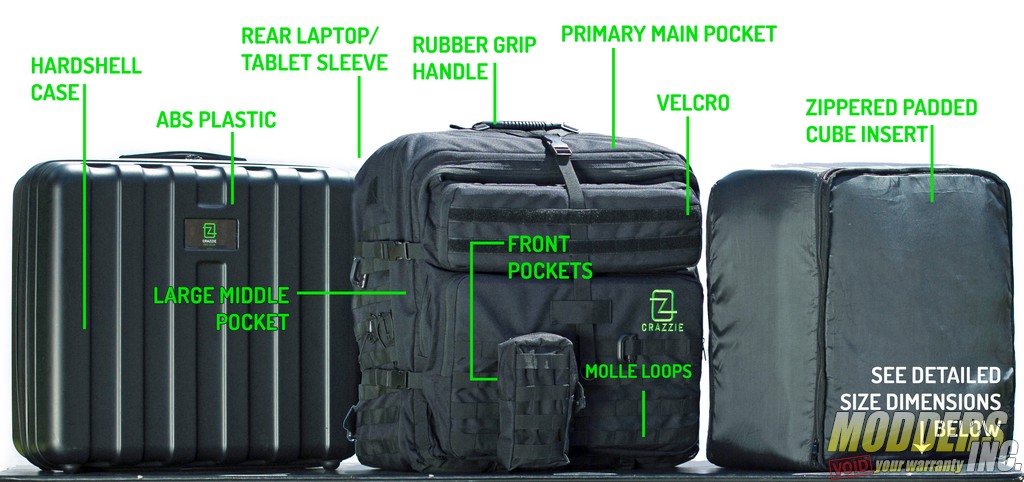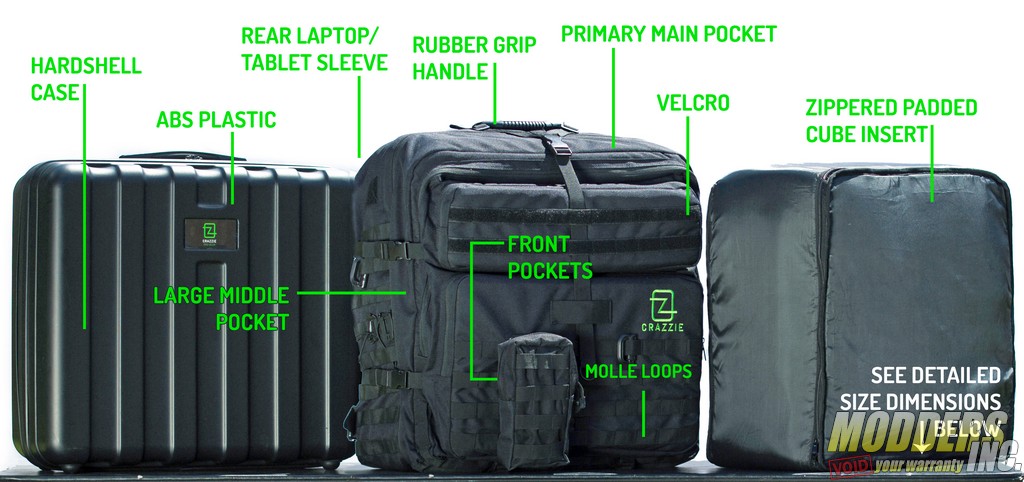 Review Sample Provided by: Crazzie Pro Gear
Product Name/Link to Website: Giant Tactical Rucksack-1
Product was given in exchange for work done to produce this review.
What A Sack
As I'm writing this review, the GTR-1 is in the midst of a Kickstarter campaign. I know the phrase "Kickstarter campaign" carries a lot of baggage with it (no pun intended), but fret not. I have one in-hand, and it's the real deal. Even better, the team at Crazzie Pro Gear reached their funding goal in a mere 24-hours. In short, the GTR-1 is a real product, and if you get in now, you're going to get it at a fantastic price, and it'll be on your back come November or December, 2018.
The unit we tested was the GTR-1 backpack, with the softshell packing cube. We did not get hands-on with the hardshell unit, Velcro dividers, or the pick and pluck foam. If you want the set we tried out, there are still slots available for $119. When the Kickstarter campaign closes, this set will retail for $229, a not unreasonable price in my estimation.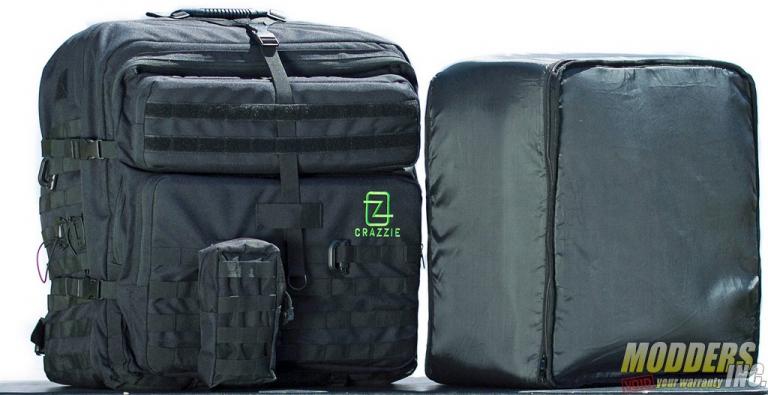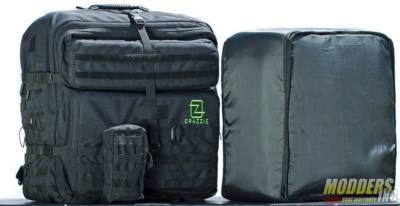 Features
It takes just a cursory glance at the GTR-1 to get a sense for this bag's true possibilities. According to Crazzie Pro Gear, this thing is ideal for a lot more than just gamers who're looking for an easy way to get their gear to the next LAN party. Recommended use cases include:
Videography & Photography Equipment

Gaming PC

Drone

Board & Card Games

Commercial Equipment

DJ Equipment

The Teenage Weekender
I don't purport to know what a "teenage weekender" is, or why you'd want to stuff one inside an over-sized rucksack. Suffice it to say, if you like to take things with you, the GTR-1 is probably better than the backpacks, bags, and series of ill-suited containers you're used to carting around. There are large compartments in the front, on the inside, and in the back capable of handling every odd and end you can think of.
Construction & Materials
The exterior of the GTR-1 is covered in Molle (pronounced "molly") loops that conveniently let you clip other bags onto the main unit. The top front compartment also features Velcro strips, for attaching patches and other gear. There is a thick reinforced rubber grip handle at the top of the GTR-1 for lifting the fully-loaded bag off the ground. The pair of backpack straps are widely-spaced and padded to make hauling around a 70-pound PC tower feel like a walk in the park [while wearing  a silly-gigantic backpack]. The waist and chest clips also help evenly distribute the weight across your entire frame, instead of crushing your shoulders.
The build material of the GTR-1, heavy-weight 900D military-grade nylon, feels like it'll take a beating. The whole back portion is padded and covered in soft mesh. There's a laptop compartment there as well, though I've never seen a laptop that was two-feet square. Crazzie Pro Gear includes numerous adjustable straps, both inside and on the outside of the GTR-1, so that you can keep it from getting damaged en-route. There are rubberized pads on the base of the bag to ensure that the bag stays where you put it, and neither the zippers nor the straps feel like they're going to give out anytime soon. The military look and feel is completely intentional, and I think it's a good aesthetic for the GTR-1.