Page 2 »
Far from being anyone's whipping boy, Crucial's Ballistix line of memory modules are designed with the enthusiast in mind. From appearance, to performance, to rock solid stability, Crucial has stood for quality and performance. Eschewing the "bling bling" of the LED's, the new "finned" modules are aiming at the overclocker's plate. Crucial is wanting to show the world that they are a leader in enthusiast modules, and to prove it… they are bringing something new to the table other than just a "new cooling package"… read on and find out just what Crucial is wanting to show you!

Sponsor: Crucial
[hr]
Crucial Ballistix introduction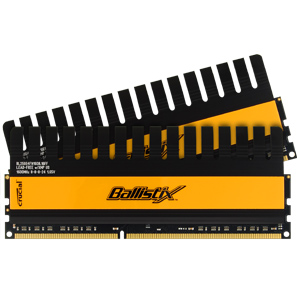 The new Crucial Ballistix modules are serious about thermal management. In this new line, the packaging and finning are reeking of cooling performance. But beyond the slick extruded aluminum alloy cooling and appearance (which Crucial states improves thermal management by up to 30% over the previous Ballistix thermal designs), Crucial has opened up a new can of whoop ass by allowing you to monitor the temperature *directly* on the PCB itself by integrating thermal reporting at the circuit level on these bad boys. Currently the tool is only accessible via specific motherboards (i5 and i7 motherboards are the only DDR3 motherboards that work with this utility.). It is available in both 32bit and 64bit flavors directly from 
Crucial's web site, 
and is only compatible with the new DDR3 Finned modules. If you have other Ballistix modules installed, this tool will not work. 
At this time of writing, the folks over at CPU-ID (the makers of the awesome tool CPU-Z as well as many other excellent enthusiast tools) are currently testing with it and looking to possibly incorporate it into their tool set.


The new line of modules also have XMP profiles programmed into the SPD registers to help breeze you into the world of performance memory. 
Depending on the height of your heatsink, and the location of your memory slots, the fins might cause a problem: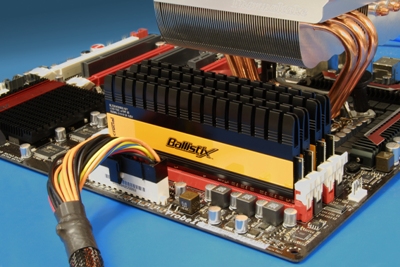 Please keep that in mind when purchasing the modules. In my particular case, clearance was not an issue!