Article Index: >>
Page 2 »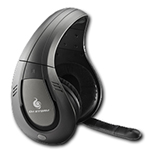 Not all things are created equal. This is especially true when it comes to sound. It does not matter what sound card, amplifier, or other audio accessory you have; if the speakers can not reproduce the sound accurately and cleanly, what will be heard is distortion and impure sound. Hollywood figured out a long time ago to make movies more emotional was to add music to the scenes. Adding music allows the show to play with our emotions. Don't believe me? Try watching Texas Chainsaw Massacre with the sound off. Back to my point, if the sound can not be reproduced as the creator intended then the effect is lost. Cooler Master's tag line for the Sonuz is "Don't let poor audio get you killed." The Cooler Master Sonuz headset boasts an impressive 53mm driver, but does it deliver quality.
Review Sample Provided by: CM Storm
Product Name/Link to Website: Sonuz
Product was given in exchange for work done to produce this review.
Specifications
Model Number
Headphone

Driver diameter: φ53mm
Frequency range: 10 – 20,000 Hz
Impedance: 45 Ω
Sensitivities(@1kHz): 98 dB ± 3 dB
Connector: 3.5 mm gold-plated headphone jack
Inner Ear Cup Diameter: 97.0 mm
Cable Length: 2.0m
Max Output: 200mW

Microphone

Frequency range: 100–10,000 Hz
Sensitivities(@1kHz): -47 dB ± 3 dB
Signal-to-Noise Ratio: 58dB
Pick Up pattern: Omni-Directional
Diameter: 4×1.5mm

Hardware Requirements

Audio Usage: Devices with 3.5mm audio jack and microphone jack
Audio + Microphone Usage: Devices with 3.5mm audio + microphone combined jack(Compatible with Apple iPhone®, HTC®, BlackBerry®)
Features
Massive high quality 53mm drivers deliver amazing sound quality
Innovative detachable 3.5mm  microphone for use on either side of the headset
Huge 97mm earpads provide great comfort
Flexible headband for a perfect fit
In-line remote with Volume control and microphone on/off button
Article Index: >>
Page 2 »