« Packaging
|
Test System and Testing Procedures and Benchmarks »
A Closer Look at the Crucial P1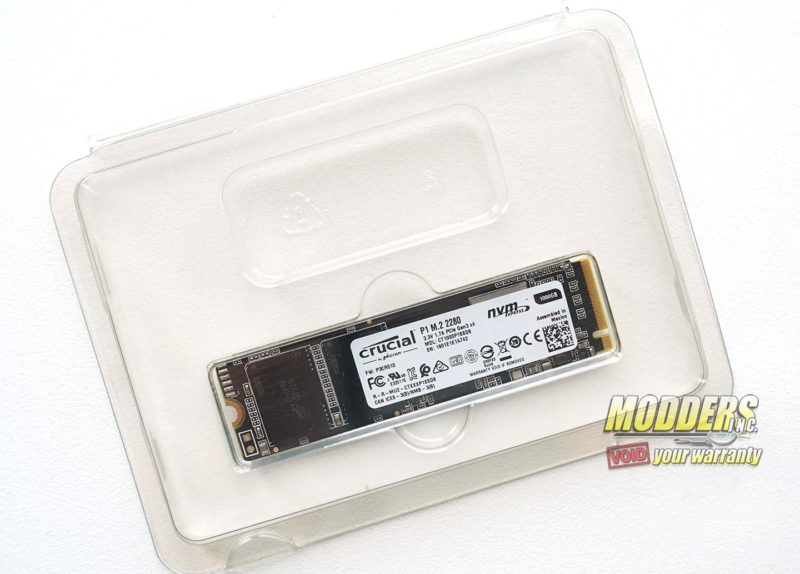 The Crucial P1 is a type 2280 PCIe Gen 3 X4 NVMe M.2 SSD. At the time of this review, it comes in both 500 GB or 1 TB capacities. Crucial also has a 2 TB P1 planned as well. The sample we received was the 1 TB variant. The 1 Tb version of the Crucial P1 advertises a sequential read speed of up to 2000 MB/s and a sequential write speed of up to 1700 MB/s. On the 1 TB model, the random read IOPS are 170k and the random write IOPS are 240k.  This may be slower than other NVMe options on the market, but still far faster than any SATA SSD. The 1 TB model has an endurance of 200 TB. The SLC write cache is 12 GB minimum and a maximum of 100 GB.
The Crucial P1 uses Microns 64-layer 3D QLC, or qual-level cell NAND paired with the Silicon Motion SM2263 controller. QLC NAND cells have about 33% more capacity per cell compared to TCL, or Triple-Level Cell NAND. The SM2263 controller is Silicon Motions mainstream controller. The SM2263 controller sports 1 GB of DRAM, DDR3, per 1 TB of NAND storage. The SM2263 controller features sequential reads of up to 2400 MB/s and sequential writes of up to 1700 MB/s. The P1 is the second SSD to market to use Microns 64-Layer 3d QLC NAND. The first was Intels 660p, see our review here: https://www.modders-inc.com/intel-660p-nvme-m-2-ssd-review/
The biggest benefit of QLC NAND is lower TCP or total cost of ownership. This basically means that an SSD with QLC NAND is cheaper for the consumer. A second major benefit of QLC NAND is QLC allows for more storage per cell, leading to larger capacity drives. So, buying QLC SSDs will allow you to save money and get larger capacity drives. The Curical P1 also features SLC Cache. SLC Cache allows the Crucial P1 to cache at single-level cell speeds, on a quad-level cell drive under certain conditions. When the drive is at a lower capacity, workloads will stay within the SLC cache. The more the drive fills up, it could see slower write speeds, but only when the drive is over 75% capacity.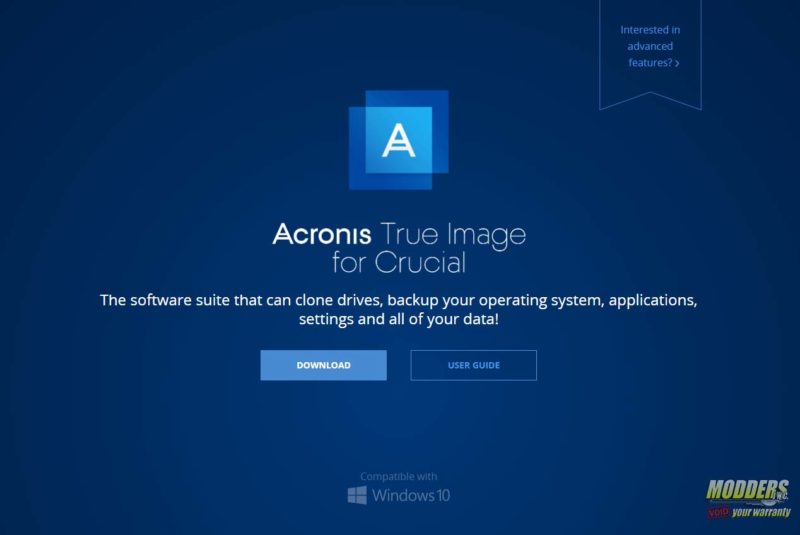 The Crucial P1, like other Crucial drives, comes with a download link to Acronis Trus Image. This program will allow you to clone any drive your new Crucial SSD. On the support page for the Crucial P1, there was also a link to download the Crucial Storage Executive. This is a very useful program that gives you information on all your drives installed in your system. In the Storage Executive, you can update your drive's firmware, clean up your drives, and check its S.M.A.R.T information, just to name a few things.