Test Setup and Results »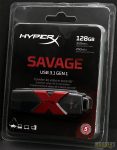 Flash drives make it extremely convenient to transport and share data. With large USB 2.0 drives copying data was painstakingly slow. With USB 3.0, the transfer rate increased and so did the size of the drives. Kingston has released their 1st generation of USB 3.1 called the HyperX Savage. The drive is available in 64GB, 128GB, 256GB, and 512GB and is backwards compatible with USB 3.0 and USB 2.0.
USB 3.0 was retroactively renamed to USB 3.1 Gen 1. While it may not be a big deal to some, it may to others. With re-sellers latching on to the 3.1 moniker, it wouldn't be hard to fool consumers into getting something they are not because USB 3.1 is faster than USB 3.0, right? USB 3.1 Gen 1 still runs at 5GB/s and we won't see USB devices that can utilize 10GB/s until USB 3.1 Gen 2 devices. </rant>
Specifications
Capacities
64GB, 128GB, 256GB, 512GB
Speed
USB 3.1 Gen 1 (USB 3.0)

350MB/s read, 250MB/s write (128GB–512GB)

USB 3.1 Gen 1 (USB 3.0)

350MB/s Read, 180MB/s write (64GB)

Dimensions
76.3mm x 23.48mm x 12.17mm
Operating Temperature
0°C to 60°C
Storage Temperature
-20°C to 85°C

Backwards compatible with USB 3.0 and USB 2.0

5-year warranty with free technical support
The Kingston HyperX Savage drive comes packaged in a simply blister pack. The front clearly shows the drive and the rear of the packaging lists out the specifications and compatibility of the drive. Inside, you'll find the drive, brief product documentation and a small lanyard.
The Kingston HyperX Savage USB drive is stylish with a matte black body with a metallic red X. Storage capacity is listed on each drive near the bottom of the drive. The cap pulls off to gain access to the USB connector.