Closer Look at the Drobo 5N »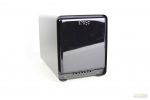 It is pretty easy to get lost in the vast sea of storage devices. Personal storage really picked up about 10 years ago and every since been growing at an alarming rate. I am not saying it's a bad thing in fact, I think it's great! Users are demanding more from storage appliances and the manufactures have really stepped up and have started to deliver advanced features. There are three types of NAS devices that are being manufactured, Computer Based Appliances, Embedded System Appliances and ASIC based Appliances. Computer Based Appliances are usually the best you can buy for the home use as they offer numerous features and performance of a small media PC. Embedded System Appliances usually have lower power consumption but offer less features that every day user could take advantage of. ASIC bases Appliances are very much limited of what they can do and you almost never find these devices in SO/HO environments. I am not going to go in to details discussing embedded or ASIC appliances as they rarely turn heads instead, this review will focus on Computer Based Appliances like Drobo 5N.
Drobo is one of the NAS manufactures that has been in business for about ten years and what they have done in this short time span is nothing short of remarkable. Drobos main orientation in the market always been storage devices. Providing its customers with best solutions for the job and constantly keeping up with user experience is what earned them business over these years. A few years back Drobo has merged with Connected Data and at this time Drobo product line was completely re-designed from ground up. The outcome was faster and more feature oriented appliances that were easy to use. The key for Drobo is ease of use and set up. One of the products that made Drobo what it is today is Drobo 5N.
Drobo 5N is a 5 bay storage appliance that offers all of your features of your traditional storage device but yet keeping operation and configuration to a minimum. The ultimate goal for 5N is to deliver best experience in sharing storage and accessing your data on the network.
Review Sample Provided by: Drobo
Product Name: 5N
Price at time of review: $ 489.00 USD MSRP
Product was given in exchange for work done to produce this review.
Packaging
Drobo 5N packaging provided all of the right information about the unit inside. Here we can see a general description of Drobo 5N and what this device has to offer such as what kind of hard drives are needed and what is the box contents.
The images of the actual unit are very vivid and I had no issues with external packaging of Drobo 5N what so ever. The color scheme is easy on the eye and really represents simplicity with in the product.
It all about the presentation and I think Drobo does a good job capturing users attention to details.
Content box which was sitting on top of the device itself has a start up guide alongside with power brick, power cord, Ethernet cable, a sticker and some helpful information to get your started with Drobo 5N.
The actual appliance came in this cute bag. I don't usually use a word cute but in this case its appropriate.
Hardware Specifications
Connectivity
1 x Gigabit Ethernet port
Drives and Expansion
Up to five (5) 3.5″ SATA II/III hard disk drives or solid state drives (sold separately).
One (1) mSATA solid state drive in the Drobo Accelerator Bay for increased performance (sold separately).
Drives of any manufacturer, capacity, spindle speed, and/or cache can be used. No carriers or tools required. Click here for drive recommendations.
Expandable by adding drives or hot-swapping drives with larger ones. Use the Capacity Calculator to estimate available storage in various configurations.
BeyondRAID Features
Thin Provisioning
Instant Expansion
Mixed Drive Size Utilization
Automatic Protection Levels
Single – or Dual-Disk Redundancy
Virtual Hot Spare
Data Aware
Drive Re-ordering
Management
Drive bay indicator lights, capacity gauge, status lights
Drobo Dashboard version 2.6 or later
Operating System Support
Mac OS X 10.7 and higher
Windows 10 32 and 64 bit
Windows 8/8.1 32 and 64 bit
Windows 7 32 and 64 bit
Network Protocols
Common Internet File System (CIFS) / Server Message Block (SMB)
Apple Filing Protocol (AFP)
Hardware Features
Carrier-less Drive Bays
Power Fail Protection
Kensington Lock Port for Security (lock not included)
Additional Software Features
Hot Data Caching
DroboApps
myDrobo compatible
Maximum System Capacity: 64TB
Drive Spin Down
Dim Lights
OS X Time Machine Support
Warranty
One (1) year warranty in the US or outside the EU or two (2) year warranty in the EU.
Size and Weight
Desktop Form Factor
Width: 5.9 in (150.3 mm)
Height: 7.3 in (185.4 mm)
Depth: 10.3 in (262.3 mm)
Weight: 8.5 lb (3.9 kg) without hard drives, power supply, or packaging
Power and Cooling
External Power Supply:

AC Input – 100-240VAC~2A, 50-60Hz
DC Output – 12V, 12.5A, 150W max

Dual, fixed, variable speed cooling fans
Box Contents
Drobo 5N
6 ft (1.8 m) Ethernet cable
6 ft (1.8 m) power cord with power supply
Quick Start Card