DropCam Wireless IP Camera
Article Index: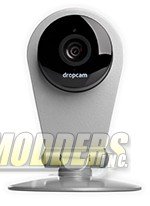 With the rapid deployment of wireless networks around the world wireless enabled devices have exploded in popularity and there isn't much sign of slowing down. There are plenty of devices such as blu-ray players, printers, thermostats, and even our televisions can connect to the Internet wirelessly. Now IP cameras are not a new technology and they have been around for a few years but you had to run cables in you wanted to install them. Wireless IP cameras are fairly new to the market over the last few years. Dropcam has released the Dropcam wireless IP camera with advanced features such as AES-256 encryption, night vision, and two-way communication. When we visited Dropcam's booth at CES I could not help but say "Yes" when we were asked to review the camera. The question is not does it work, but instead how well does it work and for that answer you will need to read on to find out.
 Here's a word of caution before we go on. Any network can be hacked and while the Dropcam wireless IP camera communicates securely with the Dropcam servers, if your wireless network is not secure then you could very well have other people watching your camera. Network security is very important to keep others out. This is not a dig against wireless but instead just a heads up. I will discuss the security features of the Dropcam wireless IP camera later on in the article. Securing your wireless network is beyond the scope of this article.
Dropcam HD Technical Specifications
Video Camera Basics
| | |
| --- | --- |
| Dimensions | 4.5″ x 3.15″ x 3.15″ (height x width x depth) |
| Weight | 5.5oz (156g) |
| Power Adapter | Input: 100-240V ⏦ 50/60Hz 0.5A Output: 5V ⎓ 2A |
| USB Cable | 4 pin USB Type A to 5 pin Micro-USB Type B 10 ft |
| Warranty | One-year parts |
Video Camera Details
Type
Color with digital pan-tilt-zoom
Digital Video Format
 H.264 encoding
up to 720p HD (1280 x 720) at 30 frames/sec       
Field of View
107 degrees (diagonal)
Audio
Speaker and microphone
Night Vision
12 high-power infrared LEDs
Operating Temperature
0 – 40 °C
Video Camera Networking Details
Supported
Wireless (802.11b/g/n)   2.4 GHz       
Wireless Security
none
WEP (40-bit, 128-bit)
WPA (TKIP, AES) WPA2 (TKIP, AES)
Article Index: