« Sub-System Benchmarks (Storage, Audio, Network, Gaming)
Final Thoughts about the ECS Z170-Lightsaber Motherboard
The ECS Z170-Lightsaber is somewhat appropriately considering the big upgrade from their Z170-Claymore motherboard, embodying a big technological leap that improves on a lot of the previous board's shortcomings and updating certain features so that it is more competitive in the current market. What makes the ECS Z170-Lightsaber more interesting however is the fact that it takes a lot of its design cues from somewhat of an "old-school" approach having plenty of overclocking-friendly on-board features and very good overall component selection including all-Japanese capacitors for the VRM.
Most modern motherboard designs now opt to go for more connectivity, flexibility, and prioritized aesthetics.This is usually exhibited via USB 3.1 Type-C connectors, storage flexibility and external RGB LED headers for chassis lighting integration. Although the Z170-Lightsaber has USB 3.1 implementation, they are all Type-A and even though there is RGB LED lighting, it is only in the audio area and can only be adjusted via color presets in the UEFI.
The ECS Z170-Lightsaber has plenty of lightshow in the form of the onboard button functions however, having quick-OC, BIOS functions, and a very versatile three-digit LED display for trouble shooting. Many manufacturers have abandoned incorporating many onboard buttons and troubleshooting features and now opt for more desktop software oriented solutions. This is also another area where the ECZ Z170-Lightsaber is not as potent in. The software bundle is spartan with just the basics for updating BIOS and drivers as well as a fan controller but for some users, this is more than enough since more advanced users have a 3rd party preference for fan controls and do updates manually anyway. For those users, the ECS Z170-Lightsaber is practically bloat-free compared to its peers.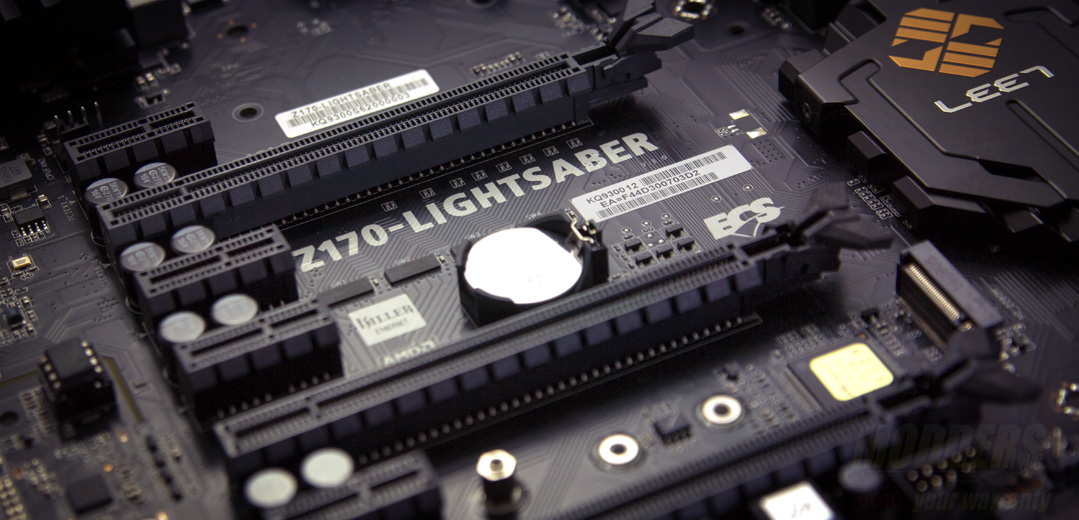 The UEFI is decent and fairly simple to navigate. The advanced mode has all the basics for overclocking and the nested layout is intuitive enough without reduntant and confusing options of other UEFI. There is even a color warning for beyond spec voltages for overclockers. There is even an easy mode for less-advanced users. There are actually two versions including a new high-resolution version with a new layout.
Outside of overclocking, the ECZ Z170-Lightsaber also has plenty to offer having the ability of customizable opAmp for the rear audio, dedicated powered USB ports for USB DACs as well as high-polling rate USB ports for input devices. The one big downside for many gamers however is the lack of official NVIDIA SLI support. The majority of video card owners currently use NVIDIA video cards so this is an unfortunate shortcoming. The board layout otherwise has dual slot gap between the two PCI-E 3.0 x16 slots wired to the CPU so crossfired cards can enjoy a healthier, airflow friendly layout.
Ultimately, the Z170-Lightsaber is a mixed-bag of modern and old-school, flashy in more functional, overclocking friendly ways than just offering fancy lights or a VRM cover. Most of the Z170-Lightsaber's design prioritizes actual use rather than just aesthetics.