PC Water Cooling
EKWB Velocity CPU and Vector GPU Water Block Preview.
Copper and RGB Goodness
« EKWB Velocity CPU Blocks
EKWB Vector GPU Water Blocks
EKWB has carried their design influences across from the Velocity CPU blocks to the Vector GPU Blocks. We have blocks for the Nvidia GeForce 2080 and RTX GeForce 2080 TI reference cards. The same copper/plexi and RGB design characteristics are present here. This gives you the ability to build out your system to aesthetically match the CPU and GPU blocks.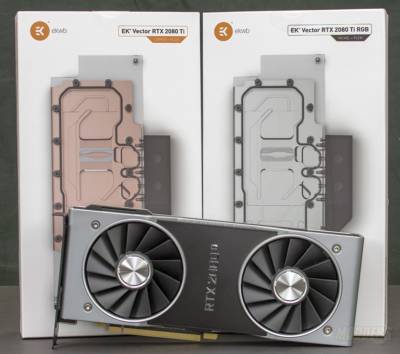 The thin outer packaging shows the GPU blocks on the front side and technical specifications on the rear. These blocks do not come with a printed installation manual but, like the CPU blocks, does have a QR code on the back that will directly link you to the correct installation manual.
The secondary box contains two compartments. The top compartment contains the installation kit and thermal pads. The second compartment contains the water block.
Aside from the thermal pads, the installation kit includes all the screws, washers, and nuts necessary to install the water block onto your GPU. The kit also includes a couple of allen wrenches as well as a couple of port plugs and a tube of EK's Ectotherm thermal paste.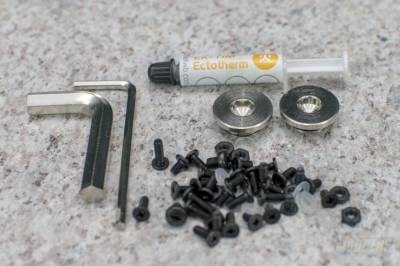 These blocks are full cover water blocks and are designed to cool both the GPU chip, memory chips, and voltage regulation modules (VRM). The copper block does not have any lighting whereas the RGB block has lighting for the clear plexi as well as the RTX Geforce logo.  Standard G1/4 threaded ports are located at the edge of the card.
The backside of the cold plate features machines areas designed to come in contact with the GPU, RAM, and VRM. Thermal pads are included to help transfer heat from the memory and VRM. There are machining marks on the contact surfaces as well as the channels around them.  At this point and from what I can tell, the 2080 and 2080 TI blocks are not interchangeable. EK ensures you know what block you have by machining the name of the blocks just above the GPU contact plate.
At first glance, I wasn't really sure if I liked the LEDs on the water block. They appear a bit dimmer out in the open than the CPU block, however, installing the block may change my mind.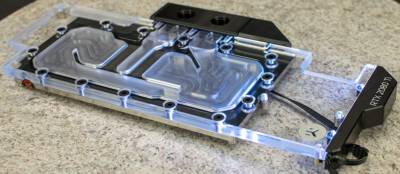 Stay tuned as we put our Intel CPUs and our Nvidia GPUs underwater with EKWB newest offering.