PC Water Cooling
EKWB EK-XLC Predator 240 All-In-One CPU Liquid Cooling Unit Review
A Closer Look at the EKWB Predator 240 »
There  are various reasons that one chooses an AIO or All-In-One CPU cooler over assembling a custom water loop. One of these reasons could be cost; typically, custom loops tend to me more expensive than an AIO. Another reason could be a technical or skill based limitation; meaning, the user does not know how to assemble a custom loop. Whatever the reasons, AIO coolers are not going away. As a matter of fact, they are becoming more popular. So much so that traditional custom loop vendors are starting to make them, but with a twist.
EKWB is a highly successful custom loop vendor that recently released their Predator 240mm AIO. The Predator takes the AIO a step further by using "off the shelf" parts (in a manner of speaking) and putting them in a tidy little package.
[sc:sponsor sponsor="EKWB" product_link="http://predator.ekwb.com/" product_name="EKWB EK-XLC Predator 240 All-In-One CPU Liquid Cooling Unit" product_price_link="http://amzn.to/1gP6Lkc" product_price="$199.95″ ]
There is quite a bit of information on the packaging for the Predator 240. On the front of the box you'll notice there's an image of the Predator 240 AIO. At the bottom of the front cover, EK lists out the technologies they used in the unit such as, Hovercore, Vardar, Coolstream, etc.  The back side lists out some of the features the EK feels really puts the Predator in the spotlight. Using an all copper waterblock, Vardar fans and being fully expandable are some of them.
On the edge of the package, EK details out what you'll need to get the Predator 240 installed. They list out space requirement for mounting the radiator as well as the contents of the box.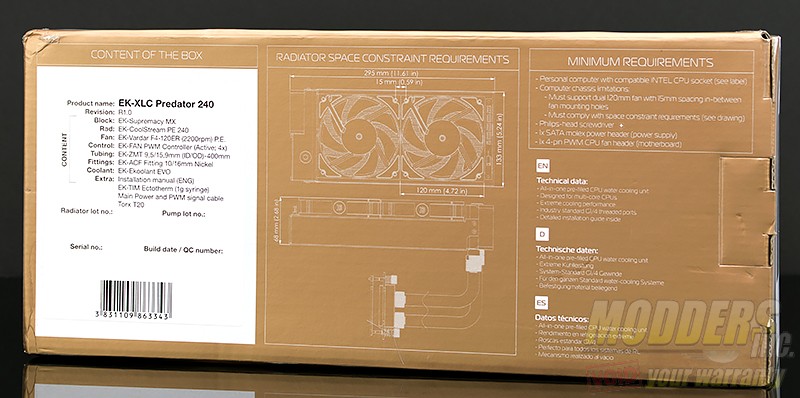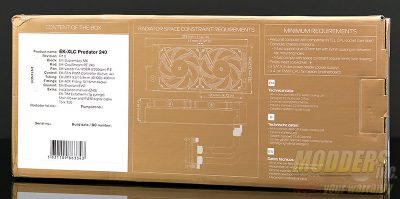 After removing the outer cardboard, a molded plastic clam shell holds the EKWB Predator and its accessories in place during shipping.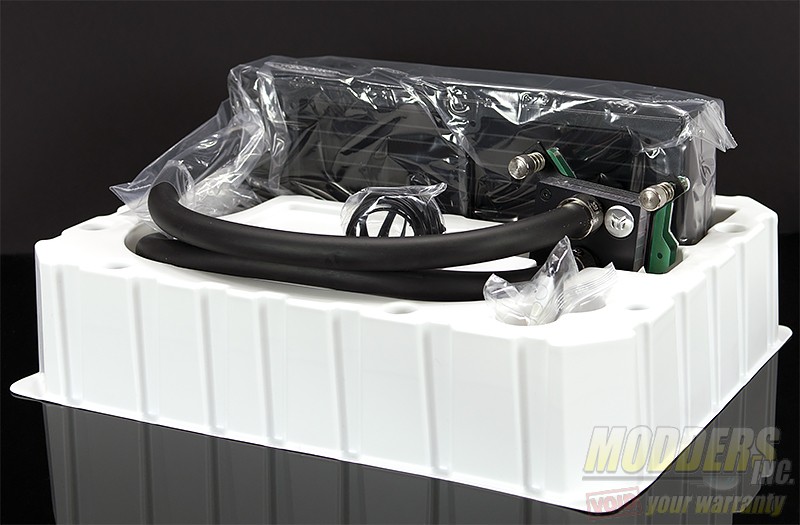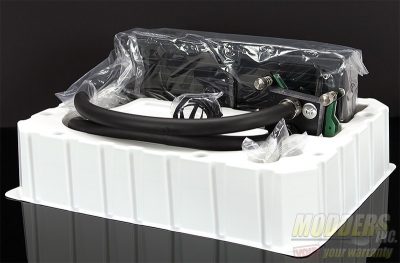 The accessory kit is very small for the Predator. This version is only compatible with Intel systems. I am told an AMD version will be released at a later date. Included is an instruction manual, PWM hub, power cable, thermal paste, and a Torx T20 wrench.