A Closer Look at the Swiftech H240-X »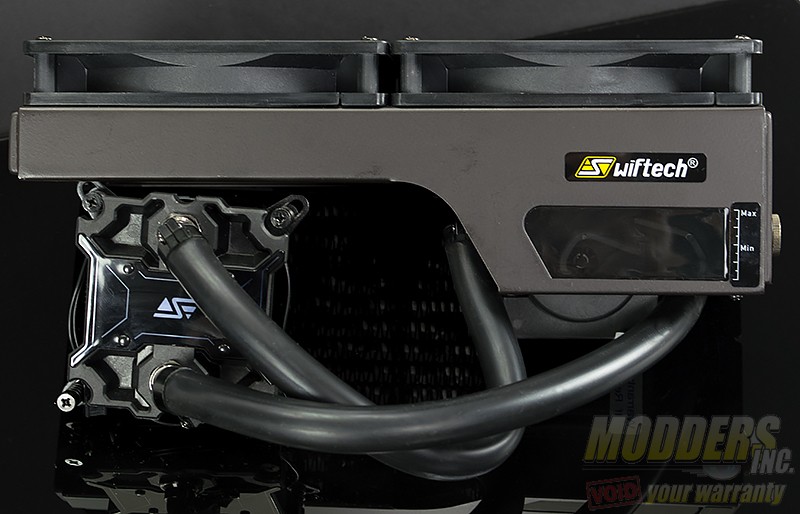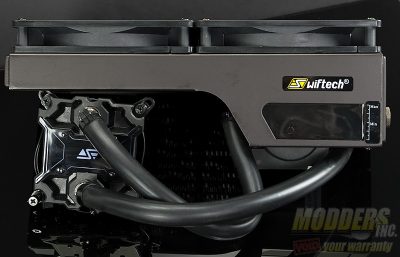 Swiftech is a name that most "older" overclockers and water cooling enthusiasts know from the late 90's and early 2000's. Back then, Swiftech was a leader in both the air cooling and water cooling market place. Thankfully, Swiftech has maneuvered it's business to stay alive over the years and is still producing products today. Early on, Swiftech was known for their air cooling heatsinks on the socket 370 and even more so when AMD released the thermal nightmare known as the Athlon and has been a player in the market ever since.
Fast forward a decade and a half and you will see Swiftech hasn't slowed down. A quick glance at their website will show that they have a lot of products to offer: from air coolers, to individual water cooling products, to component based kits, and even All-in-One (AIO) water cooling units. AIO coolers are designed to bridge a gap between air cooling and water cooling. These coolers take on the simplicity of installing an air cooling unit with most of the performance of a custom loop water cooling setup. However, some manufacturers have taken AIO coolers to a different level by designing the coolers to be customizable for expansion. These AIO's can be opened, drained, and allows for installation of different radiators as well as water blocks to other components such as GPU's, memory or chipsets. The Swiftech H240-X is just such a cooler. It features dual 240mm fans, a high fin density radiator, and the award winning apogee water block.
[sc:sponsor sponsor="Swiftech" product_link="http://www.swiftech.com/H240-X.aspx" product_name="Swiftech H240-X" product_price_link="http://amzn.to/1ZfKLS7″ product_price="149.99″ ]
Packaging
The packaging of the H240-X is really pretty simple. On the front of the box there's an image of the assembled cooler along with a brief summary and the socket compatibility. On the back, there is a nice graphic that shows the dimensions of the unit as well as the technical specifications.
Inside, the cooler and all the accessories are tucked away neatly in a compartmentalized fiber inner container. The parts and pieces fit pretty tight in here and should keep them from bouncing around during shipping.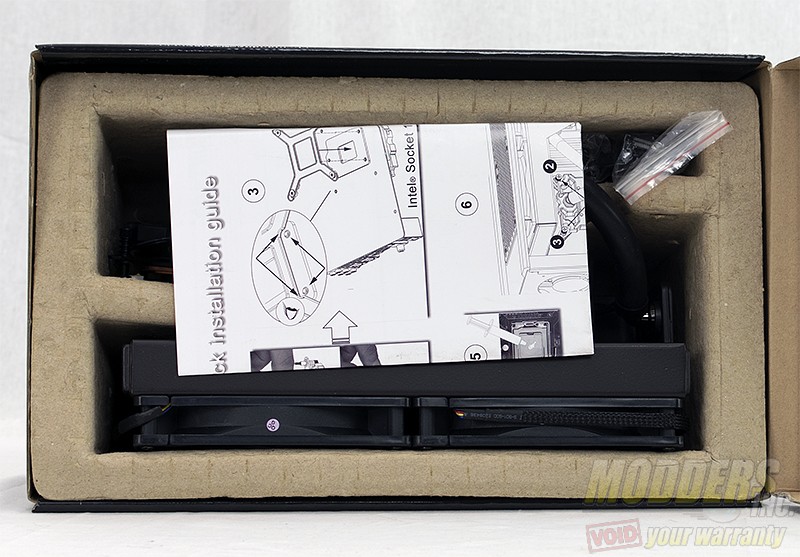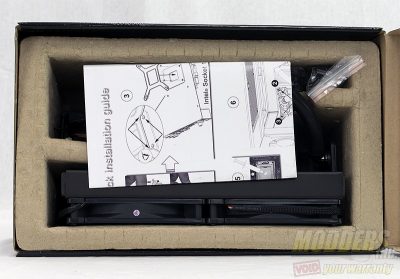 Aside from the cooler, the parts list includes: installation guide, an Intel CPU backplate, Intel Socket 2011/-v3 screws, AMD water block mount and screws, a PWM hub, colored water block inserts, and Swiftech thermal paste.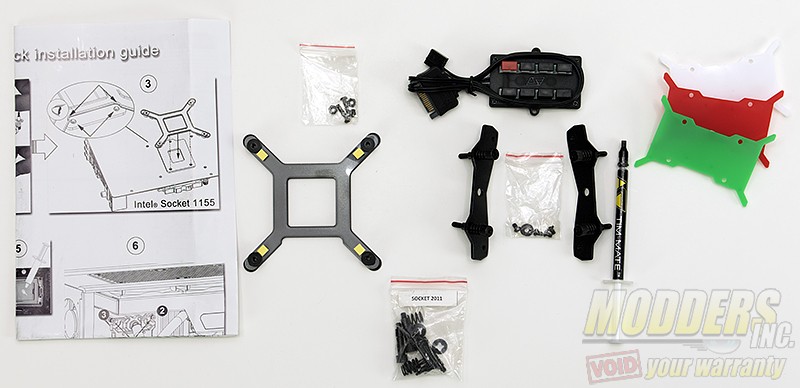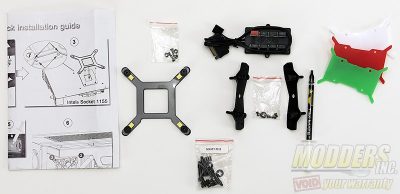 Specifications

Radiator with integrated pump (1 each)

Radiator Material

Brass tubes, louvered copper fins, 12~14 FPI

Radiator Body dimensions

290mm x 140mm x 115mm

Radiator Fill-port thread class

G 1/4

Radiator Barb fittings

Integrated swivel 90° elbows, 3/8″ (10mm) OD

Radiator Installation hardware

Standard: (8) 6-32 x 1 3/16 (30mm)  Philips screws

Pump speed control

PWM

Pump Speed range

1200 ~ 3000 RPM

Pump nominal voltage

12 VDC

Pump nominal power

6W

Redundant fail safe

Software current limiting fail-safe AND hardware shutoff built-into the pump power wires. The hardware fail safe is only triggered in case of a firmware malfunction.

Pump Bearing type

Ceramic shaft, PTFE bearing

Pump Power connector

SATA

Pump RPM & PWM connector

Mini 4-pin

Pump MTBF

60,000 hours

ROHS

Compliant

Pre-installed Fan (2 each)

Dimensions

140mm x 140mm x 25mm

Speed control

PWM

Speed range

700+/- 25% ~ 1800+/- 10%  RPM

Airflow range

35 ~ 90 CFM

Static pressure range

0.25 ~ 2.29 mmH20

Noise level range

<8.3 ~ <28.8 dB/A

Nominal Voltage

12 v

Nominal current

0.25 A

Bearing Type

Z-axis

Connector

Mini 4-pin

MTBF

60,000 hours

ROHS

Compliant

Apogee XL Waterblock (1 each)

Base plate material

C110 copper

Cooling engine

0.25mm x 0.25mm  micro-pin array

Barb fittings

Swivel elbows, 3/8″ (10mm) OD

Port thread

G1/4 standard

Installation hardware

For Intel LGA 1150, 1155, 1156 (pre-installed by default)

Back-plate

(4) Spring loaded screws & washers

For Intel LGA 2011

(4) Spring loaded screws & washers

For AMD AM2, AM3, FM1,FM2, 939

(2) Pre-assembled brackets & spring loaded screws

Bracket installation screws

Optional back-plate available for Intel legacy socket 775 and 1366

Tubing & Coolant

Material

PVC

Color

Black

Dimensions

5/8″ x 3/8″ (16/10mm)

Coolant

Pre-filled with non-toxic propylene glycol coolant mix

Clamps (4 each)

Material

Black anodized aluminum

PWM splitter (1 each)

PWM Ports

8

RPM signal port

Channel 1

Power connector

SATA

PWM/RPM connector

Mini 4-pin

Installation hardware

Peel-off sticker,  mounting screws & nuts

ROHS

Compliant

Tim-Mate 2, 1g syringe thermal compound

Quick Installation Guide