PC Water Cooling
Enermax Liqtech TR4 280 AIO Video Review
Built like a tank, cools even better!
When Threadripper hit the streets, there was quite a bit of concern as to how you would cool such a large chip, especially since AMD's solution was to adopt a standard Asetek all-in-one cooler on top, giving less-than-full coverage of the IHS.
So while normally a new CPU platform launch means new mounting plates for existing cooling solution, AMD's TR4 required physically larger coolers.
Enter Enermax, and the Liqtech 280 TR4.  It is a 280mm all-in-one liquid cooler built exclusively for Threadripper's TR4 socket.  At least on paper, this is an AIO unlike any other, with its 100% TR4 IHS coverage advertised 500W+ TDP cooling capacity, and a 450 Liter/hour water flow thanks to the Ceramic Nano PI bearing pump.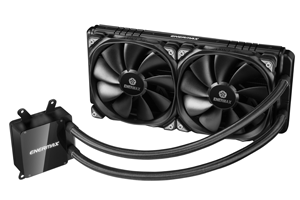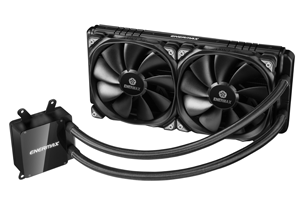 Inside the box we find the cooler itself, a pair of Enermax 140mm High Pressure Twister Fans, assorted screws, mounting hardware, thermal paste, a molex to PWM adapter, and a PWM Y-cable for connecting both fans to your motherboard's CPU header, which I really appreciate Enermax thinking of, rather than leaving the onus on the customer to handle the dual fans.
Taking a look at the Liqtech 280, saying the construction is beefy feels like an understatement.  The 280mm radiator is quite sturdy, the tubing is well sleeved and braided, and the CPU Block/Pump combo feels like it has more in common with a tank than a CPU cooler.  The Enermax logo sits on top and glows white when powered up, and underneath the block reveals a massive copper plate, much too large any other CPU socket.
Installation is pretty straightforward.  Mount the radiator and fans to a 280mm supporting section of your case.  Then screw in the mounting posts to the TR4 socket. Apply thermal paste to the CPU, gently lower down the water block onto the CPU, and use the 4 spring-tensioned nuts to hold down the 4 corners.
Once the block is installed, simply plug in the radiator fans and CPU pump to appropriate headers on your motherboard.
The white glowing Enermax logo looks fantastic when your system is on, and the entire cooler has a sturdy, almost industrial look to it.  And since everything is black and white, it shouldn't clash with any other color schemes you might have going on.
Performance-wise, we're going a Threadripper 1900x CPU with both the Enermax 280 Liqtech and a Thermaltake 240mm Asetek AIO cooler, at both stock and overclocked speeds.  I'll be using Aida64 to bring the CPU up with a full synthetic load until the temperature stabilizes, with room temps being 23C at the time of testing.
Under stock conditions, the Asetek saw idle temps right around 38C, with temps under a full synthetic load climbing up to 68C.  Meanwhile, the Enermax kept things considerable cooler, at 31C and 49C respectively. You can already see the difference that full-coverage block is making vs the small pad on the Asetek cooler.
Overclocked, the difference is even more dramatic.  Now, on AMD's site, they list the max recommended temperature for the 1900X as 68C.  While the Asetek kept it right at that line at stock speeds, with a 4.1GHz @ 1.3875v, idle temps increase to 43C, with full load bringing it all the way up to 79C.  And in fact, there were a few momentary spikes of 91C observed. The 1900X never throttled, but I would not run it at these temps very long.
Switching back to the Enermax, we see an idle of 32C, and a full load reaching just 56C.  And the max temperature observed was just 65C, well within the safe limits for this CPU.
I don't have exact measurements for the CPU draw, by HWiNFO reported a max of 193W from the CPU Package.  A 56C average under full synthetic load is not a bad result for any all-in-one cooler, let alone on something as demanding as Threadripper.
The Enermax 280 Liqtech TR4 is attractive, well-built, easy to install, quiet, efficient, and performs well above and beyond the smaller coverage Asetek blocks.  Retail on this AIO seems to be right around $120 on Amazon right now, which actually puts it cheaper than some of the Asetek 280mm coolers out there.
If you're looking for a no-fuss AIO solution to cool down your Threadripper, the Enermax 280 Liqtech TR4 certainly fits those requirements in spades.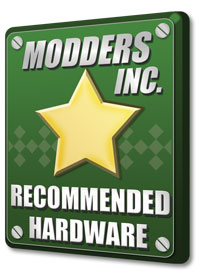 Looking for other Enermax products then take a look at our other reviews