PC Water Cooling
Cooler Master MasterLiquid Maker 92 Review: Palm-Sized Liquid Cooling
A Closer Look at the Cooler Master MasterLiquid Maker 92 »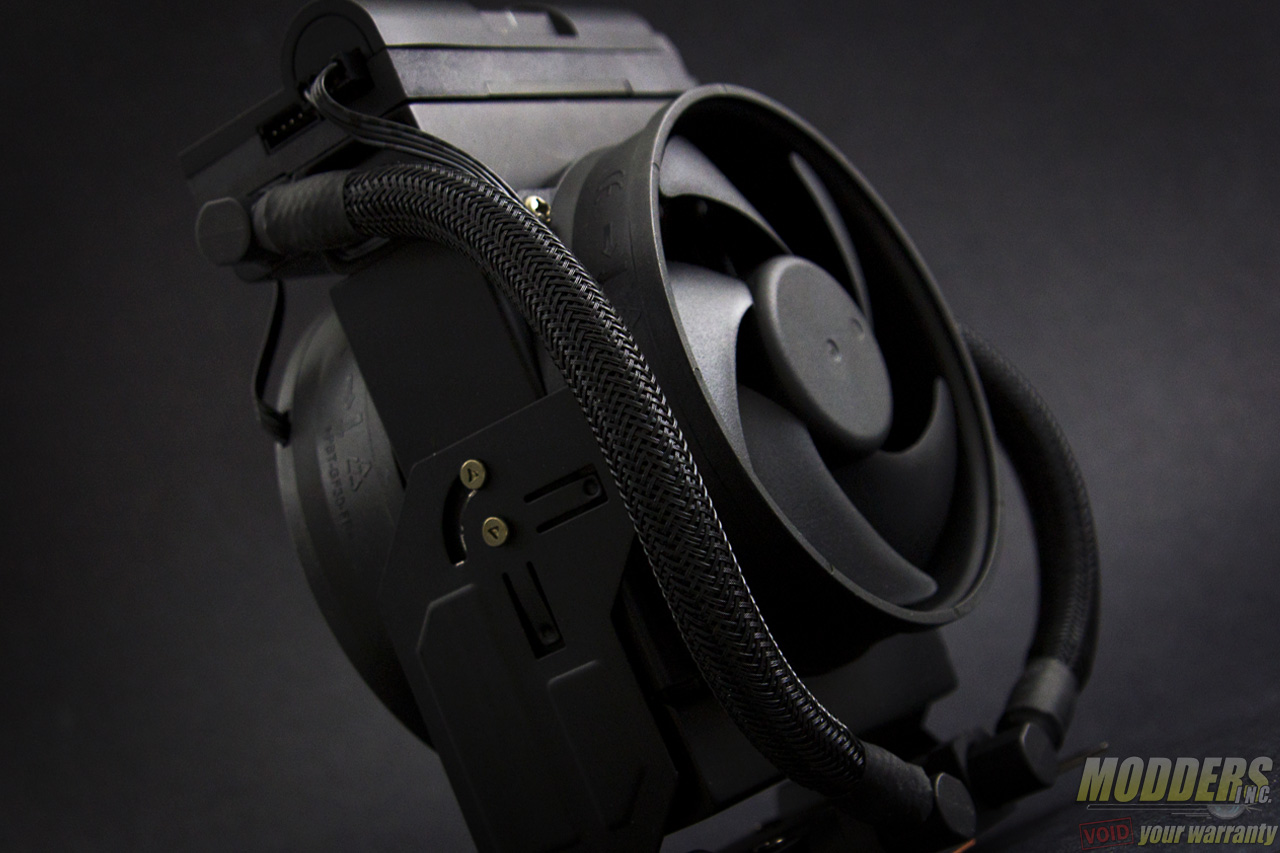 CoolerMaster's MasterLiquid Maker 92 takes the term all-in-one a little too seriously as it integrates a liquid cooling radiator paired with a pair of 92mm fans directly on top of a CPU pump block. This approach renders the AIO unit almost completely chassis agnostic as its clearance concerns are only limited by height. Cooler Master then turns this idea on its head, almost literally, as it gives the MasterLiquid Maker 92 the ability to operate both vertically or horizontally like a tower type or a C-type air cooler. Being different and new is nice, but being functional and effective is better especially since the compact AIO space is still terra incognita for cooling manufacturers, so a review is in order to see where and how this cooler fits in the market.
[sc:sponsor sponsor="Cooler Master" product_link="http://www.coolermaster.com/cooling/cpu-liquid-cooler/masterliquid-maker-92/" product_name="MasterLiquid Maker 92 CPU Cooler" product_price="$99.99″ ]
Cooler Master has dropped their old purple color on white packaging and have adopted a totally gray with blue product numbering with their Master-generation product line. Printed on the side is the specifications table and a dimensional overview is provided at the lower part of the back.
Inside is a dual-compartment design with the MasterLiquid Maker 92 unit housed at the top and the accessories contained in a smaller box at the bottom. The AIO unit is protected with folded cardboard on all four sides with added foam on the backside and a see-through hard-shell plastic sheet at the top. A pair of 92mm fans come pre-installed on the radiator body with screws and require no further assembly.
The accessory box is very organized with the mounting accessories contained and pre-sorted in a clear hard-shell container. The backplate and documentation are also stored in their own zip-lock bags.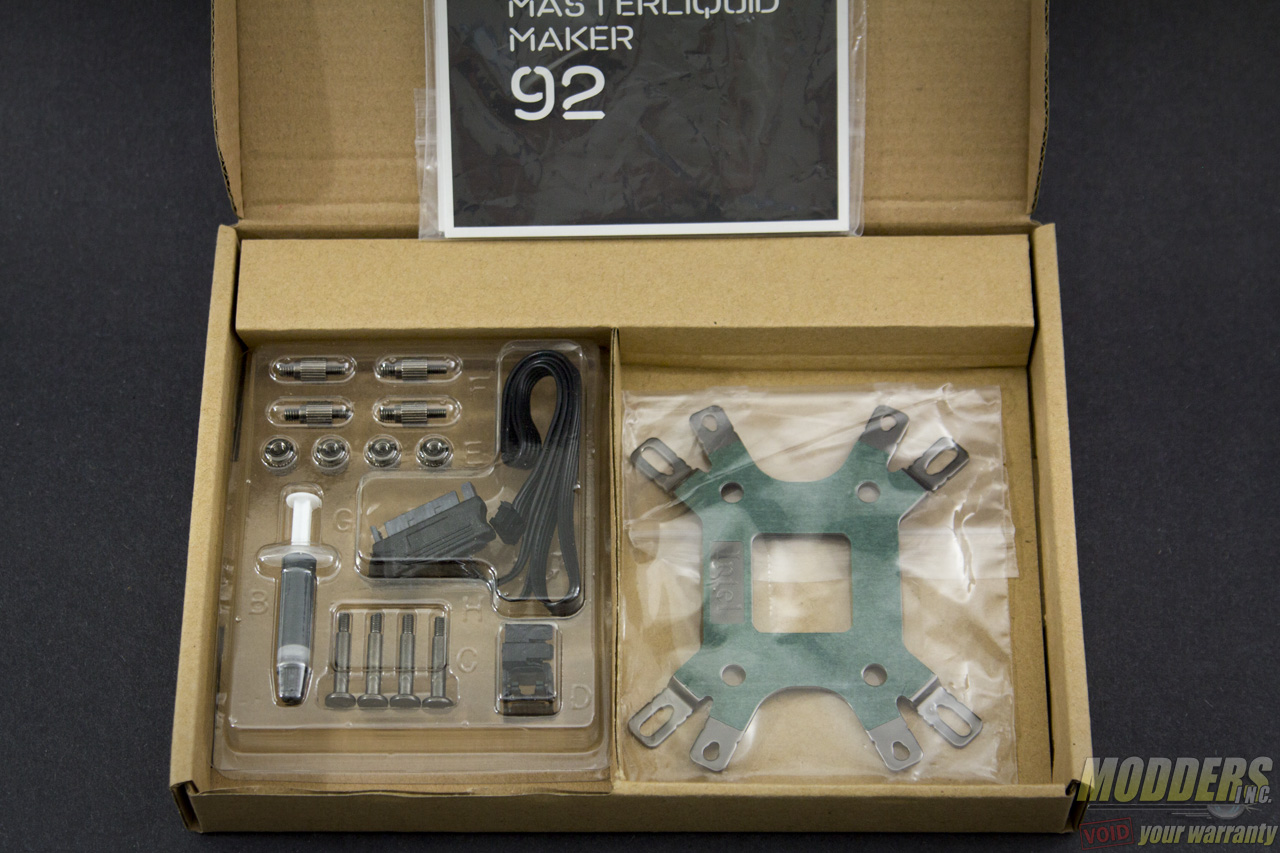 The accessories aside from the pre-installed 92mm fans includes:
1x fold out documentation for installation
1x MasterGel Maker Nano thermal compound in a small tube
4x nuts
4x backplate screws
4x LGA2011 screws
4x backplate screw clips
1x dual-input cable (SATA + 4-pin fan connector)
1x universal backplate
Specifications:
| | |
| --- | --- |
| Model Number: | MLZ-H92M-A26PK-R1 |
| Socket: | INTEL: LGA 1150 / 1151 / 1155 / 1156 / 1366 / 2011 / 2011-V3 |
| Power Connector: | SATA and 4-Pin |
| Radiator Material: | Aluminum |
| Vertical Dimension (LxWxH): | 99.9 x 81.6 x 167.5 mm |
| Horizontal Dimension (LxWxH): | 99.9 x 142 x 118.8 mm |
| Fan Dimension | 2x Ø95 x 25.4 mm |
| Fan Speed: | 550 – 2,600 RPM (PWM) ± 10% |
| Fan Air Flow: | 49.7 CFM (Max) |
| Fan Air Pressure: | 6.4 mmH2O (Max) |
| Fan Noise Level: | 30 dBA (Max) |
| Fan MTTF: | 350,000 hours |
| Fan L-10 Life: | 50,000 hours |
| Fan Rated Voltage: | 12 VDC |
| Pump Noise Level: | <12 dBA (Max) |
| Pump MTTF: | 175,000 hours |
| Pump L-10 Life: | 50,000 hours |
| Pump Rated Voltage | 12 VDC |
| Weight(with Fan): | 875g |