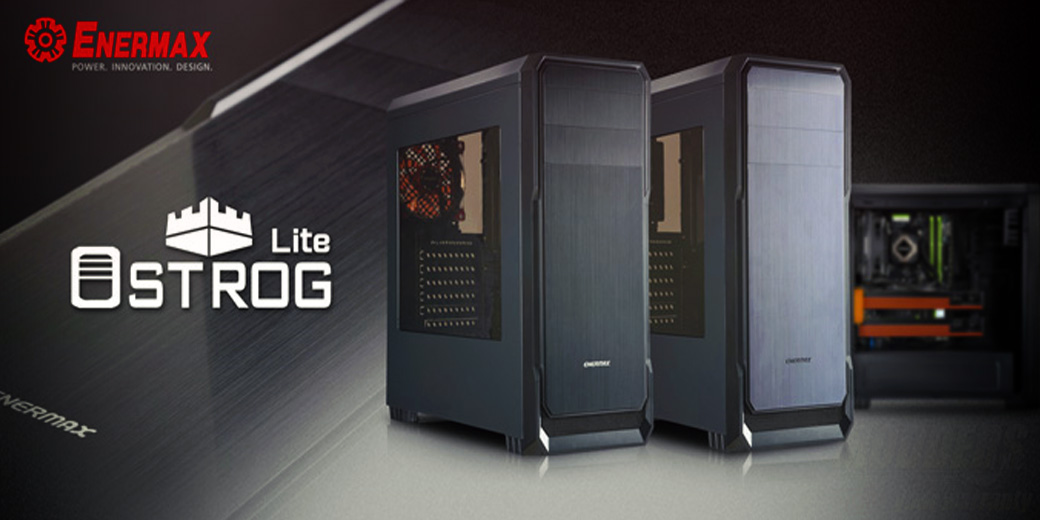 ENERMAX has teased the launch of their latest Ostrog Lite case on Facebook, showing a slick looking front panel and updated design from previous Ostrog series cases. The Ostrog line is one of the more well-rounded value-priced mid-tower offerings out there in the market, and the original Ostrog case was one of the first to offer a multi-color option, windowed solution with support for high-end hardware for under ~$50 a few years ago.  The new Ostrog Lite case however has been modernized with a newer, more minimalist look and also adds several new features on top of existing capabilities.
The Ostrog Lite case has a windowed side-panel for those who wish to show off their component internals and it also supports graphics cards up to 390 mm long. The VGA section is unobstructed by HDD cages which have gone out of fashion in the latest case designs. There is a HDD cage located towards the bottom front but it is in the lower compartment, inside the new full coverage PSU shroud. This HDD cage supports up to two 3.5″ drives via caddies which also support 2.5″ HDD or SSD drives. There are two external 5.25″ drive bays available with a half-length mount for extra space in the main chamber. The user can also convert one of these to a 3.5″ mount if three 3.5″ drives are to be installed. These days of 10TB drives, less 3.5″ drives are required inside a system so the move of lowering the 3.5″ HDD count is understandable, as long as there are sufficient 2.5″ drive options as well.
Aside from supporting long graphics cards, the Ostrog Lite's mid-tower size also has room for CPU coolers up to 152mm tall. Liquid AIO coolers can be mounted either at the rear if it has a 120mm rad, or at the top if it is a 240mm radiator. The front intake also supports up to two 120mm fans. Two 120mm fans are bundled, one of which is for intake while the other is at the rear.
Two color options are available for the Ostrog Lite mid-tower case: Black and Iron Gray. Both have a hairline brushed metal look for the front. More details can be found by visiting the product page or via the specifications table below: http://www.enermax.com/home.php?fn=eng/product_a1_1_2&lv0=2&lv1=9&no=341
SPECIFICATIONS
Model Name

ECB3080BB-01
ECB3080BI-02
Front Panel Color
Black Hairline
Iron Grey Hairline
Dimensions (Case)
D440 x W194 x H460mm
Material
0.5mm SPCC
M/B Type
ATX, Micro ATX, Mini ITX
I/O
USB 3.0 x 1, USB 2.0 x 2, HD Audio
Drive Bays
5.25″
2
3.5″
3 (1 x Converted from 5.25″ bay)
2.5″
4 (2 x Converted from 3.5" HDD trays)
Expansion Slots
7
Fan Slots
Front
2 x 120mm
(1 x 120mm fan pre-installed)
2 x 120mm
(1 x 120mm fan pre-installed)
Top
2 x 120mm
2 x 120mm
Rear
1 x 120mm
(1 x 120mm Red circular LED fan pre-installed)
1 x 120mm
(1 x 120mm fan pre-installed)
PSU Tunnel
1 x 90/80mm (With 1 HDD tray removed)
Radiator Support
20mm Radiator (Rear)
PSU
ATX 12V (Optional)
Maximum Compatibility
VGA Card Length: 390mm
CPU Cooler Height: 152mm