Cooler Master proudly launches the newest addition the ultimate line of premium cases, Cosmos SE.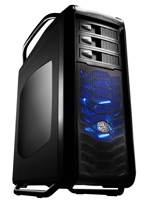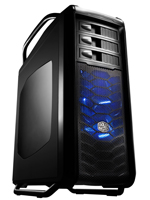 Built and inspired by the spirit of the Cosmos and Cosmos II and their super car design origins, Cosmos SE comes loaded as a more aggressive and more nimble sports car in a decidedly more compact form. Driven by this aesthetic, Cosmos SE features the trademark curved aluminum handles and sleek outer exterior that fans have come to love. Its divergent styling comes from a more forceful, road hugging, and compact sports car feel.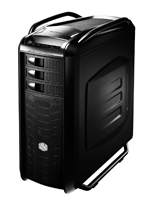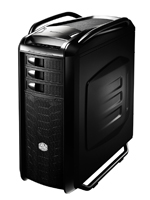 Contained within the desirable exterior of the Cosmos SE is the support for truly exceptional system builds. Cosmos SE comes capable of supporting up to 8 fans with four being preinstalled. Two 120mm blue LED fans in the front with LED on/off control, one 140mm fan in the top, and one rear 120mm fan provide strategically placed cooling for all of a user's systems components. Superior liquid cooling support is built in for 120, 240, 280, and 360mm radiators with users being able to install a 120, 280, and a 360mm radiator all at once. Users with light to massive storage needs will find their needed balance with support for up to 8 HDDs / 18 SSDs via removable HDD/SSD cages. The Cosmos SE supports multiple high-end graphics cards up to 395mm / 15.5 inches long and even support for tall CPU coolers up to 175mm / 6.9 inches.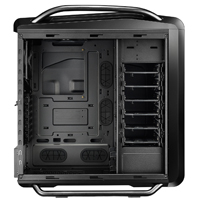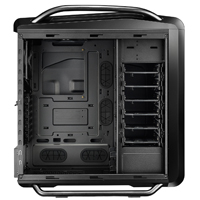 Proper system maintenance and clean cable management make a large difference in system airflow and performance. Cosmos SE ensures that system maintenance will be easy with multiple removable dust filters placed in the top, front, and bottom. To ensure that system airflow stays optimal, many cable pass-through areas and a large rear cable management space of 34mm are provided to make it easy to route cables in a more efficient manner.
Price and availability may vary based on region. This release is meant for US only. Please consult your local Cooler Master Representative for more information.