A Closer Look at the EVGA DG-77 »
Up until just a few years ago, EVGA was best known for its graphics cards and motherboards, but the company has since built up a solid reputation for quality power supplies, AIO liquid coolers, cases, and peripherals. The DG-7, according to EVGA, is designed to look as expensive as the hardware you put in it. This gaming-focused case comes in either black or Alpine White. EVGA offers the same basic enclosure with one, two, or three pieces of tempered glass for side panels, and the Alpine White DG-77 we got our hands on is the fully upgraded model with white tempered glass panels on the front, right, and left sides. How good does your hardware look inside of a glass bottle? For us, the answer is, damn good. But perhaps the slightly more important question is, how well does your hardware perform inside of a glass bottle? Let's uncork this thing and find out.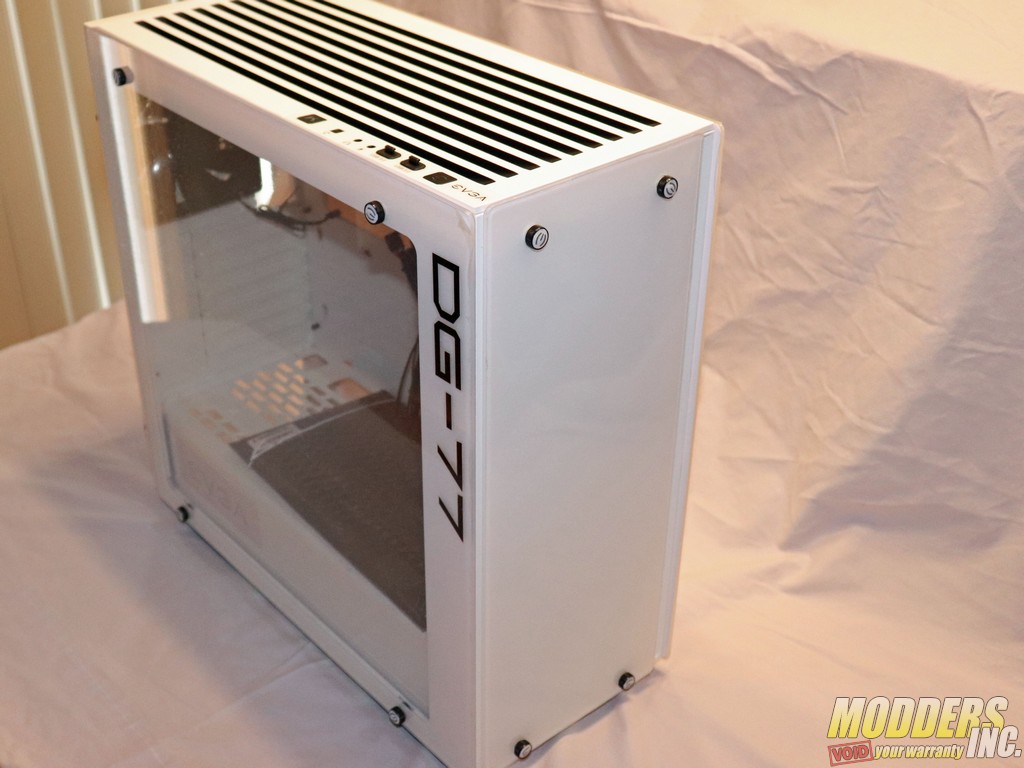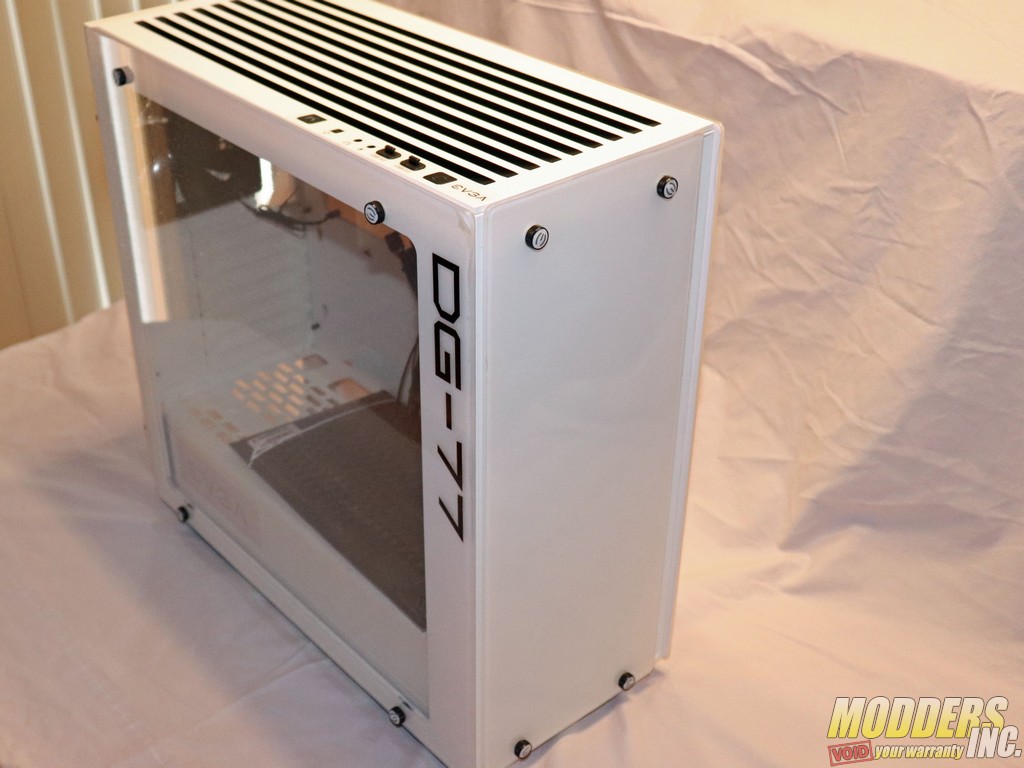 Review Sample Provided by: EVGA
Product Name: EVGA DG-77 Alpine White Midtower
Product was given in exchange for work done to produce this review.
The EVGA DG-77 we're looking at in this review shipped to us in a thick gray cardboard box adorned with large photos of the exterior case on the wide side, and photos of a handful of highlighted features on the short side. These include the "diamond tough" tempered glass (which includes an untinted window on the Alpine White edition), the K-Boost button (which overclocks the GPU and CPU with a single press), customizable RGB LEDs, and a handy cable management channel.
The other short side of the box offers a detail specifications chart that covers the case's build materials (metal and tempered glass), I/O ports, storage bays, fan support, and a handful of odds and ends. Inside the box, the DG-77 is wrapped in a black fabric bag and suspended in soft foam. You know you're in for something special when the packing material feels premium.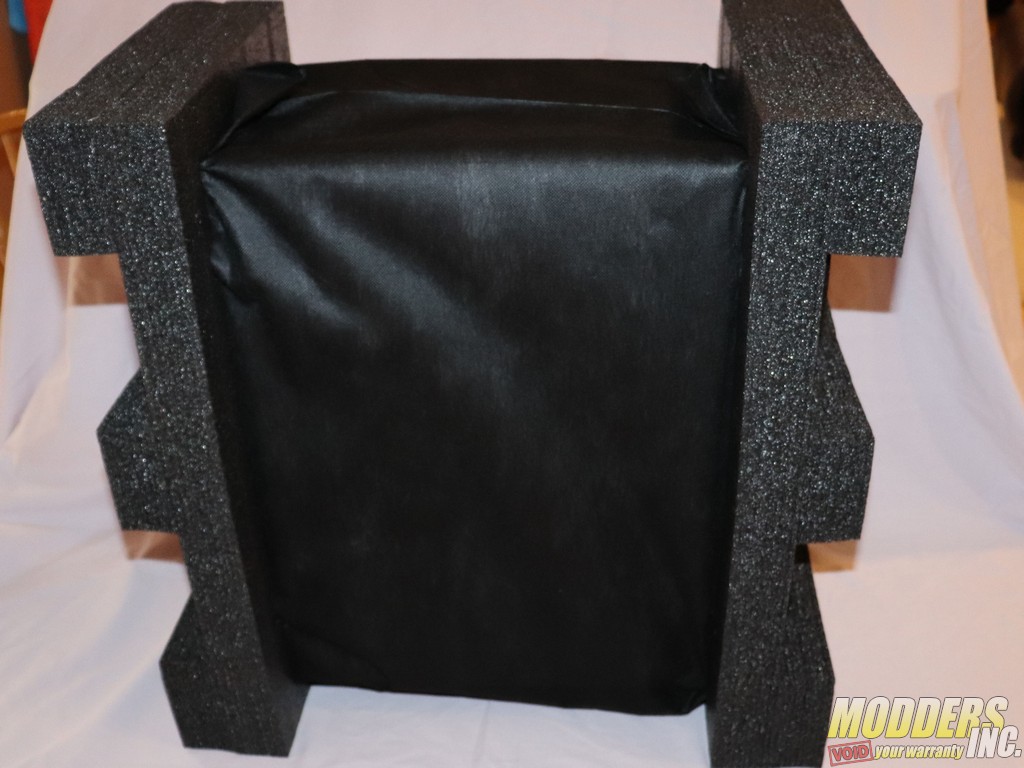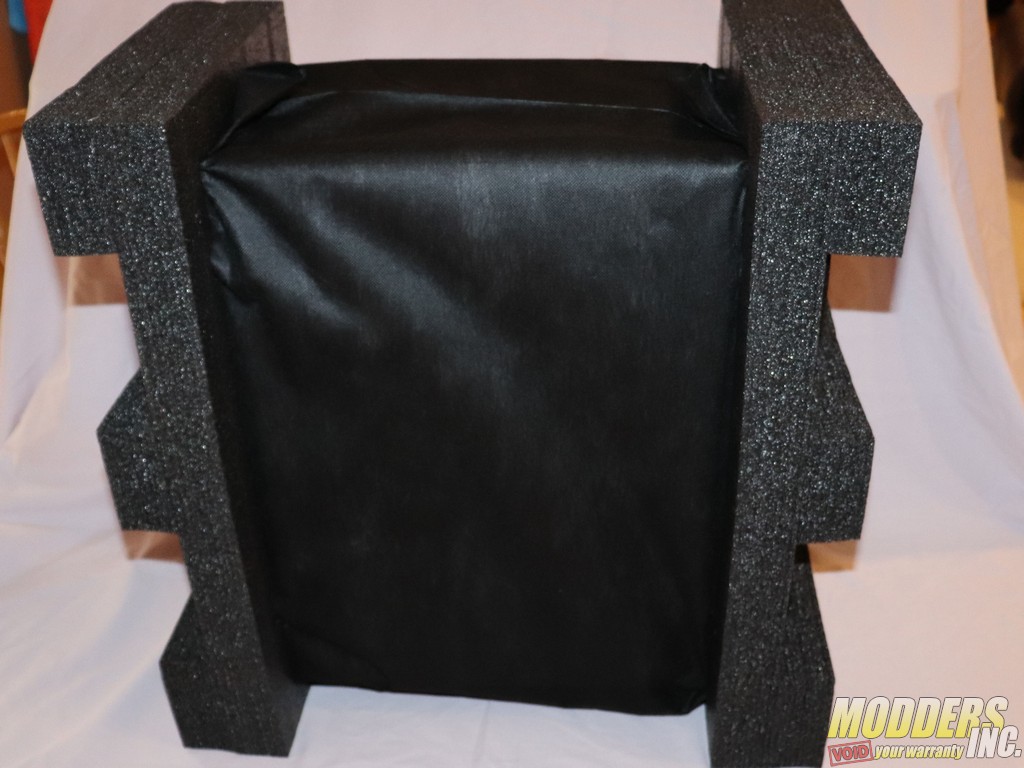 The EVGA DG-77 has an MSRP of $170, but as of this writing, we found a number of online outlets selling the Alpine White version for between $103 and $122. The matte black version was selling for slightly less.
Technical Specifications
Model Name
176-W1-3542-KR
Case Color
Alpine White
Dimensions
18.8-inches x 8.3-inches x 19-inches (DxWxH)
Material
Steel, Plastic, Tempered Glass
Form Factor
Midtower
M/B Type
ATX, Micro ATX, Mini ITX
Top-Panel I/O
2 x USB 3.0, Mic & Line-Out, Power/Reset, K-Boost
Drive Bays
5.25-inch
0
3.5-inch
2 (Convertible to 2.5-inch bays)
2.5-inch
4 (2 Converted from 3.5-inch bays)
Expansion Slots
7
Fan Slots
Front
3 x 120mm, 2 x 140mm (2 x 120mm fans included)
Rear
1 x 120mm (1 x 120mm fan included)
Top
3 x 120mm, 2 x 140mm (1 x 120mm fan included)
Radiator Support
Front
1 x 360/280/240/140/120mm
Rear
1 x 120mm
Top
N/A
Weight
22.4 pounds
PSU Bay
Length w/ Cables: 10.8-inches (274mm)
Rear Cable Channel
1.4-inches (37mm)
Maximum Compatibility
VGA Card Length: 17-inches (431mm)
CPU Cooler Height: 7-inches (177mm)