Motherboard Overview »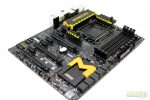 Before we proceed with the motherboard review, a primer on the new Z97 chipset is necessary. First, close your eyes and think of the Z87 chipset features. There. You are already up to date with what the Z97 chipset can do. Oh and also M.2 SSD support has been added, which some manufacturers might even opt not to put in their boards. It sounds boring if you look at it that way, but whenever limitations like this happens, motherboard manufacturers seem to step up and design exciting motherboards boards to compensate for the lack of native change in the chipset's part. Do you the remember the Z68 motherboards that came out to replace the P67 chipsets? It is pretty much the same deal here. Much like Hollywood, most of the releases we will see are going to be sequels. Some will be great and some will fail to be better than the original. The only way to find out of course is to actually review them in detail.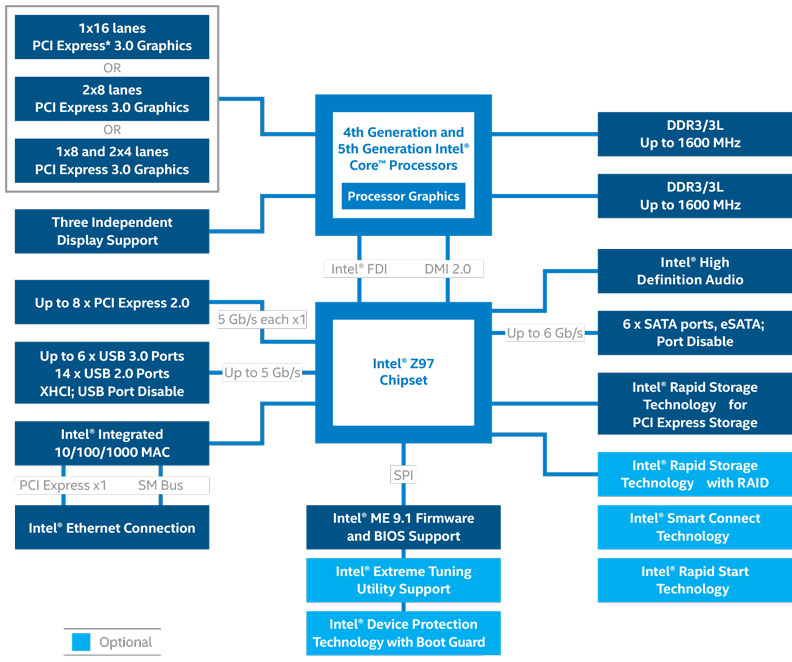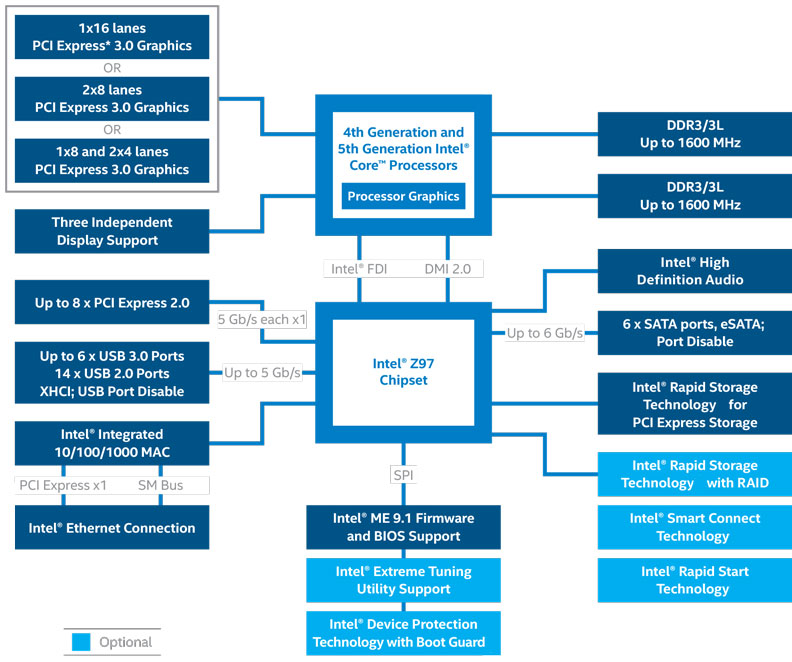 | | | |
| --- | --- | --- |
| Key Feature Differentiation | Z87 | Z97 |
| Processor Support | LGA1150 | LGA1150 |
| Firmware Sku Support | 1.5M | 1.5M |
| Graphics Support | 1×16 or 2×8 or 1×8 + 2×4 | 1×16 or 2×8 or 1×8 + 2×4 |
| Independent Displays | 3 | 3 |
| Mem/DIMMs per Channel | 2/2 | 2/2 |
| CPU Overclocking | YES | YES |
| Intel Rapid Storage Technology | YES (v12) | YES (v13) |
| Dynamic Storage Accelerator | YES | YES |
| Intel Device Protection with Boot Guard | NO | YES |
| Intel Smart Response Technology | YES | YES |
| Small Business Advantage | NO | NO |
| USB total (Maximum USB3.0) | 14(6) | 14(6) |
| IO Port Flexibility | YES | YES |
| Total SATA (Max # of 6Gb/s) | 6(6) | 6(6) |
| Maximum PCI Express* 2.0 (5GT/s) | 8 | 8 |
| PCI Express M.2 Support | NO | 1×2 |
Review Sample Provided by: MSI
Product Name: Z97 MPower MAX AC Motherboard
MSRP: $259 USD
Product was given in exchange for work done to produce this review.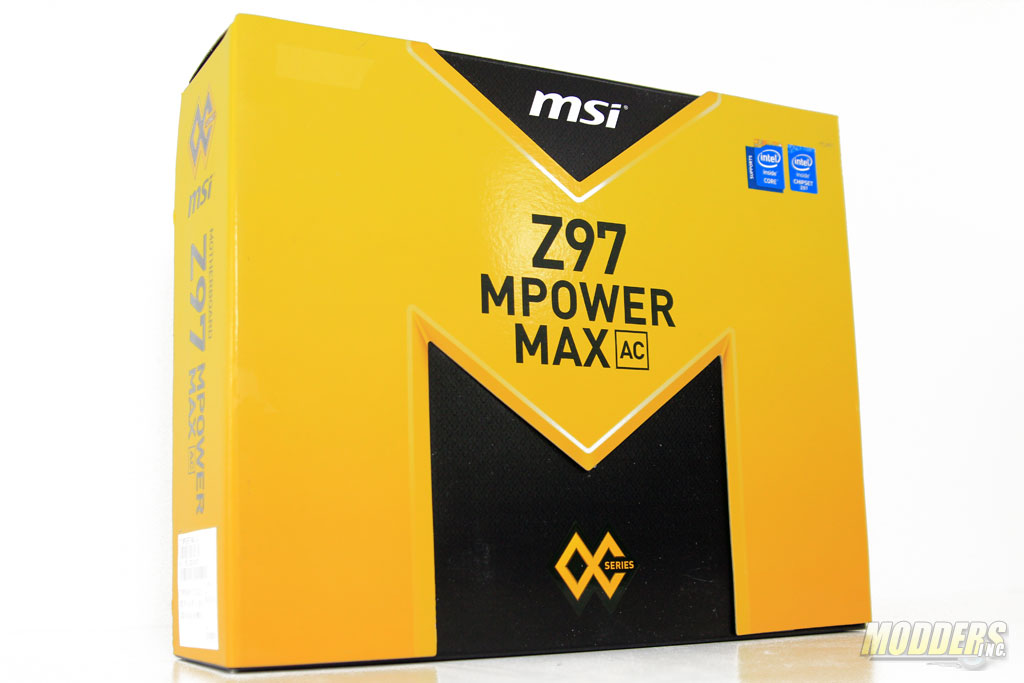 The Mpower MAX AC motherboard is part of MSI's OC series mainboard line using a yellow and black color scheme introduced with the previous generation Z87 mainboard release. The front cover flips open for a preview of the board itself and the components inside are separated into two boxes, one for the motherboard proper and one for the accessories.
Being a high-end product, the MPower MAX AC accessory box is quite full with the standard driver/utilities disc (spanning two-discs), software and hardware user's guide, IO shield, front-panel M-connectors, six SATA cables (half of which are angled on one connector end and the other three have straight connectors on both ends), and dual-SLI cable. Bonus accessories include a fold-out poster which doubles as a motherboard feature map on the other side, a powered eSATA kit, metal case badge featuring the updated MSI OC-series logo, V-check extension cables, wireless 802.11AC WiFi module kit with a pair of magnetic-base antennas, and SATA cable label stickers. Noticeably absent is the USB 3.0 expansion slot bracket that was included in the Z87 version of the Mpower MAX for the second on-board USB 3.0 header.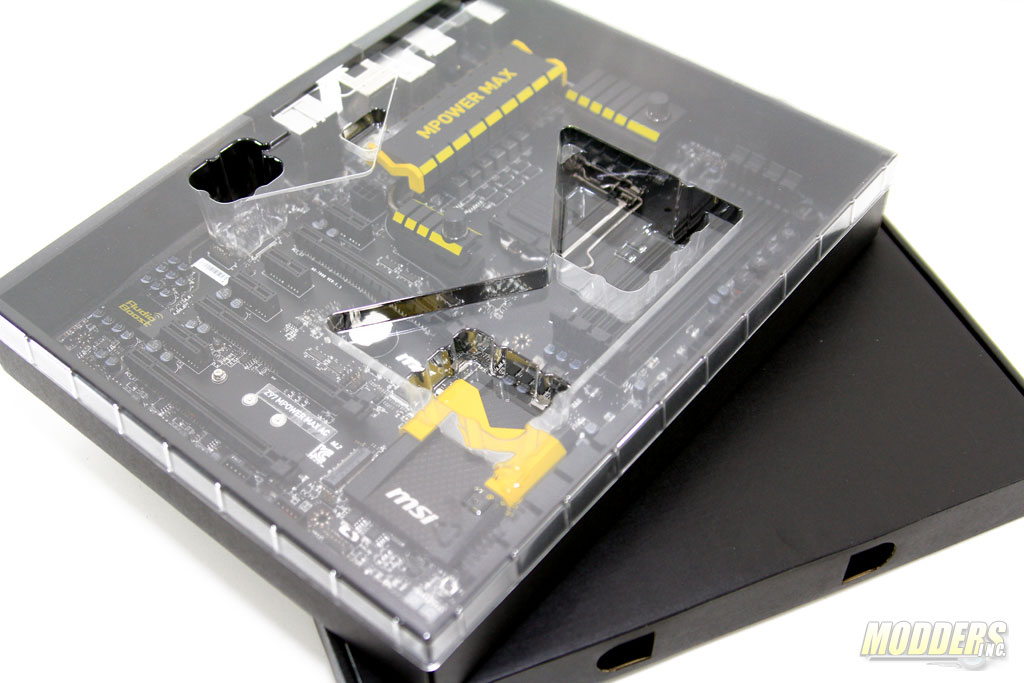 Specifications:
CPU
Supports 4th and 5th Generation Intel® Core™ Processors, and Intel® Pentium® and Celeron® Processors for Socket LGA1150
Chipset
Intel Z97 Express Chipset
Memory
Support four DDR3 DIMMs 1066/1333/1600/1866*/2000*/2133*/2200*/2400*/2600*/2666*/2800*/3000*/3100*/3200*/3300*(OC) DRAM, 32GB Max
– Supports Dual-Channel mode
– Supports non-ECC, un-buffered memory
– Supports Intel® Extreme Memory Profile (XMP)
Expansion Slots

3 x PCIe 3.0 x16 slots (support x16, x8/x8, x8/x4/x4 modes)
4 x PCIe 2.0 x1 slots*
On-Board SATA

Intel® Z97 Express Chipset
– 6 x SATA 6Gb/s ports (SATA1~6)
– 1 x M.2 port*
– M.2 port supports M.2 SATA 6Gb/s module
– M.2 port supports M.2 PCIe module up to 10Gb/s speed**
– M.2 port supports 4.2cm/ 6cm/ 8cm length module
– Supports RAID 0, RAID1, RAID 5 and RAID 10***
– Supports Intel Smart Response Technology, Intel® Rapid Start Technology and Intel Smart Connect Technology****ASMedia® ASM1061 chipset
– 2 x SATA 6Gb/s ports (SATA7~8)
USB
Intel Z97 Express Chipset
– 4 x USB 3.0 ports available through the internal USB connectors
– 6 x USB 2.0 ports (2 ports on the back panel, 4 ports available through the internal USB connectors*****)ASMedia ASM1074 Chipset
– 6 x USB 3.0 ports on the back panelASMedia ASM1042 Chipset
– 2 x USB 3.0 ports on the back panel
Audio
Realtek® ALC1150 Codec
– 7.1-Channel High Definition Audio
– Supports S/PDIF output
– Supports S/PDIF Input
LAN
1x Intel I218-V Gigabit LAN Controller
Multi-GPU
Supports 3-Way AMD CrossFire™ Technology******
Supports 2-Way NVIDIA® SLI™ Technology
Wireless LAN

Wi-Fi/Bluetooth expansion module with Intel Dual Band Wireless-AC 7260 chip.
– Supports Wi-Fi 802.11 a/b/g/n/ac, dual band (2.4GHz, 5GHz) up to 867 Mbps speed.
– Supports Intel Wireless Display (WiDi)
Bluetooth
Wi-Fi/Bluetooth expansion module with Intel Dual Band Wireless-AC 7260 chip.
– Supports Bluetooth v4.0 (includes BLE* and Bluetooth 3.0+HS)
Internal IO Connectors

– 1x 24-pin ATX main power connector
– 1 x 8-pin ATX 12V power connector
– 1 x 4-pin ATX 12V power connector
– 1 x 6-pin ATX 12V power connector*******
– 8 x SATA 6Gb/s connectors
– 2 x USB 2.0 connectors (supports additional 4 USB 2.0 ports)
– 2 x USB 3.0 connectors (supports additional 4 USB 3.0 ports)
– 2 x 4-pin CPU fan connectors
– 3 x 4-pin system fan connectors
– 1 x Clear CMOS jumper
– 1 x Front panel audio connector
– 2 x System panel connectors
– 1 x TPM module connector
– 1 x Chassis Intrusion connector
– 9 x V-Check connectorsts
– 1 x GO2BIOS button
– 1 x Power button
– 1 x Reset button
– 2 x Base Clock control buttons
– 1 x OC Genie button
– 1 x Discharge button
– 1 x Multi-BIOS switch
– 1 x OC Genie mode switch
– 1 x Slow mode switch
– 1 x 2-Digit Debug Code LED
– 1 x Wi-Fi/Bluetooth module connector

Back I/O Ports

– 1x PS/2 keyboard/ mouse port
– 2 x USB 2.0 ports
– 1 x Clear CMOS button
– 8 x USB 3.0 ports
– 1 x Optical S/PDIF OUT connector – 1 x HDMI port, supporting a maximum resolution of 4096×2304@24Hz, 2560×1600@60Hz, 3840×2160@60Hz, 1920×1200@60Hz
– 1 x DisplayPort, supporting a maximum resolution of 4096×2304@24Hz, 2560×1600@60Hz, 3840×2160@60Hz,1920×1200@60Hz
– 1 x LAN (RJ45) port
– 6 x OFC audio jacks
Dual-Display Support

– Extend Mode
– Clone Mode
BIOS
– The motherboard BIOS provides "Plug & Play" BIOS which detects the peripheral devices and expansion cards of the board automatically.
– The motherboard provides a Desktop Management Interface(DMI) function which records your motherboard specifications.
Dimension
– 30.5cm(L) x 24.4cm(W) ATX Form Factor
Mounting Holes

9 mounting holes
VGA Max Share Memory (MB)

1760
NOTE
* The SATA5 and SATA6 ports will be unavailable when installing a module in the M.2 port.
** M.2 PCIe interface only supports UEFI option ROM, NOT support legacy option ROM.
*** M.2 PCIe interface does not support RAID 0, RAID1, RAID 5 and RAID 10.
**** Supports Intel Core processors on Windows 7 and Windows 8/ 8.1***** internal JUSB1 connector supports MSI Super Charger ******Supports Windows 7 and Windows 8/8.1.******* Provides additional power to PCIe x16 slots