« Gigabyte GA-Z97MX-Gaming 5 Overview
|
UEFI Overview »
Bundled Software
Gigabyte App Center


The App Center is a one-stop launch pad for the Gigabyte bundled software. It sits on the Windows system tray or with a small docked window on the corner where users can launch the various Gigabyte apps. Users can also choose from three different Gigabyte color themes: blue (default), orange and green.
CloudStation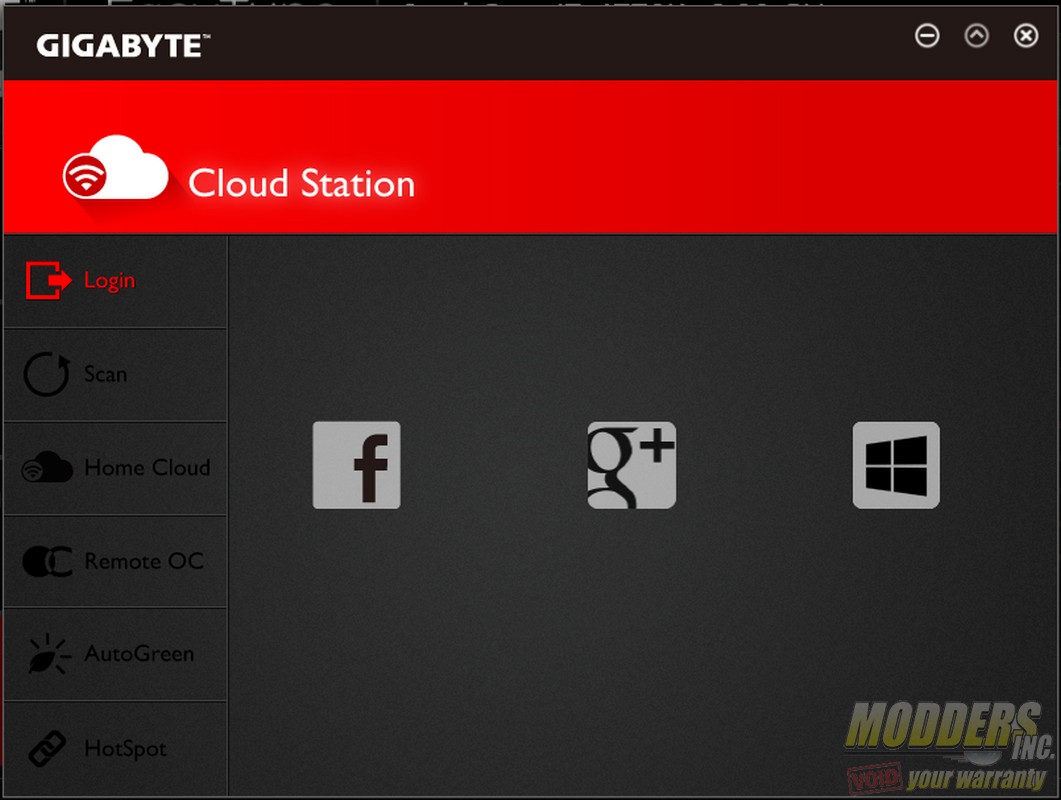 The Gigabyte Cloud Station is a powerful software that turns your Gigabyte Z97MX-Gaming 5 based system into a personal cloud center. Even though there is no built-in WiFi or Bluetooth on the Z97MX-Gaming 5, users can access, share and control the system remotely with an iOS or Android based device if it is connected to the same Wireless network.
EasyTune
Easy Tune is Gigabyte's simple desktop overclocking utility that can do it automatically (via presets and auto-tuning algorithm) or manually. A floating hardware monitor that sits on the right side of the screen also pops up whenever the software is loaded so users can monitor all pertinent values. The voltages for the preset are surprisingly aggressive with 1.349Vcore for the 4.3GHz "medium" preset overclock (I did not even want to try the Extreme setting since I am using an air cooler). The XMP was also not loaded nor was the memory overclocked in these presets. A reboot might be necessary after every time an overclock is applied. Manual OC via Advanced CPU OC and Advanced DDR OC show comprehensive options similar to the ones available via the SmartTweak UEFI. Individual RAM timings however are permanently grayed out only giving users the option to change the memory multiplier frequency or load the XMP profile.
FastBoot
Gigabyte's Fast Boot utility allows users to change the boot speed settings directly from the desktop and also access the UEFI with a single button click. The program is oddly large even though it only does a simple, albeit useful function. Design-wise it would make more sense if the "boot to UEFI" button was larger and at the center instead of having the various boot speed options at the top since these are options which will not be often changed anyway or used as often as directly booting to UEFI.
System Information Viewer
The system information viewer not only displays information about the current motherboard but users can also monitor and control the on-board fan headers with calibration option and presets. After calibration, System Information Viewer displays the available RPM range detected of the fan installed (works on both 3-pin and 4-pin fans) and graphs a recommended workload vs. temperature slope. There is also a system alerts page that allows users to set thresholds for certain values and to be alerted when those are crossed.
Smart Lock
Smart Time Lock is essentially a time management software for controlling PC usage and can serve as a parental control system for locking out the PC during certain time of day for children or for employers who want to limit access to a workstation only during specific periods to maximize productivity. The program remains relatively unchanged since it was introduced with the Intel 5-series motherboards but now users can choose different lock modes including full system shutdown.
Smart Recovery 2

Smart Recovery 2 is a system backup utility which also lets users to recover individual files or an entire system image. The application can be automated and is also handy as a system migration tool.
USB Blocker
Gigabyte's USB blocker is a simple utility initially introduced with the 7-series Intel motherboards. The app allows users to block specific USB device types directly from the desktop and secure the status with a custom password. This is ideal if the motherboard will be used in public shared spaces such as offices, libraries, schools, etc where data theft or malware is a concern.