« Introduction
|
Bundled Software »
A Closer Look at the Gigabyte GA-Z97MX-Gaming 5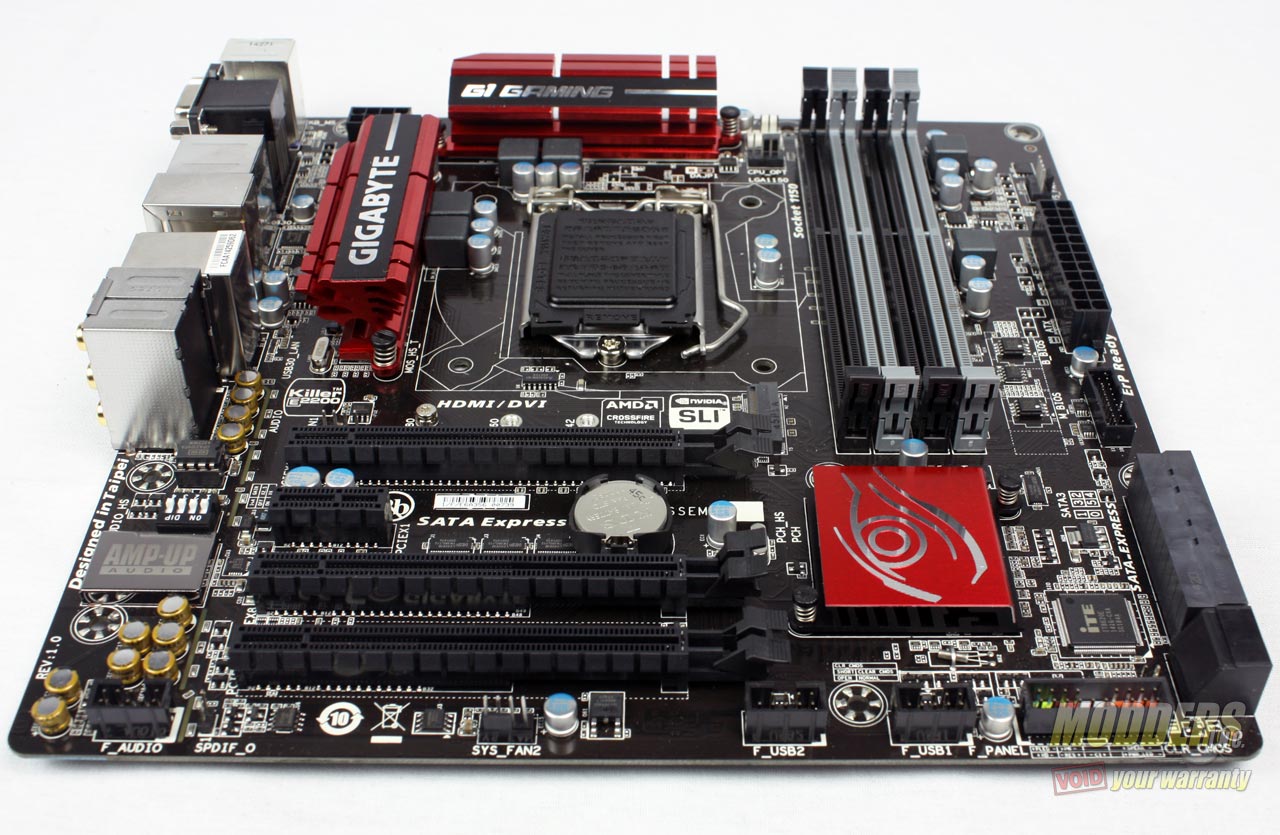 The Gigabyte Z97MX-Gaming 5 is a micro-ATX motherboard on a 4-layer PCB measuring 244x244mm and is part of Gigabyte's G1 Gaming motherboard line which have a uniformly red heatsink color scheme on a black PCB. Its heatsink VRM is a two piece design positioned perpendicularly to the top left of the CPU heatsink and held in place by spring-loaded push-pins making tight contact with the MOSFETs underneath. The chipset heatsink uses a thin graphite thermal tape as the Z97 chipset TDP is 4.1W so the small heatsink cooler will suffice.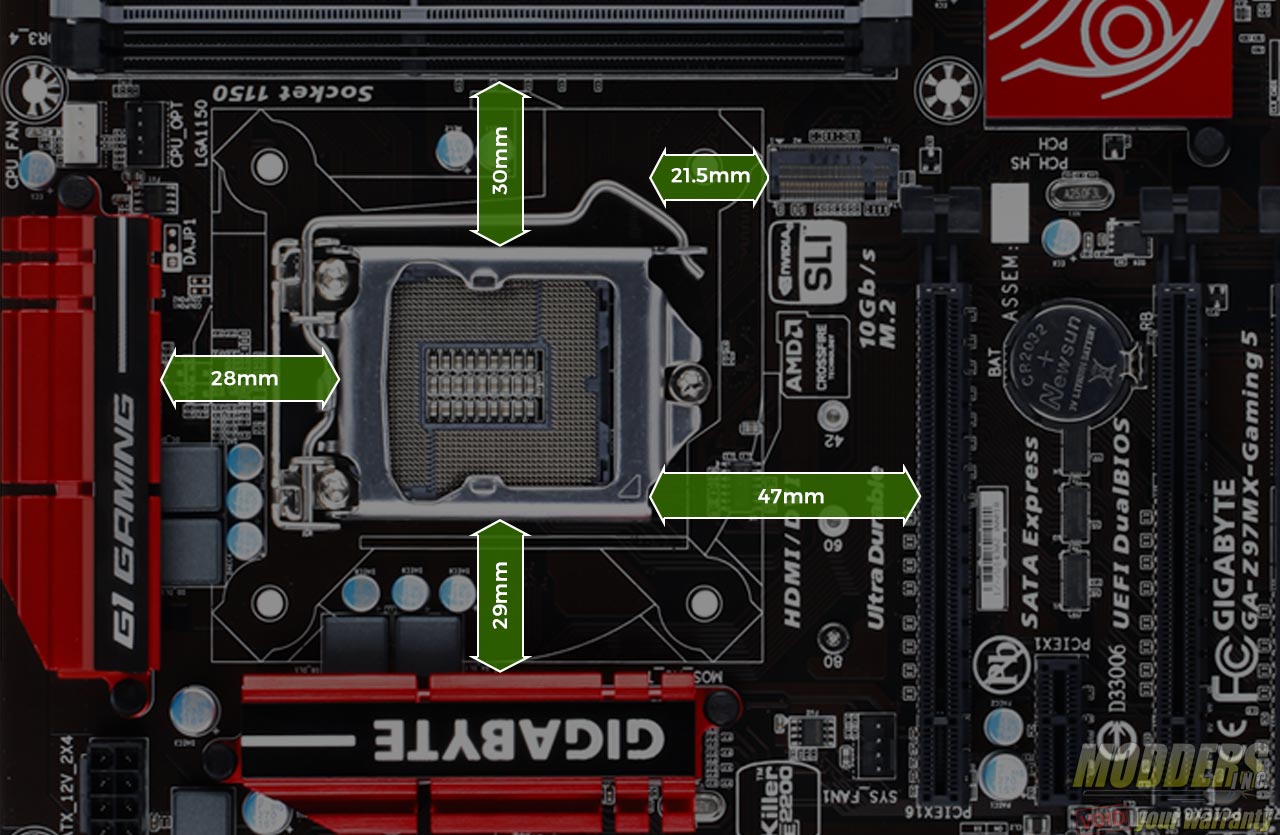 The CPU VRM comprises of an International Rectifier IR3564B (the B version is VRD 12.5 compliant) 4+1 phase PWM controller with a pair of IR3598 drivers in dual mode across four phases. Each phase has three Vishay SiRA12DP PowerPAK SO-8 MOSFETs (one high, two low) and output filtering consists of four 600nH ferrite chokes and six 560uF solid capacitors. The 8-pin CPU power is located at the very top edge with the locking latch facing upward.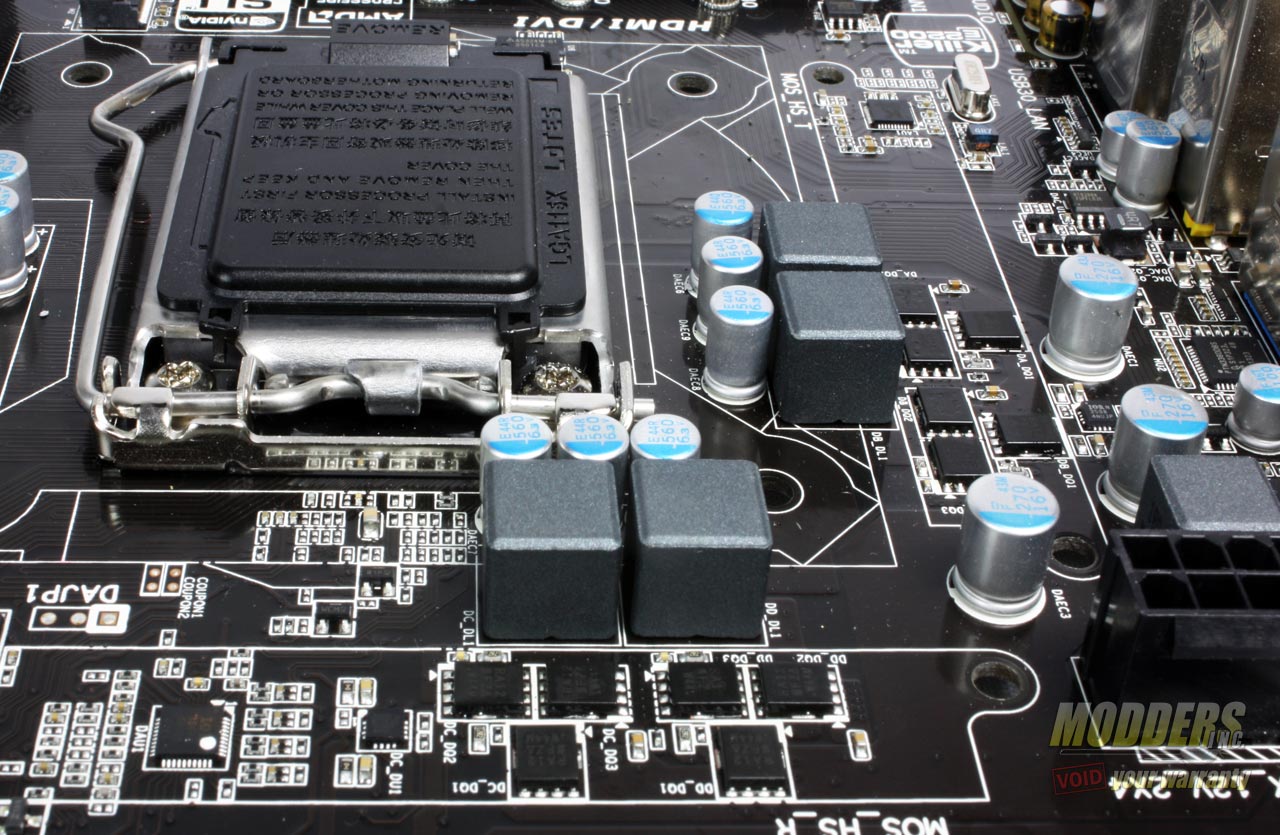 Memory power uses a single-phase Richtek RT8120 with three ON-Semi NTMFS4C10 power MOSFETs (one high, two low) and 1uH ferrite inductor. The DIMM slots support up to 32GB of DDR3 and up to 3100MHz.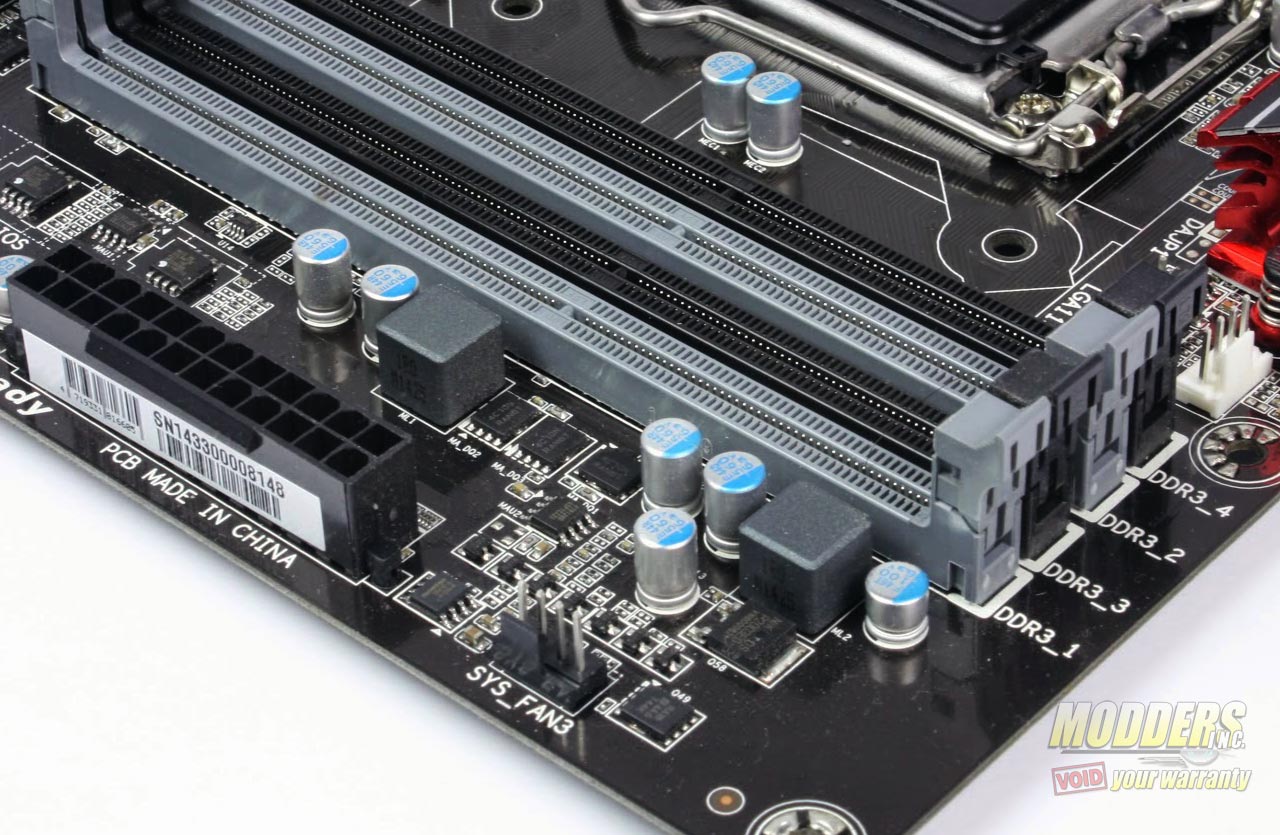 Also along the right edge is the essential 24-pin power connector, a 19-pin USB 3.0 header right below it and two angled SATA ports that is also able to function as a SATA Express port. All the USB 3.0 and SATA ports provided by the Z97MX-Gaming 5 are from the Intel Z97 chipset. A pair of Macronix 64Mb serial flash chips are also visible here as Gigabyte's redundant BIOS protection scheme. If one is corrupted, the secondary BIOS chip kicks in automatically so there is minimal down-time.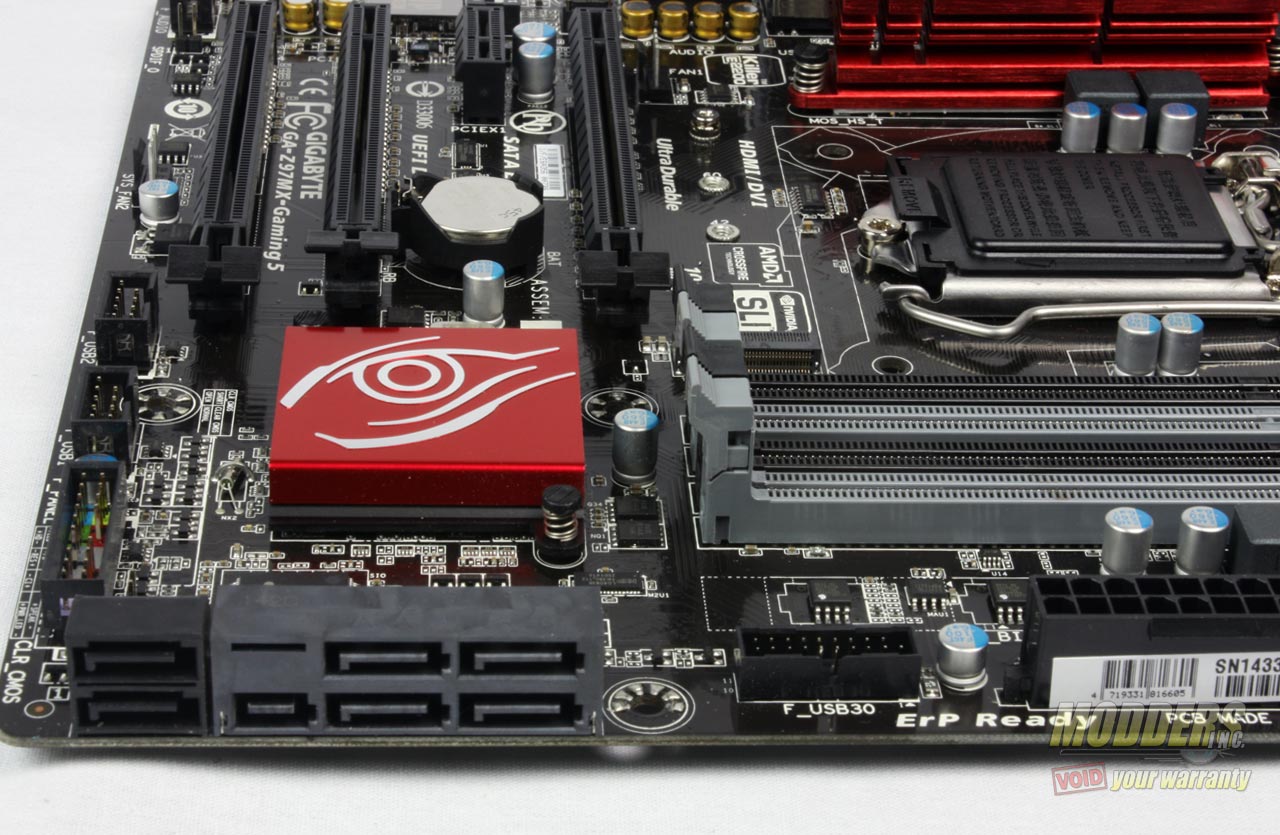 There are five 4-pin fan headers in total assisted by four Nuvoton 3941S-A linear fan drivers with built-in short circuit current limit protection and over temperature protection.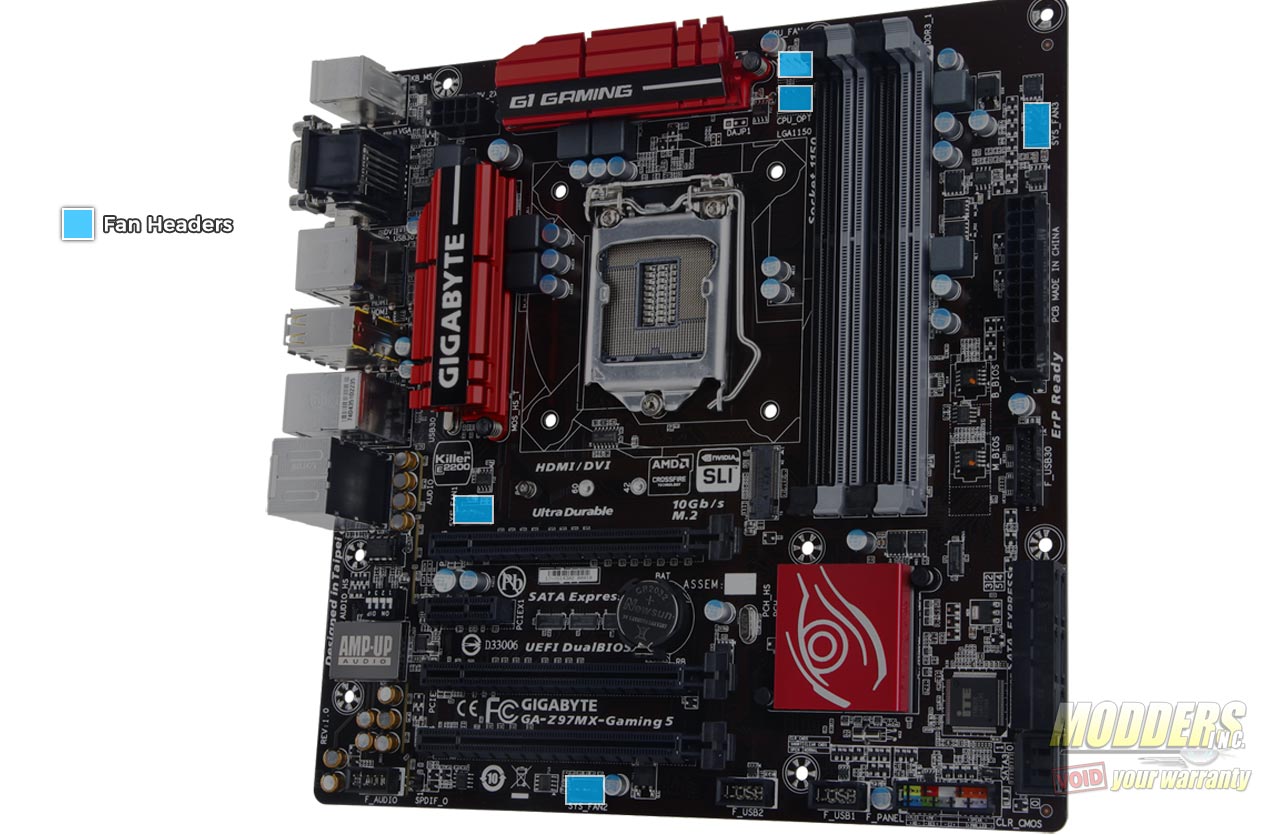 An M.2 SSD port is also provided between the expansion slots and the CPU socket. Users can choose to either use the M.2 SSD port or the SATA Express port and users can also just use any of the two SATA ports of the SATA Express port as a regular SATA. The limitation is that only one of these may be used at the same time so if the M.2 SSD slot is populated, SATA ports 4 and 5 will not work for SATA or SATA Express. The front-panel connector headers are all color coded and clearly marked for convenience at the bottom edge, sitting along with two USB 2.0 ports provided by the Z97 chipset.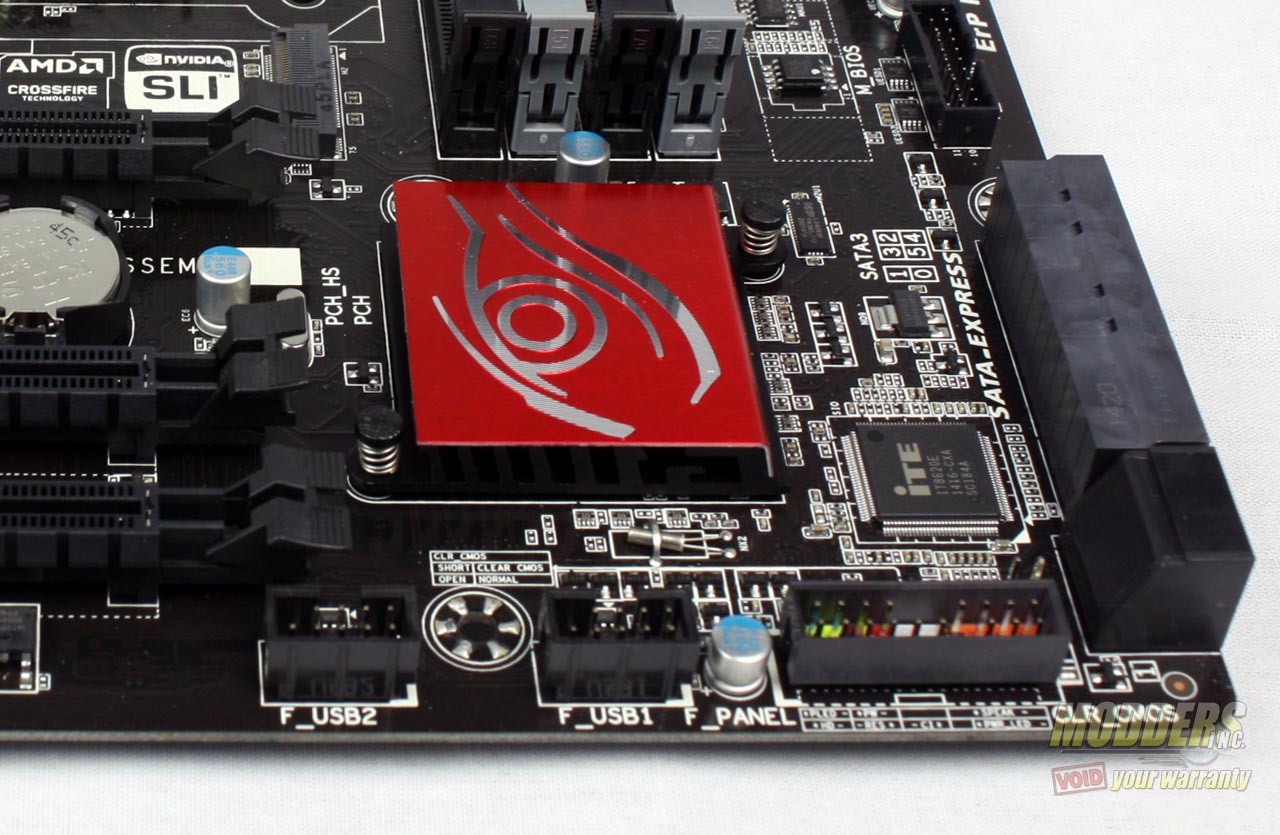 Expansion slot distribution is as follows (in order top to bottom):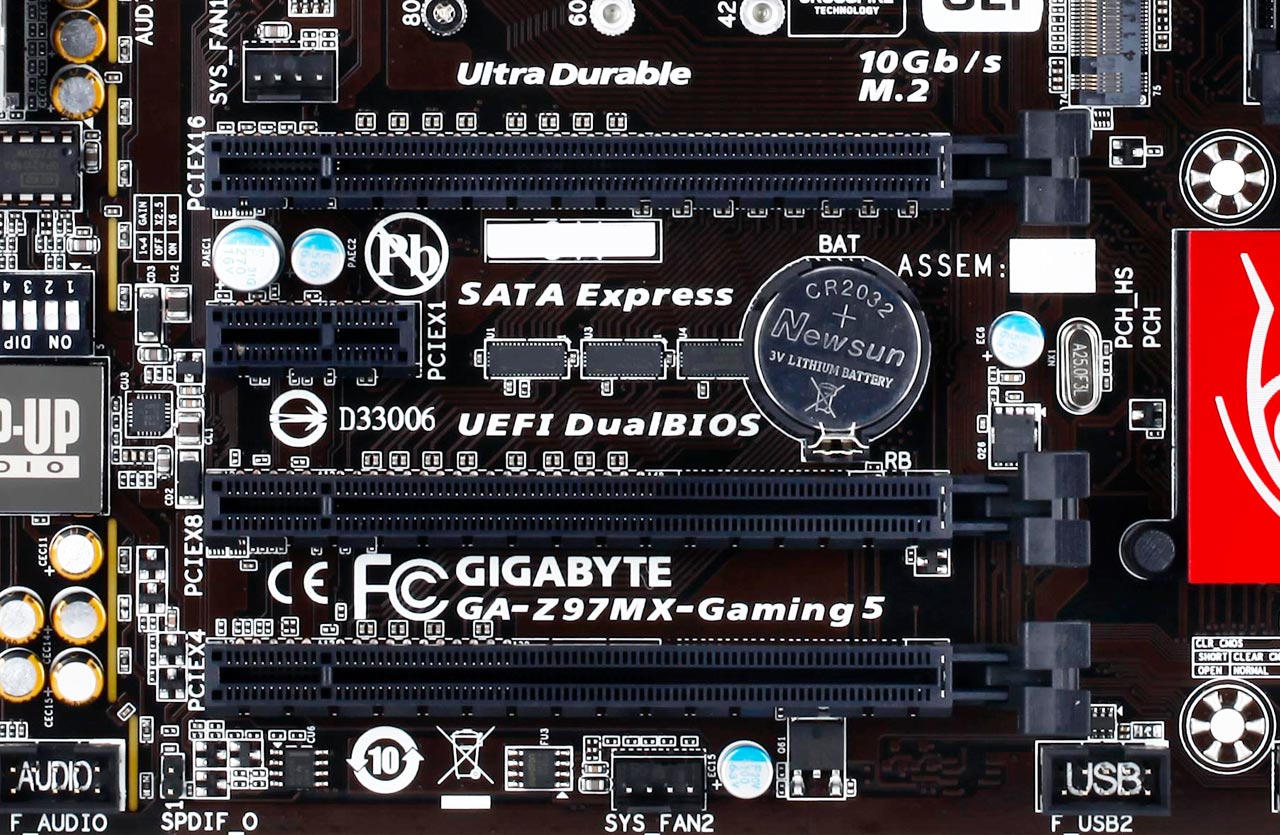 PCI-E 3.0 x16 (from Haswell CPU)
PCI-E 2.0 x1 (from Z97 Chipset)
PCI-E 3.0 x8 (from Haswell CPU via NXP PCI-E CBTL04083B switches)
PCI-E 2.0 x4 (from Z97 Chipset)
Both AMD CrossFire and NVIDIA are supported, as it should be since it is a motherboard designed with Gaming primarily in mind.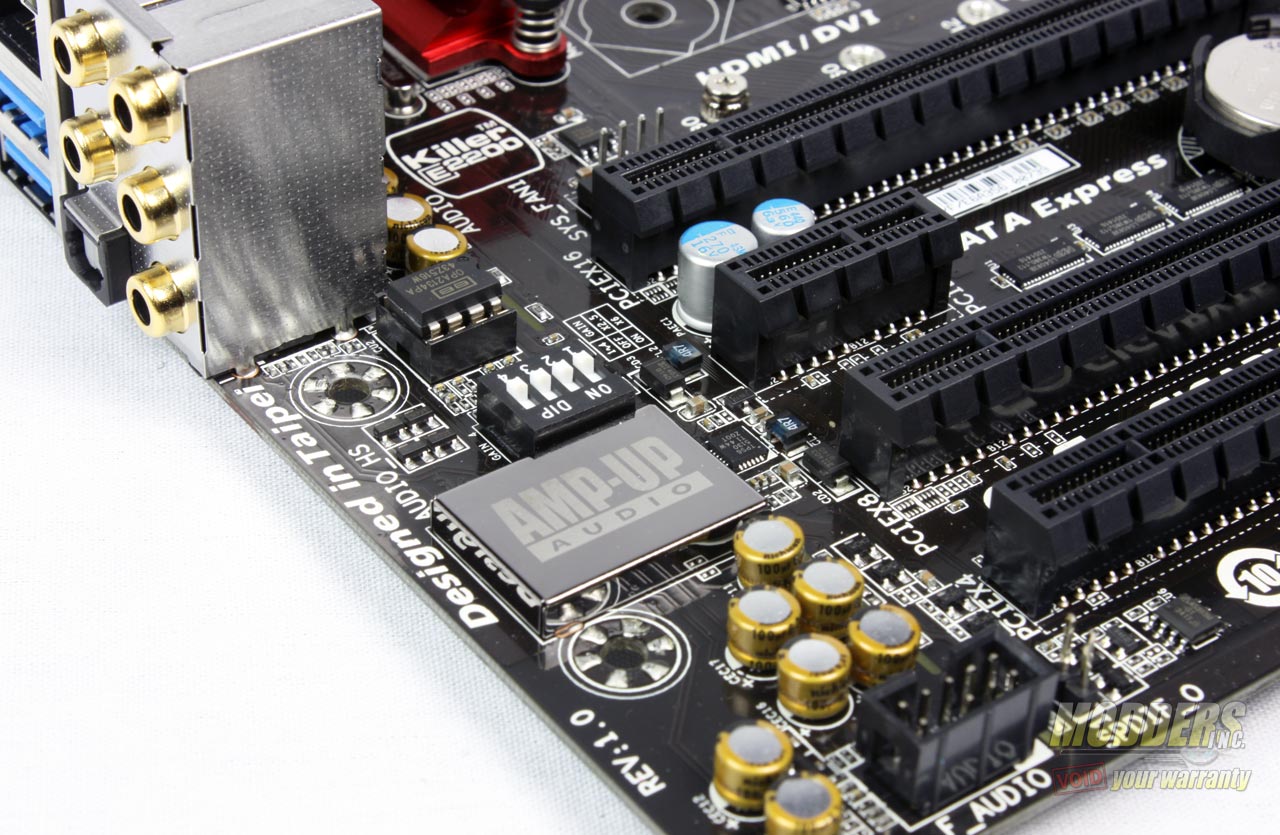 The audio subsystem is physically isolated from the rest of the PCB to minimize interference and highlighted with a line of LEDs at the back of the PCB. The Realtek ALC1150 HD Audio codec is shielded as well and paired with a socketed 8-pin DIP Texas Instruments Burr-Brown OPA2134 with adjustable gain-boost selector switch. This is an upgrade and costs up to 5 times more when bought individually than the TI NE5532 OpAmp used on the non-Gaming Z97 motherboards such as the Z97-D3H previously reviewed here at Modders-Inc. Since the OpAmp is socketed, this also means that users can swap it out with a different OpAmp to fine tune their audio further on top of the gain selector switch. Filtering components also include Nichicon MW-series audio capacitors. All the analog rear audio connectors (front, rear, center/sub, microphone and line-in) are gold plated which looks great, but it can be difficult to discern what to plug where, even with the IO plate because there is no color coding there either. There are labels printed on the IO shield but these are two small, but thankfully the primary audio output has a yellow circle printed on the IO cover. An optical audio connector port can also be found housed with the rest of the rear audio connectors.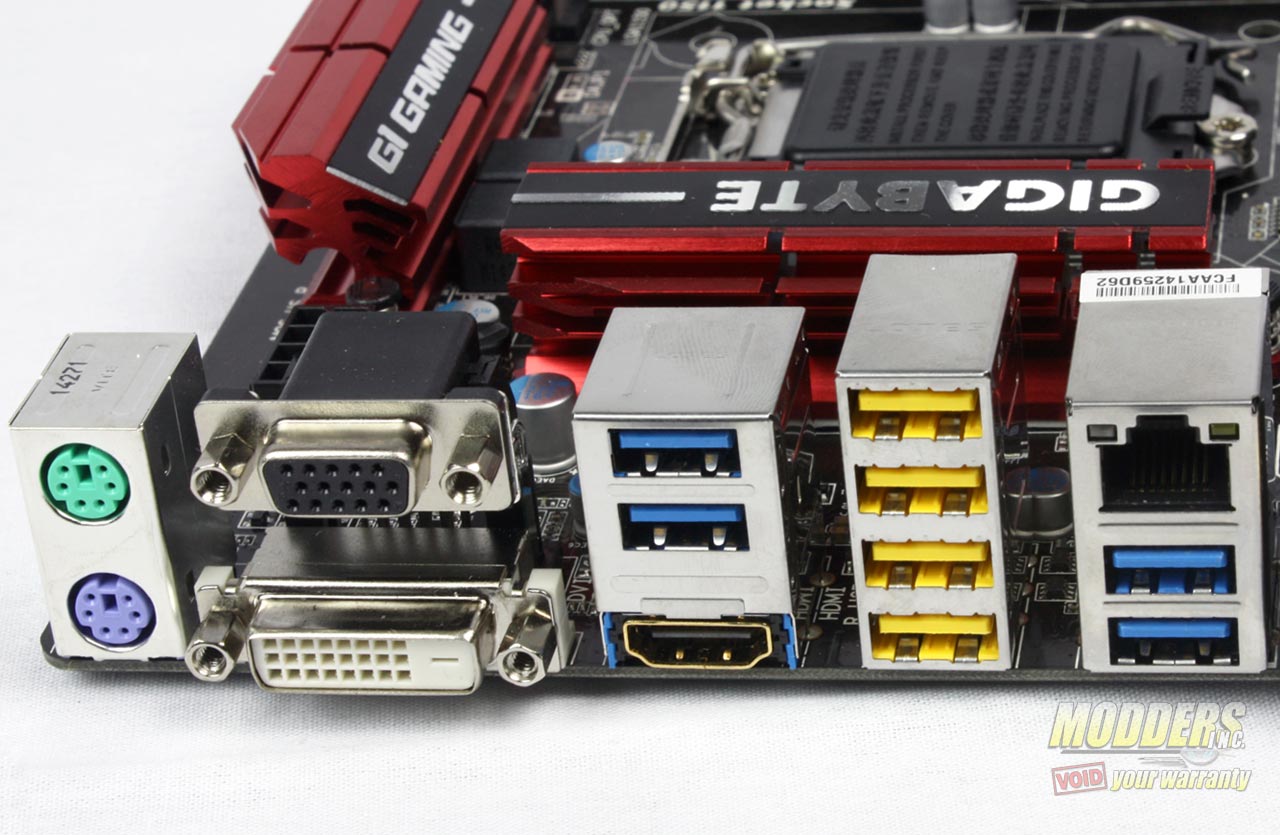 For those with USB audio devices that require steady power sources, Gigabyte provides four USB 2.0 ports in the rear as part of their DAC-UP feature (yellow-colored USB ports) utilizing a RichTek RT8288 3A voltage regulator to step-down the power output. These four DAC-UP USB 2.0 ports together with the two on-board headers bring the total USB 2.0 count to eight. Rear IO connectivity continues with the availability of four USB 3.0 ports, bringing our total to six, all natively provided by the Intel Z97 chipset.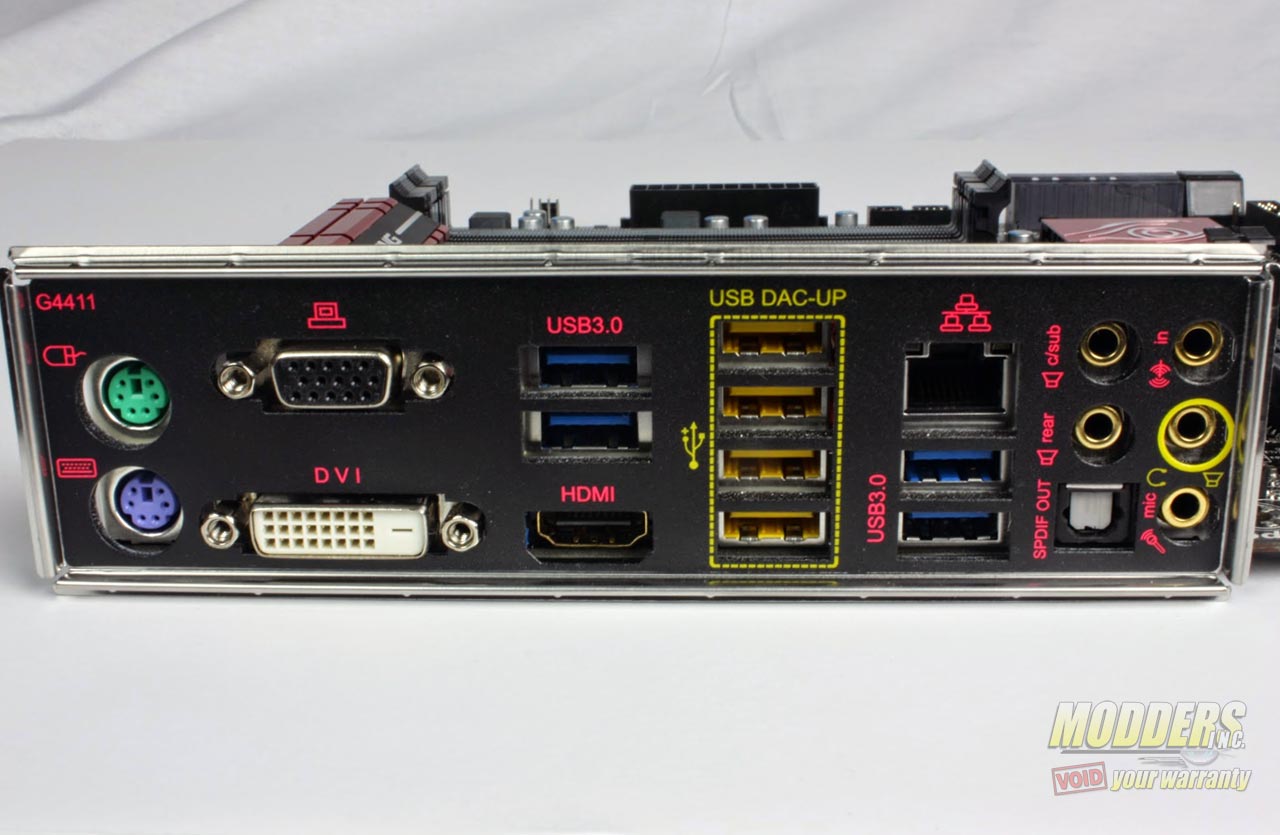 Network connectivity is provided by a Qualcomm Atheros Killer E2201 Gigabit LAN. In terms of native display for integrated Intel graphics, there is a DVI-D port and a D-Sub supporting maximum resolutions of 1920×1200 @ 60Hz as well as a gold-plated HDMI 1.4a port supporting maximum resolutions of 4096×2160 @ 24Hz or 2560×1600 @ 60Hz.
For legacy devices, there are rear PS2 ports for both mice and keyboard, provided by an ITE8620E Super IO chip located behind the SATA ports which also handles system and temperature monitoring functions.