« Introduction
|
A Closer Look at the Z370N WIFI »
Packaging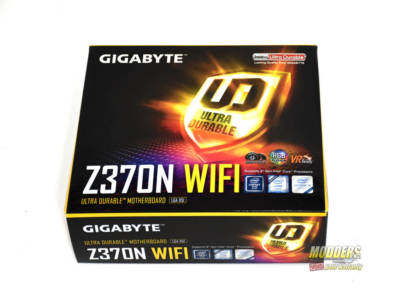 The Z370N WIFI from Gigabyte is part of their Ultra Durable line of motherboards. On the front of the package, it has the classic GIGABYTE logo on the top left-hand corner. To the right, they have the "Insist on Ultra Durable" logo. To the right of the center of the package, there is a large Ultra Durable logo. Directly below is the Z370N WIFI product branding. Next to this are brandings for the various features of the board such as Smart Fan 5, RGB Fusion and VR Ready. Last, on the bottom right-hand corner are the Z270 Chipset, Intel Core processors and Intel Optane logos.
As usual, the rear of the package has a lot of information starting with the UD or Ultra Durable logo on the top, left-hand corner. From left to right, we have the Z370N WIFI branding next to the Intel Z370 Chipset, Core Processor, and Optane logos. Below the UD logo is a depiction of the motherboard. Just below the picture of the board is a list of the specifications of the motherboard with a diagram of the I/O of the Z370N WIFI. Next to the depiction of the board and the specifications are some of the main features of the board. Some of these features are Smart Fan 5 + Fan Stop, M.2 Thermal Guard, Dual M.2 ports with PCIe Gen3 X4 support and 802.11 WIFI just to name a few.
The top, bottom, left and right sides of the box have the same basic information on them, with a few differences. They all have the GIGABYTE, Z370N WIFI branding and the Intel Z370 Chipset, Core Processor, and Optane logos. The bottom of the package also has the UD, Ultra Durable logo, as does the left side of the box. On the right side, the UD logo was replaced with the serial and model numbers, UPC code and other technical information. The top of the box has a short list of features in several languages. These features include 8th Gen Core Processor Support, DDR4 support, Dual BIOS and GIGABYTE APP Center.
The board comes in an anti-static bag and on a cardboard tray with soft foam sides. The foam keeps the board in a more stable place during shipment. When the board and its tray are removed, we find the accessories of the Z370N WIFI. The accessories include the following:
User Manual
Driver Disk
Multilingual Instruction Manual
Pack of SATA Cables
I/O Shield
Screw and anchor for the rear M.2 slot
UD Case Badge
WIFI Antenna