A Closer Look at the Gigabyte Z170X-Designare Motherboard »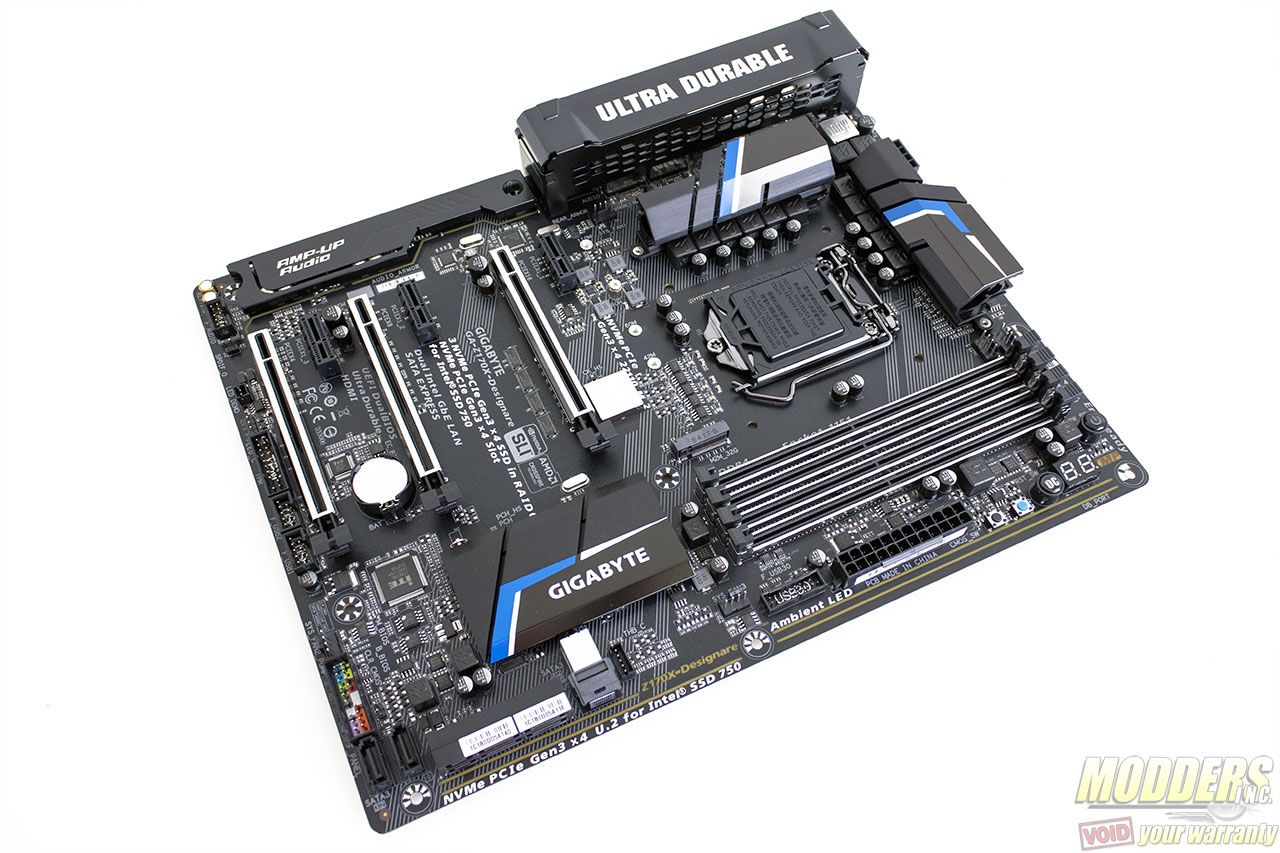 The majority of mainstream motherboards are priced under $200. When it comes to describing one situated north of this border, "practical" is not exactly the first word that comes to mind. For the budgetary pragmatic, this is indulgence territory and for the most part that is a correct assessment. But as the old proverb goes, all work and no play makes Jack a dull boy so having some features primarily for convenience or even purely as eye-candy is actually the more sensible thing to do (for the sake of one's sanity). Treading this line between practicality and indulgence, Gigabyte's new Z170X-Designare (pronounced "de-sig-nayr") is somewhat a challenge to the status-quo, being pushed into the market as a motherboard for the creative and the productive types rather than another bid for the gaming dollar. Gigabyte has packed a lot on the Z170X-Designare's standard ATX layout including onboard U.2, Thunderbolt 3 with dual USB 3.1 Type-C, and dual Intel LAN. Its feature set is meant to attract media professionals looking to build a serious work-horse system but also allows users to personalize and add some visual panache via multi-color capable RGB LEDs.
[sc:sponsor sponsor="Gigabyte" product_link="http://www.gigabyte.com/products/product-page.aspx?pid=5811#ov" product_name="Z170x-Designare" product_price_link="http://amzn.to/2bSBOQ3″ product_price="$249.99″ ]
The Z170X-Designare motherboard is part of Gigabyte's Ultra Durable line, sporting a black box with blue theme and RGB color elements that is a reference to the RGB LED equipped motherboard inside. All the promotional information are in the rear outlining some of the Z170X-Designare motherboard's unique features.
The contents inside the box are stored in two compartments. The top area contains the motherboard housed inside an anti-static bag while underneath, all the accessories are individually packed and stored.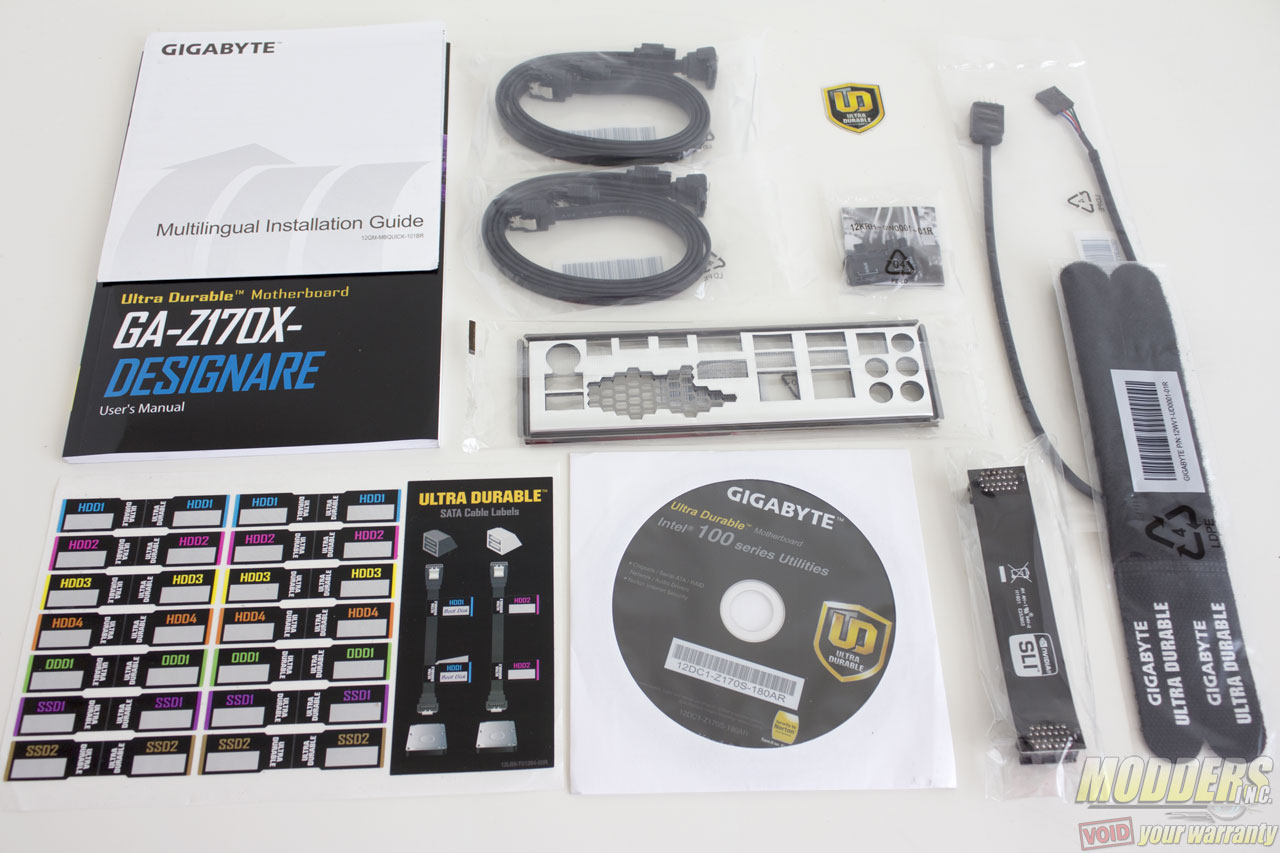 Aside from the essential drive disc (It is 2016, why can't these things come in USB drives instead?), installation guide, manual and IO shield. Gigabyte includes four black SATA cables (two of which have one 90-degree end), a Gigabyte G-connector for the front IO, a dual SLI ribbon cable, a Gigabyte Ultra Durable case sticker, a pair of Gigabyte Ultra Durable velcro cable management strips, storage sticker labels for the cables and a 4-pin RGB LED extension cable.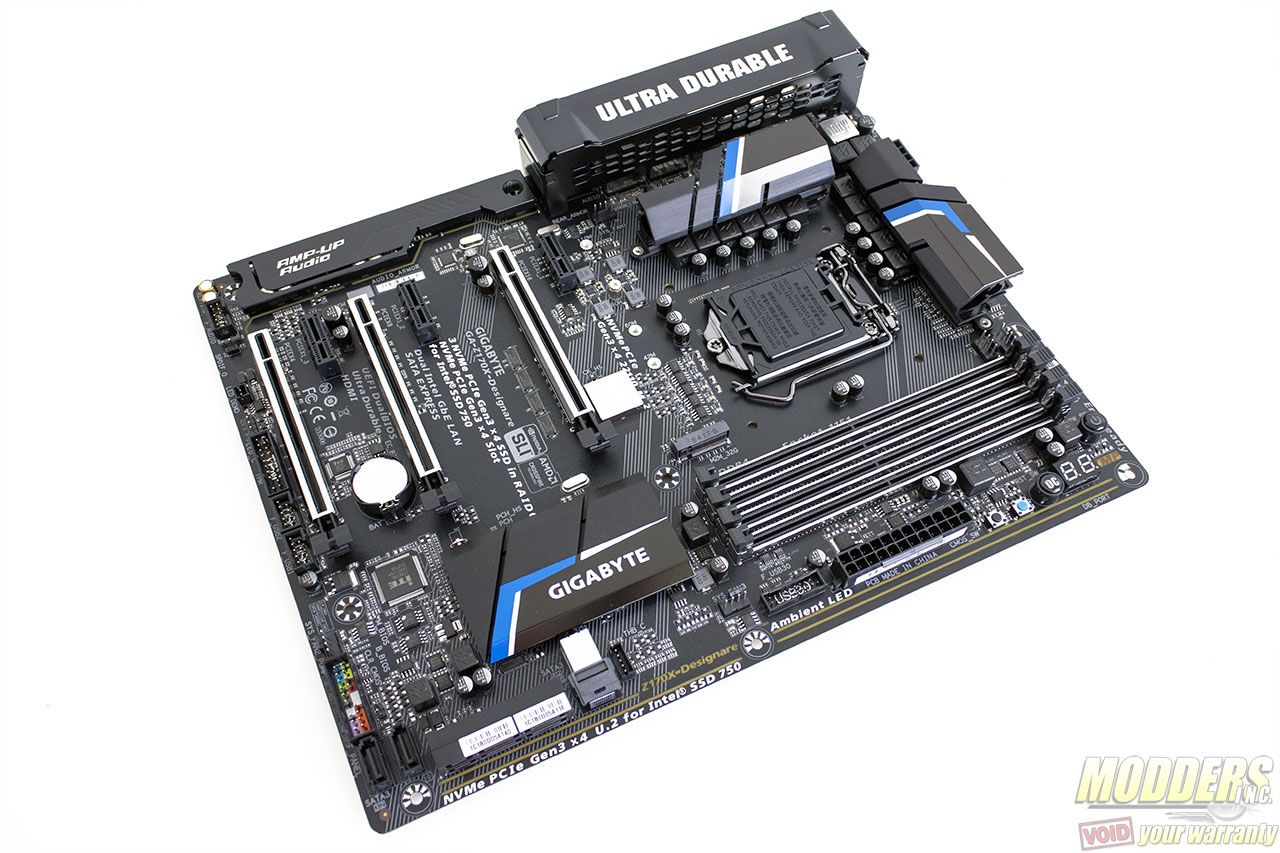 The Gigabyte Z170X-Designare motherboard uses an ATX form factor measuring 305 x 244mm with a matte black 6-layer PCB and brushed aluminum black anodized heatsinks. It is very similar in terms of looks to the previously reviewed Gigabyte Z170X-Ultra Gaming with the exception of having blue and silver accents on the heatsinks, more printing on the PCB and having more functional onboard features. The DIMM and PCI-E x16 slots are also equipped with a shiny "armor" reinforcement. On the right side edge is an obvious strip of LED and there are more outlining the audio area on the other side.