The art of modding involves knowing what to hide just as much as it is knowing what to show. Take something like cable management for instance, where great effort is placed on hiding unnecessary wires away from view, resulting in a cleaner look. To average users, this might sound like a straightforward and easy task but only an experienced modder really knows just how much effort it takes to do something as deceptively simple as having a clean organized build. The entire project is a combination of many efforts like this, great and small, resulting in a final build that is greater than the sum of its parts and representing an idea that is at the same time personal for the builder and relatable to everyone else who has a creative drive.
Taking a Fractal Design Arc Mini R2 as a base, modder Alex Ciobanu expressed the tiny details that make a worthy mod in his "Green Molecule" theme system. He even successfully blends many custom details and additions to the Arc Mini R2 case as if it was stock and as Fractal Design themselves intended.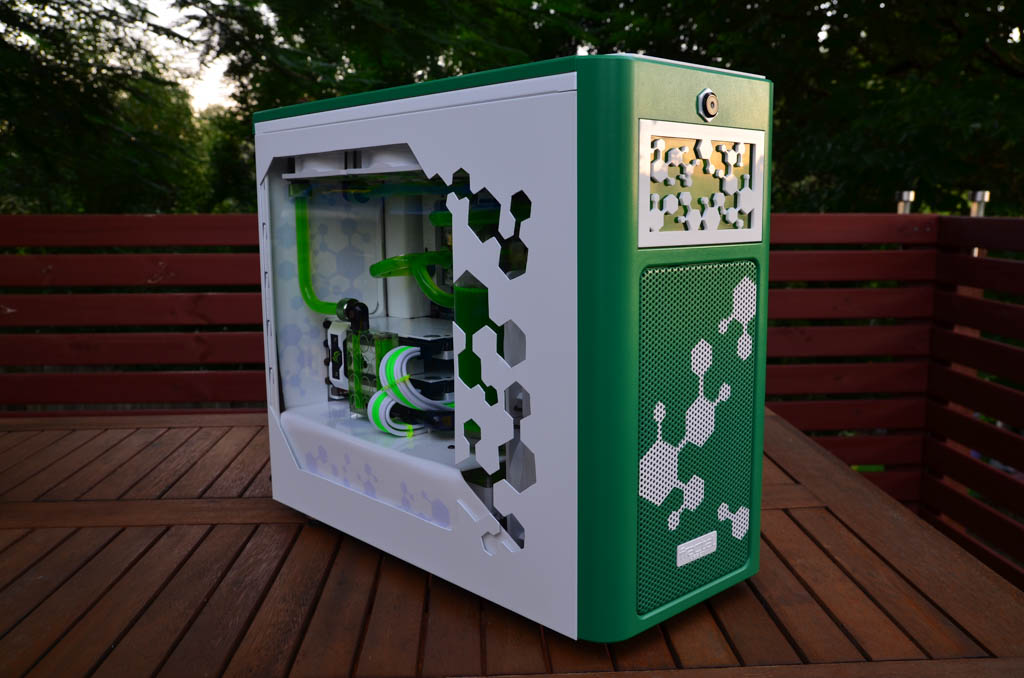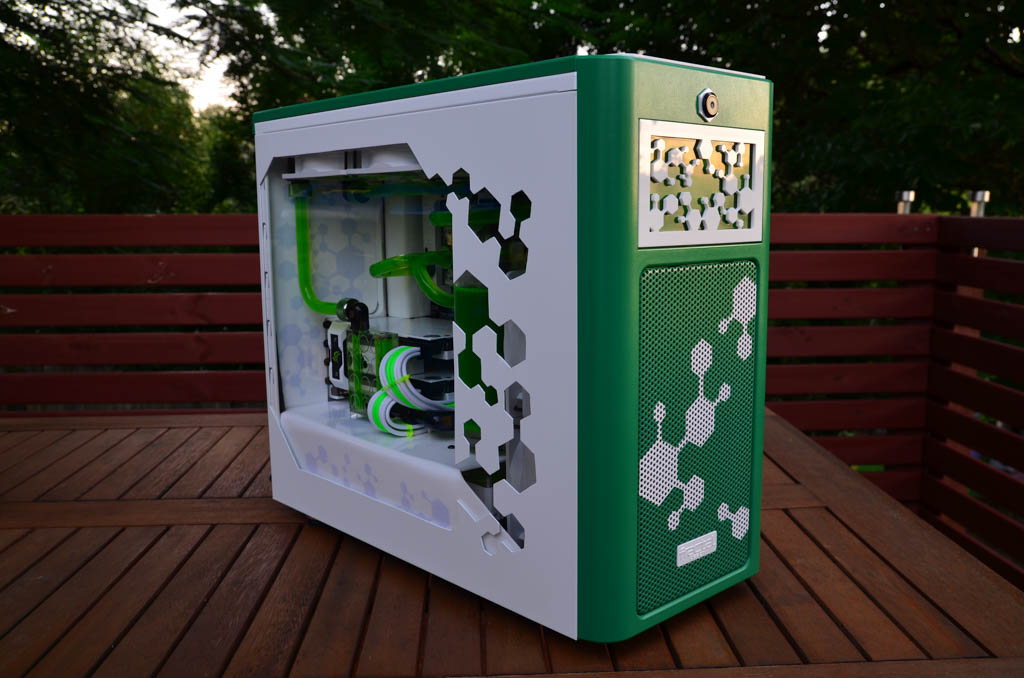 Words from the Modder:
The Green Molecule build has been my second mod project. Nearly every component has been modified to fit the green and white theme with the molecules look. This has been down to the tiniest details such as custom decals for the memory, SSDs and back of PSU, painting the waterblocks all white, covering as much red as possible from the Maximus V Gene motherboard and of course the custom paint job on the entire case. The best features are the custom side panel window, the fully custom reservoir in the front panel and the shroud incorporating the pump and reservoir configuration into it. I have worked countless hours on this build over the last 4 months and have done everything myself except for the custom sleeved cables which were provided by Icemodz and the custom reservoir has been turned into reality by Clockwerk Case Mods.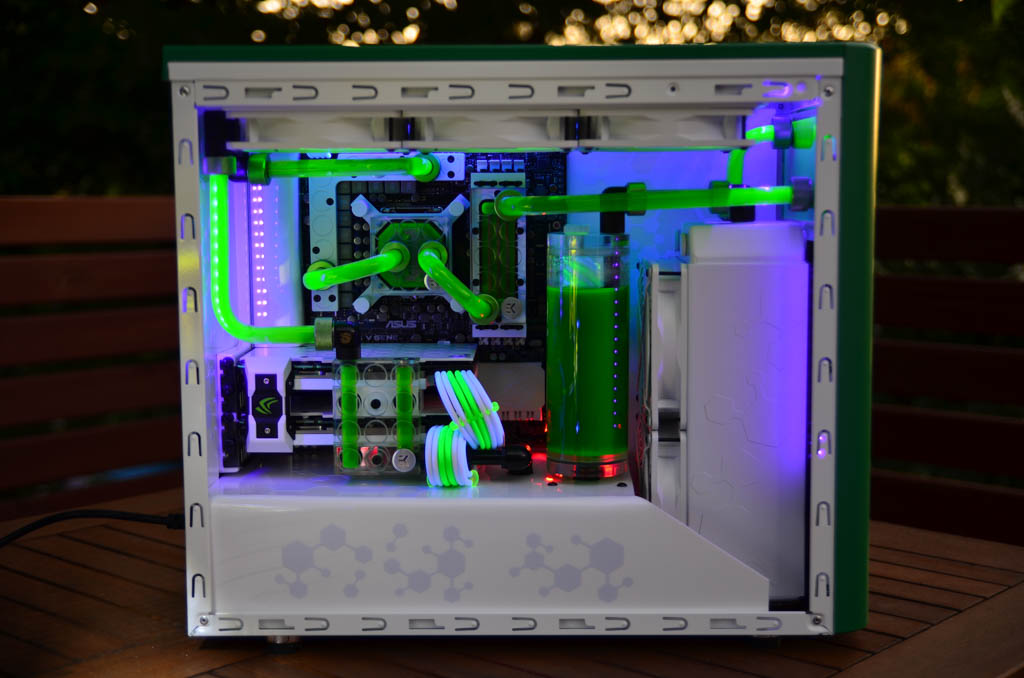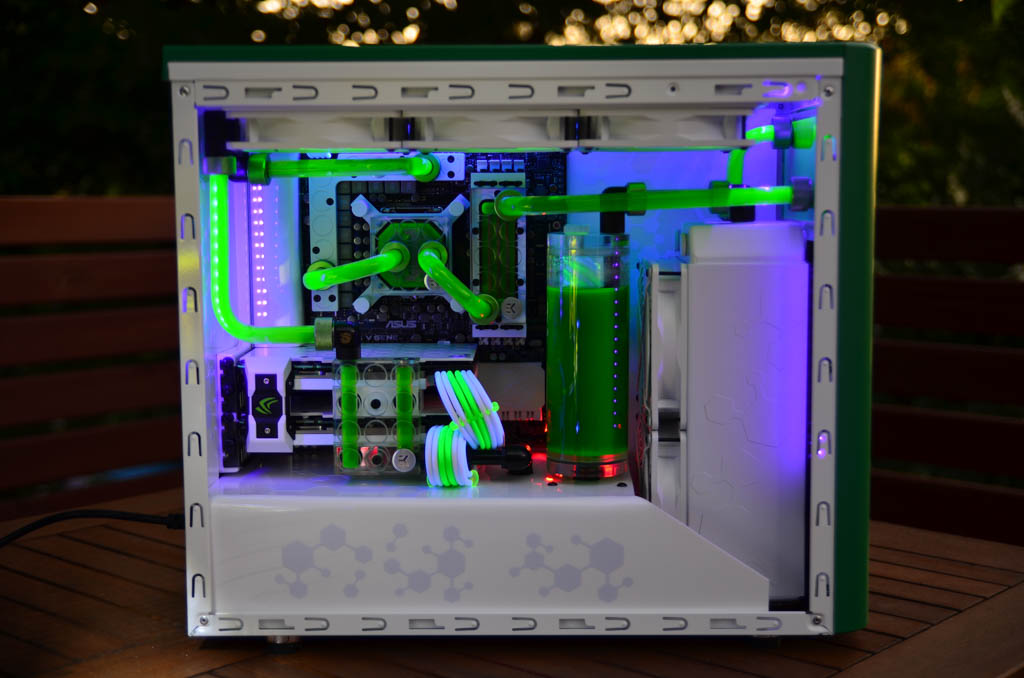 Full specs:
Case – Modded Fractal Design ARC Mini R2
Motherboard – ASUS ROG Maximus V Gene
CPU – Intel i7 3770K (delidded, 4.7GHz @ 1.29v)
GPUs – 2 x EVGA GTX 970 with Nvidia GeForce SLI Bridge
Memory – 4 x 4GB Corsair Dominator GTs 2133Mhz
SSDs – Crucial MX100 256GB and 512GB
PSU – Corsair AX860 80Plus Platinum
Cables – Icemodz custom sleeved white and green cables
Radiators – Alphacool NexXxoS Full Copper Monsta 240mm, Alphacool NexXxoS Full Copper ST30 360mm
Fans – 7 x 120mm Gelid Wing UV Green
Fan Controller – Aquaero 5LT USB fan controller
Pump – Swiftech MCP35X with Koolance heatsink and Bitspower Pump Top
Reservoirs – Bitspower Water Tank Z-Multi 150 Full Acrylic, Clockwerk Case Mods custom made reservoir
Fittings – Primochill Rigid Ghost Green fittings, various Bitspower matte black extension and angle fittings
Tubing – Primochill Rigid Clear Acrylic
CPU Block – EK-Supremacy EVO CSQ Polished Nickel Plexi
GPU Block – 2 x EK-FC670 CSQ Nickel Acetal
RAM Block – EK-RAM Monarch X4 CSQ Polished Nickel Plexi
Motherboard Block – EK-MOSFET ASUS M5G Acetal
SLI Bridge – EK-FC Bridge CSQ Polished Dual Parallel
Coolant – Mayhems UV Emerald Green
Lighting – DarkSide UV LED strips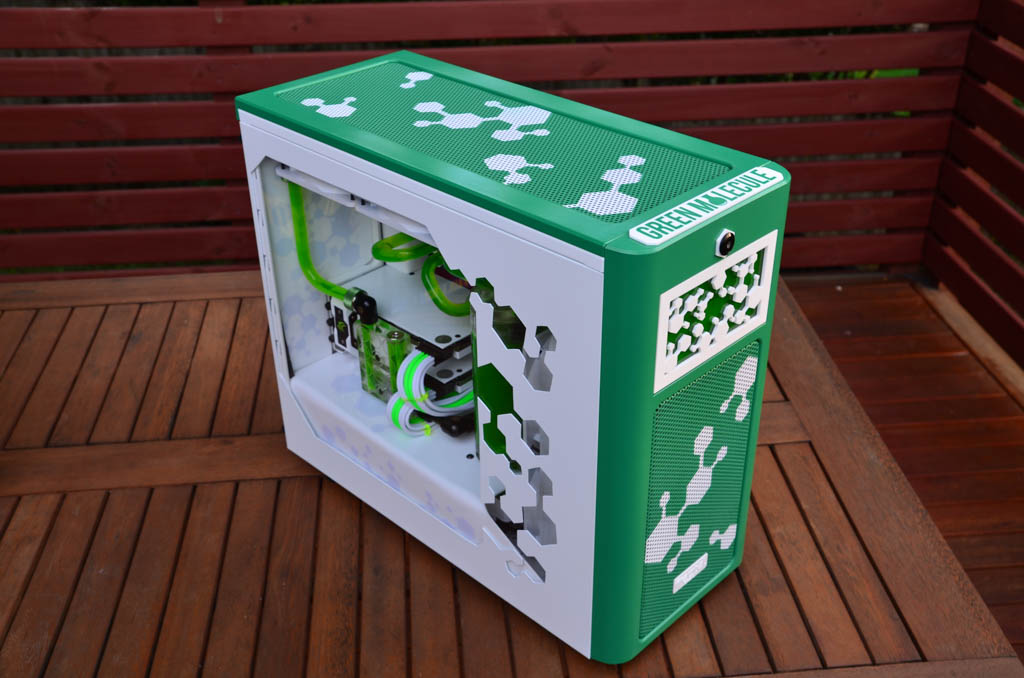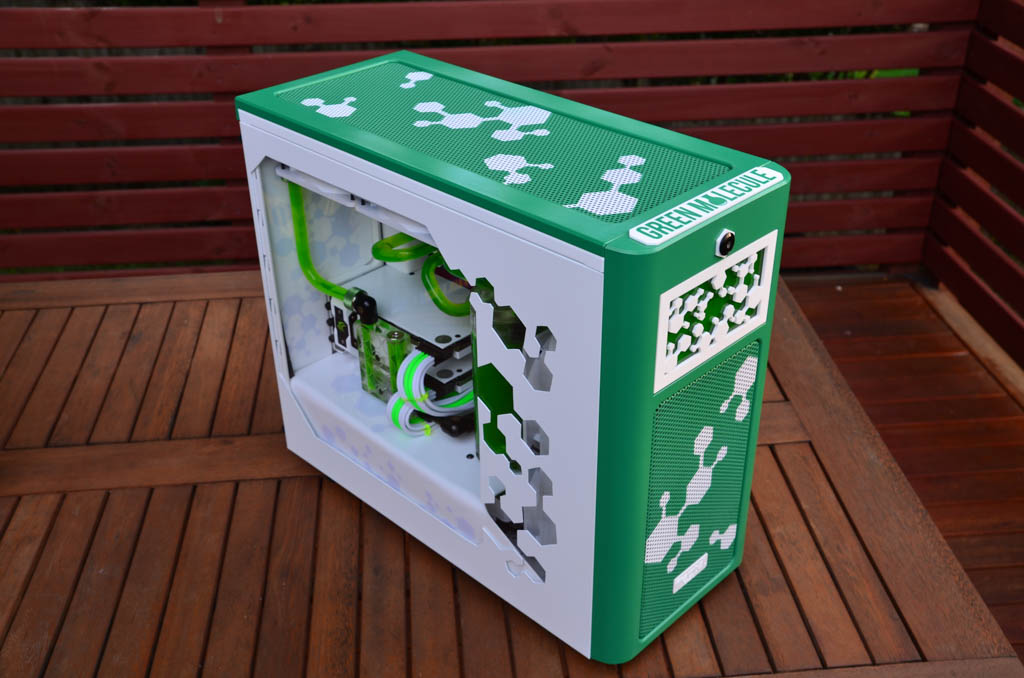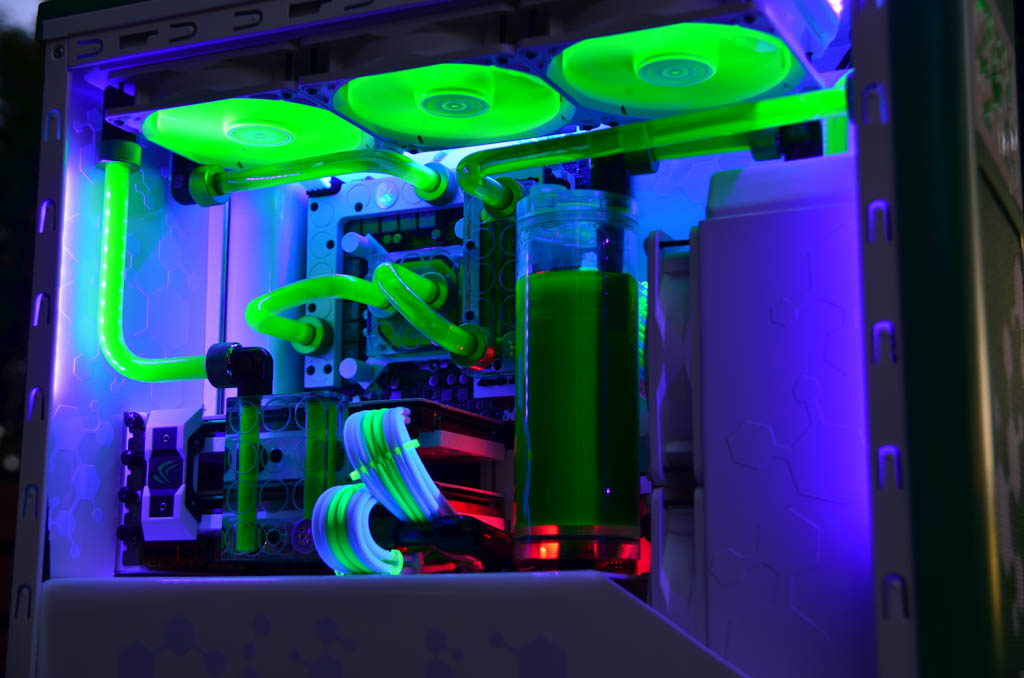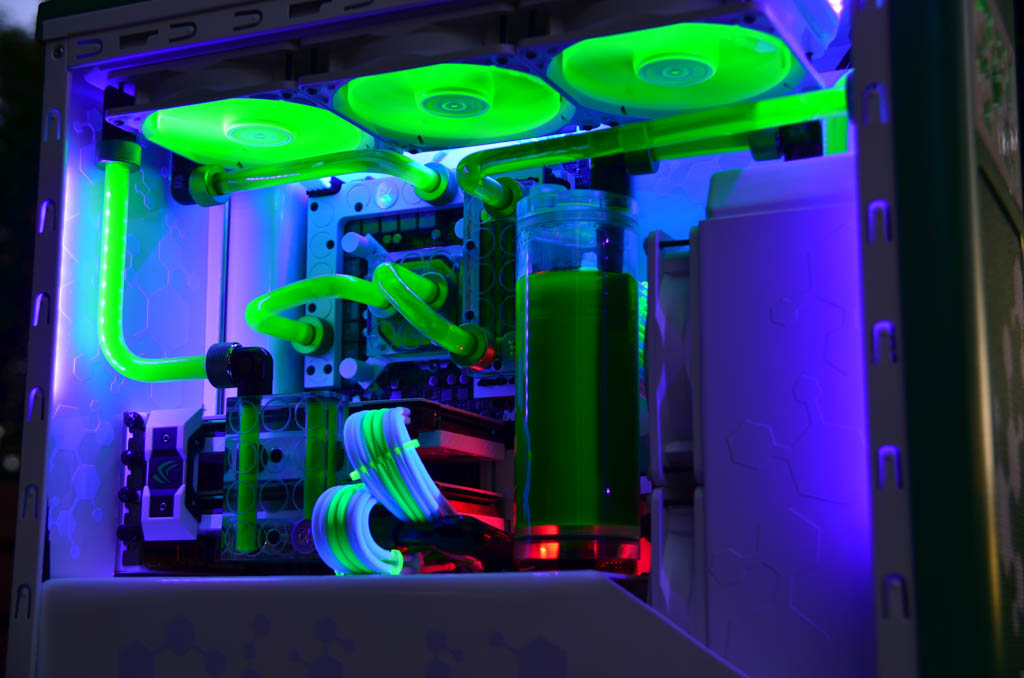 For more photos, worklog and to see more of Alex' projects, visit his SimpleModz Facebook page: https://www.facebook.com/Simpl3Modz