A Closer Look At The HyperX Cloud revolver »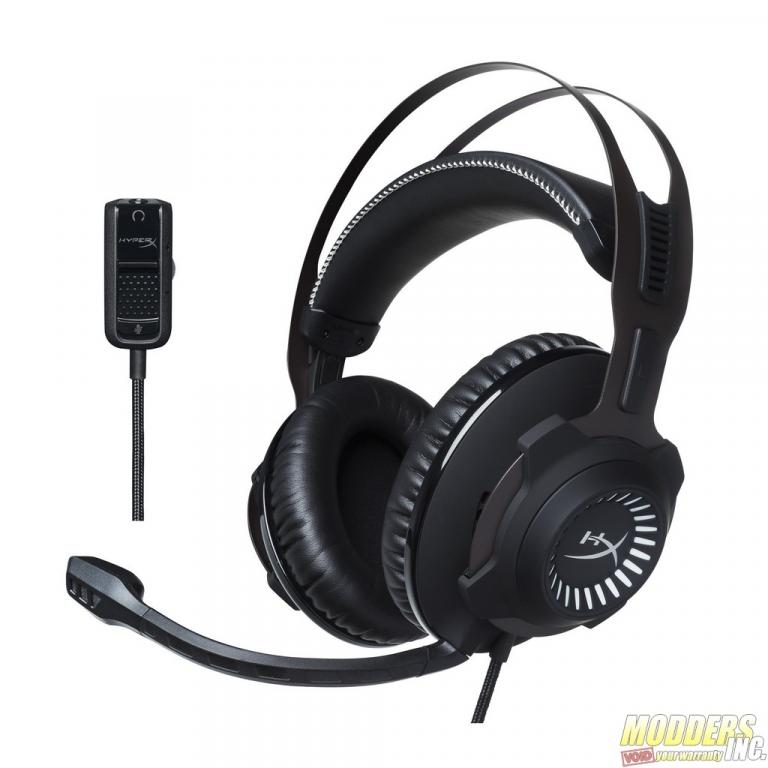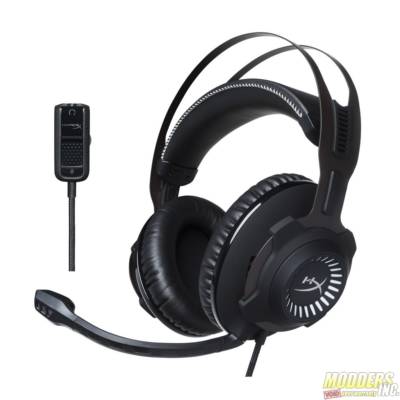 Choosing the right headsets is a decision that you can get very wrong, very easily. Some headsets perform amazingly but are marred by excessive weight or uncomfortable ear cushions that don't become apparent until you've used the headset for an extended span of time. What feels good for a few minutes can literally give you a pounding headache after a few hours. Likewise, a headset that manages good music reproduction may burn you in gaming scenarios when you're trying to determine if those footsteps are your nearby teammate's, or the enemy's on a different floor. And for the record, I'm not even talking about surround sound headsets. The size and depth of the sound field produced by two seemingly similar stereo headsets can vary dramatically.
Aesthetics aren't everything, but they're also not nothing. Nobody wants to wear a headset to a LAN party that makes you cringe as badly as my English teacher would if she read that previous sentence. The oft-neglected mic is also a vital component that can be a real deal-breaker if it fails you or performs poorly in multiplayer situations. But let's not get ahead of ourselves.
Review Sample Provided by: HyperX
Product Name/Link to Website: HyperX Cloud Revolver Gaming Headset
Product was given in exchange for work done to produce this review.
In addition to memory, SSDs, and USB drives, HyperX makes peripherals such as keyboards, mice, and headsets. Quite good peripherals, I might add. I should know, I've tested a fair number of them. I tested the lightweight and affordable Cloud Stinger when it launched, I have been using a Cloud II as my go-to gaming headset for the last few years, and I recently pitted the Cloud Alpha against a dozen of the best gaming headsets from the likes of ASTRO, Logitech, Sennheiser, Razer, Cougar, and Corsair. HyperX's headset was, hands-down, my favorite of the bunch, and it was $100 or more less expensive than some of the headsets it was competing against. So yeah, you could say I'm familiar with the headsets HyperX makes. When I got my hands on the Cloud Revolver, my expectations were exceptionally high.
The retail box consists of an outer shell adorned with photos, specs, and product highlights. This piece slides off to reveal a rather plain black box with the HyperX logo. After removing the top half of the box we can see that the headset is held in place with a form-fitted transparent piece of plastic. The cables were neatly bundled, however, you won't find a carrying case/bag, or interchangeable ear cushions. We missed neither.
The real star of the show here is the HyperX Cloud Revolver Gaming Headset, adorned in gunmetal gray accents. This is the stereo version of the Revolver that's designed to offer premium audio performance, without setting your wallet on fire like many of those "studio grade" models with German-sounding names. The Cloud Revolver S is the exact same headset, only instead of shipping with a volume/mute in-line control box attached to a split 3.5mm mic/line-out jacks, it comes with a Dolby Virtual 7.1 Surround Sound Card that terminates in a USB plug. You can buy this accessory for $30, right here. No, the model I'm reviewing doesn't have surround-sound out-of-the-box, but it's nice to see that HyperX doesn't gouge you if you decide later on that algorithm-based spacial audio is a must-have feature.
Visually, the Cloud Revolver offers a tastefully minimalist design. The splashes of color come only in the gray HyperX logo surrounded by a circle of white cones on each can, in the white stitching on the headband, and the gray steel frame that spans the pair of cans. The plastic that makes up the rest of the unit is matte black, and feels like it has a rubberized texture.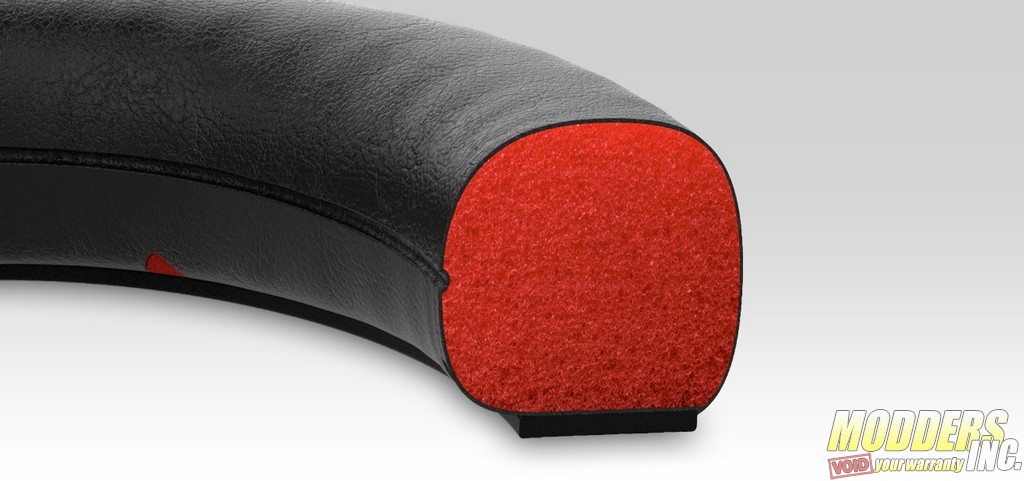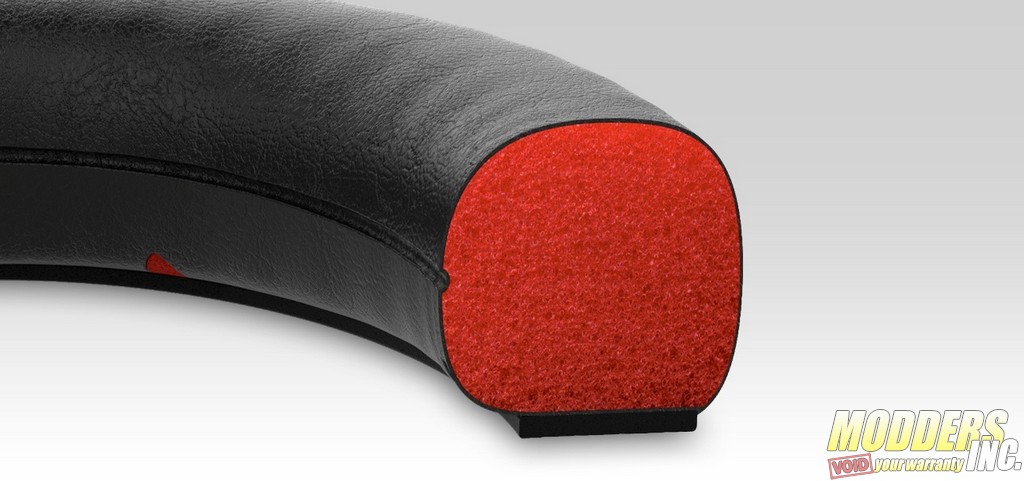 The cans each have thick cushions made of HyperX's signature memory foam, covered in a leather-like fabric that creates a tight sound barrier between the sounds emitted by the drivers and the outside world. Like the Cloud Alpha and Cloud II's pleather ear cushions, these were supremely comfortable for both short a duration, and for marathon gaming sessions.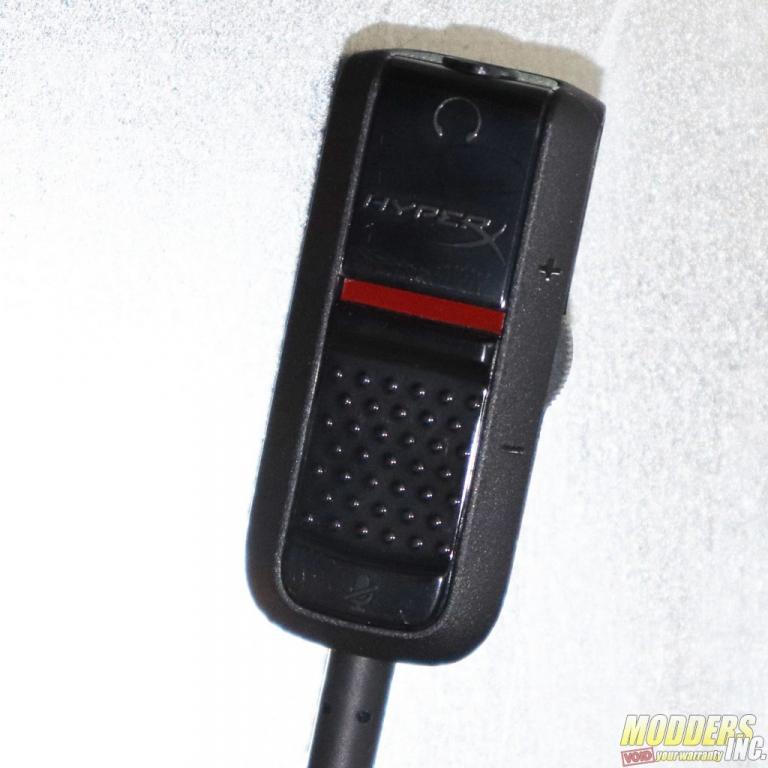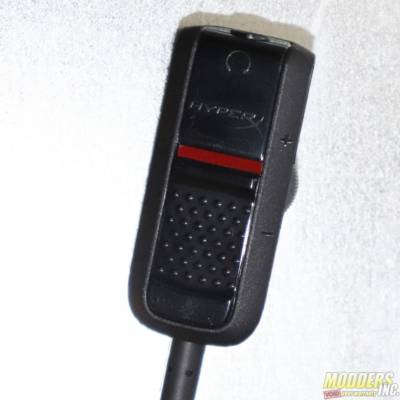 Because the Cloud Revolver relies on 3.5mm plugs for its connections, you can use it on virtually any device that has an appropriately-sized port. I plugged it into the front panel audio and sound card line-out ports on my PC, a wireless Xbox One controller, mobile phone, tablet, MP3 player, and laptop. Additionally, the box reports that the Cloud Revolver works with PS4, Mac, Nintendo Switch, and VR. The inline control box features a large mute button with a painted red line that lets you know when the mic is muted. There's also a grooved volume wheel on the side of the controller and a rigid clip on the back of the control box to help keep it in place on your shirt or elsewhere.
Specifications
| | |
| --- | --- |
| Product Name | HyperX Cloud Revolver |
| Model | HX-HSCR-GM |
| Driver Unit (mm) | 50mm Neodymium Magnet |
| Channels | Stereo |
| Frequency Response | 12Hz–28,000Hz |
| Impedance | 30 OHM |
| Sound Pressure Level | 100.5 dBSPL/mW at 1kHz |
| T.H.D. | < 2% |
| Input Power Rated | 30mW, maximum 500mW |
| Weight (g) | 360 |
| Weight w/mic (g) | 376 |
| Headset Cable Length (ft.) | 3.3 |
| Volume Control Extension (ft.) | 6.6 |
| Connection Type | Split line-out/mic 3.5mm plug (4 pole) |
| Microphone Type | Element Electret Condenser Microphone |
| Microphone Pickup Pattern | Polar Pattern Uni-directional |
| Microphone Frequency Response | 50Hz–18,000Hz |
| Microphone Sensitivity | -40 dBV (0 dB=1 V/Pa,1 kHz) |
| Warranty | 2 Years |