Innodisk ,the service-driven flash provider, announces an update of its 3ME embedded flash series with the launch of the new 3ME3 DRAM-less SSDs for industrial, embedded and enterprise applications. The 3ME3 series of SSDs offers strong real world performance in sequential and random I/O using custom firmware and synchronous NAND. The DRAM-less design achieves 100% data integrity in the face of power loss and allows space saving form factors including mSATA, M.2, SATADOM, CFast, and SATA Slim.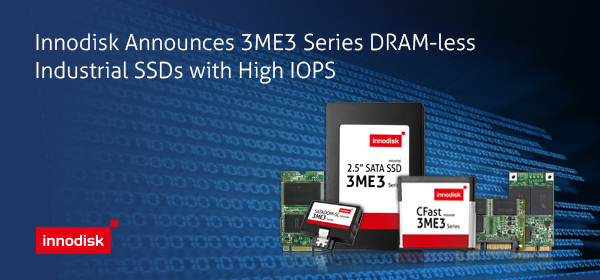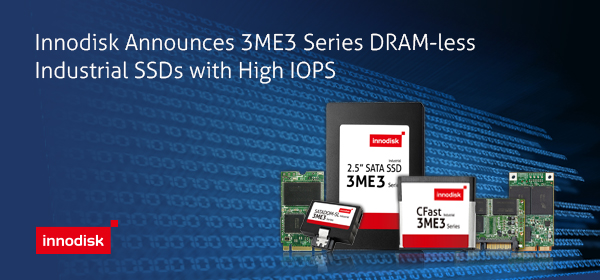 DRAM-Less SSD
DRAM-less design not only prevents data loss from sudden power failure, but makes for a smaller SSD. The 3ME3 series is able to pack a reliable and high performance SSD into small form factors. The absence of volatile memory buffers means power loss is easily handled by Innodisk's iDataGuard technology.
Real World Performance
A new generation of custom firmware along with the use of synchronous NAND flash allows Innodisk to achieve high real world performance. Moving to a page based algorithm for fine-grained wear leveling and write optimization lets the 3ME3 series to achieve 10/20K Random IOPS.
Industrial Reliability
The 3ME3 series is ready for industrial usage with wide operating temperature range from -40° to 85°C. The new generation of 3ME3 firmware also enhances service life, with write amplification reduced to a WAF of 3.67 under a JESD218 randomized enterprise workload.
Product Availability
The 3ME3 series comes is available for ordering from Innodisk distributors starting Q3, 2015 in capacities up to 256GB. Form factors include SATADOM, mSATA, M.2(NGFF), CFast, and SATA Slim(MO-297).
Features
DRAM-less SSD for 100% data integrity
IDataGuard power protection10/20K Random IOPS
Synchronous NAND for high real world performance
mSATA, M.2, SATADOM, CFast, and SATA Slim form factors
New generation of firmware improves performance and service life
Wide Operating Temperature from -40° to 85°C
About Innodisk
Innodisk(5289)  is a service driven provider of flash memory and DRAM products for the industrial and enterprise applications. With satisfied customers across the embedded, aerospace and defense, cloud storage markets and more, we have set ourselves apart with a commitment to dependable products and unparalleled service. This has resulted in products including embedded peripherals designed to supplement existing industrial solutions and high IOPS flash arrays for industrial and enterprise applications. The expanded business lines are leading our next step in being a comprehensive solution and service provider in industrial storage industry.
Founded in 2005 and headquartered in Taipei, Taiwan with engineering support and sales teams in China, Europe, Japan, and the United States, Innodisk is able to support clients globally. With abundant experience and an unrivaled knowledge of the memory industry, Innodisk develops products with excellent quality, remarkable performance, great cost-efficiency, and the highest reliability. For more information about Innodisk, please visit http://www.innodisk.com.