HWBOT continues with their world tour announcing a second stop addition in Poitiers, France on April 4 to 6th, 2015 inside the Gamer's Assembly LAN Party. The three-day workshop involves overclocking activities for amateurs and extreme overclockers alike, teaching basic overclocking skills to those interested in diving into the hobby as well as providing unlimited supply of liquid nitrogen for those experts who want to have some fun at the event. For more information, check out the information below:
European Stop at Gamers Assembly France Announced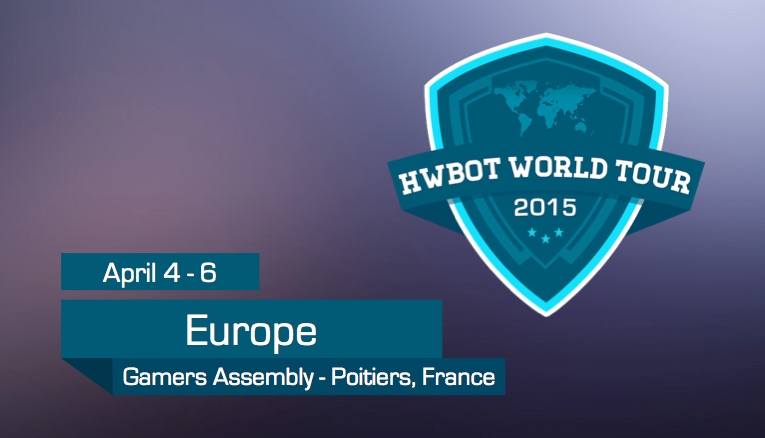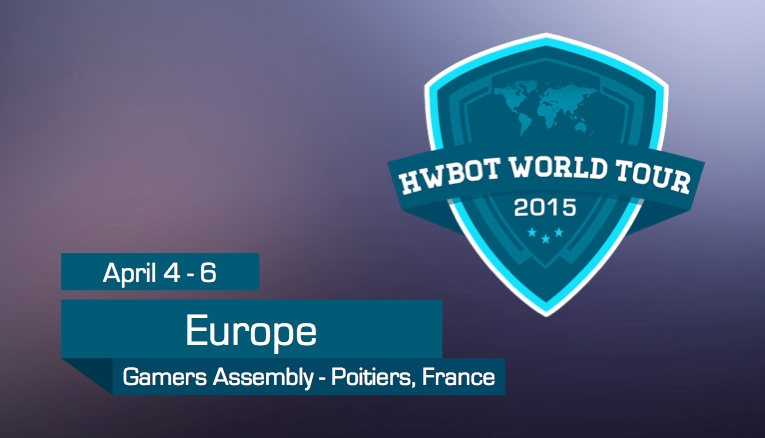 Second Stop: Europe, Gamers Assembly in Poitiers, France April 4-6.
The second stop of the World Tour will be at the Gamers Assembly in Poitiers on April 4-6, the largest Lan Party in France. The World Tour will continue throughout the year, providing a relaxed social environment for overclockers to learn, share and compete. The emphasis is on nurturing the next generation, educating gamers in the art of overclocking, as well as providing a platform for some seriously extreme benchmarking.
"The HWBOT World Tour is an attempt to unite overclockers from all around the world, as well as an opportunity to expand the global OC scene," commented Pieter Jan-Plaisier, Director at HWBOT. "The second leg of the tour aims to expand the European OC community, bringing OC workshops and contests to the next generation of overclockers in Poitiers, France."
Gathering, Workshop & Competition
Running from April 4-6, the three day event will host three unique overlocking activities, each tailored to address a broad skill base that spans Amateur to Extreme:
The Extreme OC Gathering: Gives participants access to three days of unlimited liquid nitrogen (LN2) overclocking. Not restrictions. The main purpose here is to have some extreme OC fun together.
The World Series: A competition series hosted on OC-Esports.io exclusive to participants of the World Tour throughout the world. This competition is mainly focused on extreme overclocking.
The Amateur World Series: An amateur only OC competition running alongside OC Workshops where elementary overclocking skills will be taught. Learn the basics, get up to speed, then compete with your peers.
Tickets
Both the Workshop and World Series for Amateurs are open to all free of charge for all Gamers Assembly participants & visitors. For €70 EUR participants can join three days of unlimited LN2 overclocking, as well as the chance to participate in the HWBOT World Series competition..
Tickets for the Gamers Assembly event are available on the Gamers Assembly website: http://www.gamers-assembly.net/en/page/billetterie