News and Articles
Intel Announces their 10th Generation H-Series Processors
Desktop Performance in a Laptop?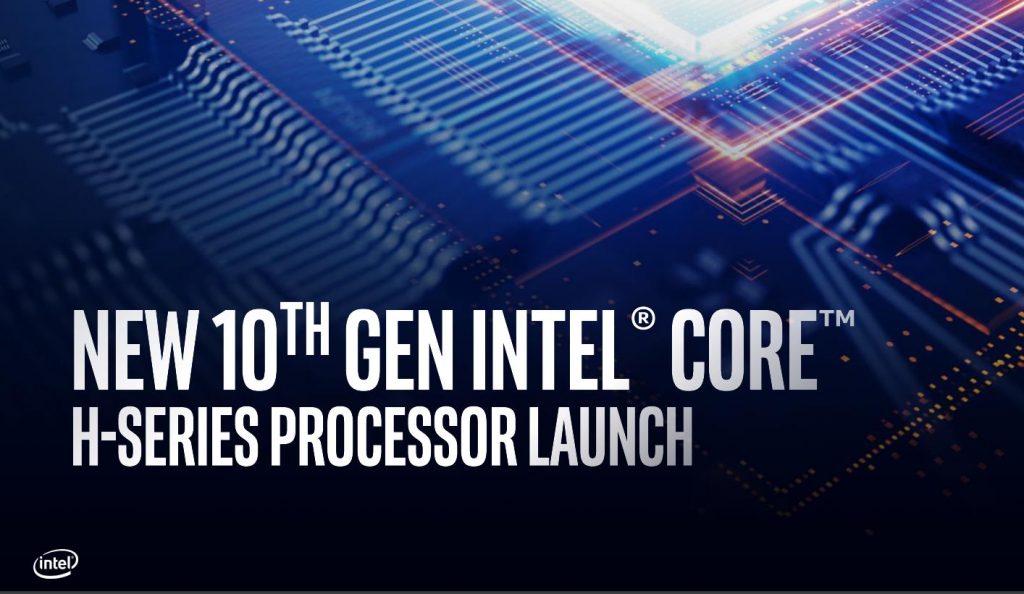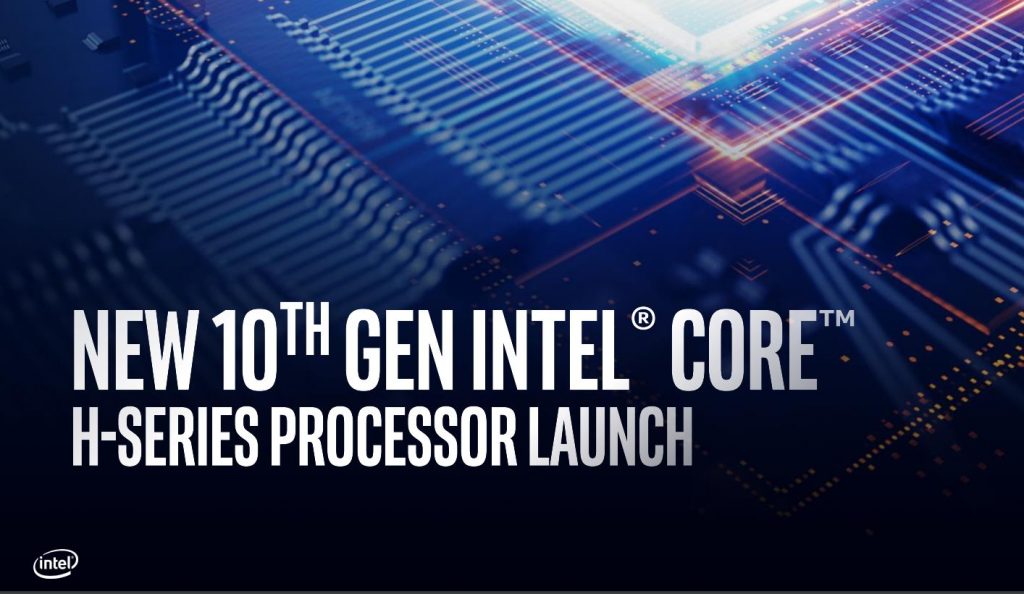 Intel announced its 10th gen H-Series of Core Processors. As a PC enthusiast, I've never really considered a laptop for more than just travel.  But as much as I do love my PC, in today's world, a laptop is essential for many of us who often have to work on the go. However, the biggest downside to using a laptop is having to give up certain benefits that we get from desktop PCs such as unlocked processors that run at high frequencies.  Nothing beat's having a fully unlocked processor that can run stable at 5 GHz or higher. Well, if what Intel is claiming turns out to be true, we may not have to give up some of the benefits of desktop performance when switching to a laptop.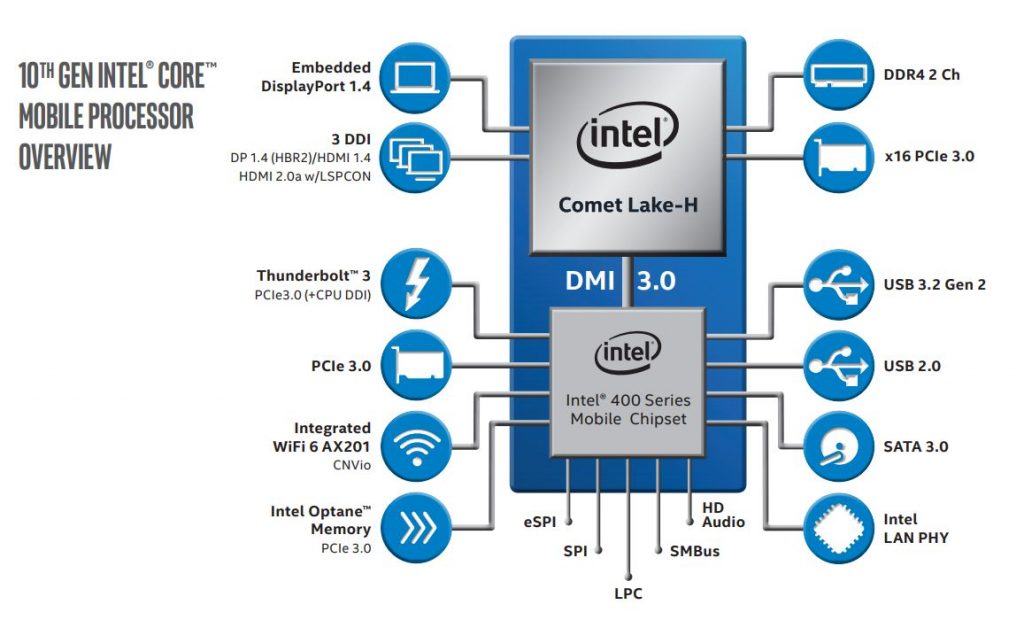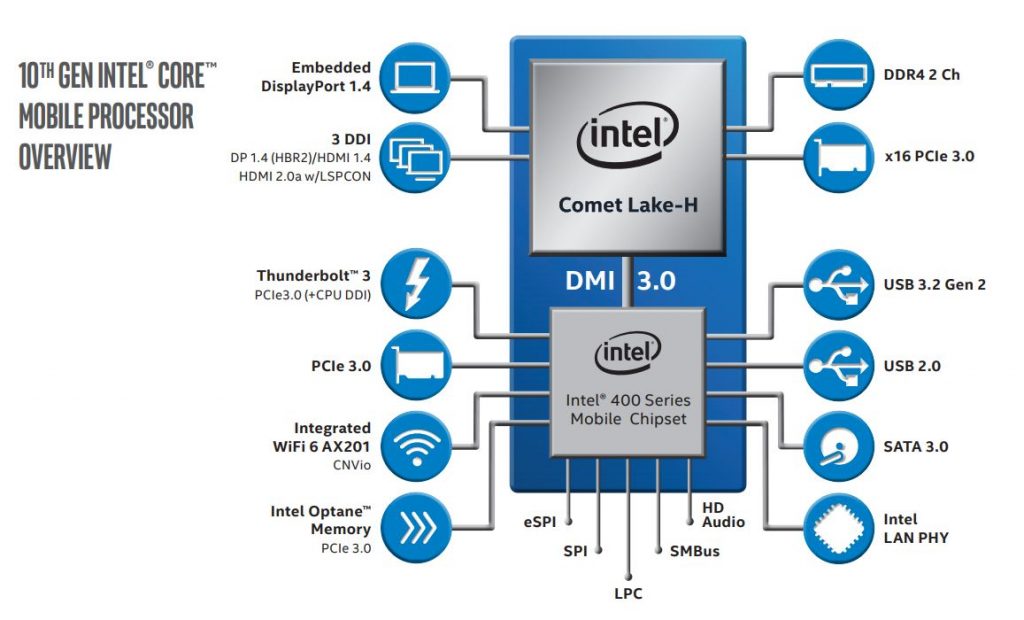 Key Features
▪ Intel® Adaptix™ Dynamic Tuning Technology and Intel® Extreme Tuning Utility
for intelligent performance tuning
▪ Support for up to 128GB DDR4 memory capacity
▪ Up to 40 platform PCIe lanes for capability expansion: graphics cards, CPU attached storage, RAID
▪ Thunderbolt™ 3 support with 4x more bandwidth than USB 3.1
▪ Intel® Optane™ memory support3 accelerates game launch and load
▪ Optimized for the latest discrete graphics performance
What's New with 10th Gen
▪ NEW Intel® Core ™ i9 mobile processor with up to 5.3GHz1 & 8C/16T
▪ NEW Intel® Core™ i7 mobile processor with up to 5.1GHz1 & 8C/16T
▪ NEW Intel® Core™ i5 mobile processor with up to 4.5GHz1 & 4C/8T
▪ NEW Intel® Turbo Boost Max Technology 3.0
▪ NEW Memory support up to DDR4-2933
▪ NEW Intel® Speed Optimizer2 delivers a simple one-click method to overclock
▪ NEW Integrated Intel® Wi-Fi 6 AX201 (Gig+) support5 for high-speed, low latency wireless performance*
Intel's 10th generation of H-Series mobile processors includes their first-ever mobile I9 processor, the I9-10980Hk. The I9-10980HK a is fully unlocked 8 core, 16 thread processor with 16 MB of Intel Smart Cache and a 45-watt thermal design power, or TDP. It's also Intel's fastest mobile chip to date with a base clock of 2.4 GHz and a boost clock of up to 5.3 GHz. The boost clock of 5.3 GHz is on the two fastest cores. We're still unsure how the I9-10980HK will boost on all 8 cores.
To achieve the 5.3 GHz frequency, Intel has implemented their Thermal Velocity Boost, or TVB technology paired with Turbo Boost max Technology. What Thermal Velocity Boost does is enable higher performance temporarily, and under the right circumstances, to allow your processor to go past its initial boost clock speed increasing the performance of your processor. Basically, Intel's TVB will boost your clock speed an additional 200 MHz, as long as the temperature is below 65°c and the turbo power is available.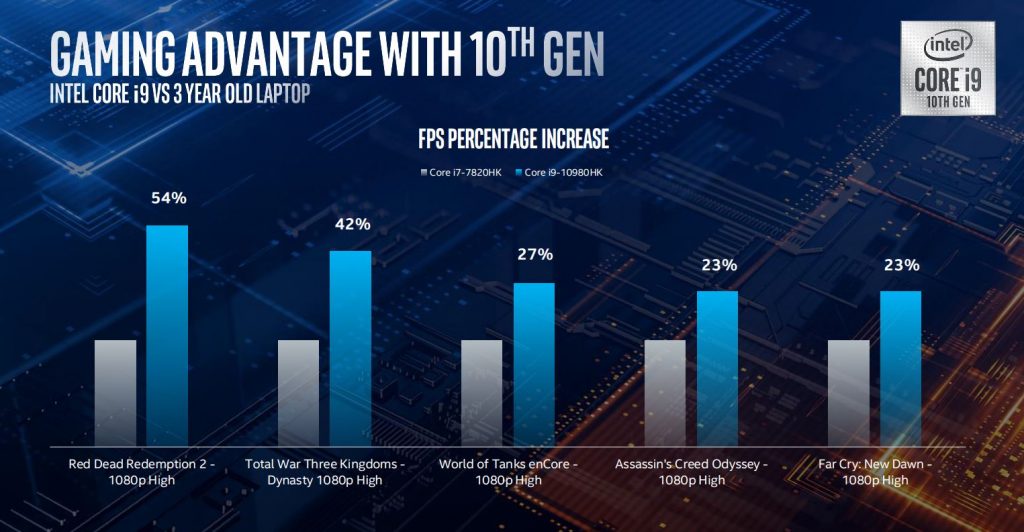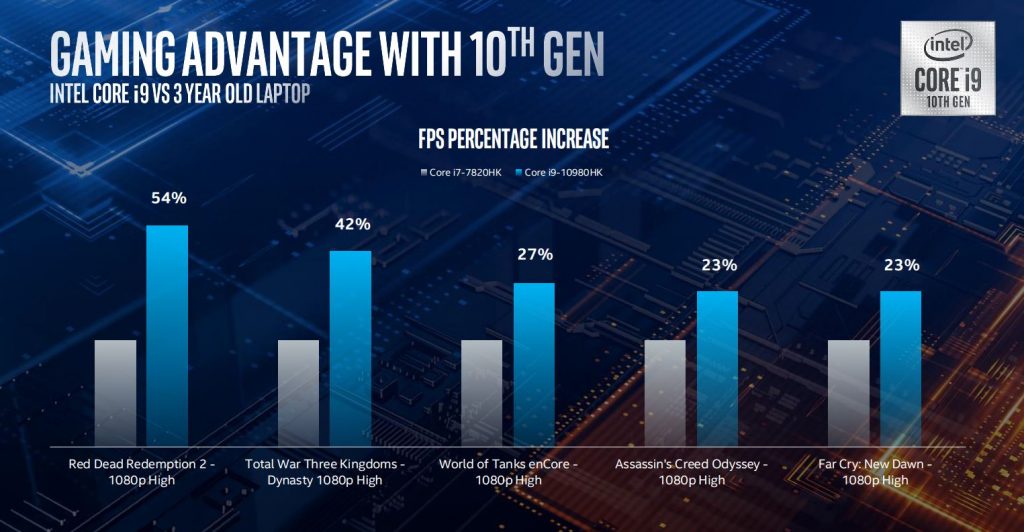 Turbo Boost Max Technology 3.0 optimizes for lightly-threaded performance by identifying your processor's fastest cores and pushing off heavy workloads to them. Intel's 10th gen H-Series processors also feature their Adaptix Dynamic Tuning Technology. Intel Adaptix Dynamic Tuning is a powerful software toolkit that allows laptop manufacturers to achieve the highest performance from the 10th Gen Intel Core mobile processors. It does this by monitoring things such as system temperature, fan speed, power source (AC or DC), usage mode, current processor state, and more. It will then adjust processor power to maximize performance within the thermal limits of the system.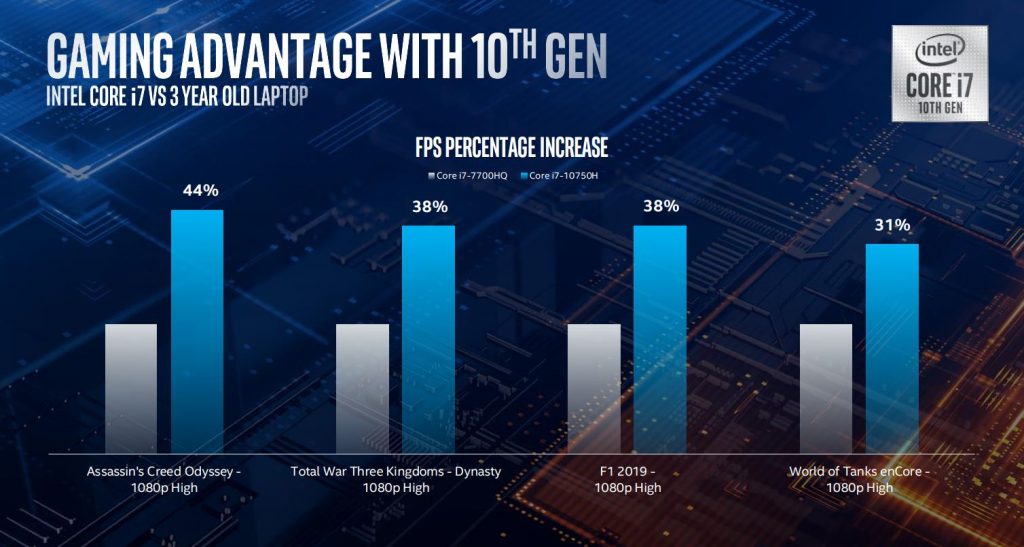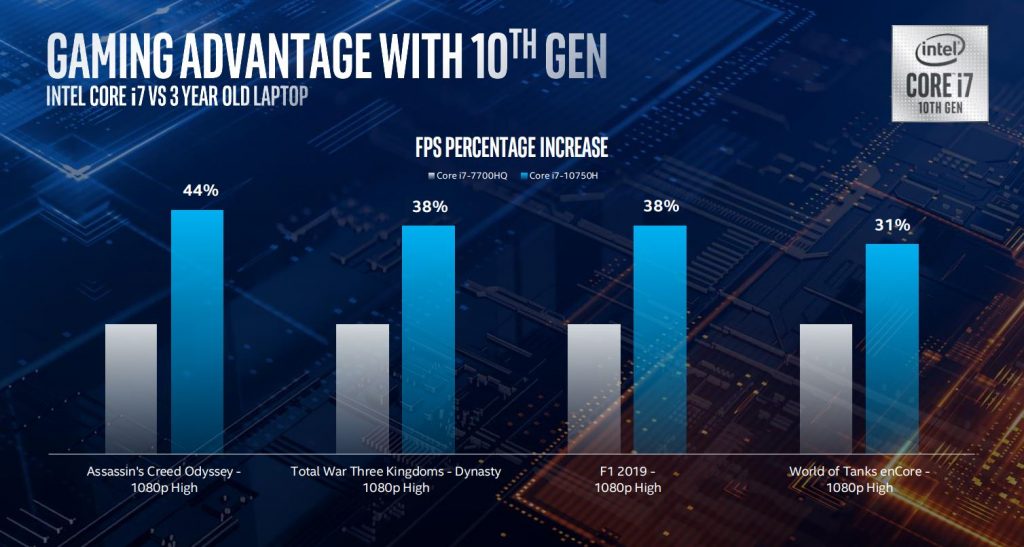 When compared to a three-year-old, enthusiast-level gaming PC, laptops featuring the I9-10980Hk saw up to a 54% increase in FPS games. Overall, these laptops had up to a 44% overall performance increase. The most exciting thing we learned on the call with Intel was laptops with the I9-10980HK saw up to two times faster rendering times when rendering 4k video. That right there can make a laptop featuring the I9-10980HK a content creators' best friend.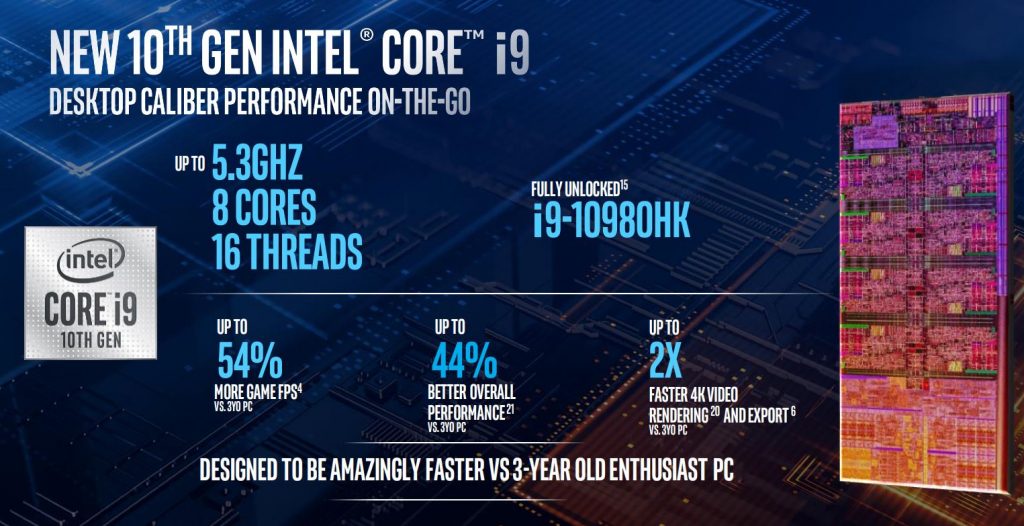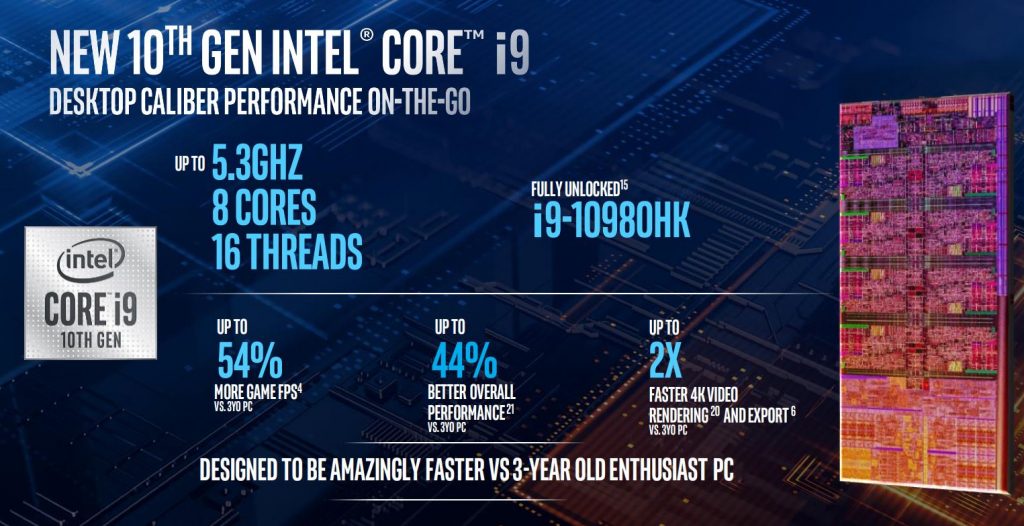 In addition, there are 5 additional 10th gen H-Series processors. All six processors 10th gen H-Series processors have a TDP of 45 watts. They all also support dual-channel DDR4 memory at 2933 MHz. These processors include three I7 processors and two i5 processors. Both I5 processors are 4 core, 8 thread processors. The I5-10300H has a base clock speed of 2.5 GHz and a max boost clock speed of 4.5 GHz.
Next, the I5-10400H is also a 4 core, 8 thread processor. However, its base clock speed is 2.6 GHz and its boost clock is 4.6 GHz. Both I5 processors have 8 MB of Intel Smart Cache. The I7-10750H is a 6 core, 12 thread processor with 12 MB of Intel Smart Cache. The I7-10750H has a base clock speed of 2.6 GHz and a boost clock of 5.0 GHz.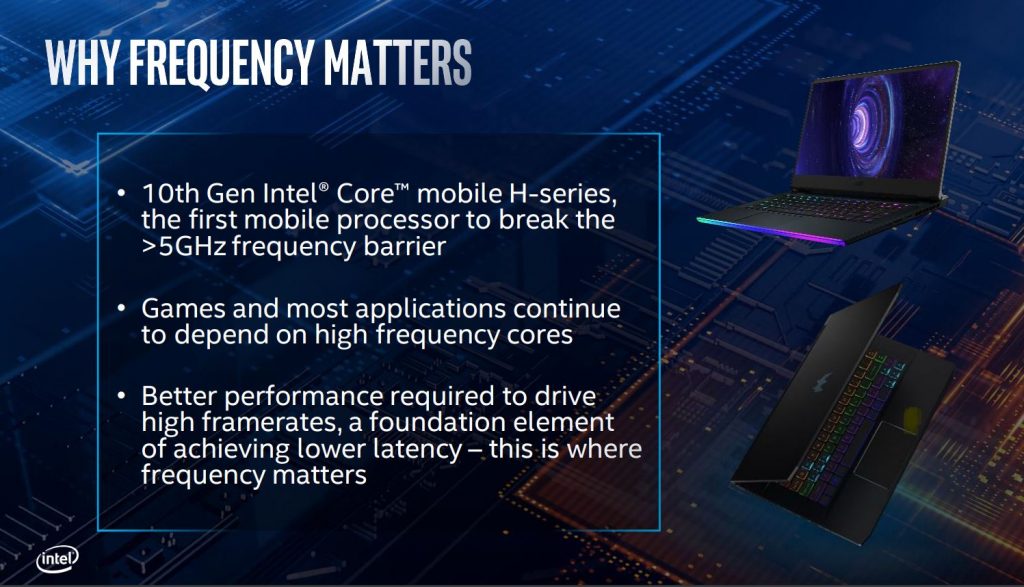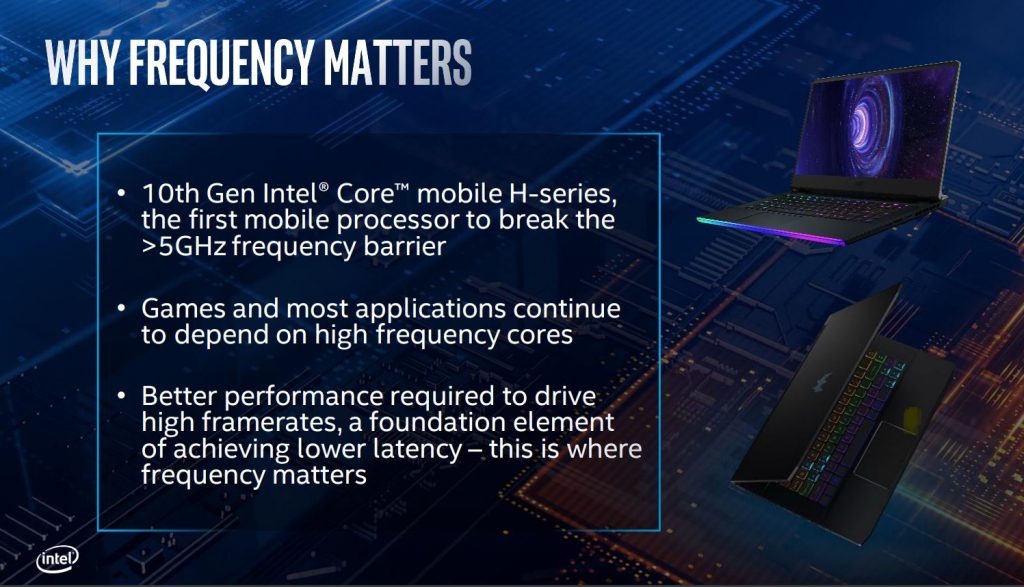 Going up the line, we come to the I7-10850H. This is another 6 core, 12 thread processor with 12 MB of Intel Smart Cache. The I7-10850H has a base clock speed of 2.7 GHz and a boost clock speed of 5.1 GHz. What sets the I7-10850H apart is it's a partially unlocked processor. What this means is some of the cores are fully unlocked. I believe this specific processor has 2 of its 6 core unlocked.
Like the I9-10980Hk, the I7-108750H is also an 8 core, 16 thread processor and 16 MB of Smart Cache. However, it is a locked processor and has only. The I7-108750H has a base clock speed of 2.3 GHz and a boost clock speed of 5.1 GHz.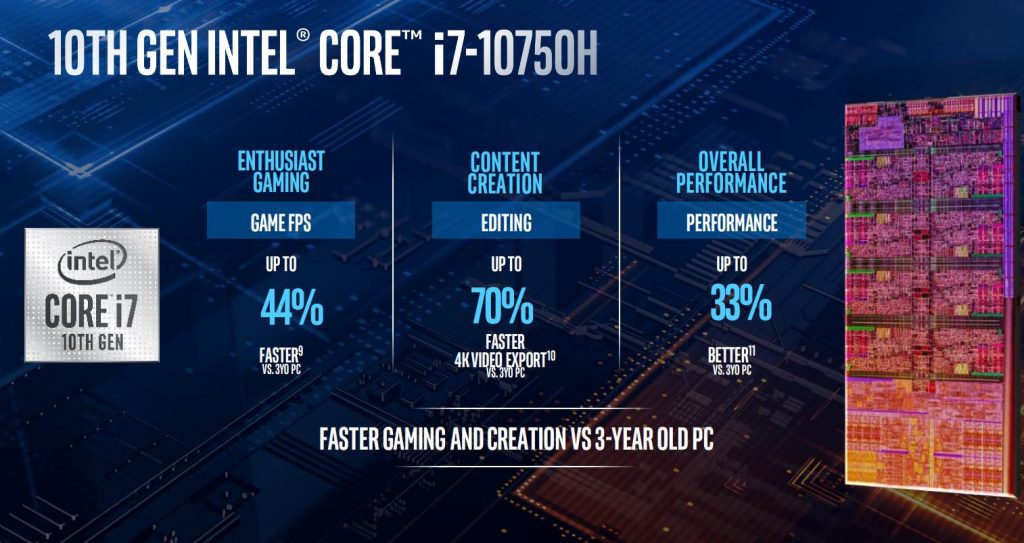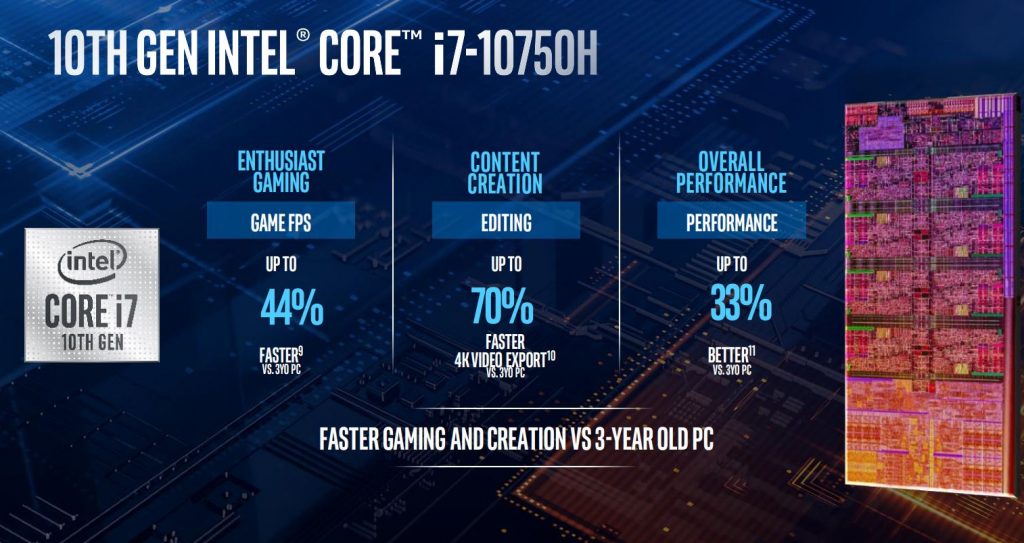 Intel has co-engineering over 100 different laptops featuring their 10th gen H-Series processors, with some of the leading companies in the business. These designs cover everything from gaming laptops to consumer-grade and workstation laptops. More than thirty of these laptops will be thin and light designs of 20mm or less.
Many of Intel's 10th gen H-Series laptops will feature companion displays, 2-in-1 designs, and slim bezel 17" laptops. Other exciting features coming to Intel's 10th gen H-Series laptops are HDR 1000 panels and 300 Hz refresh rate panels. The 300 Hz refresh rate panel is something we witnessed firsthand at CES this year. We can attest that it looks as great as it sounds.
Intel is touting next level wireless connectivity with Thunderbolt 3 and Intel WI-FI 6 AX201 (GIG+) Wi-Fi. With Intel's WIFI 6, you'll experience 75% lower latency than traditional WIFI. This should make for more responsive online gameplay. In addition, WIFI 6 offers 3X faster downloads. Whether you're downloading games or streaming to Twitch, Intel's WIFI 6 should offer a better online experience.
Intel's 10th gen H-Series laptops will also support Intel Optane memory H10. This is the industry's first drive to integrate Intel Optane memory with Intel's QLC 3D NAND storage. The drive includes a 32 GB Optane module and 1 TB of QLC 3D NAND storage. The H10 can reach sequential read speeds of up to 2400 MB/s and sequential write speeds of up to 1800 MB/s.
Laptops featuring Intel's 10th gen mobile processors will allow you to take premium, high-quality content with you anywhere you go with HEVC 10-bit encoding and decoding as well as VP9 10-bit decoding. This allows for High Dynamic Range (HDR) and Rec. 2020 (Wide Color Gamut) that provides enhanced image and video viewing experiences. In addition, you can stream premium 4k UHD videos, as well as 4K videos with 360° viewing.
All around, Intel has me personally excited for their 10th generation H-Series processors. Especially the I9-10980HK. I've been putting off getting a new laptop for a very long time. Mainly due to the fact I couldn't find a laptop that could do what I want it to do, the way I want it done. Essentially, I'm a complete hardware snob. However, the thought of a 45-watt mobile processor with 8 cores and 16 threads that runs at 5.3 GHz. Well, who wouldn't get excited over that? The 10th gen mobile launch has really gotten me excited to see what Intel has in store for their 10th gen desktop launch.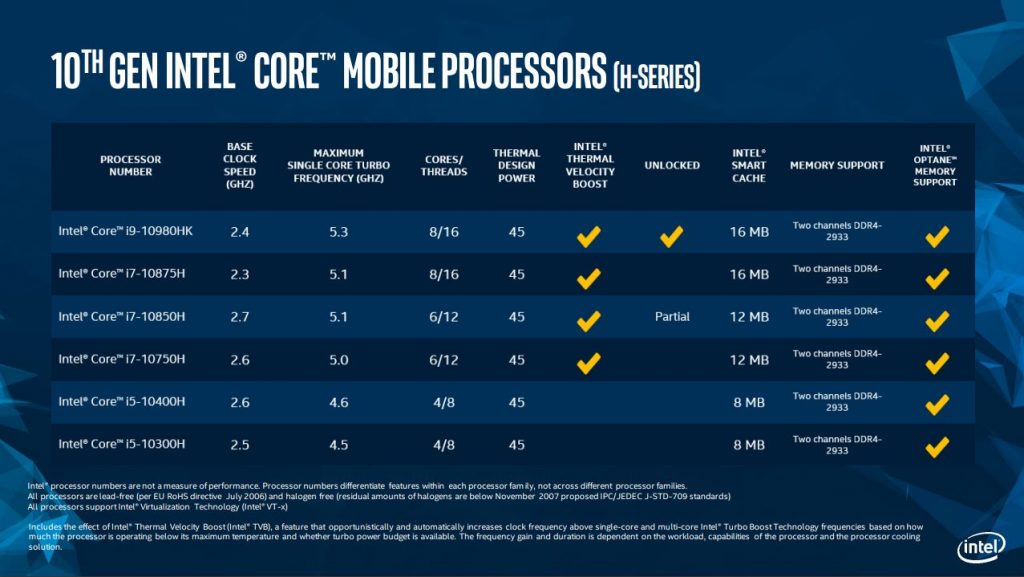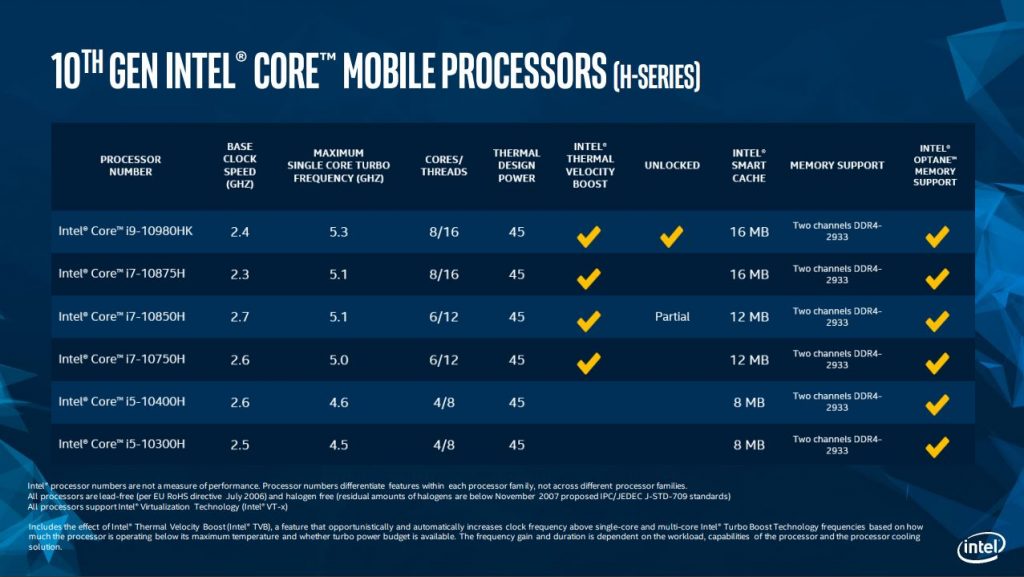 See more about Intel Products we have reviewed