LEPA Technology is proud to announce the launch of new series of 80Plus Gold, 80Plus Bronze, and 115/230Vac power supplies. GM-MaxGold represents an 80Plus Gold product line which ranges from 500W to 1000W with 92% peak efficiency. BM-MaxBron is an 80Plus Bronze line that goes from 450W to 1000W with over 88% efficiency. Also, LEPA MX F1 series consists of 115/230Vac and include models with 350W, 400W, and 600W.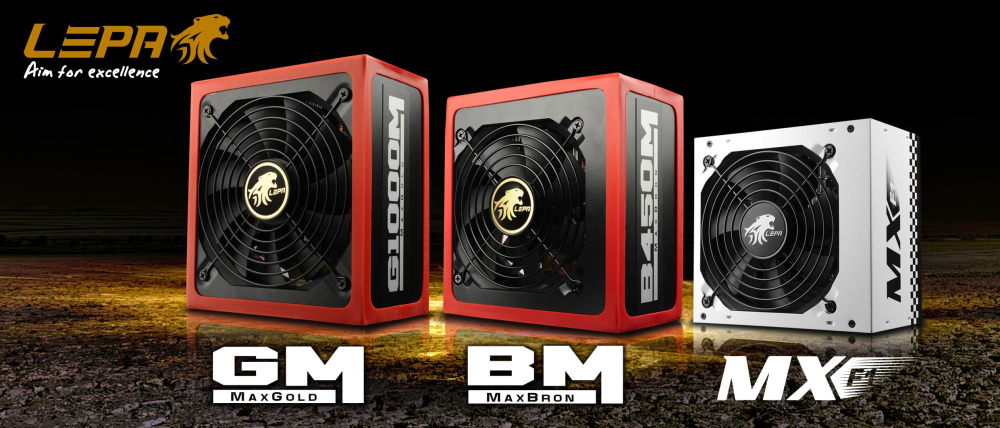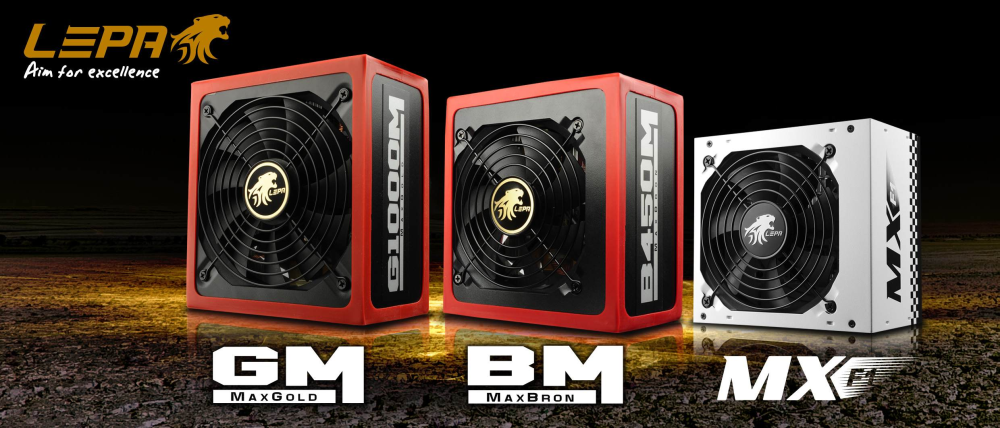 GM-MaxGold and BM-MaxBron series are both equipped with a hybrid modular cable design, hydraulic bearing fan, powerful single +12V rail, and complies with ErP Lot6 standard. The new GM-MaxGold and BM-MaxBron series carry one unique feature – The special"Anti3s Q-Brick design", which is a protective sleeve that protects power supplies from three aspects: shock, static, and slip.  GM-MaxGold and BM-MaxBron comes with one red Q-Brick and one extra black Q-Brick as a gift for users to replace or swap-out as they prefer.  Also, GM-MaxGold series applies DC-DC converter design ensuring the stability of output voltage when the CPU goes into a C6/C7 sleep state, meeting the new Intel Haswell CPU standard. As you can see, the GM-MaxGold series is completely compatible with Intel's 4th Generation Haswell Processors.
This new MX F1 (115/230Vac) inherits a style and coating inspired by Formula One racing. MX F1 series (115/230Vac) provide 6+2P PCI-E connectors for 350W, 400W, and 600W power supplies to meet the requirements of power-hungry graphic cards. The MX F1 is also equipped with a hydraulic bearing fan delivering a durable, silent, and optimal cooling performance. To better facilitate installation with bottom-mounted PSU chassis, the CPU connector cable has been lengthened to 60cm. MX F1 series (115/230Vac) perfectly fulfills your basic computing requirements.
LEPA continuously aims to provide the complete product line that caters to the demand that every computer user and enthusiast needs. The all new GM-MaxGold, BM-MaxBron, and MX F1 series are designed to satisfy customers' requirements and specifications for all aspects.
 
 
 

Model

MSRP

Model

MSRP

Model

MSRP

G700-MB

109.99

B1000-MB

139.99

N600-SB

49.99

G600-MB

99.99

B800-MB

109.99

N400-SB

34.99

G500-MB

89.99

B700-MB

99.99

N350-SB

29.99

B450-MB

69.99
For more information, please visit LEPA USA website www.lepausa.com