Closer Look at the Lian Li PC-Q10WGD »
Amidst the endless booths of drones and hover boards at CES, there is a name familiar to most people that have ever thought about building a custom PC; that name was Lian Li. Lian Li had several models of their PC desk and a small gallery of cases lining the rest of their booth. Although with all the cases including their new yacht style chassis on display, one in particular caught my attention. Lian Li's new ITX concept dubbed the PC-Q10 ITX comes in two colors: black, and silver. Out of all the colors, the rose gold really stood out. Every manufacturer has a black, some have a red but how many have a rose gold?! Now keep in mind this is a CES floor sample, so we did not get any accessories with the case or packaging. As expected with a case that has been fondled by several thousand people, it does have a little wear to it. The rose gold version is not an official color option yet, but if enough demand to see it in stores, then it would be available.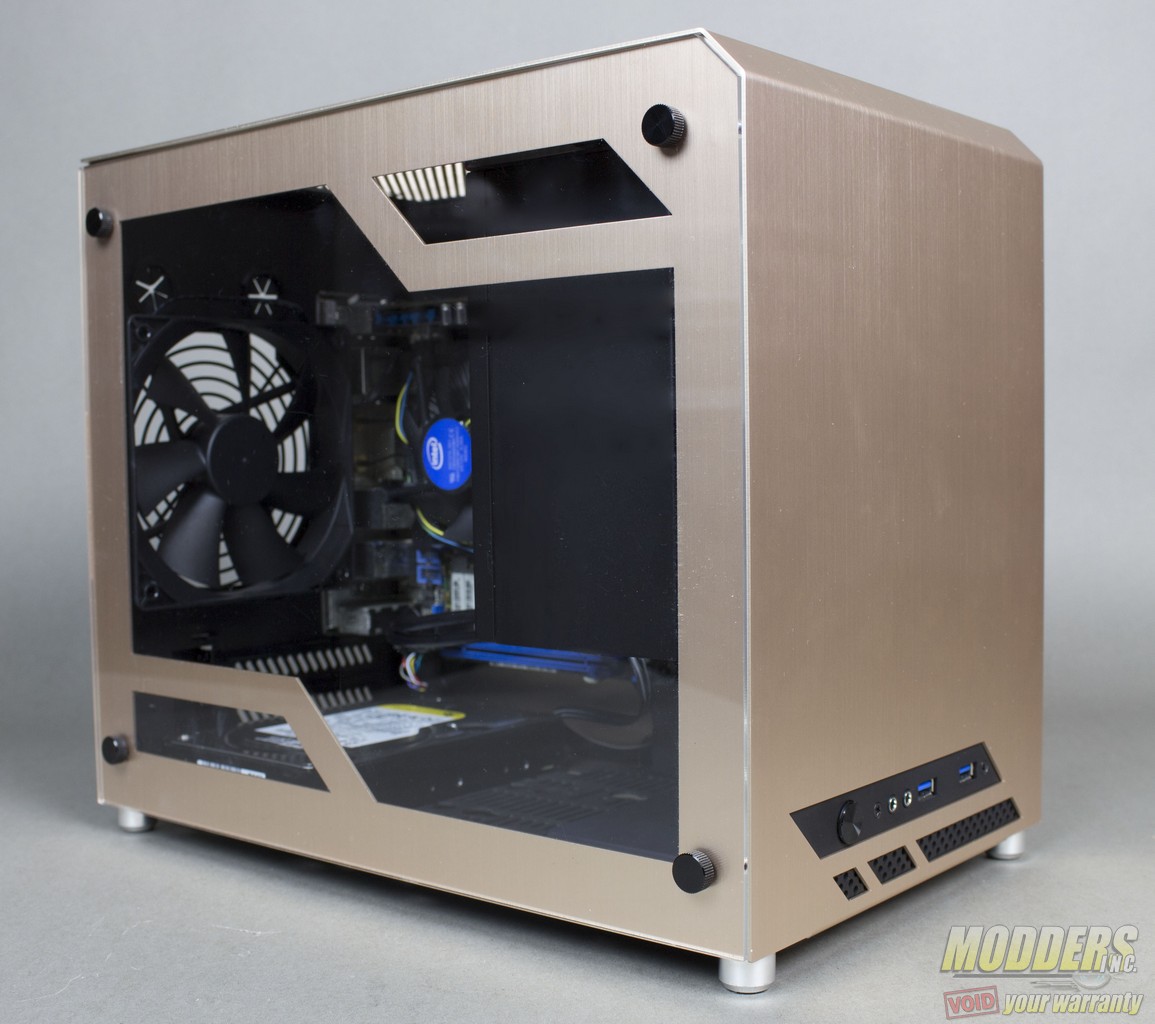 Review Sample Provided By: Lian Li
Product Name and Website: PC-Q10WGD
Product was given in exchange for work to produce review.
Specifications
Model
PC-Q10
Case Type
Mini Chassis
Dimensions
(W) 207mm
(H) 277mm
(D) 335mm
Color
Black
Front bezel Material
Aluminum
Side Panel
Aluminum
Body Material
Aluminum
Net Weight
2.3kg
5.25″ drive bay (External)
1 Slim ODD (Slot-In)
or 3.5″ HDD x1
or 2.5″ HDD x1
3.5″ drive bay (External)
None
HDD bay
3.5″ HDD x2
or 2.5″ HDD x3
Expansion Slot
2
MB Type
Mini-ITX
System Fan(Rear)
120mm x1
System Fan(Top)
120mm x1(Optional)
System Fan(Base)
120mm x2(Optional)
I/O Ports
USB 3.0 x2
HD Audio
PSU Type
ATX
Maximum Compatibility
VGA Card length: 270mm
CPU cooler height: 140mm
PSU length: 150mm