« Hardware Installation
Final Thoughts
In a world of Texas-sized ITX chassis, it was great to see that Lian Li went against the grain and offered a much smaller and LAN friendly option. With its beautiful anodized finished available in black or silver at the moment (and if there is enough demand, the rose gold version from this review), the Lian Li PC-Q10 will fit in any office or media center environment. As expected with the ITX format you often have to compromise your component selection in order to make sure everything will actually fit in the chassis. Although this is true with the PC-Q10, Lian Li has done an excellent job of still providing a solution for users to use certain components, for example allowing users using a dedicated GPU to mount a 3.5″ drive to the front of the chassis.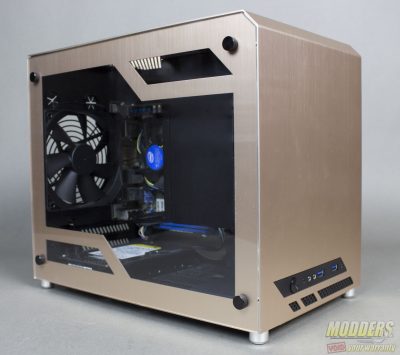 I do have to knock off points though for Lian Li's boast about the case supporting a 240mm water cooling setup. With modding this may be possible but as a stock case, I could only see the support for a 120mm radiator, due to the location of the PSU. With that said however the PC-Q10 offers quite a bit of ventilation with its slotted bottom panel, exhaust fan on the back panel and intake/exhaust at the top panel. I would personally opt for a quality fan cooler set up over water cooling for this case, due to the restriction of radiator location and the cost to performance ratio between the air vs. water setups.
Even with that said about the lack of the boasted water cooling support, the Lian Li PC-Q10 is still a solid contender in the ITX market. Overall the quality of the chassis is bar none one of the best I have seen for an ITX case matching that of the Ncase (manufactured by Lian Li), if I did have a gripe about the outside of the case, the only thing I could think of would be the slot on the top panel that is meant for the optional slot load drive. The reason for the nag is that optical drives are being used less and less in builds and it would be nice to see Lian Li offer a panel that did not have the slot. Other than that with its quality finish, adaptability and small size, the PC-Q10 from Lian Li earns the Modders-Inc "Must Have" award.