MODDERS Build at PDXLAN 23 In Honor of Phil Scholz of NVIDIA
From Conga Lines, gaming, friends and new friends even trolls under the table PDXLAN is always a great time of fun and games. This year joining in the festivities was a full out effort by the PDXLAN community, members, organizers to give something back. More and more our community of GAMERS, MODDERS and BUILDERS are joining forces with sponsors,  hardware suppliers and attendees to benefit worthy causes. Those who know me hear over and over about my desire to solidify, strengthen and feed the spirit and soul of our shared interests within the community. PDXLAN shows that spirit and soul through it's members, attendees and a group of people have proven that faith is not wasted and a great deal of good can be done by a bunch of gamers, modders and builders.
PDXLAN 22 Video Summary:
PDXLAN is a mega-LAN Party event where up to 550 PC gamers bring their computers for up to four days to play video games. Gamers come from all over the United States and Canada to participate in fun contests, competitive tournaments, and sponsor presentations. Typical PDXLAN events also include up to $100,000 in sponsor prizes for the attendees.
PDXLAN is known for it's charity work and highly supported by it's attendees:
"PDXLAN began hosting charity events at it's LAN Parties in 2005. To date PDXLAN has raised over $100,000 and over 95,000 pounds of food for charity. PDXLAN also works with the NVIDIA Foundation which has helped with matching PDXLAN gamer contributions over the past decade.
Charities PDXLAN has worked with:" ~ PDXLAN Website
American Red Cross – Disaster Relief
Child's Play
Smile Train
Union Gospel Mission
Oregon Food Bank
Portland Rescue Mission
Dorrenbecher's Children Hospital
Children's Cancer Association
The Special Olympics
The KGW Toy Drive
The Phil Scholz Memorial Foundation
The November event has been the food drive to raise food for local food shelters and has over 95,000 pounds to it's credit. If you plan to attend the fall event please consider a canned goods donation.
PDXLAN 23 for Phils Foundation
This last February 2014 at PDXLAN 23 a gang of selfless attendees gathered together to honor the memory of Philip Scholz a NVIDIA representative that so many knew and appreciated who lost his life attempting to save others.  The story of what Phil of NVIDIA did is heroic.
Philip Scholz ~ Phils Foundation: "Philip Scholz died Monday, January 20th, 2014 when he pulled another man off the train tracks at the Santa Clara Caltrain Station. Emily Scholz formed Phil's Foundation to organize those who remember him so that all the giving Phil did during his life could continue after his death. Your donations to Phil's Foundation will be used to provide scholarship opportunities to needs based youth and promote outdoor physical activities involving Phil's favorite pastime, baseball.
If you or someone you know would like assistance planning a fundraiser in Phil's honor please contact us at
The Philip Scholz Memorial Foundation,
2930 Bowers Avenue, Santa Clara, CA 95051."

So the call went out but probably wasn't needed knowing all of these guys personally. You see each of them are known in the community for being sharing, supportive, giving individuals.
Ron Lee Christianson of Blue Horse Studios.
Lee Harrington of PCjunkiesMods
Mike landenberger of Lutro0 Customs
Ashley Landenberger
Richard Surroz  DarthBeavis
Jeff Dgephri Kaiser
Rod Rosenberg
Bob Stewert 
Matt Conwell Host and PDXLAN organizer
All joined with sponsors to gather the hardware and supplies needed to build 3 rigs to auction at the event for Phils Foundation.
SPONSORS included: EVGA, NVIDIA, EKWB, Intel, ADATA, Lutro0, Primochill, Thermaltake in addition to supplies and materials the builders themselves contributed.
PDXLAN 23 "MOD GARAGE" is where the hands on work begins: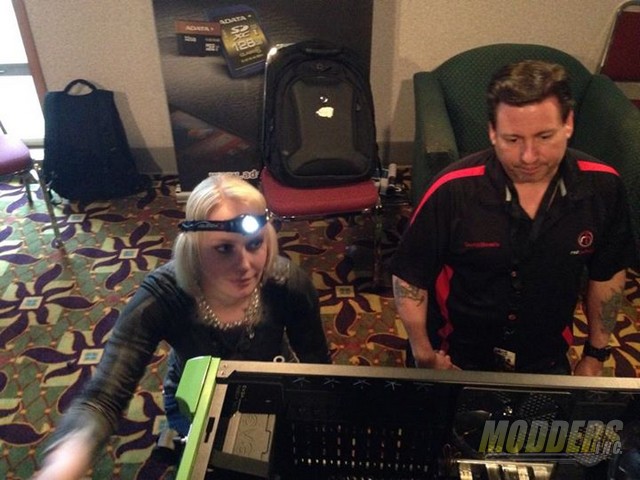 Ashley Landenberger and Richard Surroz shedding some light on one of the charity builds in the MOD GARAGE.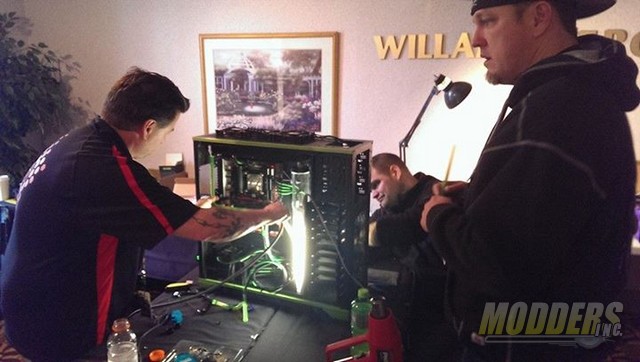 Richard Surroz front, Lee Harrington right and Mike Landenberger behind the rig.
Even a few heroes came to the rescue like Puget Systems of Auburn Washington filled in the missing pieces like a AIO CPU Cooler, Gary Lee of Thermaltake OVERNIGHTED the V71 Case making it the 1st to debut on U.S. Soil to the Lee Harrington and Ron Lee Christianson build.
THE BUILDS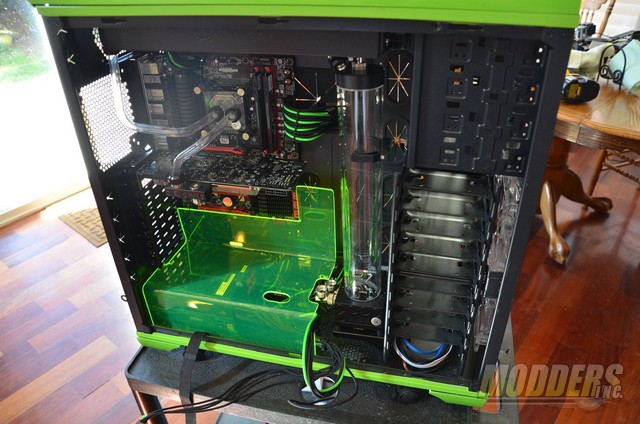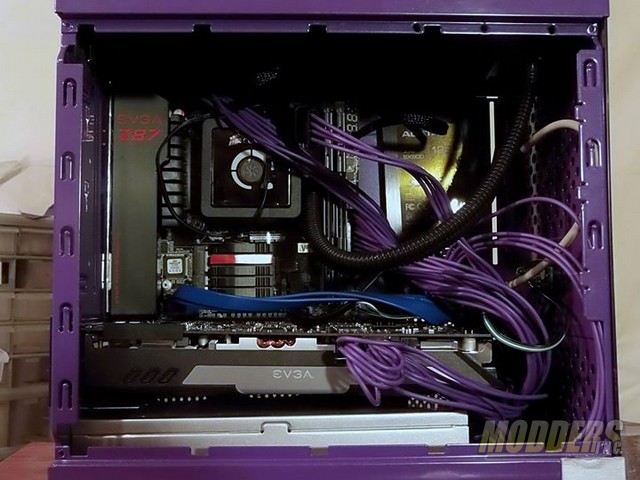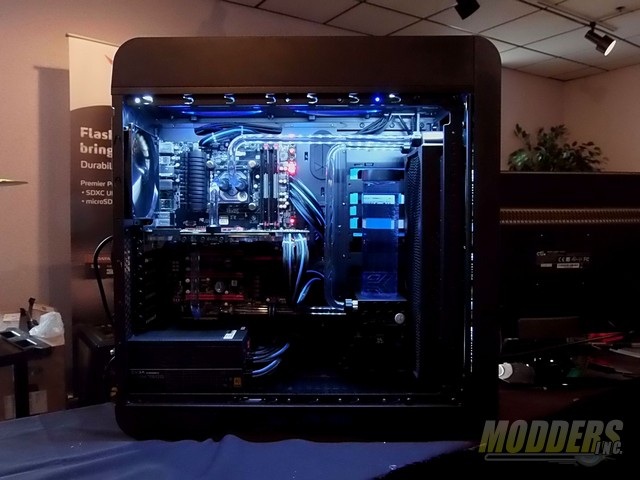 The GREEN BUILD, PURPLE BUILD and BLUE BUILD.
Gary Lee of Thermaltake :
"After CES 2014, I want one of those best modders to review our new products first, because we made Core V71 case for liquid cooling users & modders. So I contact Ron to see if he has time to do it. Then Ron tell me this project and ask if I can sponsor them or not, and I think "Why not? It's a good thing we should do. I can show how good it is in the PDXLAN and helping people, it's great!" And you guys knew the following story, all I have to say is Thanks for the opportunity and I hope you like it, we made it for you!"
"This past weekend 550 computer gamers got together in Portland Oregon. We decided to build three awesome gaming PC's and then sell charity raffle tickets to the attendees. The PDXLAN attendees raised $13,220 for the Phil Scholz Memorial Foundation. Also one computer mod was especially sentimental. Hidden in the paint job, very faintly was Phils DOB and his date of passing. Inside the case wall, all the PDXLAN staff signed their names and goodbyes. We miss you Phil – Your presence is still felt at PDXLAN."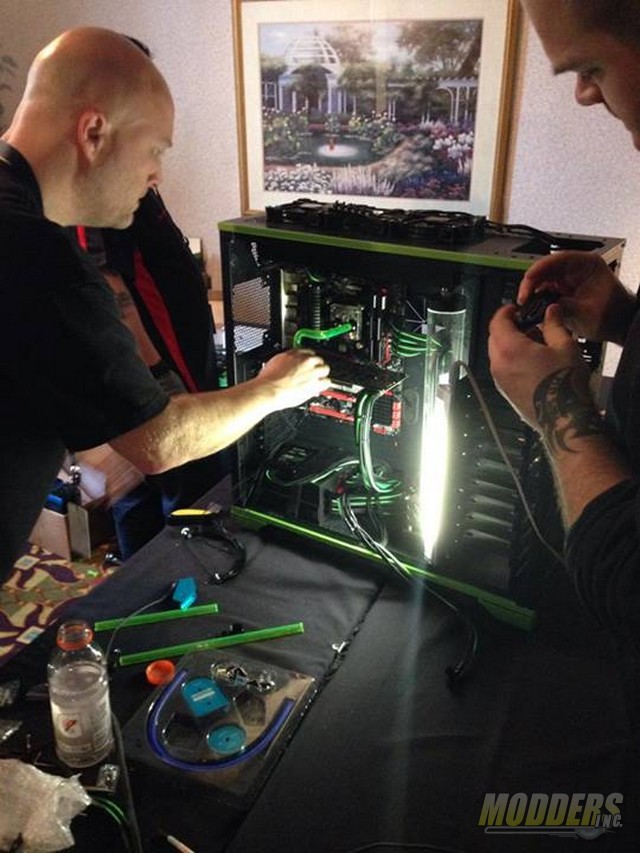 Doing some Hardline Tubing with the Monsoon Hardline Tool Kit I loaned them is Jeff Dgephri Kaiser and Mike Landenberger.
Mike Landenberger Aka Lutro0
"Just wanted to say thanks to everyone who joined in on the Modders Garage demos and charity building.
It was great to see so many people interested in modding and all of the encouragement that all of you gave while we were building the mods.
It means a ton when we see people interested in the modding hobby and even more when we can pass on the knowledge we have accumulated.
So from all of the modders who participated – a huge thanks to the PDX Lan family for your encouragement and thanks!"
Raffle tickets went on sale at PDXLAN on February 22nd and 23rd for $5.00 each. Origin by EA laid down a matching challenge of $10,000 and the attendees gathered forces to meet and exceed it thru $13,220 in raffle sales giving a total of $23,220! All money raised went directly to The Phil Scholz Foundation.
"The gaming community never ceases to amaze us! In a challenge to match the Origin donation, PDXLAN attendees successfully trounced our number and hit over $23K for the Philip Scholz Memorial Foundation in just one day." ~ Says Matt Conwell event organizer.
There will be many children benefiting from this donation to Phils Foundation as the proceeds go to benefit Phils favorite sport, baseball for children. Job Well Done! Everyone should be proud, I know I am of all of you.
WINNERS!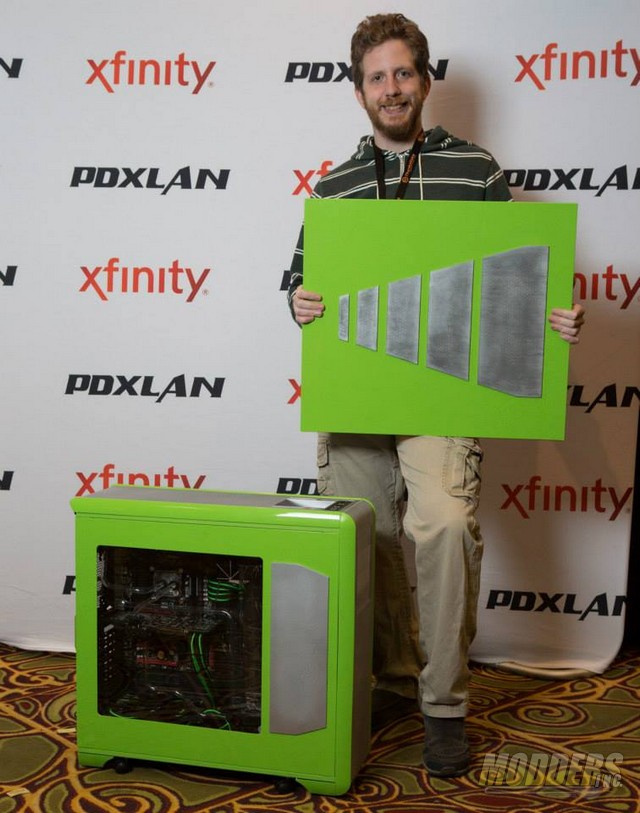 WINNER Fritz Ray with the GREEN BUILD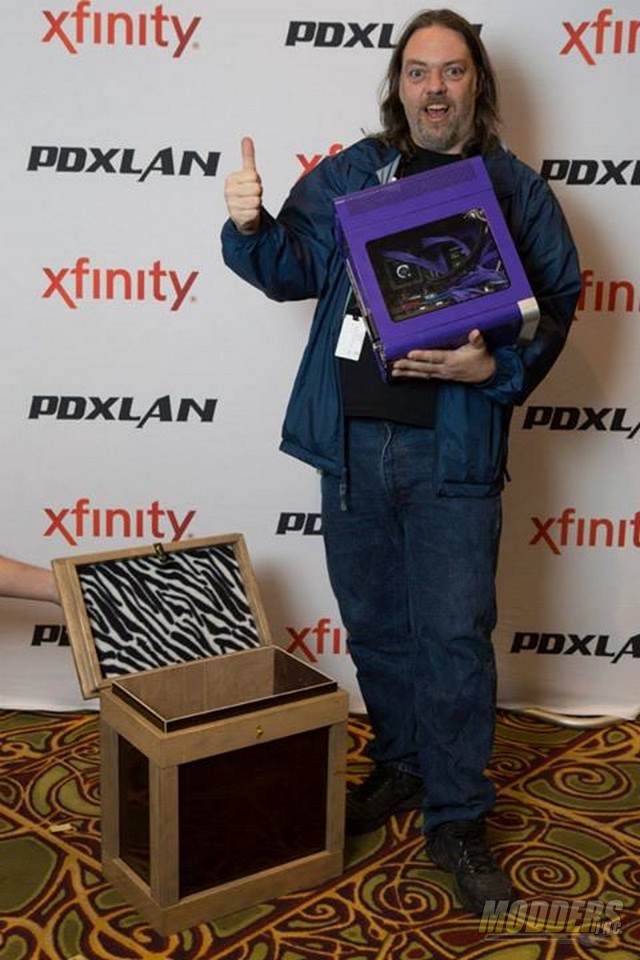 WINNER Heath MJ Coop with his PURPLE BUILD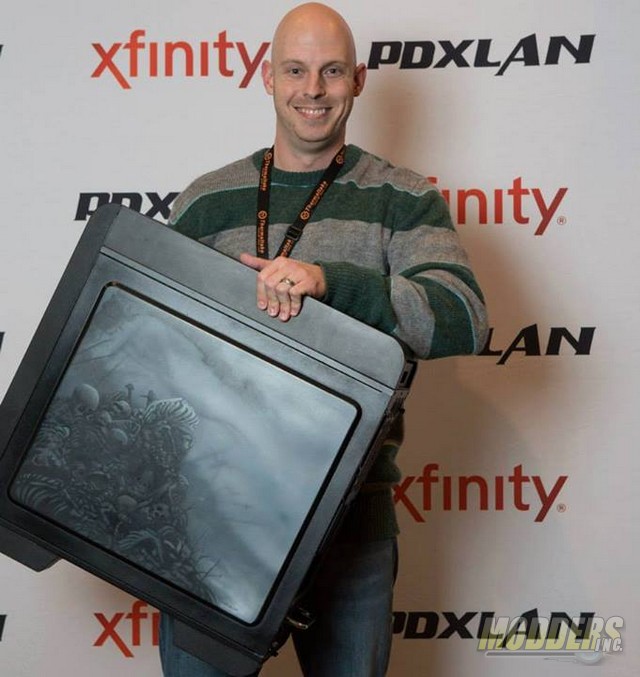 This win was Jeremy Barskey's and though it's black now it is set to become the BLUE BUILD
PDXLAN 24 Event Details:
Date: July 11-14, 2014 (6PM Friday – 6PM Monday)
Location: Portland, Oregon
Venue: Holiday Inn Conference Center
LAN Size: 550
COSTS:
EARLY Purchase $75.00 Per Person for all 4 days (+ Web Fees) (first 400 seats)
Late Purchase: $80.00 Per Person for all 4 days (+ Web Fees) (last 100 seats)
Leet Seat Purchase: $120.00 LEET SEAT Per Person for all 4 days (+ Web Fees)
What's included with your admission?
– 3 Raffle Tickets if you pay before Feb 25th 2014
– 2 Raffle Tickets (First 400 to Pay), 1 Raffle Ticket (Last 100 to Pay)
– Entrance into tournaments
– Swag from sponsors
– Lan Admission for Friday, Saturday, and Sunday, and Monday
– 3.4 AMPs of Power (Per seat)
– 3 Foot wide space + Padded Chair
Leet Seat Perks
– Extra swag
– Bring your own chair
– More power (5Amps)
– Front row seating to all presentations/raffles
PDXLAN 24 Announced Activities:
– Case Mod Contest
– Sponsored by CPU Magazine ($1,500 Cash Prize)
– The Amazing Race. Part II.
Where to book a Hotel Room:
The Holiday Inn by the Airport 8439 NE Columbia Blvd Portland, OR 97220
Hotel Phone Number: 503-256-5000
I would be happy to update this article if you know or have more info please contact me at alshuryan@modders-inc.com.