QuakeCon
Modders-Inc QuakeCon BYOC Seat Giveaway
We have 3 winners for a seat at the Modders-Inc table Congratulations to…
Adam Stark , Fotes Lykos, Michael Kaiser – Emails are on there way to you.
Keep entering the contest as there are a few more seats available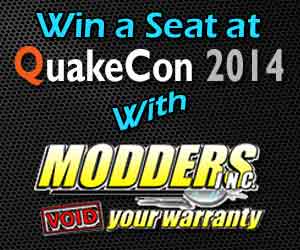 Do you have a computer case mod and you missed out on getting your seat to the largest LAN in the United States? Well have no fear and get your butt into gear! Modders-Inc is helping you make it into the BYOC at the 2014 QuakeCon. Modders-Inc will be having our own special section in the 2014 QuakeCon BYOC area and we are looking to fill it up. Space is limited and only case modders will be picked!
So what do you have to do to get a chance to win a seat? Well we make things easy around here for contest (for our benefit) so all you have to do is follow these rules and you can win a seat at the BYOC.
Like Modders-Inc on Facebook.
Fill out the form below.
Upload images of your case mod.
And that is it!
Deadline to enter is July 1st 2014. Some winners might be announced at random during the contest or they all might be announced at the conclusion of the giveaway… we have not decided yet.
This giveaway is only for a guaranteed spot in the 2014 QuakeCon BYOC (Bring Your Own Computer) area. You will NOT receive any of the items that someone who paid for a seat through the QuakeCon registration and QuakeCon Done Quick processes would get.
To claim you seat and prizes you MUST present be at QuakeCon.
Any potential prizes along with the seat will be forfeited if you do not show up at the event to claim your seat.
All winners are responsible for their own shipping and travel of the prizes won.
Please enter the seat giveaway only if you are serious about going.
[contact-form-7 id="15930″ title="Modders-Inc BYOC Giveaway"]

All Standard Contest Rules Apply
Contest Disclaimer
1 –
This contest/giveaway is open to all US residents only unless otherwise stated in the contest rules.
2 –
Only one email per person, address, or household will be allowed. All IP addresses will be logged! Multiple users with the same IP address will automatically forfeit their chance to win.
3 –
Winners are picked at random from the list of those that entered.
4 –
Winners will be notified by the email they provided when entering. So use one that you check regularly.
5 –
Seven (7) days will be given to allow a reply email from the winner. If the said winner does not send a reply email within the given amount of time then that winner will forfeit their prize. At that time another winner will be picked, at random, from the list of entries.
6 –
Winners will notified after the close of the Contest, and you will be required to provide your address for shipping in order to receive the prize.
7 –
You must be 13 years of age or older to participate in a contest, some contests may have special age and other entry restrictions.
8 –
As a condition of being awarded any prize, winners may be required to execute and deliver to a sponsor a signed affidavit of eligibility and acceptance of these Official Rules and release of liability.
9 –
Any entry received after the deadline will not be accepted as an entry.
10 –
Modders-Inc or sponsoring manufacture will pay shipping and handling, but you will be required to pay any applicable customs fees or duties associated with shipping your prize to you.
11 –
You will be responsible for all taxes relating to your receipt of any prizes in the Contest
12 –
Information that has been collected during the course of this or any other contest will not be, sold, traded or distributed in any form.
13 –
Modders-Inc.com staff members, family members, or the prize supplying company's staff or family members can not enter the contest/giveaway.
14 –
Modders-Inc.com or any of its staff members or prize companies is not responsible for any damage, lost, or stolen packages.
15 –
Modders-Inc.com or any of its staff members or prize companies is not liable for any actions that may result in damage, harm, or causality to anyone or anything having to do with or about the prize(s) they won.
16 –
Modders-Inc and or sponsoring partner reserves the right to discontinue the Contest at any time, as well as the right to change or substitute prizes with other items of substantially equivalent value in its sole discretion
17 –
Any entry that does not conform to the rules will not be entered into the contest.