Case Modding Tools
Modder's Tools: Persistent Paint Pens Revisited
Do More Than Just Writing
« It Starts at the Tip
Paint Pen Applications
It is paint in a pen form factor so the sky so the application depends on your creativity. You can use it to paint an entire room if you wish, although obviously that would be pretty stupid and cumbersome. It is very useful for restoring faded/rusted gold or brass pieces for example. You do not even need to prime it, you can just start applying it. Obviously, if you prime and sand the surface first, you will get a better result.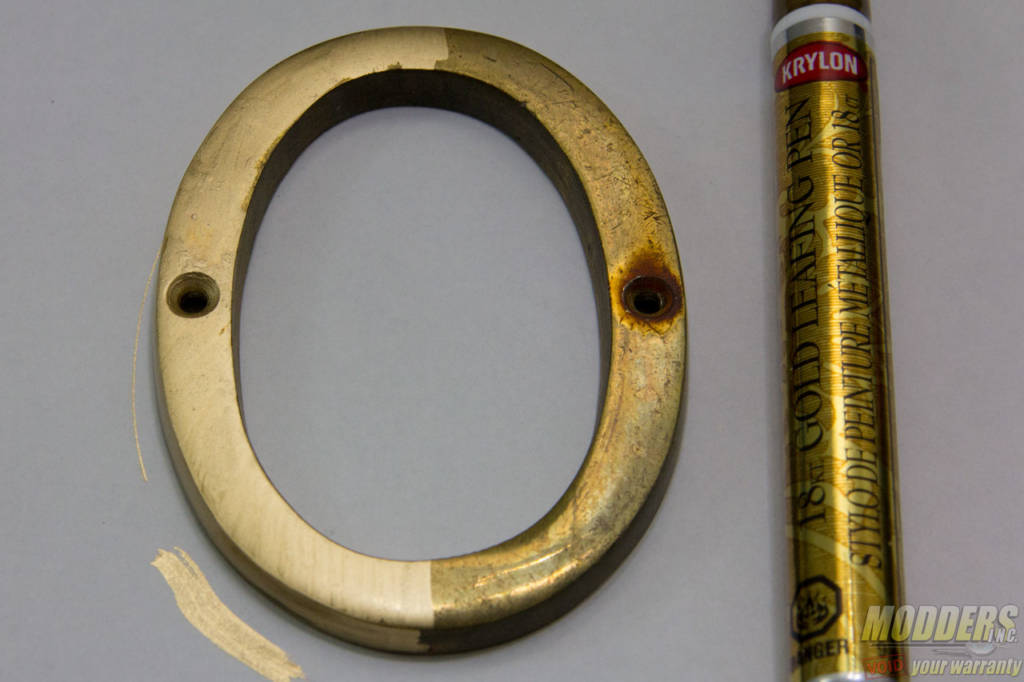 You can see the major difference after just one pass on an un-treated and un-primed metal piece. This has been a sign at the front of my house for about a decade now so. One more application and it looks almost new, just enough to cover the weathered textures and grooves.
Obviously you can be more creative and actually use it for modding. If you can draw for example, oil-based paints lets users just start drawing on almost any metal surface. Just make sure to wipe at least once to remove dust which will prohibit paints from sticking.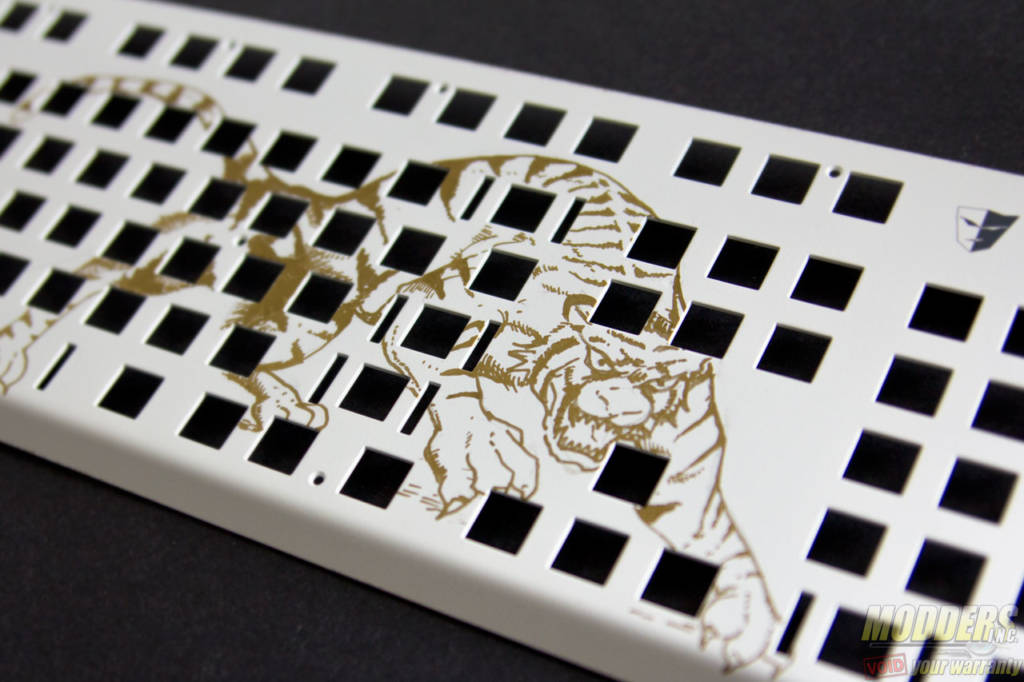 The gold color works well on both white or black surfaces as well and remains visible. Once the paint pens dry, the result is very even as well and much more precise than using a stencil. You can also use a brush and a thinner if you want a brush texture, although since we are using paint pens, drawing directly on the project is very intuitive.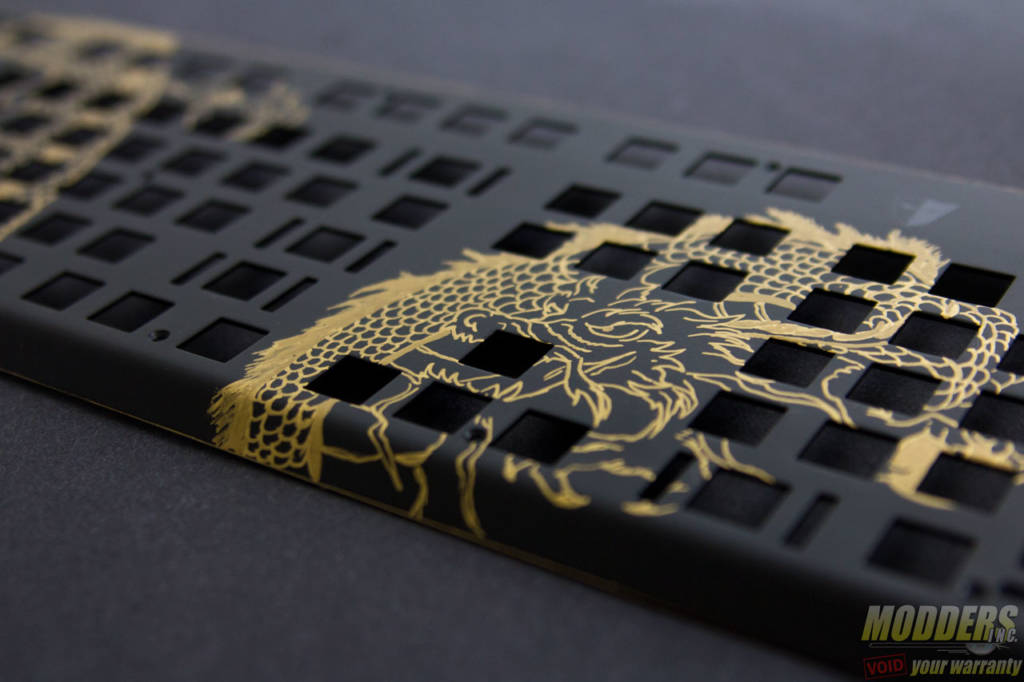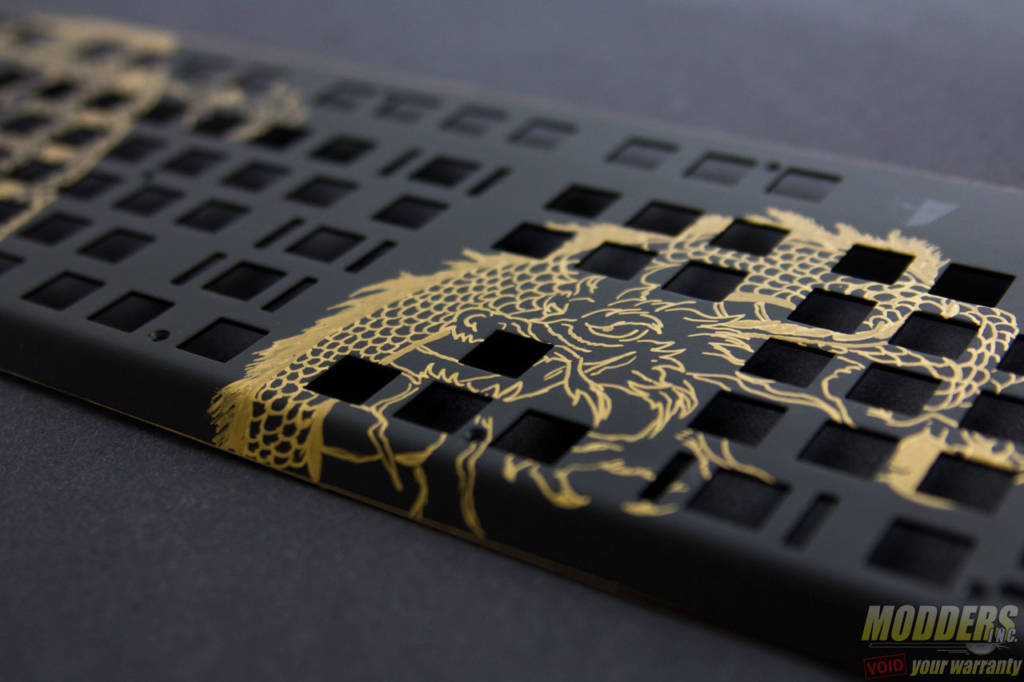 So what are you waiting for? If you are looking to add a simple mod to your keyboard or case, and have no experience with paints, why not try working with paint pens first. It is inexpensive and there is virtually no learning curve to use.
As for these custom Tesoro plates, I was going to go for more feminine Chinoiserie pattern initially. However, since these are going to be for a giveaway going to gamers, I don't think many gamers would go for the flower-draped or ornate vinery look. So I figure might as well pivot that initial idea and make it more "Asian Tattoo" inspired look.  These plates are now heading to Tesoro so they can assemble it onto full working Tesoro Gram RGB mechanical keyboards. Stay tuned to fined out how you can participate for a chance to win it! In the meantime check out a few of the other Gram keyboard plates we modded.
If you would like to see another insight on three other Tesoro Gram Keyboard Plates we modded, take a look at Dewayne's article.