« Introduction and Packaging
|
Bundled Software »
A Closer Look at the MSI B150A Gaming PRO Motherboard
There is a lot more to a motherboard than overclocking and MSI shows it on the B150A Gaming PRO which is equipped to the hilt with features and certainly does not look like a discounted gaming motherboard at all. It has improved tremendously in terms of looks compared to last generation's MSI B85 offerings.
The heatsinks are all black anodized aluminum aluminum pieces with the VRM pieces having glossy red stripes painted on while the B150 chipset heatsink is actually a two-stage aluminum piece. This chipset has a ~5W TDP so cooling this is not really a concern and the size of the chipset heatsink is more for aesthetic purposes. The chipset uses a very thin thermal tape compound while the VRM MOSFETs makes contact to the heatsink with a thick black thermal strip between them. All are held in place by screws so it is quite sturdy.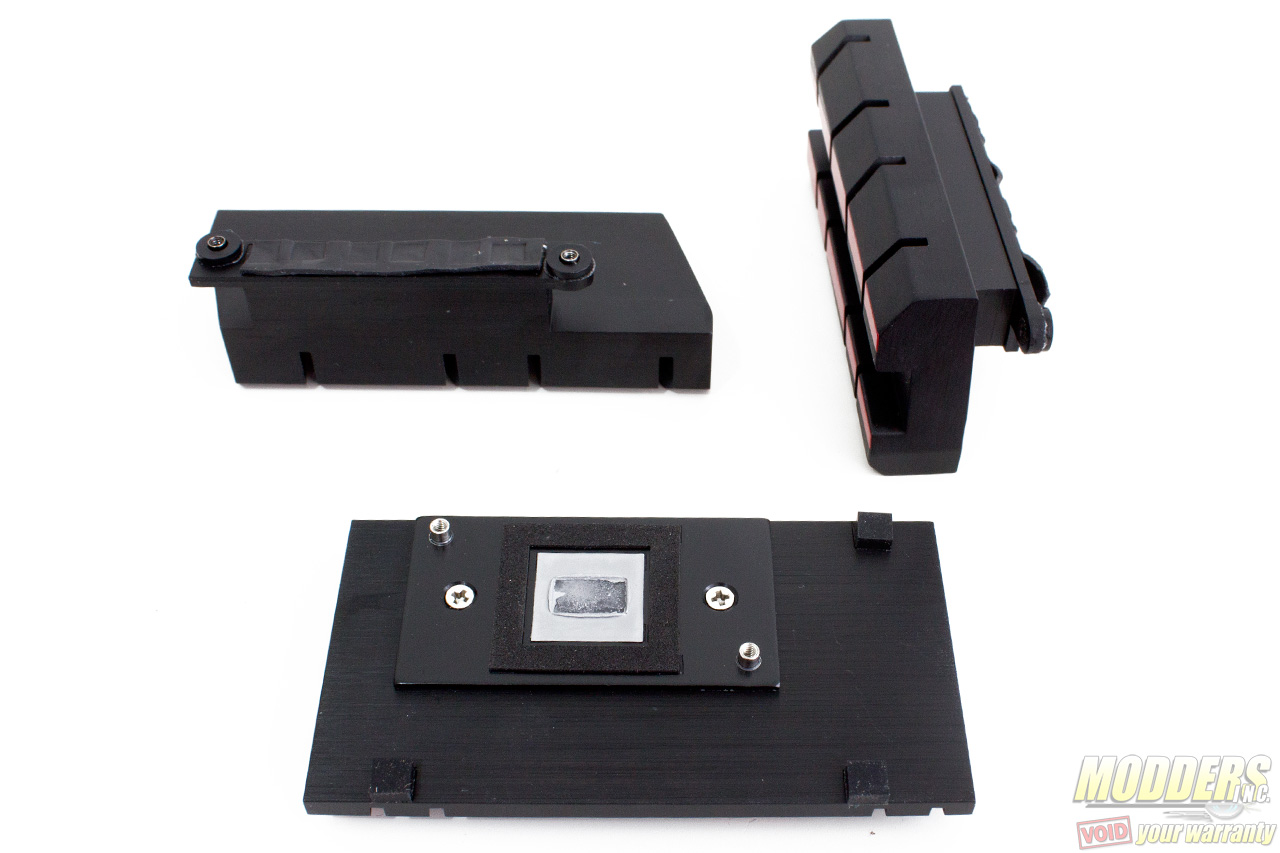 The 8-pin CPU power is located on the top left corner right beside the top VRM heatsink and the main PWM controller is an ISL95856, a dual-output 4+3 phase capable IMVP8 controller from Intersil for the CPU+GT.
MSI uses their usual NIKOS Semiconductor MOSFETs in the form of one PK616BA and one PK632BA per phase driven by Intersil ISL6625A's. You'll notice that not all phases have ISL6625A drivers and that is because the ISL96856 has three built-in drivers (a pair on one output and one more on the other) and all of them are used. For the System Agent power, MSI uses a Richtek RT8125CGQW single phase buck PWM controller right at the tail end on the left side of the CPU socket.
The DIMM slots are dual latching and support DDR4 modules. Because of the B150 chipset lock, the RAM cannot be set higher than 2133MHz similar to how the B85 chipset cannot be set higher than 1600MHz which is the ceiling for what Intel officially supports for non-overclocked parts.
Right along the right side edge is the LED bank, adjustable through the UEFI or via MSI Gaming App software. Users can set it to any RGB color and can even set the behaviour between one of the presets available. The video below shows this LED in action.
An onboard 19-pin USB header is available right below the 24-pin connector on the edge and behind it is a SATA Express (PCI-E 3.0 x2) port. This port can also be used as two separate SATA ports as well and four more from the B150 chipset is available on the right side edge. None of the SATA ports are angled but the SATA Express bank of ports is positioned so that it does not interfere with PCI-E x16 installation or DIMM module installation. A Nuvoton NCT6793D is used for the SuperIO providing PS/2, hardware monitoring and fan control.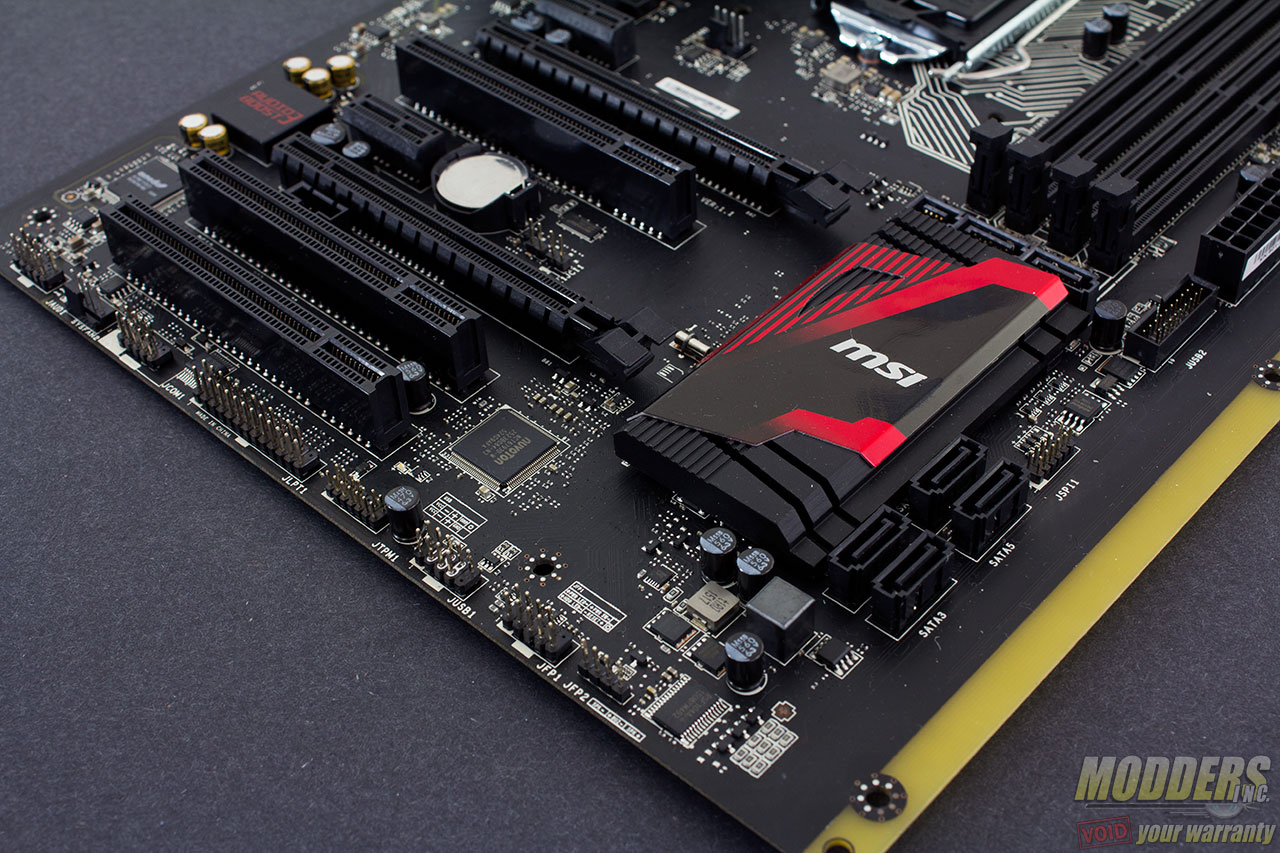 There are five 4-pin fan headers in total and three are independently controllable via Nuvoton 3943S (marked blue in the image below):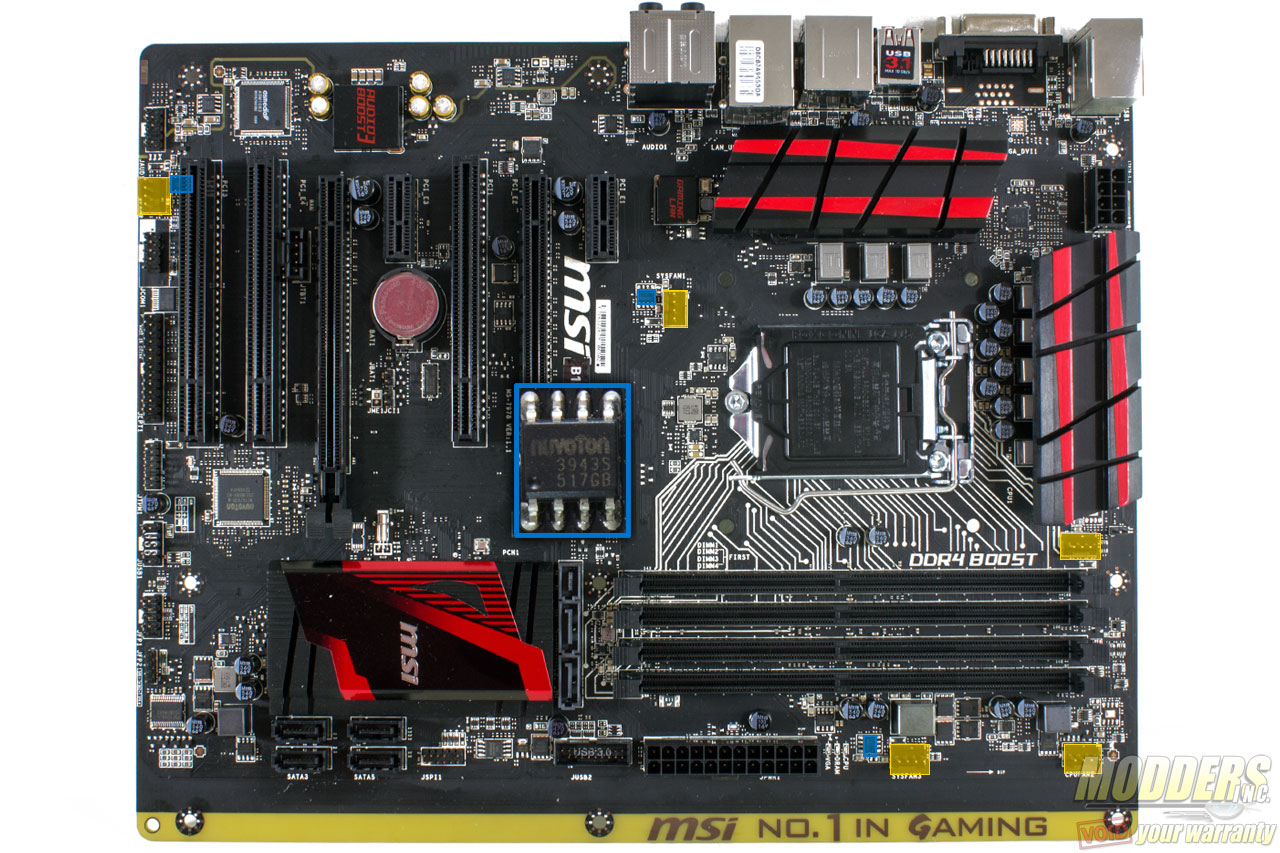 The bottom row has all the remaining headers starting with the front panel connector headers on the far right, 9-pin USB 2.0 header, Trusted Platform Module header, LPT1 header, COM port header and front-panel audio header. The Thunderbolt GPIO header is located between PCI_E4 slot and the second PCI slot.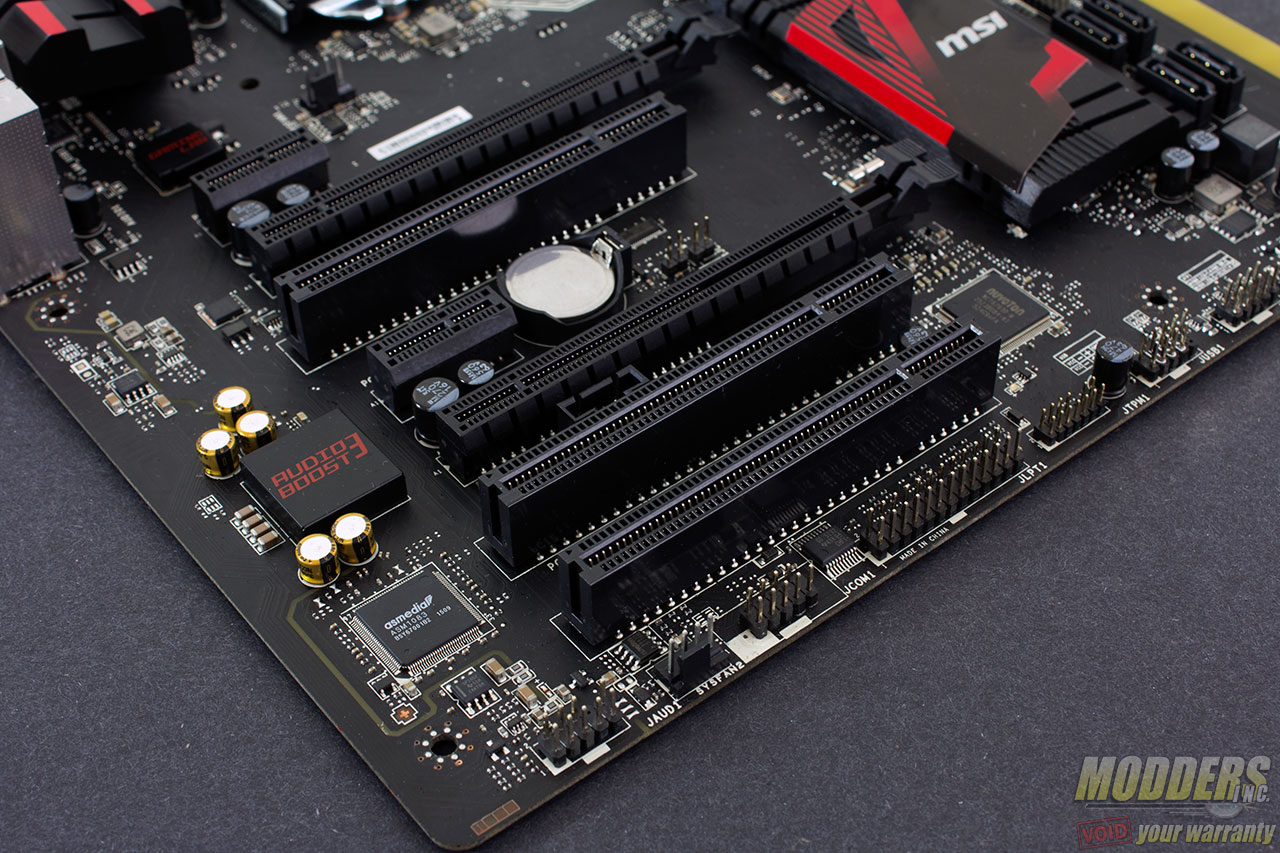 PCI-E Lane Distribution is as follows from top to bottom (physical: electrical):
PCI-E 3.0 x1 via PCH
PCI-E 3.0 x16 via CPU: x16 with single card
PCI via PCI-E x1 bridged by an ASMedia ASM1083
PCI-E 3.0 x1 via PCH
PCI-E 3.0 x16 via PCH: x4 (runs at x1 when either PCI-E x1 slots are populated)
PCI via PCI-E x1 bridged by an ASMedia ASM1083
PCI via PCI-E x1 bridged by an ASMedia ASM1083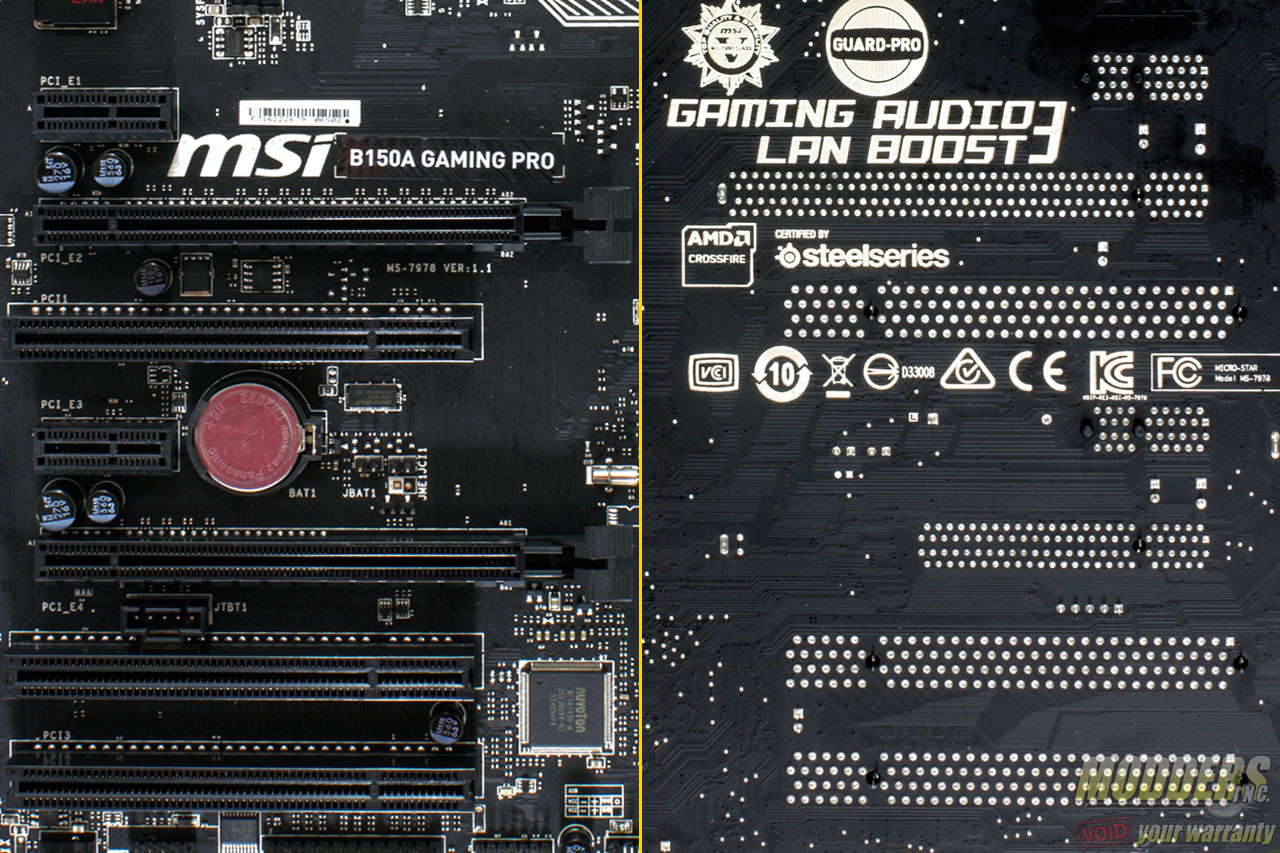 Despite being a budget mainboard, the B150A Gaming PRO sports MSI's new Audio Boost 3 audio-subsystem design. It utilizes a Realtek ALC1150 HD audio codec with Nippon Chemicon audio filter capacitors on an isolated PCB area (highlighted with red LEDs when powered on) and sports a pair of Texas Instruments OP1652 line drivers for both rear and front panel audio outputs.
At the rear, there are five analog audio jacks with one optical audio port. HDMI and DVI-D for use with Intel's integrated graphics provides up to 4K display support (via HDMI). Intel's latest "Jacksonville" i219-V is used for the Gigabit Ethernet, improving efficiency further from previous generation "Clarkville" controllers. Since the B150 chipset is limited to six USB 3.0 ports and two are already available on-board, MSI uses an ASMedia ASM1142 host controller to bridge a PCI-E 3.0 x1 lane to two downstream USB 3.1 ports (marked in the IO shield and with a sticker on the top).