« Bundled Software
|
Test System and Testing Procedures »
UEFI Overview
MSI has updated their "Click BIOS" to version 5 and it now sports a new more functional easy-mode and is quite fluid compared to other mainbaord manufacturer's UEFI. The top portion is similar to the standard mode MSI UEFI with one-click XMP toggle (although not usable since this is a B150 motherboard) and drag-and-drop boot priority shifting as well as system information at the top. Menus on the left provide access to CPU, Memory, Storage, Fan information and help pages while menus at the bottom allow quick setting toggle and provides access to the smaller applications that run within the UEFI such as M-Flash, Hardware Monitor.
The Advanced mode UEFI is similarly laid out to Click BIOS 4 which was very effective already so most of the update this time is graphical and responsiveness. I am glad to report that with the E7978IMS.142 BIOS version, the movement is extremely fluid, being the smoothest UEFI experience I have ever had. The impressive thing is that MSI manages to make it very responsive while having sleek looking interface on top of a highly functional layout. This is easily my favorite UEFI layout of any motherboard I have used over the past three chipset generations.  At any time, users can hit F12 to take a screenshot and save it to a plugged-in FAT16 or FAT32 USB drive. Language options and favorites can also be easily accessed on the upper right hand corner.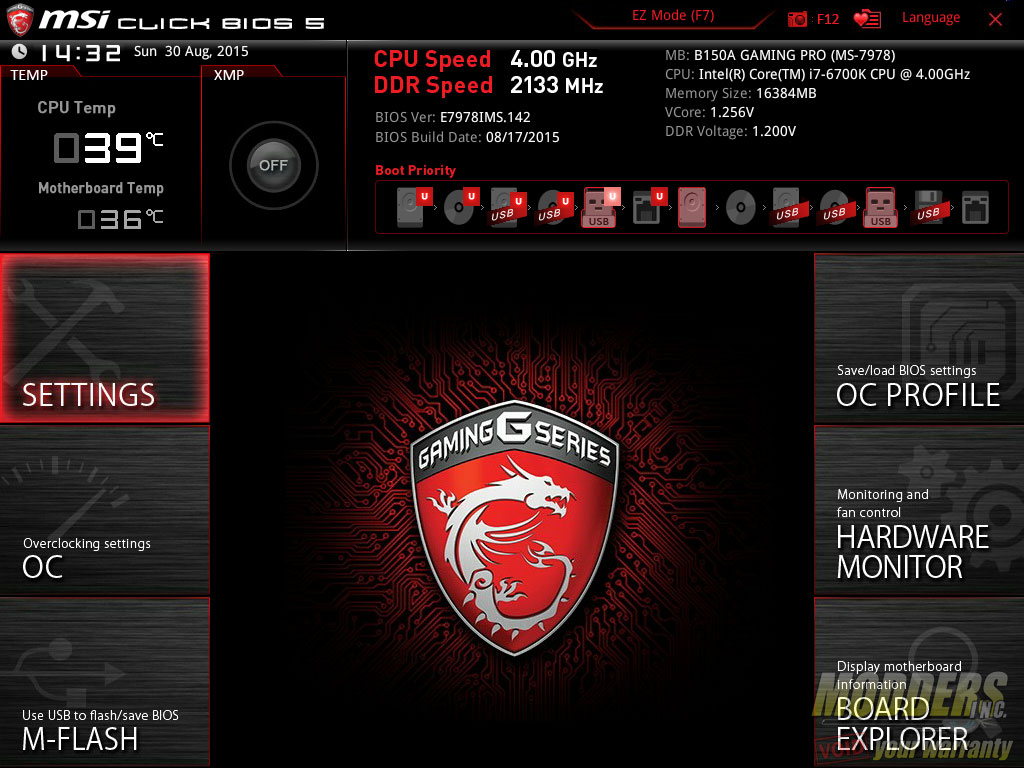 There are six main sections to the MSI UEFI which is similarly laid out in every single one of their mainboards using Click BIOS 4 or 5. It is completely "idiot proof" and easy to navigate with both keyboard and mouse. The first section is the Settings folder which provides access to all the other features which are non-overclocking related, while the second OC folder provides access to all overclocking related functions. The third section is a link to the M-Flash BIOS update program.
On the right side, the topmost link provides access to settings profile management. The hardware monitor section below that takes users to a pop-up window where users can monitor and control their temperatures with fan control functions in graphical form. The board explorer at the bottom provides a graphical overview of which motherboard section is being used or has a component plugged in. The right side settings area also double as a floating info or status window for when navigating the left side Settings an OC section options.
While there is no CPU or RAM overclocking because of the B150 chipset, users can still overclock integrated graphics (if not using a discrete card) and users can also set individual RAM timings to run a tighter set.