« Raytracing & DLSS Testing
Conclusion and Final Thoughts
First, let's get the bad out of the way. If you currently have a GTX 1080Ti,  due to the lack of game supporting RTX and DLSS, it becomes very difficult to recommend upgrading to ANY RTX 2080 series card at this point in time unless you want/need DLSS and RTX features in the two games currently published. This doesn't mean they are bad cards, it just means it's a hard pill to swallow for only two games for now and justifiying the current prices. During the benchmark runs, the GTX 1080TI consistently matched the RTX 2080 in performance. But, this isn't a new development. However, each of these cards is in a slightly different "class" with the GTX 1080Ti sporting 11 gigabytes of RAM and the RTX 2080 having 8 gigabytes. Even today, the 1080Ti is a fantastic card however, it does lack support for Ray Tracing and DLSS but, even now, there are only two games that support Nvidia's new technology. More games supporting the new features are set to launch in 2019.
If you're looking at upgrading from a GTX 1080, the performance gap widens a bit, as expected. The gap widens even more as we push the resolution up. The RTX 2080 struggles a bit at 4K ultra settings and if your bound and determined to play at 4K @60 FPS graphics quality adjustments will be needed. I think this card does really well at 1440p and is a great performer at that resolution.
Again, the price comes into play. The RTX cards are quite a bit more expensive than their GTX counterparts at launch. However, a quick peek at a couple of retailer's sites show the GTX 1080's selling for $600+ and the  GTX 1080Ti selling for 1000+ for new cards. eBay and the used market may yield significantly cheaper GPUs but from what I've been seeing, even the 3rd party market is asking a premium for the top end 10 series cards but, they can still be found.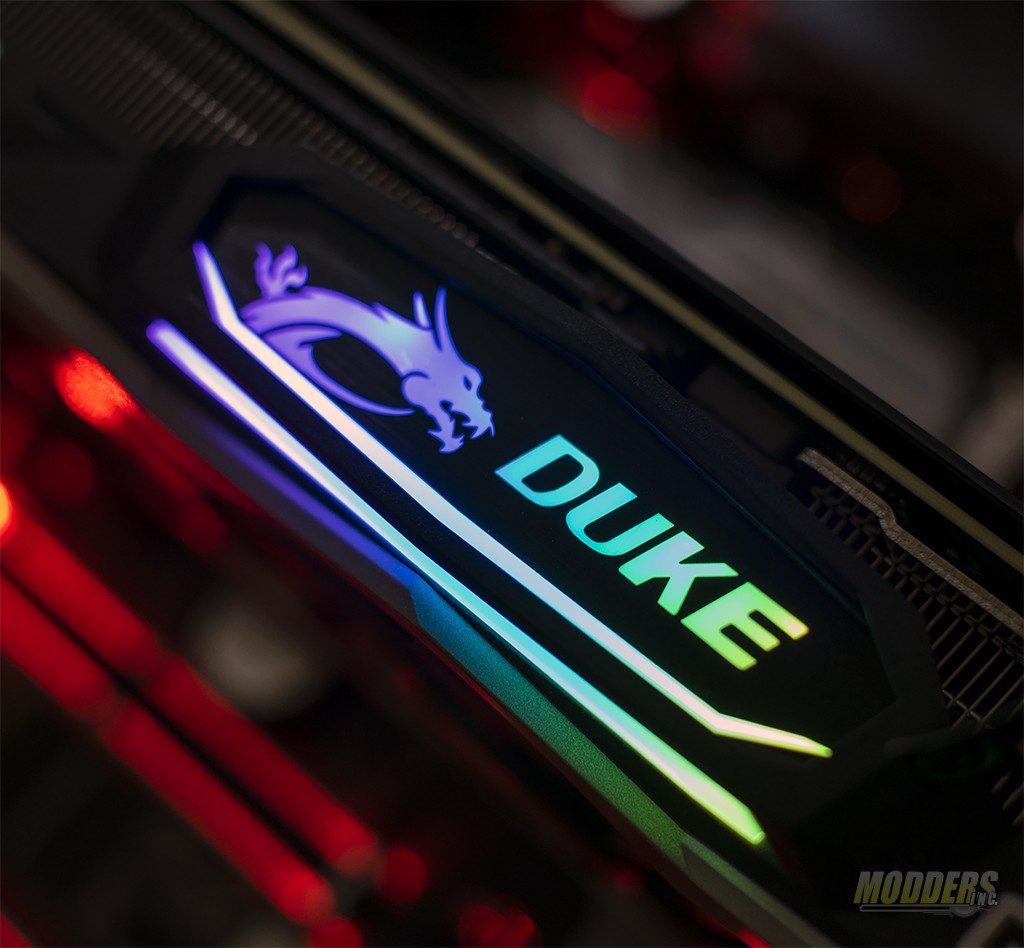 MSI's GeForce RTX 2080 performed on par with expectations during our tests. It constantly traded blows with Nvidia's RTX 2080 Founders Edition. The cooling solution MSI used kept the card cool during testing and the maximum temperature that I saw during our tests was 68° C with a 20° C ambient temperature in the office. The fans do not spin up until the card hits about 65° C and even then they start off slow and ramp up the RPMs as the temp rises. Even during the heaviest workloads, I never really heard the fans spin up.
The specifications say the boost clock is 1845MHz however, boost clock speed during our testing was constantly at 1890MHz as reported by MSI Afterburner. Overclocking yielded a boost clock speed of 2070MHz with a slight uptick in fan speeds and a temperature of 78° C.
Aesthetically, I really like the silver on black color scheme. From a build or mod standpoint, it fits better than a flashy card. Less work would be needed to get this card to fit your theme, of course, it all depends on your build.
At the time of this review, the MSI GeForce RTX 2080 Duke can be snatched up online at your favorite retailer for around the $800 USD range. At this price the price/performance ratio is a bit better. Overall, I really like the RTX 2080 Duke and MSI has done a great job of bringing it to market. The included GPU support and including Battlefield V make it a card worth having in my opinion.