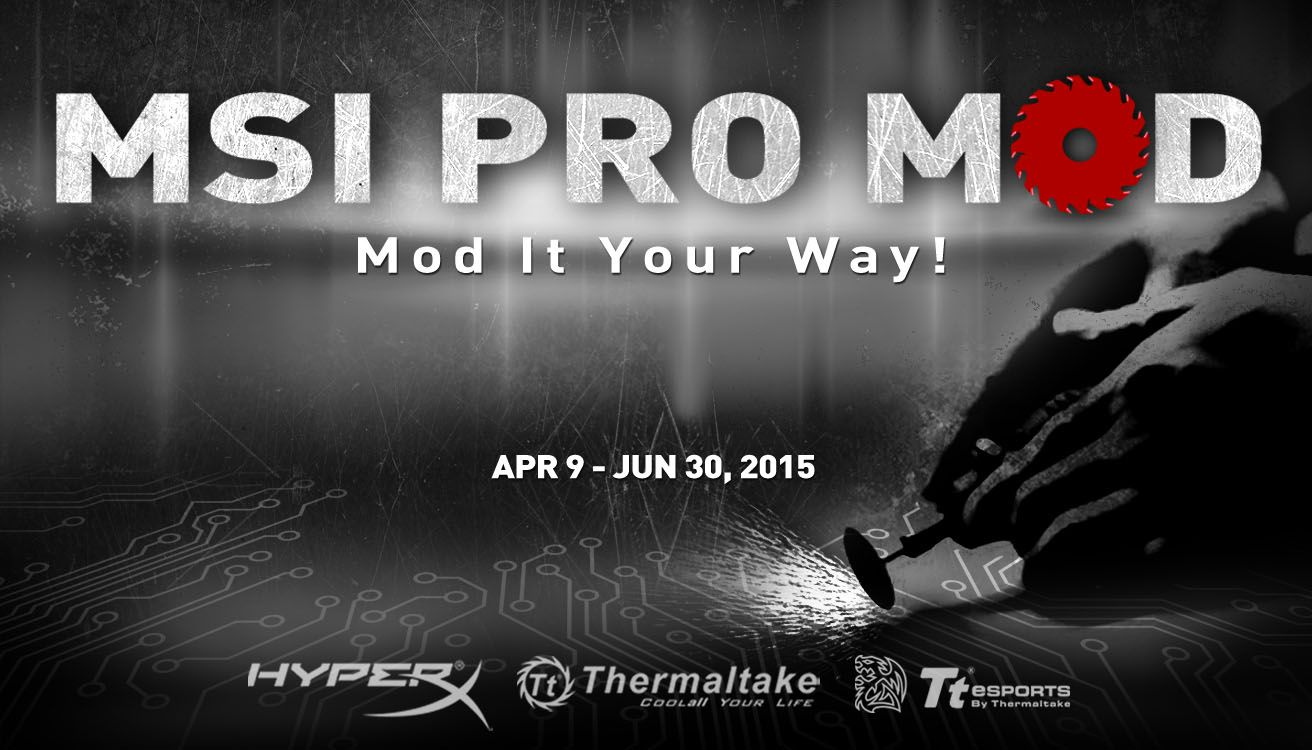 MSI has announced their own PRO MOD online casemod competition with a $1400 total prize value for the top three winners. Prizes are sponsored by MSI of course with the help of Kingston HyperX and Thermaltake/Tt eSports.  This is an online competition that accepts entries from April 9th through June 30 11:59PM (GMT+8). All entrants must use an MSI motherboard and MSI video card. More information and full rules are available below:
The MSI PRO MOD online competition STARTS NOW! It is your chance to show your professionalism to the world and get the grand prizes.  To enter the competition, please follow steps below –
***Steps & Rules***
▪ Register an account on MSI Forum. (Existing Forum account holder can skip this step).
▪ Submit your worklog(s): User Reviews & Modding by JUN 30. 2015 PM11:59 (GMT +8).
▪ Upload the following in your worklog:
   1. Create a new topic and name the subject with 【MSI PRO MOD】in front of your mod entry title.
       Ex: 【MSI PRO MOD】Blood Dragon
   2. Hardware spec of your mod. (model name of MSI motherboard & graphics card must be highlighted.)
   3. Description/concept of your mod entry.
   4. Post (1) or more pictures of all the components you will be using in your mod (make sure all components are
       recognizable).
   5. Provide a full worklog with process images and description.
   6. 5 or more pictures of your FINAL mod entry (preferably W600 x H400 pixels in .jpg file format) including 1 highlight
       MSI motherboard & graphics card (name specified).
▪ Update and complete your worklog by JUN 30. 2015 PM11:59 (GMT +8).
▪ Before the submission deadline – You MUST finish your mod.
▪ Once you finish the mod, please reply the following message here by June 30. 2015 PM11:59 (GMT +8).
   ▪ MOD entry title
▪ Linking of your worklog
*Entries that did not satisfy all rules stated on this page will be automatically disqualified.
***Duration***
APR 9 AM10:00 – JUN 30, 2015 PM11:59 (GMT + 8)
***Notice***
1. The motherboard and graphics card assembled in your mod MUST be MSI brand.
2. The photos you upload must be high resolution (larger than 1MB per photo).
***Evaluation/Winning Criteria***
Stage 1:
JUL 1 – 3, 2015
Scored by official judges of MSI & Sponsor Partners 
▪35% Creativity
▪35% Overall design
▪30% Technique
The best 10 finalists will enter the stage 2 scoring process.
Stage 2
JUL 10 – 23, 2015
▪70% Score of stage 1
▪30% Vote (by the fans of MSI Global Fan Page)
The 1st / 2nd / 3rd place will get the Grand Prizes.
ENTER HERE: https://forum-en.msi.com/index.php?topic=254672.0
*** Competition Terms and Conditions***
▪Contestants must agree to the terms & conditions to enter the competition.
▪Multiple entries by each individual is accepted.
▪Any copyright infringement or piracy is absolutely forbidden. Your designs should be just that – your own case mod and case mod images!
▪Winners will be announced online and contacted via phone and/or email.
▪MSI may use your mod images with or without any pseudo (pen) name credit.
▪MSI has the right to use your mod images and is perpetual. We may use your mod images locally, nationally or globally and such use may be made in any media, information or communication platform currently in use or later developed.
▪Usage or reprint of your mod images will be at sole discretion of MSI and the sponsors of this event without compensation.
▪MSI reserves the right in its sole discretion to alter competition rules at any time.
▪Contestants who do not agree to the above terms and conditions should not enter this competition.
▪By participating, you conclusively agree to be bounded by these competition rules and conditions. This is an irrevocable condition of entry.