The winners for MSI's PRO MOD season 3 have been selected by a panel of pro modder judges consisting of Black MOD, Mike Petereyns, Jim Weist, Random Design, and Ronnie Hara. The theme for the 3rd season is "black and white", incorporating MSI's Krait series product line and as usual, many modders from around the world entered the event.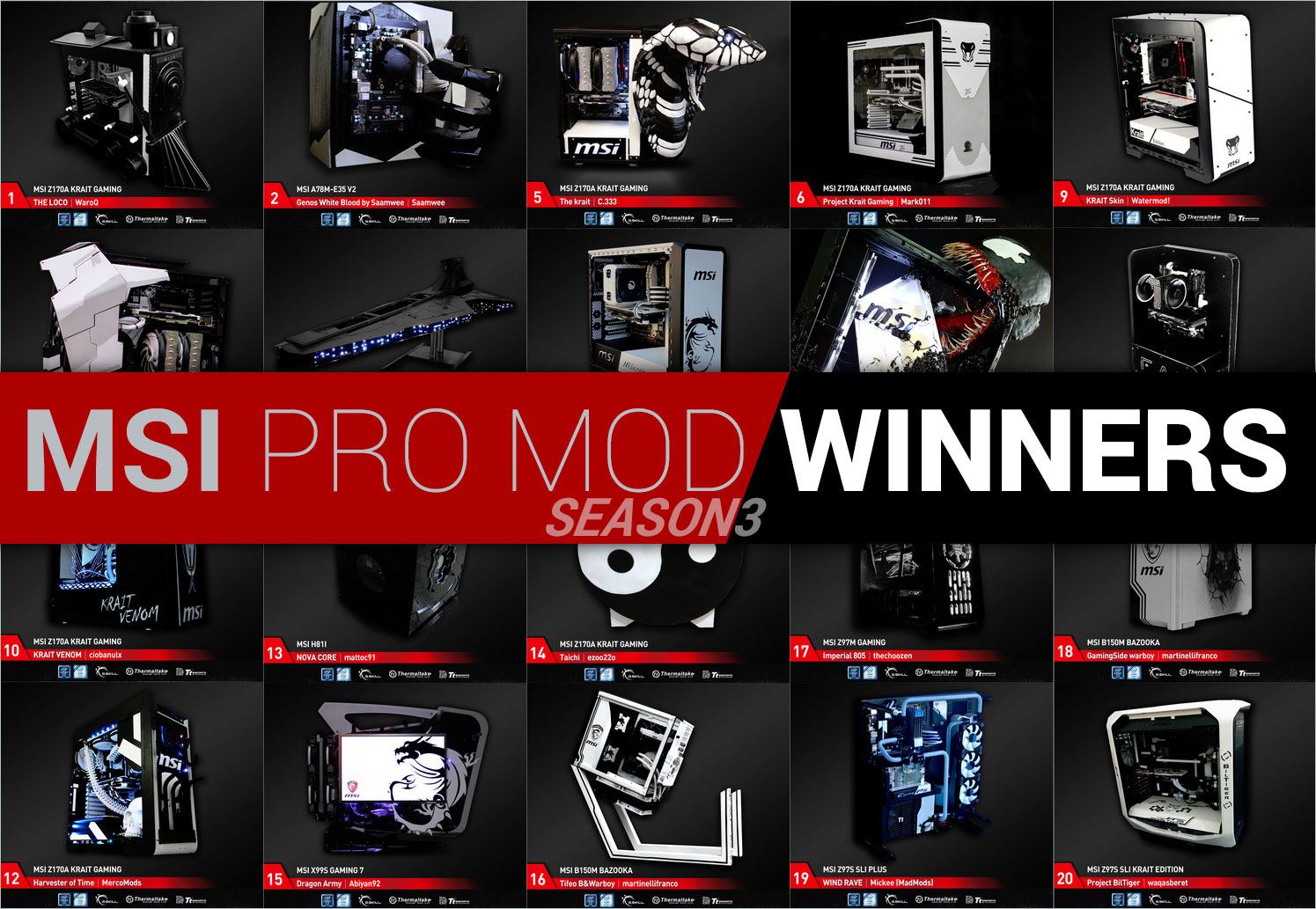 Sander "asphiax" Van Der Velden from Netherlands took home the crown with his YAZI Venator Class Star Destroyer case.  The massive project was made of different 3D printed parts and utilized fiber optic strands for the surface lighting and 5mw laser array for additional effects. Sander is no stranger to Star Wars themed builds having made an AT-AT themed PC before. The YAZI Venator Class Star Destroyer was also on display recently at CES 2016 in Las Vegas where thousands of people from all over the world saw the epic project in person. You can see more of his work at on his Facebook page ModWithMe and on his website https://asphiax.wordpress.com.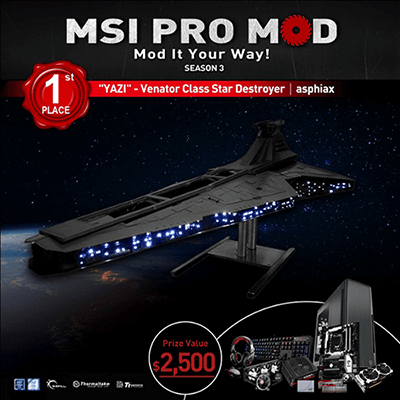 YAZI Venator Class worklog: https://forum-en.msi.com/index.php?topic=261967.0;all
Siratas "Jengki WMP" Vutipapornkul of Thailand took 2nd place with his Venom casemod. The infamous Marvel comicbook character was painstakingly sculpted (including his wild array of sharp teeth) and incorporated into the casemod. Despite using a standard ATX tower case as a base, the Venom casemod uses a unique and unusual mounting method for the components as if Venom himself has attacked the case.  "Jengki" is an experienced and prolific casemodder, who has also built many Marvel superhero-themed mods in the past such as his Hulk, Captain America and Ironman casemods. You can see all his previous projects on his personal Facebook page: https://www.facebook.com/jengki.wmp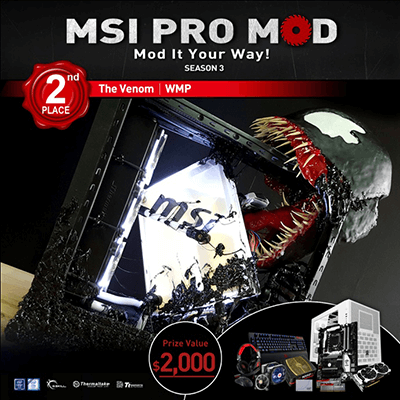 Venom casemod worklog: https://forum-en.msi.com/index.php?topic=262029.0;all
Mhike "Tantric" Samsin (Philippines) with his Project RX-0 Psycho Frame project took 3rd place. His case utilizes both laser-cut and hand-crafted acrylic parts to create a Gundam themed case and looks incredibly slick. Mhike has consistently placed on top of modding events over the past few years, namely his 1st place victory in Cooler Master's 2014 casemod competition with his Project Sabertooth build. You can see more of Mhike's work on his Tantric Modz Facebook page.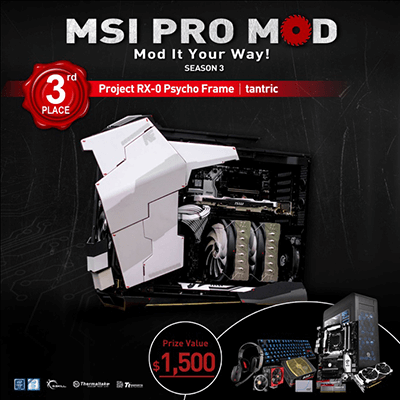 Project RX-0 Psycho Frame worklog: https://forum-en.msi.com/index.php?topic=262178.0;all