MSI's PRO MOD Season 4 modding competition is now open. With a theme of "RGB", MSI is taking a more relaxed approach, allowing modders to decide what the word means to them and how it applies to the mod. MSI requires an MSI mainboard and MSI graphics card to be used in the mod, but also includes on-board graphics solution. Top prize includes an Intel Core i7-5820K system fully decked out in Corsair components including peripherals. There will be plenty of prizes for voting participants as well who are cheering on their favorite modder.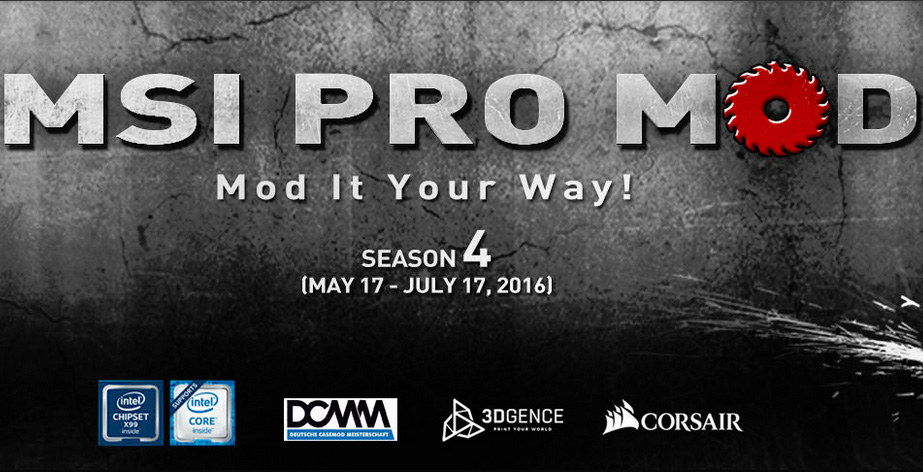 Winners will be showcased at the German Casemodding Championships (DCMM) and prize also includes free trip and hotel for the event in Cologne, Germany! So update those passports and get those dremels ready.
To enter the competition, please follow steps below :
Rules
The motherboard and graphics card assembled in your mod MUST be MSI brand (onboard GPU is allowed).
Your mod must fulfill the "RGB" theme requirement.
Steps
Create your account on MSI Global Forum. (Existing members can can skip this step).
Create your worklog(s) thread under User Reviews & Modding sub-forum from MAY 17 to JUL 17, 2016 11:59 PM (GMT +8).
Upload the following in your worklog:

Create a new topic and name the subject with 【MSI PRO MOD – S4】in front of your mod entry title, e.g.【 MSI PRO MOD –S4】Mystic Gaming.
Insert the official banner on the top of your threads. Download the banner file here.
Provide the following modder profile in your 1st thread of worklog:
‧ Modder Name (Nickname)
‧ Facebook (or Instagram/ Twitter) URL
‧ Country
List all hardware configuration of your mod. (model name of MSI motherboard & graphics card must be highlighted.)Description/concept of your mod entry.
Post (1) or more pictures of all the components you are going to use in your mod (make sure all pictures are recognizable).
Provide description and photos showing full worklog process (from start to finish).
5 or more pictures of your FINAL mod entry (preferably W600 x H400 pixels in jpg file format) including one highlighting MSI motherboard & graphics card (model name specified).

Update and complete your worklog(s) by JUL 17, 2016 11:59 PM (GMT +8).
Before the submission deadline, you MUST complete your mod.
Reply the following message under the campaign thread (here) by JUL 17, 2016 11:59 PM (GMT +8).
MOD entry title
URL of your worklog
Evaluation Criteria
STAGE 1
JULY 18 – 22, 2016
The following evaluation criteria are used for judging at the MSI PRO MOD.
Creativity: 35%
Overall Design: 35%
Technique: 25%
Worklog: 10%
Awarded to the 1st place from each regional qualifiers: EU, NALA, APAC & China.
STAGE 2
JULY 19 – 24, 2016
On-line Public Vote
"People's Choice", awarded to the Top-Rated case mod chosen by public vote.
Terms & Conditions
Each participants must agree to the Terms & Conditions before participating in the event.
MSI PRO MOD is open to everyone worldwide.
Multiple entries by each individual is accepted.
Any copyright infringement or piracy is absolutely forbidden. Your designs should be just that – your own case mod and case mod images!
The selected winners will be announced online.
MSI may use your mod images with or without any pseudo (pen) name credit.
MSI has the right to use your mod images and is perpetual. We may use your mod images locally, nationally or globally and such use may be made in any media, information or communication platform currently in use or later developed.
Usage or reprint of your mod images will be at sole discretion of MSI and the sponsors of this event without compensation.
MSI reserves the right in its sole discretion, to change, alter and/or modify these rules at any time.
By participating, you conclusively agree to be bounded by these contest rules and conditions. This is an irrevocable condition of entry.