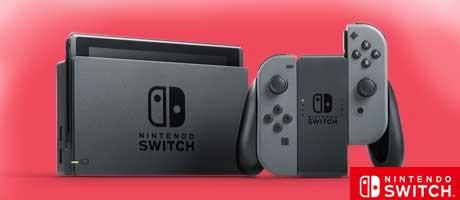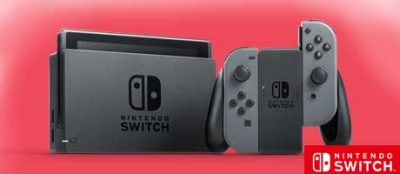 Happy NINTENDO SWITCH Weekend, Modders! We were lucky enough to get our hands on one of these bad boys on launch day (and by lucky, we mean standing in the cold at four o'clock in the morning waiting for the store to open, filled with existential fear that only a handful would be in stock), and an unboxing is in order!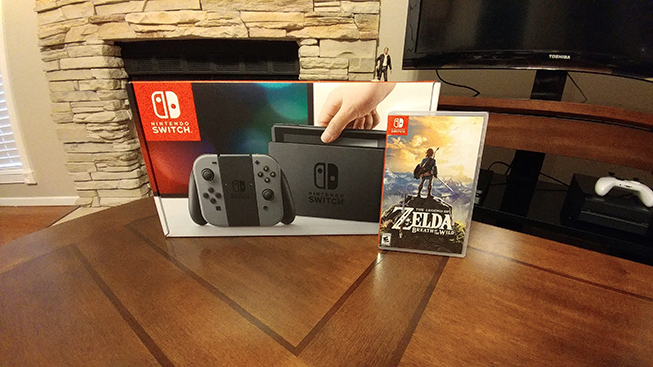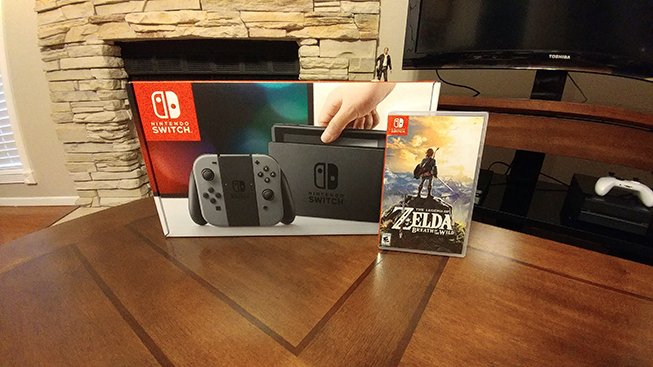 The unit arrives in a stylish, rather sophisticated-looking box, fitting of the same demographic the commercials and hype videos targeted (mostly those in their teens and older). We snagged a copy of Legend of Zelda: Breath of the Wild – currently ranked as the highest rated game of all time – and cracked it open for you, as well.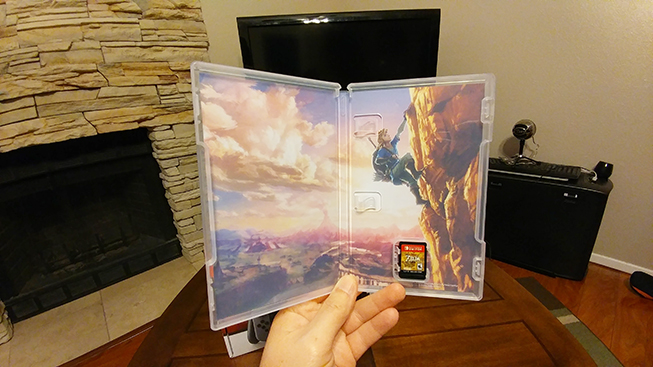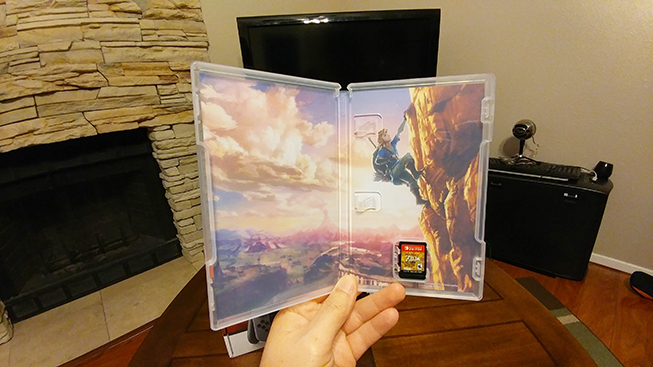 As you may know, Switch games arrive on cartridge, as opposed to disc format. This better supports the mobile gaming the Switch focuses heavily on, though it may still seem an odd choice for those not familiar with Nintendo's oeuvre (and after the Wii and Wii-U, we don't blame you).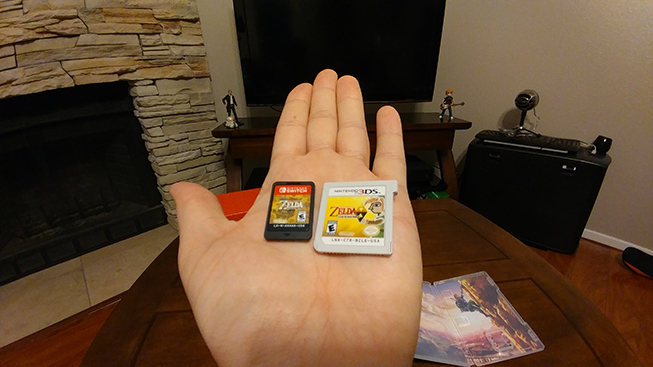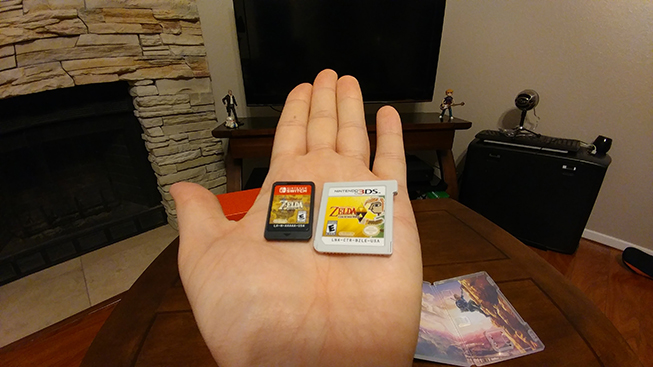 The cartridges are tiny. I mean, these hands are huge. Clearly there's no problems here, but still the Switch's game cards are only about two thirds the size of those for the Nintendo 3DS XL and barely fit in the palm of your hand. Still, each cartridge has memory capacity equal to a single Blu Ray disc (16 gig), so don't expect game development to suffer from lack of space.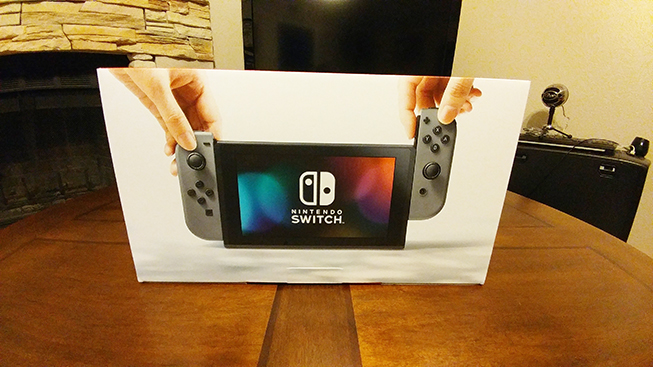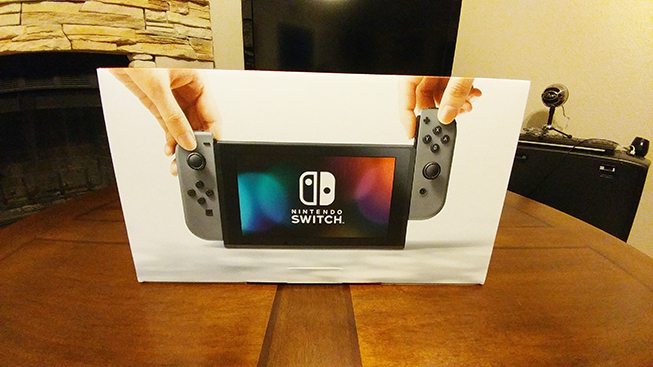 Time to pop this thing open! Again, the first thing you'll notice is the clean design of the packaging, almost conservative in its conception. The presentation has a mature, adult-oriented angle. Keep that in mind as we move on through the unboxing.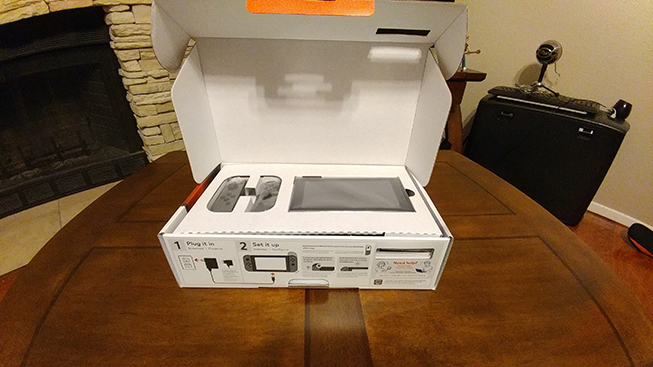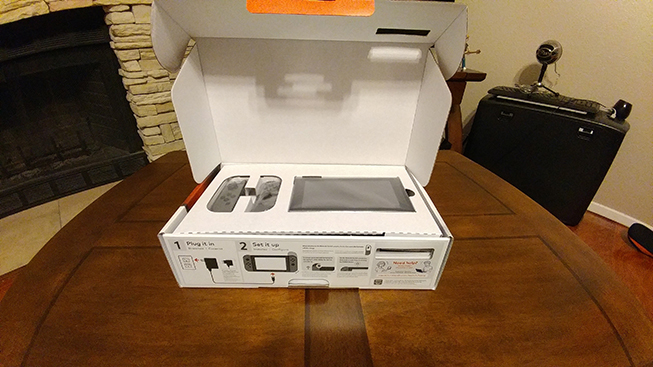 Under the flap, you're immediately greeted by a brief diagram of how to set the console up. There's very little in the way of paperwork inside, so this was a clever way to help consumers hit the ground running. Inside the box, you're immediately face to face with both the tablet portion of the NINTENDO SWITCH and it's two "Joy-con" controllers.
Now here's the thing: I didn't remove any extra packaging before taking this shot. I was a bit perturbed to learn that my expensive new Nintendo was packaged and shipped with nothing but a panel of cardboard and a plastic sleeve protecting the screen from the world. No foam, no screen protection…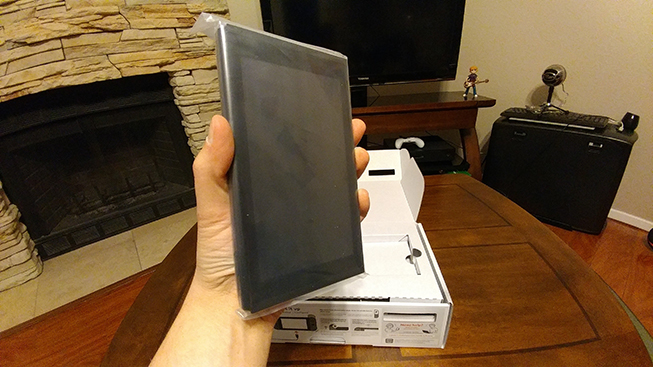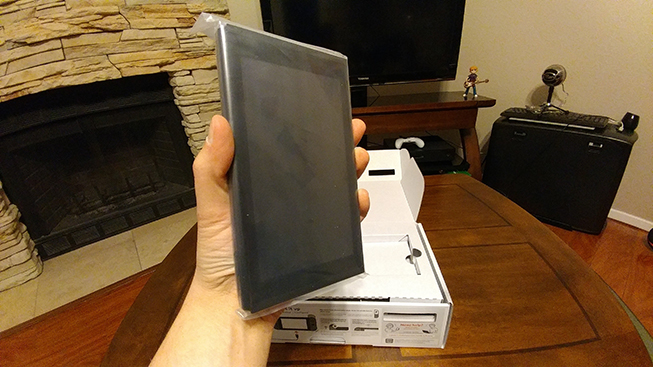 After frantically checking the screen for any scratches or nicks, you'll discover that the Switch tablet is smaller than you'd think! It truly is a hybrid of mobile gaming and home console. The device is powered by Nvidia's Tegra X1 SoC. It's an older architecture, and it's not designed to compete directly with the XBox One or the Playstation 4 in terms of visuals — but again, if you're familiar with Nintendo, you know that they've rarely, if ever set their sights on crafting graphics powerhouses. Nope, the Switch is designed to be mobile and control heat issues with minimal non-passive ventilation.
According to Eurogamer, the NINTENDO SWITCH's CPU will run at 1020MHz (50% of the Tegra X1's maximum speed) while plugged into the Switch's dock, and will dip down to 40% speed while in mobile mode. That's comfy enough to play the highly-anticipated port of Elder Scrolls V: Skyrim, but don't expect to play games that look like Horizon Zero Dawn on your Switch. It's worth noting though, that developers have the capacity and may choose to push the NVIDIA Tegra X1 above the clocked 50% speed — it'll be interesting to see what game developers attempt with the Switch in the coming months and years, and just how much they can get away with.
TEGRA X1 PROCESSOR SPECIFICATIONS

TEGRA X1
GPU
NVIDIA Maxwell 256-core GPU
DX-12, OpenGL 4.5, NVIDIA CUDA®, OpenGL ES 3.1, AEP, and Vulkan
CPU
4 CPU-cores, 64-bit ARM® CPU
4x A57 2MB L2
VIDEO
H.265, VP9 4K 60 fps Video
4k H.265, 4k VP9, 4k H.264
POWER
20 nm SOC – TSMC
Isolated Power Rails, Fourth-Generation Cluster Switching
DISPLAY
4K x 2K @60 Hz, 1080p @120 Hz
HDMI 2.0 60 fps, HDCP 2.2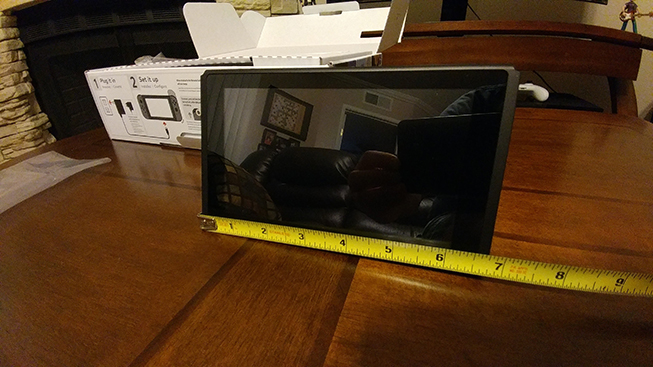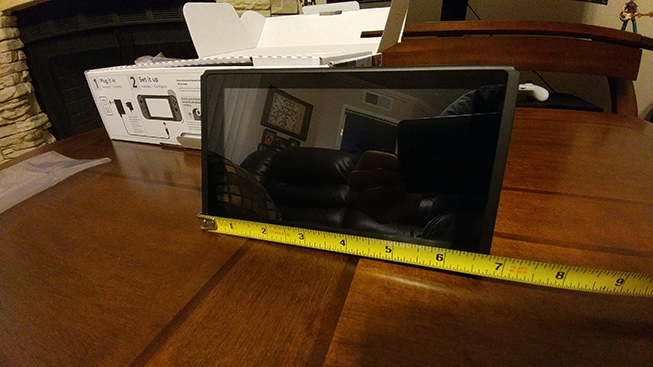 As you'll see below, it's even smaller than an early generation Kindle tablet.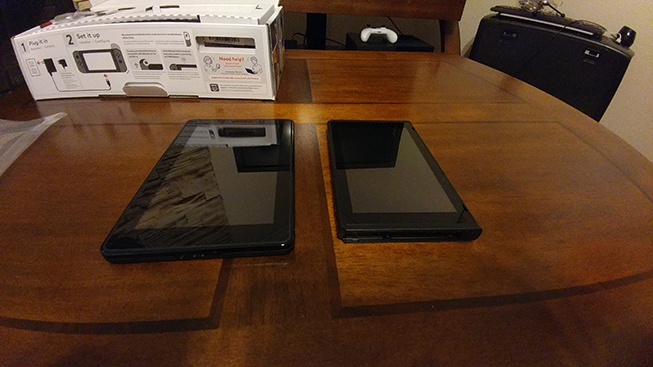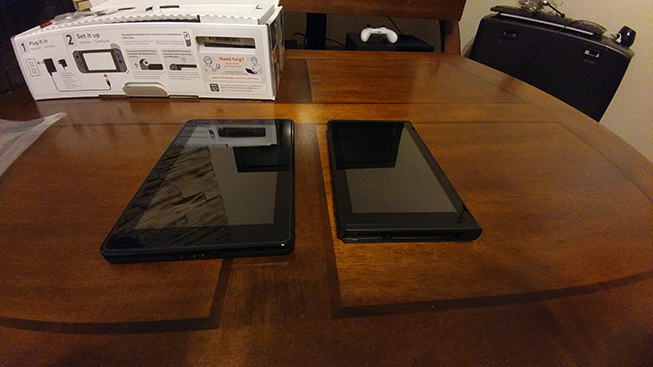 The switch (pictured on the right) fits in your hand and is easily loaded up to take on the go. This thing is just the right size for tossing into your laptop bag on the way to a LAN or to class, or sitting comfortably on your couch or in bed.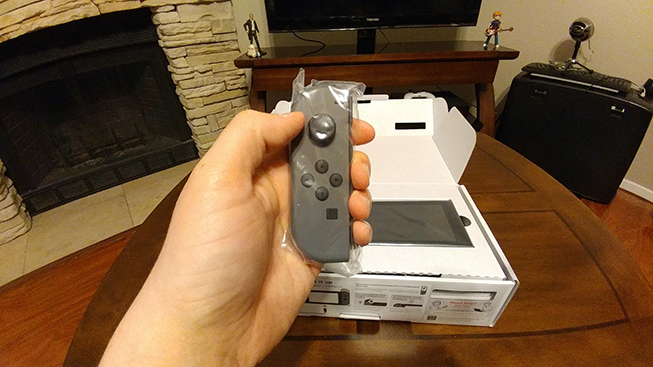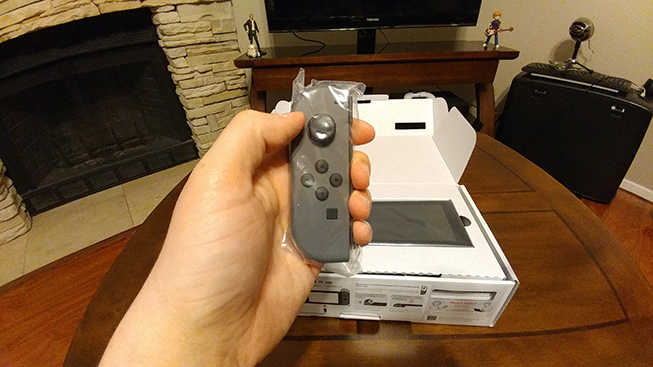 Next up are the Joy-cons (and no, you don't have to call them that if you don't want to). A source of much intrigue and confusion during the months between the NINTENDO SWITCH's reveal and the release, the Joy-cons boast numerous features, not least of which is flexibility in how you choose to game. They can be held individually, one in each hand…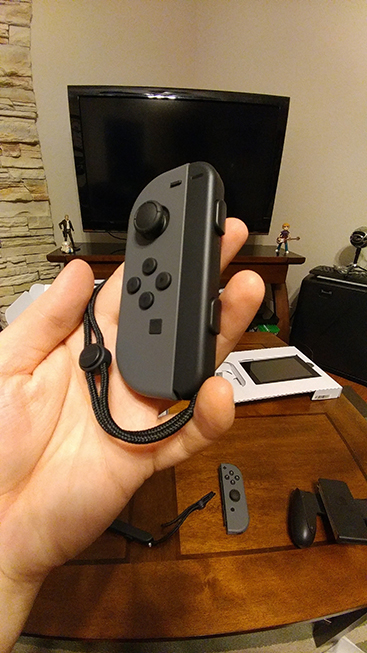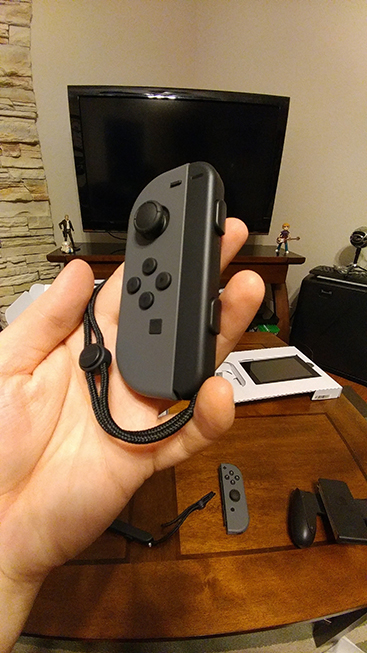 …but the "Joy-con Straps" that come along with them are scary as shit to try and attach to the controllers. The first time I tried to slide one on, I did so incorrectly and panicked a bit that I wouldn't be able to remove it. Attaching them correctly is easy enough, but still quite difficult to remove them and doing so resulted in a lightly-skinned knuckle. We're injuring ourselves on our Nintendo's here for you, dear readers. You best appreciate it.
Remember when I mentioned before that the marketing for the NINTENDO SWITCH felt like it was targeting an older demographic? It's probably very important to note that a lot of the Switch's components require adult hands to configure, and out of the box feel a touch delicate. This is clearly NOT a console designed to unpack and hand off to a small child like the original NES and Super Nintendo were.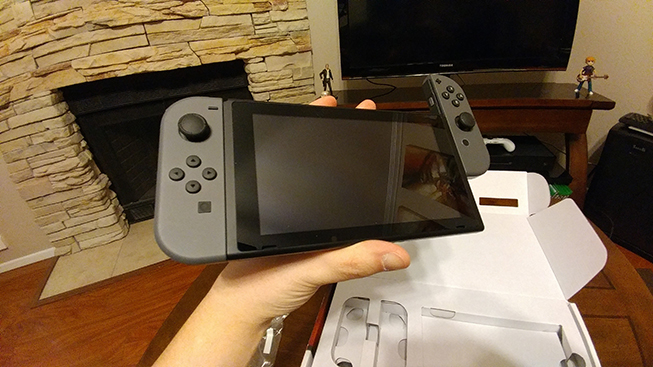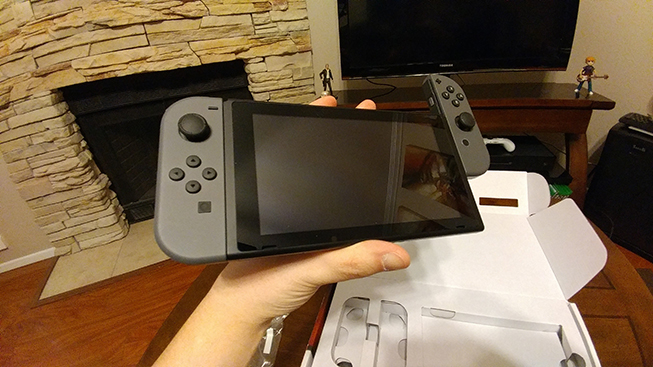 The Joy-cons also slide easily onto either side of the tablet (and if the system is powered on, your TV or the on-board speaker actually play the signature "snap" sound from the commercials). This mode actually feels quite good — not dissimilar to holding a larger, more ergonomically comfortable Nintendo 3DS. Playing for an extended period of time in this mode doesn't feel like it would cramp up your hands or tire out your wrists. But if you're playing at home in front of the TV…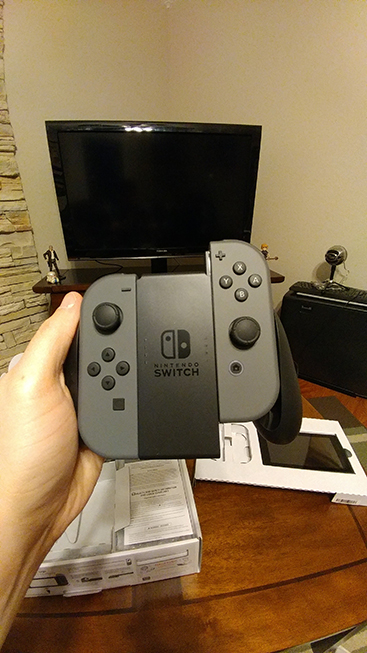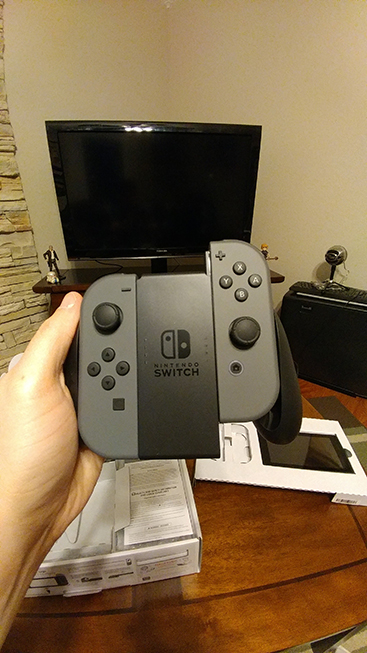 …they can be attached to a controller grip, which comes stock with every console. I have a feeling this will end up being my go-to configuration while playing on the couch, as holding the Joy-cons individually is a bit too weightless and disconnected from the experience for my taste. I can see it being great for plane rides though, using the tablet's kickstand to prop it on a tray table and comfortably resting your hands on each seat rest.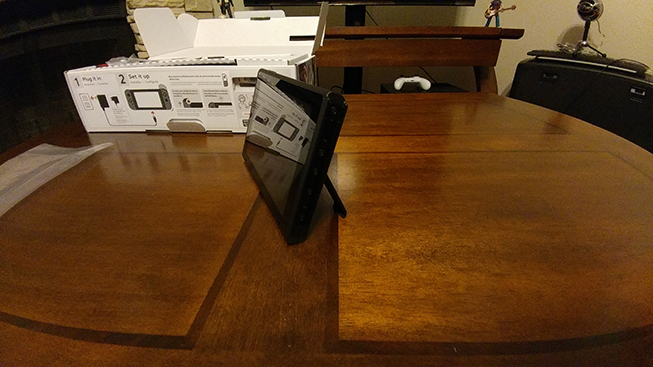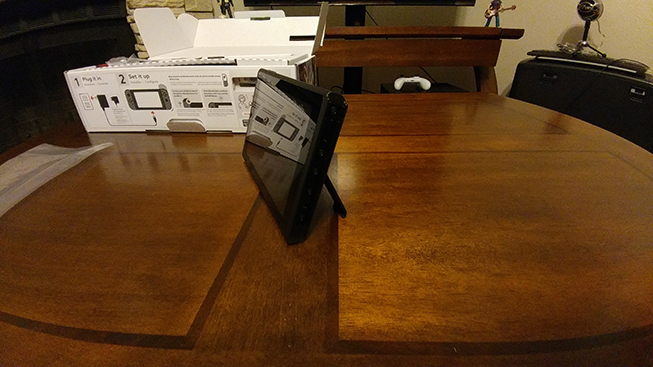 There is a Pro controller sold separately that looks nice, but it comes with a $70 price tag and is already quite difficult to find in most retailers. With the console itself already a challenge to track down, you may just opt to settling for the included controller grip, yourself.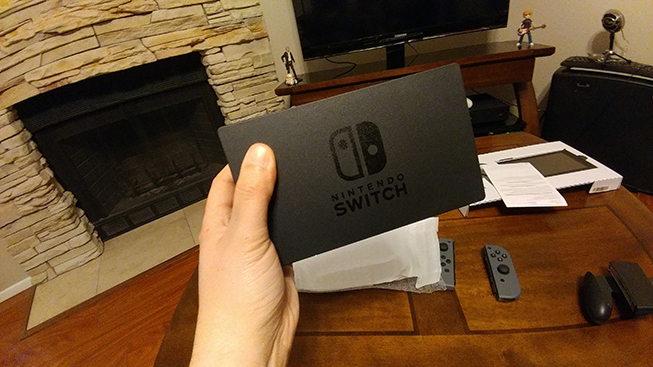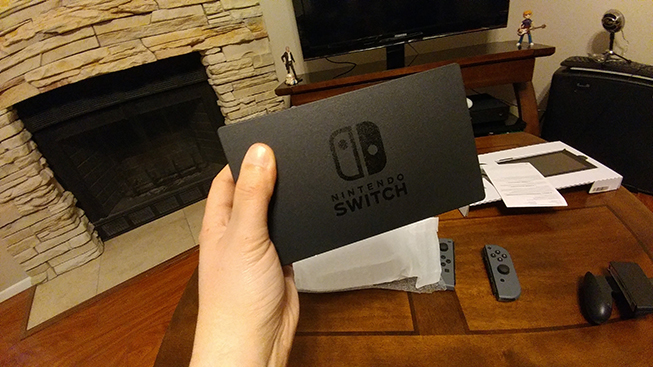 Moving on, we find the Switch's dock. This inclusion in the console's design allows for quick and easy swapping from TV play to hand-held (and it really is as seamless and easy as the commercials make it out to be. It's instantaneous, and all you need to is grab the tablet out of the dock). Plugging the tablet into the dock immediately begins to recharge the tablet, and having the Joy-cons attached to the tablet allows them to be recharged, as well.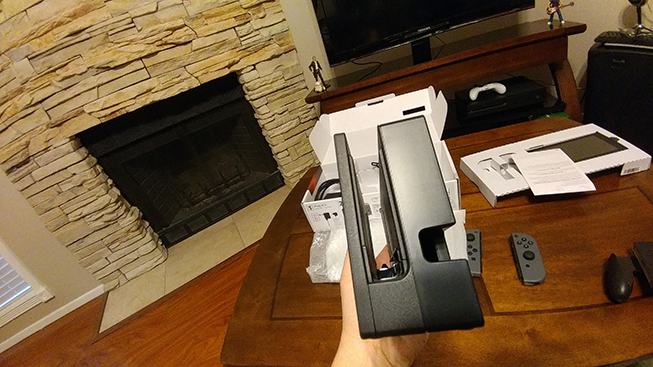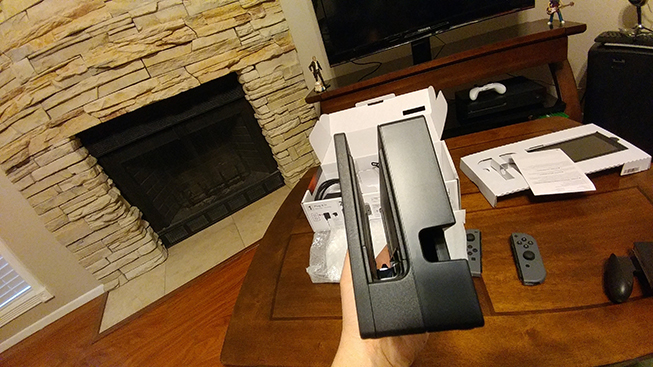 An immediate concern here is the fact that the dock's tablet slot does not feature any sort of protection for the NINTENDO SWITCH's screen. The first few times you place the tablet into the dock, you'll lament a lack of foam or felt strips to gently guide the tablet in, and I personally felt like I was in minor danger of scratching or scuffing the screen. And as such, the tablet never feels 100% secure while docked.
I may actually do a quick little mod and add some felt strips to the inside wall of the dock, or track down some screen protectors before heavy usage starts to visibly  wear on the device.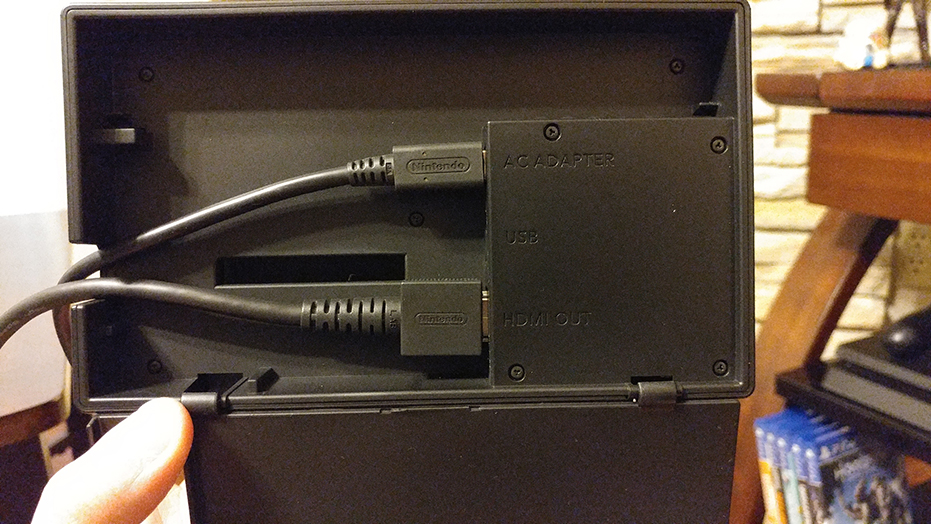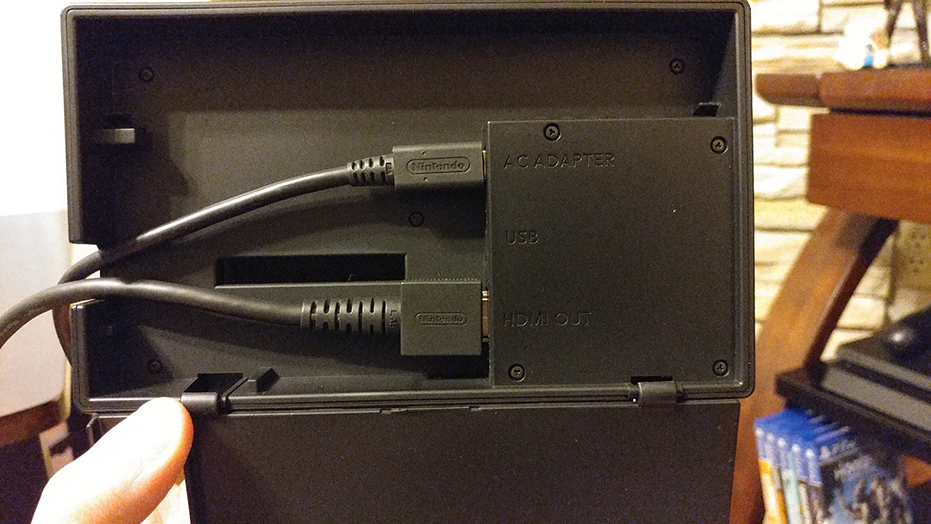 The back side of the dock sports a flip-down hatch, which houses the HDMI port, a USB port and the port for the power adapter. Folks who like to cleanly hide their cords and cables will find their hearts warmed.
Quick but important note here: the Switch uses USB Type C for recharging. That's something to keep very much in mind if and when you head out to pick up a cord for mobile recharging.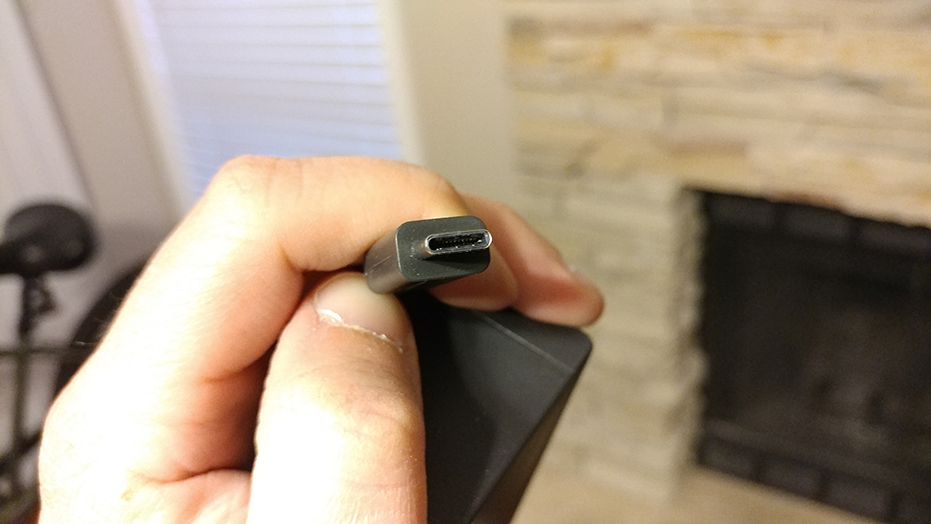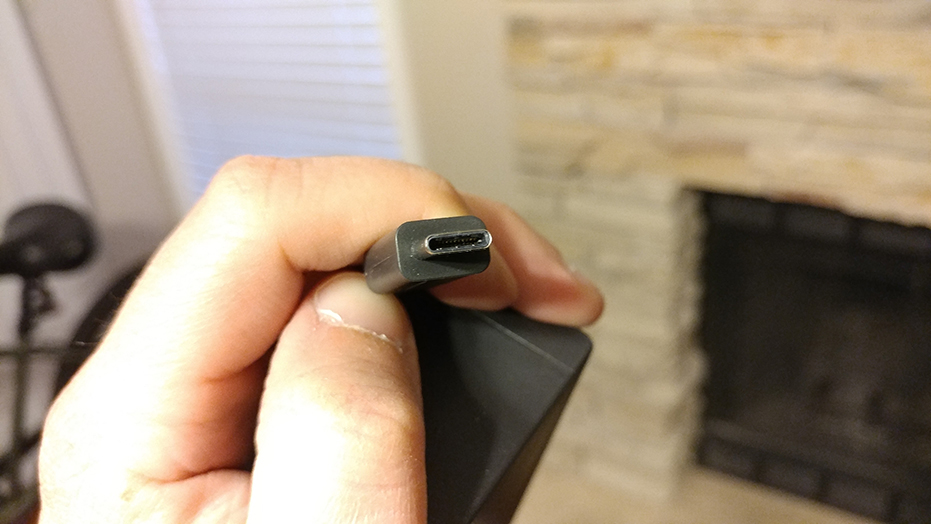 Also of note: the Switch comes with it's own HDMI cable! It's not a huge deal, but a nice touch when you consider the console itself already sports a $300 price tag, and getting a console home only to learn that you have to go back out and spend $20+ on a decent HDMI cable is no fun (I'm looking at you, XBox One…). And for a company that infamously packages and sells their Nintendo 3DS XL handheld without a charging cable included, a little touch like adding a free HDMI cable to the Switch goes a long way.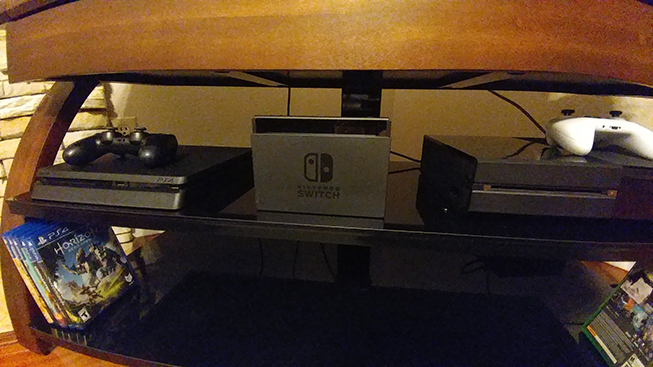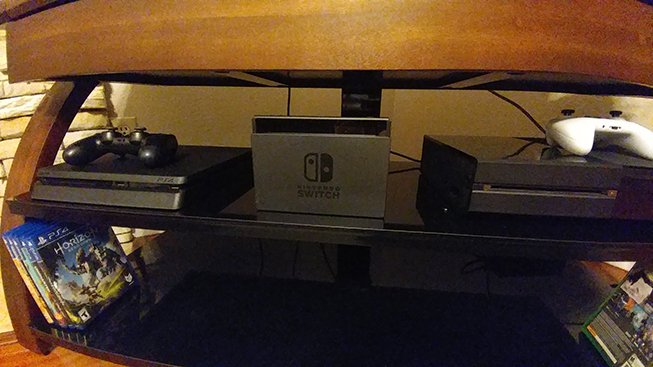 And there you have it! The assembled NINTENDO SWITCH is making itself at home next to it's new brothers, Playstation 4 and XBox One. We look forward to firing this little beast up and seeing what it's all about. Hit us up in the comments section with your initial impressions, and share your experiences braving the elements and scoring a NINTENDO SWITCH of your own!