Network Hardware
Synology MR2200ac Mesh Router Review: First WPA3-Certified Wi-Fi Router
First WPA3-Certified Wi-Fi Router
Closer Look at the Synology MR2200AC »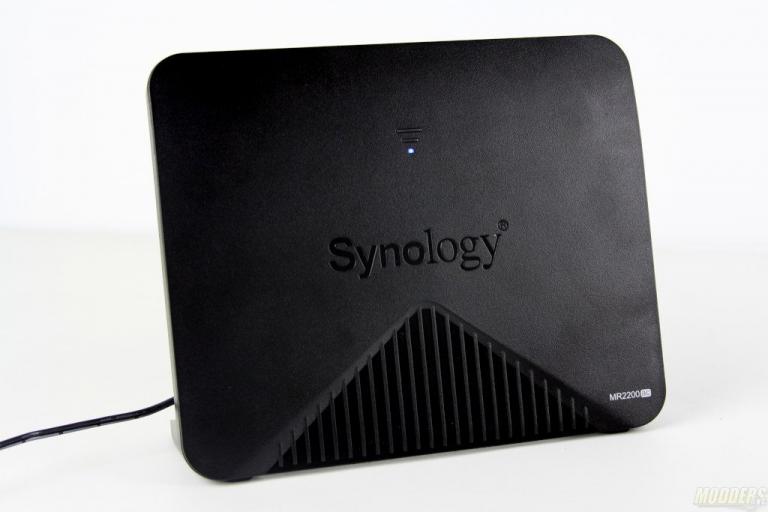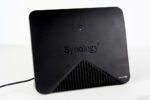 Mesh networks have been around for quite some time. There are numerous brands out there and they all provide pretty much the same thing, WiFi Coverage.  Some do a very good job at covering large areas and some not so much. Almost all of the routers/mesh routers support multiple Security levels that protect you from the potential breaches. The most common among Security levels you will find in mesh networks is WPA2 (WiFi Protected Access). WPA2 is a security standard that encrypts data which is sent over WiFi. With the alarming and always changing hacking techniques WPA2 is becoming obsolete. The next version of the security standard was announced in June of 2018 and as you can imagine finding a mesh router that supports this latest standard is extremely difficult or I would rather say impossible. Synology is the first manufacturer to produce WPA3 certified router, MR2200ac. MR2200ac was officially announced in October of 2018 and we are pretty much the few of the lucky reviewers who got the first production units for evaluation. A big thank you goes out to Synology for providing us with worlds first WPA3 certified router.
Review Sample Provided by: Synology
Product Name: MR2200ac
Price at time of review: $ 139.99 USD
Product was given in exchange for work done to produce this review.
Packaging
Synology always thinks about packaging and recycling friendly. MR2200ac's packaging is very simple as it comes in what looks like a recycled cardboard box. On the top of the box, there is a colorful sticker which describes the unit inside. On the back of the box, I found a small informational section for the Hardware and Package Contents.
What I thought was cool is listed general "LAB" statistical data on what you should be expecting while running under different 802.11 protocols. The reason I said "LAB" is because these numbers usually obtained in the lab environments and almost never met in the real-world applications. There isn't much to packaging for MR2200ac. As you can see the only padding here is the plastic envelope.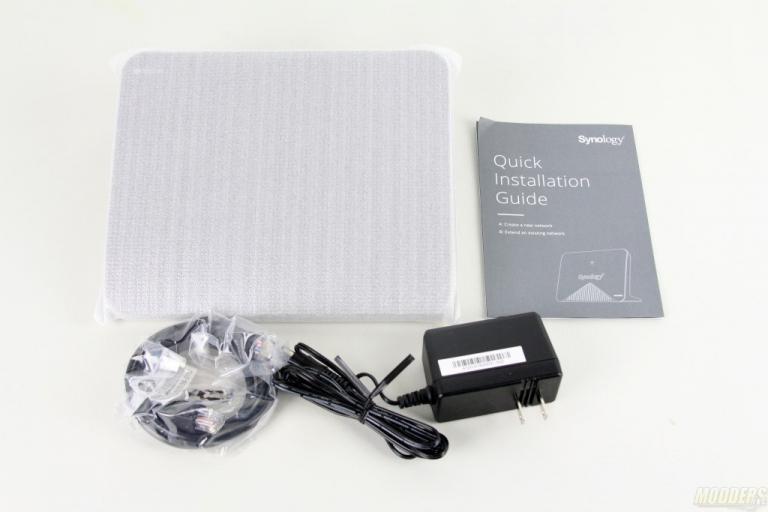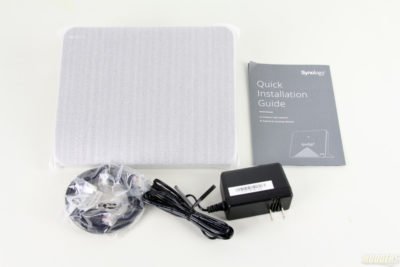 MR2200ac comes with a gigabit ethernet cable, power supply, and a Quick Installation Guide.
Technical Specifications
Hardware Specifications
CPU
Quad-core 717 MHz
Memory
256 MB DDR3
Antenna type
2×2 MIMO high-performance internal antenna (2.4 GHz / 5 GHz)
LAN port
Gigabit (RJ-45) x 1
WAN port
Gigabit (RJ-45) x 1
External Ports
USB 3.0 x 1 (5V, 0.9A power output)
Button and switch
WPS, Power, Reset, Wi-Fi On/Off
Appearance
Size (Height x Width x Depth)
154 mm x 199 mm x 65 mm
Weight
0.45 kg
Temperature
Operating Temperature
5°C to 40°C (40°F to 104°F)
Storage Temperature
-20°C to 60°C (-5°F to 140°F)
Relative Humidity
5% to 95% RH
Certification

FCC
CE
BSMI
VCCI Class B
RCM
KC
iDA
TELEC
JATE
IC

Wi-Fi Certification

CE
FCC
NCC
RCM
iDA
TELEC
KC
IC

Warranty
2 Years
Others
AC Input Power Voltage
100V to 240V AC
Power Frequency
50/60 Hz, Single Phase
Power Consumption*
12.95 W (Access)
5.21 W (Idle)
Wireless
IEEE 802.11ac

IEEE 802.11a/b/g/n/ac
Simultaneous tri-band Wi-Fi
5GHz-1: 867Mbps
5GHz-2: 867Mbps
2.4GHz: 400Mbps

IEEE 802.11ac wave 2
MU-MIMO
Wi-Fi Encryption
WEP, WPA/WPA2-Personal, WPA/WPA2-Enterprise, WPA2/WPA3-Personal, WPA3-Personal/Enterprise, Wi-Fi Enhanced Open (OWE)
Wi-Fi MAC address filter
Yes
Maximum MAC filters
64
Seamless roaming
802.11k/v/r standard support
Beamforming
Yes
DFS
Yes
Schedulable Wi-Fi
Yes
Guest Network
Yes
Guest Portal
Yes
Customized page style
Yes
Connection time limit
Yes
Password Rotation
Yes
WPS 2.0 (Wi-Fi Protected Setup 2.0)
Yes
3G/4G Dongle & Tethering (Learn more)
Yes
Maximum connected devices
90
Wi-Fi Point
Yes
Primary Wi-Fi Point
Yes
Network
Internet connection
Dynamic IP, Static IP, PPPoE, PPTP, DS-Lite (AFTR)
3G/4G LTE dongle
Yes
Android tethering
Yes
iPhone tethering
Yes
Note
iPhone tethering only supported your Synology Router running SRM 1.2 or above
Operating mode

Wireless Router
Wireless AP

Port forwarding
Setup via manual management or UPnP
Maximum port forwarding rules
64
Maximum UPnP rules
64
Port triggering
Yes
Maximum port triggering rules
32
Minimum port triggering timeout
30s
Maximum port triggering timeout
3600s
DMZ
IPv6
IPv6 DHCP server / client, DS-Lite, 6in4, 6to4, 6rd, Dual-Stack, DHCPv6-PD, IPv6 Relay, FLET's IPv6
DHCP
Server/client mode, client list, MAC address reservation
Maximum DHCP reservations
500
LAN/WLAN IGMP snooping
Yes
VPN

VPN server (WebVPN, SSL VPN, SSTP, OpenVPN, L2TP/IPSec, PPTP, Site-to-Site)
VPN client (PPTP, OpenVPN, L2TP/IPSec)
VPN Pass-through (PPTP, IPSec, L2TP)

Policy route, Static route, Network Address Translation (NAT), PPPoE relay
Yes
Maximum IPv4 static routes
100
Maximum IPv6 static routes
100
Diagnosis tools
Safe Access
Parental Control
User Profile
15
Network Profile
2
Customized Internet schedule
Yes
Time Quota
Yes
IPv4/IPv6 DNS-based web filter

Schedule
Database
Request to unblock

Customized allow/block list

Maximum blocked URLs: 100
Maximum allowed URLs: 100

Pause Internet
Yes
Reward
Yes
Security
Safe Search
Bing, Google, YouTube
Threat Intelligence Database
support in IPv4 & IPv6
Google Safe Browsing
support in IPv4 & IPv6
Database auto update
Threat Intelligence Database, Google Safe Browsing , DNS-based web filter
Traffic Control
Internet ban, device speed & priority
Yes
Application layer (L7) quality of service (QoS)
Yes
Maximum device rules
64
Maximum application rules per device
32
Traffic Monitor
Yes
Live view
Yes
Historical statistics
Daily, Weekly, Monthly, Annual
Website history
Yes
Application Detection
Yes
Traffic Report
Yes
Country auto update
Yes
Schedulable
Yes
Traffic analysis period
Daily, Weekly, Monthly, Annual
Export formats
.CSV, .HTML
VPN Plus Server
VPN Plus Server
Easily create and manage secure VPN access through a web browser or client. Supports various VPN services — Site-to-Site VPN, WebVPN, SSL VPN, Remote Desktop, SSTP, OpenVPN, L2TP over IPSec, and PPTP
Maximum Client VPN Access License
10
Site-to-Site VPN
Yes
Maximum Site-to-Site VPN Tunnels
4
Remote Desktop (RDP + VNC)
3
Connection List
Yes
Log
Yes
Report
Yes
Package Center
Cloud Station Server
Sync data from multiple platforms, centralizing it on the router while easily keeping historical versions of important files
Maximum Concurrent File Transfers
64
Note
Cloud Station ShareSync is not supported
DNS Server
Helps users find and translate domain names into IP addresses
Download Station
Supported download protocols: BT/HTTP/FTP/NZB/eMule
Maximum concurrent download tasks
50
Maximum concurrent BT download tasks
20
Media Server (DLNA/UPnP®)

Media indexing
DLNA Compliance
PS3/PS4/Xbox 360/Xbox One supported

RADIUS Server
Provides centralized authentication, authorization, and accounting for wireless network access
Mobile Apps
DS router (Android/iOS)

First Time Installation
Network overview
Wi-Fi management
Wi-Fi system topology
Safe Access
Traffic Control
Network security (firewall, port forwarding, Internet ban)
Wake on LAN
System Update

VPN Plus (Android/iOS)
Yes
DS cloud (Android/iOS)
Yes
DS get (Android)
Yes
DS file (Android/iOS)
Yes
Management
Operating system
Synology Router Manager (SRM)
Free OS upgrade
Yes
Anywhere access to SRM
Synology QuickConnect & Dynamic DNS (DDNS)
Security
Firewall/SPI Firewall, DoS Protection, VPN Pass-through (PPTP, IPSec, L2TP), Auto block, SSL certificate, Security Advisor, two-factor authentication
Wake on LAN (WOL)
Yes
WOL over QuickConnect
Yes
Maximum connected devices
100
Notification
Email, SMS, push service (via DS router)
SSH
Yes
SNMP
Yes
Configuration backup & restore
Yes
User account management
Yes
Printer server
Maximum printer: 1
USB/SD Card File Service
File System
EXT4, FAT, NTFS, HFS+
Access support

File explorer (via LAN only)
Web browsers: Chrome™, Firefox®, Internet Explorer®: 11 onwards, Safari® 11 onwards
Mobile device: DS file

Protocol support
Windows file service (CIFS), Mac file service (AFP), FTP/FTPS, WebDAV
Apple Time Machine
Yes
Shared Folder privileges
Yes
Storage hibernation
Yes
Environment & Packaging
Environment
RoHS Compliant
Packaging Content

Main Unit X 1
AC Power Adapter X 1
RJ-45 LAN Cable X 1
Quick Installation Guide X 1