Noctua's award winning fan line has grown bigger, or shall I say smaller, with the addition of two new compact 60mm models that are 5V fans. Although compact, these fans exhibit the same design found in their larger siblings including Noctua's Advanced Acoustic Optimization frames and 6-year warranty. The two models are the NF-A6x25 5V running at fixed 3000 RPM and one that is a 5V PWM version. This fan is great for compact applications such as NAS units, home DIY single board kits and more, providing a quieter and more efficient solution than typical compact fans.*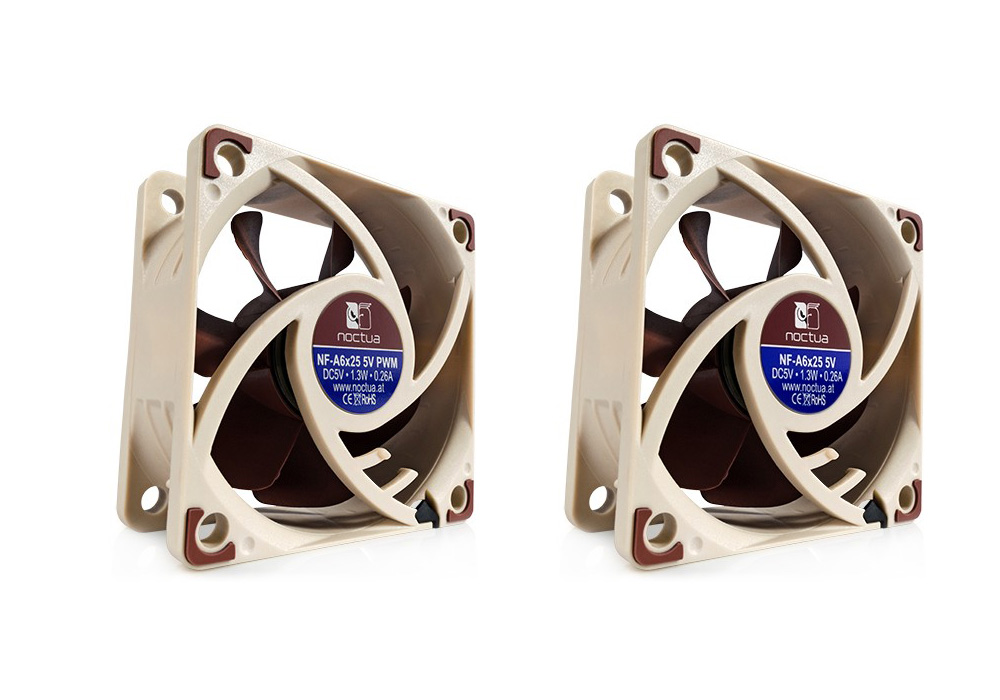 *Being a 5V fan, the NF-A6x25 5V cannot be run at 12V and will be damaged when used with typical 12V power sources such as PC motherboard fan headers.
For more information, check out the official press release below: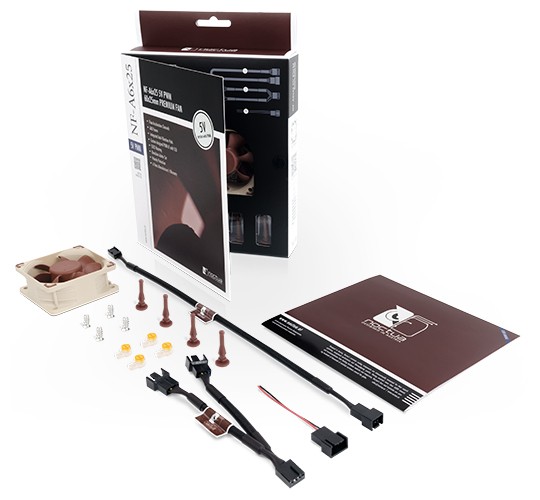 Vienna, May 11th 2016 – After introducing its first 5V 40mm fan 18 months ago, Noctua today presented 5V versions of its award-winning quiet NF-A6x25 60mm model. While the new NF-A6x25 5V runs at a fixed speed of 3000rpm, the NF-A6x25 5V PWM also supports PWM for precise, convenient speed control. Both models feature Noctua's proprietary AAO (Advanced Acoustic Optimisation) frames as well as sophisticated aerodynamic design measures such as Flow Acceleration Channels and come with a 6-year manufacturer's warranty. At the same time, Noctua announced that it will further expand its 5V line-up in the near future in order to meet the growing demand from industrial partners and DIY customers.
"5V applications are becoming more and more common in various fields, so it's no wonder we're seeing a growing demand for 5V fans," says Roland Mossig (Noctua CEO). "For example, our NF-A4x10 5V is now being used in different home automation devices as well as network and storage solutions. What's more, it has become very popular among DIY users who run it on single-board computers such as the Raspberry PI or replace noisy fans in various devices such as NAS units, switches and DVRs. We've had lots of requests from all of these areas, so we are now starting to expand our 5V range with the new NF-A6x25 5V and 5V PWM."
Like the award-winning 12V-based NF-A6x25 FLX and PWM models, the new 5V and 5V PWM versions feature Noctua's latest technologies such as Stepped Inlet Design, Inner Surface Microstructures and Flow Acceleration Channels, all of which contribute to the NF-A6x25's renowned quietness and class-leading efficiency.
The 5V PWM model is unique in combining 5V operating voltage with PWM for sophisticated speed control, which makes it ideal for use in various PWM-enabled 5V-based devices that require extended cooling headroom but should run as quietly as possible when less airflow is required.
Both the NF-A6x25 5V and the NF-A6x25 5V PWM include Noctua's OmniJoinTM Adaptor Set that allows them to connect to proprietary fan headers as well as an integrated diode for polarity protection. This way, DIY users are safe if they accidentally connect the fan with reverse polarity.
Topped off with modular cabling, Noctua's reference-class SSO2 bearing and a 6-year manufacturer's warranty, the NF-A6x25x25 5V and 5V PWM are a premium choice for demanding 5V applications.
Prices and availability
The manufacturer's suggested retail price for both the NF-A6×25 5V and the NF-A6×25 5V PWM is EUR 14.90 / USD 17.90. Both models are currently shipping and will be available shortly.
Links
Designed in Austria, Noctua's premium cooling components are internationally renowned for their superb quietness, exceptional performance and thoroughgoing quality. Having received more than 6000 awards and recommendations from leading hardware websites and magazines, Noctua's fans and heatsinks are serving hundreds of thousands of satisfied customers around the globe.