PC Case Fan
Noctua NF-A4, A8 and A9 Fans: Mighty Whispers
« Overview
Testing Methodology and Benchmarks
| | |
| --- | --- |
| Processor: | Intel Core i7-4770K (Retail) |
| Motherboard: | MSI Z97 Gaming 7 |
| Heatsink: | Noctua NH-U14S |
| Drive: | OCZ Agility 4 256GB |
| Video Card: | Gigabyte GTX 770 Windforce OC |
| Thermal Compound: | Noctua NT-H1 (small center cross method application) |
| Case: | NZXT H440 (all fans replaced) |
Ambient temperature monitored at case intake and temperature Delta was used.
All case and heat sink fans were benchmarked with fan control settings disabled and running at 100% unless otherwise specified.
Intel integrated video is utilized to eliminate additional ambient heat source from discrete graphics cards for the CPU test.GPU test was conducted separately at a different time from the CPU load test to isolate results.
Noise test was conducted in a synthetic setting so that it is the only fan running with the fan blowing into a case intake and the SPL-8810 sound meter was placed 15 CM away at the side.
Temperatures are averaged (last minute) from individual core temperature results monitored by AIDA64 after 15 minutes.
The pair of fans were mounted as intake and run plugged in to a constant +12V voltage source.
All tests were taken at least three times to get the final result.
For testing, we are just going to directly compare the previous B9 series fan with the new A9 series fan in a heatsink. Unfortunately no other 40mm fan series are available on hand so testing will be limited to the 92mm version this time. The B9 fans are bundled with the NH-U9B SE2 and has a lower RPM (2000 RPM vs 1600 RPM). The A9 series' wider blade surface area produces good airflow and static pressure, making it ideal for both case or heatsink applications. The B9 series has a sharper angle of attack with beveled blade tips and vortex control notches but the advanced acoustic optimizations on the A9 series coupled with the 2nd generation SSO bearing result in a superior noise-performance ratio.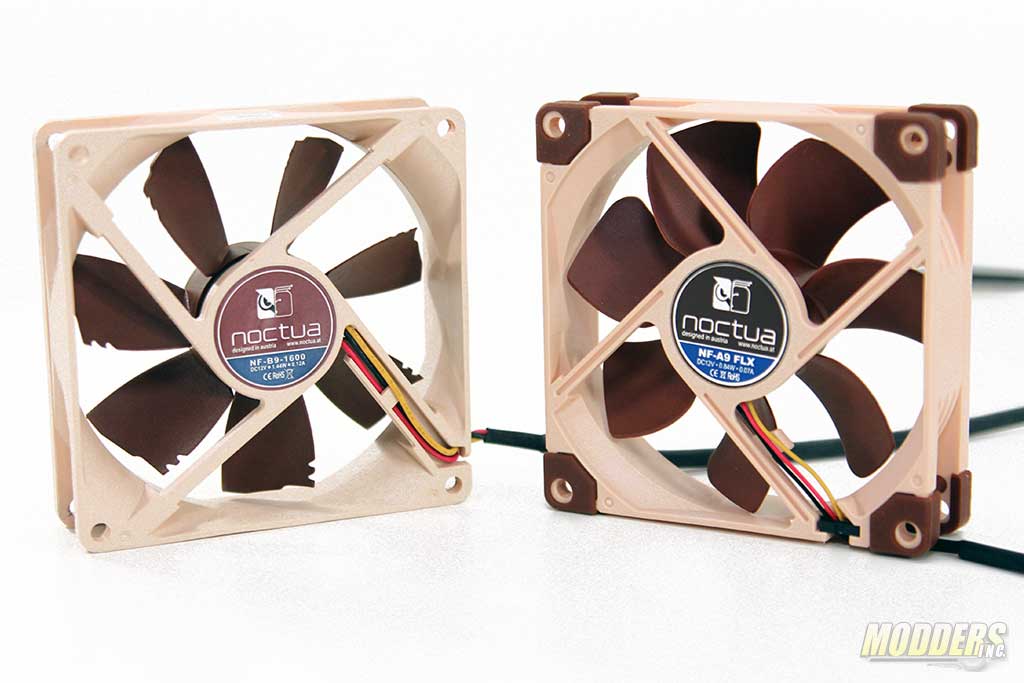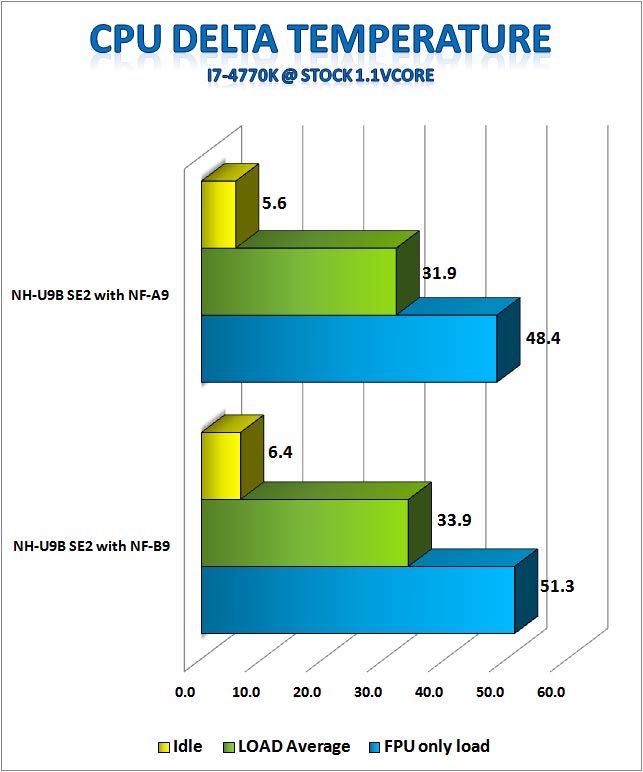 Aside from the lower temperature, the A9 fans have a more "spread out" sound signature even though it is running at a higher RPM and has lesser high pitched noises across various speeds. The extra padded corners also help in giving extra space when positioned in a "pull" position minimizing noise.
The smaller form factors and compact builds are much more common now than ever before with many users opting to build desktops that can be portable for LAN parties or for discreet integration in their living room as an HTPC. The A9 and A8 series fans fit these application well with excellent performance and low noise profiles that is even more flexible if need be. For storage or, spot cooling or component cooling in even tighter spaces, the A4 series offers a rare and impressive feature set that is above what most people would expect from something this small. These A-series fans also enjoy the same set of low noise features and premium build quality that the other Noctua fan series provides, including the impressive 6-year warranty and extensive accessory package.
[sc:recommended_hardware_award ]