Article Index: >>
Page 2 »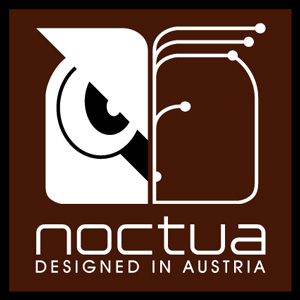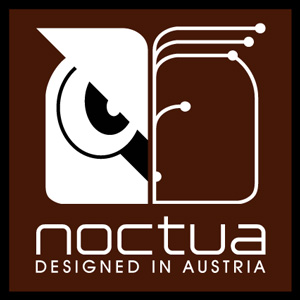 The NH-L9i is a first-rate quality quiet CPU cooler for Intel LGA115x based HTPCs and Small Form Factor systems. The NH-L9i is ideal for extremely slim cases and due to its 95x95mm footprint, it provides full compatibility with tall RAM modules and VGA cards on mini-ITX mainboards. The NH-L9i fuses everything users have come to expect from Noctua's larger coolers into a super-compact package for slim HTPC systems.

Review Sample Provided by: Noctua
Product Name/Link to Website: NH-L9i
Product was given in exchange for work done to produce this review.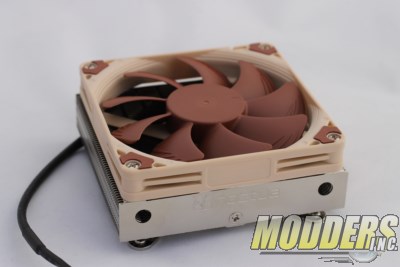 The Noctua NH-L9i low profile CPU cooler is a low profile, small form factor, ready made solution. If you have a need for a low clearance, low wattage cooling solution, this is what you need to be looking for! The unit tested here is the "i" variety, designating it for the Intel CPU's, socket 1150/1155/1156. If you have the "a" variety, you would have an AMD compatible CPU solution. Do your research and make sure you are purchasing the right cooling solution for what you are mounting it on! ;)  The recommended TDP paring of this cooler is to a CPU putting out out 65w or less. So, that said, you have to research your CPU you are using prior to installing this cooler. The NH-L9i is a performance cooler, but not a high wattage performance cooler. There is a lot of performance packed into this small package, but it would not be fair to compare it to other "high performance" / "overclocking" types of coolers.
Socket compatibility
 
LGA1150, LGA1155, LGA1156
 
 
 
Height (without fan)
 
23 mm
 
 
 
Width (without fan)
 
95 mm
 
 
 
Depth (without fan)
 
95 mm
 
 
 
Height (with fan)
 
37 mm
 
 
 
Width (with fan)
 
95 mm
 
 
 
Depth (with fan)
 
95 mm
 
 
 
Weight (without fan)
 
345 g
 
 
 
Weight (with fan)
 
420 g
 
 
 
Material
 
Copper (base and heat-pipes), aluminium (cooling fins), soldered joints & nickel plating
 
 
 
Fan compatibility
 
92x92x14mm, 92x92x25mm
 
 
 
Scope of Delivery
 

NF-A9x14 PWM premium fan
Low-Noise Adaptor (L.N.A.)
NT-H1 high-grade thermal compound
SecuFirm2™ Mounting Kit
Screws for 92x92x25mm fans
Noctua Metal Case-Badge

 
 
 
Warranty
 
6 Years
 
 
 

Fan specifications

 
 
 
 
 
Model
 
Noctua NF-A9x14 PWM
 
 
 
Bearing
 
SSO2
 
 
 
Max. Rotational Speed (+/- 10%)
 
2500 RPM
 
 
 
Max. Rotational Speed with L.N.A. (+/- 10%)
 
1800 RPM
 
 
 
Min. Rotational Speed (PWM)
 
300 RPM
 
 
 
Max. Airflow
 
57,5 m³/h
 
 
 
Max. Airflow with L.N.A.
 
40,8 m³/h
 
 
 
Max. Acoustical Noise
 
23,6 dB(A)
 
 
 
Max. Acoustical Noise with L.N.A.
 
14,8 dB(A)
 
 
 
Input Power
 
2,52 W
 
 
 
Voltage Range
 
12 V
 
 
 
MTBF
 
> 150.000 h
Article Index: >>
Page 2 »