PC Water Cooling
SilverStone PF360-ARGB All In One Cooling Solution
SilverStone PF360-ARGB AIO
Closer Look at SilverStone PF360-ARGB »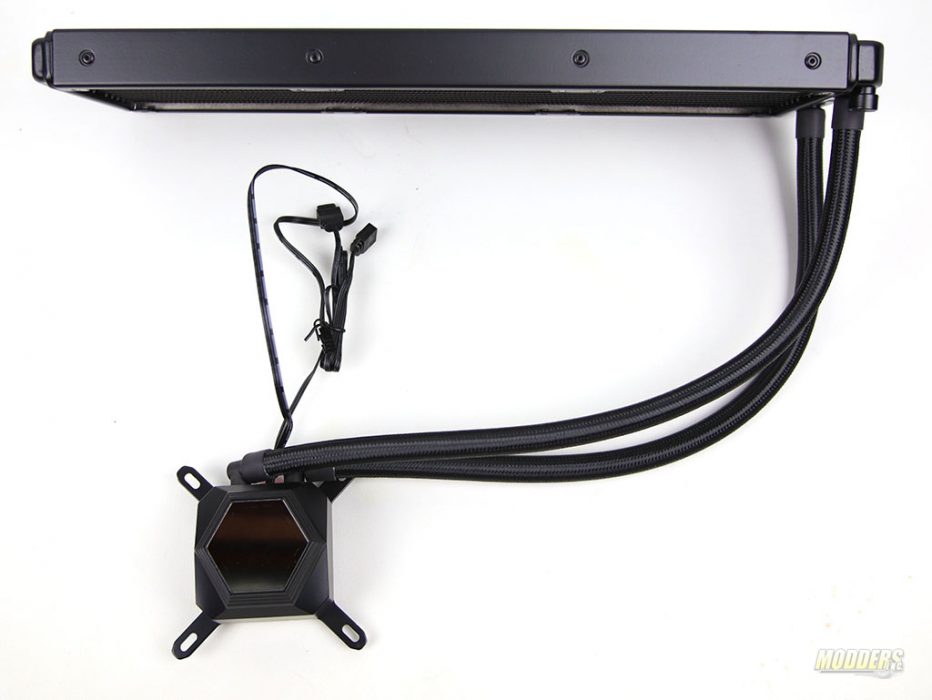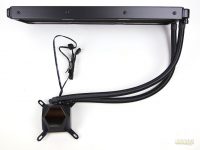 "With great power comes great responsibility", of course, I am talking about TDP (Thermal Design Power) of internal computer components like CPU and GPU. I feel like every six months a new CPU arrives on the market and it is faster and offers more Cores than the previous one. But no matter what CPU comes out we still need to be able to properly cool it. Some of us (computer enthusiasts/modders) prefer air cooling but most of us love water cooling our components especially CPUs. SilverStone's latest CPU cooler PF360-ARGB is an All In One cooling unit that supports the most common Intel and AMD sockets and promises uncompromisable cooling performance. PF360-ARGB features a 360 mm radiator with three ribbed edge fans that provide great max airflow when needed. Both fans and CPU blocks are equipped with Addressable RGB LEDs which could be connected and synced to the capable motherboard.
Review Sample Provided by SilverStone
Product Name: PF 360-ARGB
Price at time of review: $ 129.99
The product was given in exchange for work done to produce this review.
Technical Specifications
Model No.
SST-PF360-ARGB
Water block
Dimension
61mm (L) x 61mm (W) x 50mm (H)
2.4″ (L) x 2.4″ (W) x 1.97″ (H)
Material
Copper base with plastic body
Pump
Motor speed
3400±10% RPM
Rated Voltage
12V
Rated Current
0.39A
Fan
Dimension
120mm (L) x 120mm (W) x 25mm (D)
4.72″ (L) x 4.72″ (W) x 0.98″ (D)
Speed
600~2200RPM
Noise level
7.4~35.6 dBA
Rated Voltage
12V
Rated Current
0.32A
Max airflow
94CFM
Pressure
3.53mm/H2O
Connector
4 Pin PWM & 4-1 Pin ARGB (5V LED)
Radiator
Dimension
394mm (L) x 120mm (W) x 28mm (H)
15.51″ (L) x 4.72″ (W) x 1.1″ (H)
Material
Aluminum
Tube
Length
400mm
Material
Rubber
Application
Intel Socket LGA775/115X/1366/2011/2066
AMD Socket AM2/AM3/AM4/FM1/FM2
* Please check to make sure the control box and motherboard RGB port that you want to connect are the same as PF360-ARGB's RGB port definition. Incorrect connection may cause malfunction or damage.
PF360-ARGB comes in a large box. This is due to the fact that the radiator inside is 360mm in length. The whole package feels massive as there is some weight to it. On the front of the package, SilverStone displays the AIO unit with some helpful information about the RGB Sync and which brands does it support. PF360-ARGB supports Asus Aura Sync, ASRock Polychrome Sync, Gigabyte RGB Fusion, Razer Chroma, MSI Mystic Light Sync, and Biostar Racing ready motherboards. On the back of the packaging there included Specifications, a schematic diagram of the unit and some mentionable features such as ARGB fans, addressable RGB controller and some basic information about the pump.
Internal components are nicely secured in plastic cardboard which keeps everything in place while in transport. Each component of PF360-ARGB is wrapped in a protective plastic bag that prevents any accidental scratches.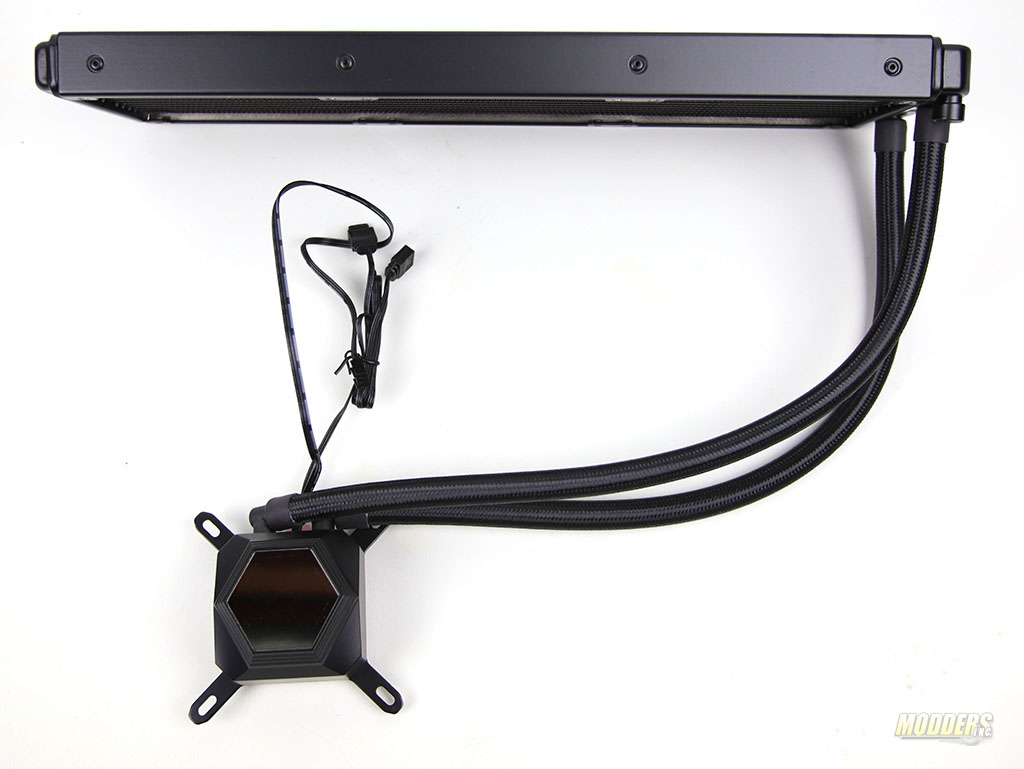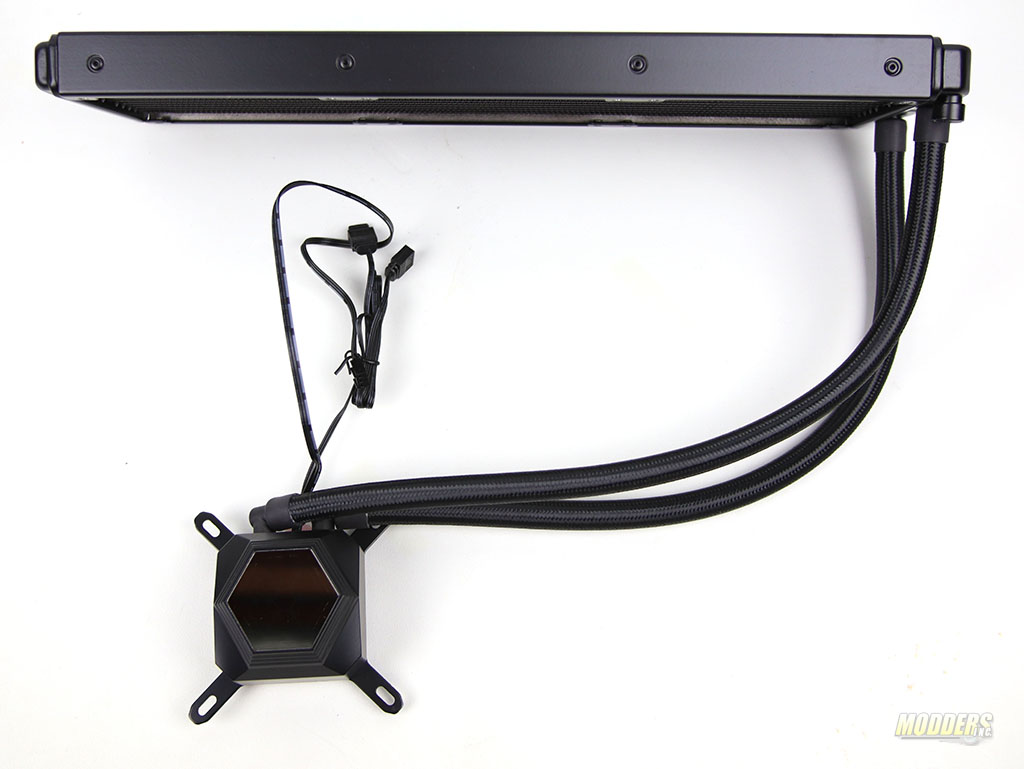 Color of the radiator, hoses and the pump is Black Onyx. The radiator is made from aluminum, hoses that connect to and from the CPU block are rubber however they do have a meshed sleeve on top of them. The top of the CPU is made from ABS plastic and the bottom of the CPU block is made from copper. This AIO unit is compatible with following sockets Intel LGA775/115X/1366/2011/2066 and AMD AM2/AM3/AM4/FM1/FM2