A Closer Look at the Noctua NH-U14S »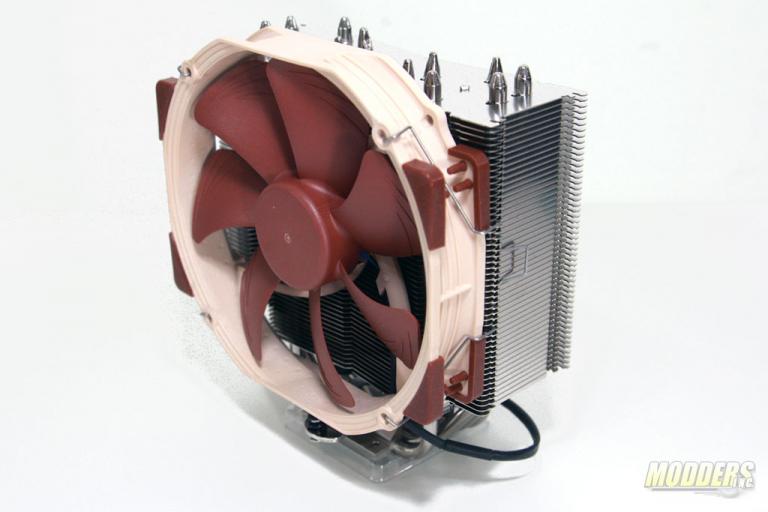 The importance of efficiency is a lesson rarely taught in homes or in schools but it is a very important part of being productive. Efficiency applied on even small things can have compounded results and snowball into greater gains. A simple example would be buying  the same pair of black socks for formal wear and white cottons socks for everything else. This saves a lot of time and headache trying to match the different pairs come laundry day, plus even when one sock goes missing, you will be able to match it readily with another sock in your drawer.
There is always room for improvement and it is even more exciting when efficiency measures can be implemented in aspects you would have not normally considered otherwise. In the case of heatsinks, going larger seemed to be the trend for a while but demand for streamlined cooling has risen following unreasonable RAM module heights. Noctua, as one of the world's leaders in CPU cooling technology has answered the call and designed a slim CPU tower offering that can go head-to-head with larger high-end air coolers. The result is the NH-U14S, Noctua's first 140mm CPU air cooler for the NH-U series which was initially introduced back in 2005.
[sc:sponsor sponsor="Noctua" product_link="http://www.noctua.at/main.php?show=productview&products_id=64&lng=en" product_name="NH-U14S" product_price_link="http://www.newegg.com/Product/Product.aspx?Item=N82E16835608041″ product_price="75.99″ ]

As a premium brand, Noctua takes no cost-cutting measure even when it comes to the NH-U14S packaging. The outer packaging is a full-color glossy box that is surprisingly compact compared to most enthusiast-class heatsinks, especially compared to the massive NH-D15. Inside, each mounting accessory is housed in a labeled box while the bottom compartment houses the NH-U14S heatsink itself with the NF-A15 fan pre-installed with wire-clips and protected on all sides by multiple layers of folded cardboard.
The Intel mounting kit box contains a backplate with the posts built-in unlike previous SecuFirm2 backplates (part no. NM-IBP2), four black plastic standoffs (NM-IPS1), a pair of mounting bars (NM-IMB3), four bolts for LGA2011 mounting (NM-IBT2) and four thumbscrews for securing the mounting bars (NM-ITS1). In the AMD accessory box, there are four white plastic spacers (NM-APS1), four long screws (NM-ALS1) and a pair of AMD mounting bars (NM-AMB3). Three manuals are also included, one for LGA115x, LGA2011 and for AMD installation. The third miscellaneous accessories box contains an adhesive-backed metal Noctua badge, a 4-pin low-noise adapter, thicker corner pads (compared to the stock pads that come on a retail NF-A15), a Phillips screw driver, a full-sized NT-H1 thermal compound, noise dampening strips and an additional pair of NH-U14S-specific fan mounting clips.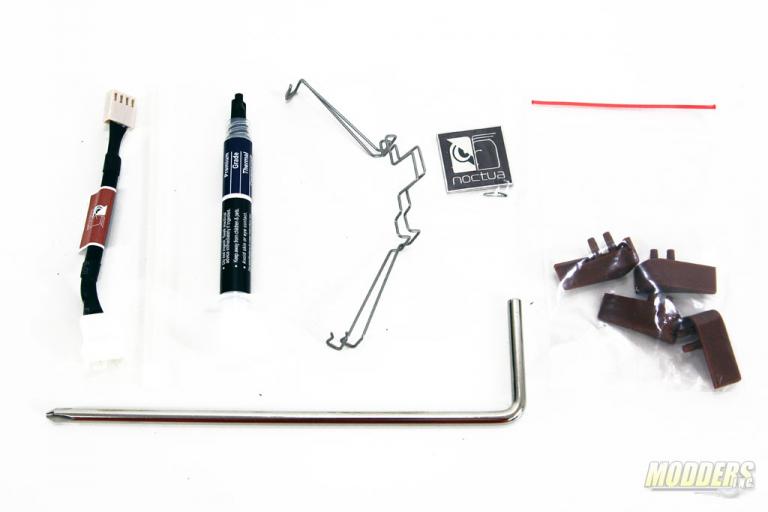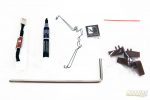 Specifications:
Heatsink Specifications:

Socket compatibility:

Intel LGA2011 (Square ILM), LGA1156, LGA1155, LGA1150 & AMD AM2, AM2+, AM3, AM3+, FM1, FM2, FM2+ (backplate required)
Height (without fan):

165mm
Width (without fan):

150mm
Depth (without fan):

52mm
Height (with fan):

165mm
Width (with fan):

150mm
Depth (with fan):

78mm
Weight (without fan):

770g
Weight (with fan):

935g
Material:

Copper (base and heat-pipes), aluminium (cooling fins), soldered joints & nickel plating
Fan compatibility:

140x150x25 (with 120mm mounting holes), 140x140x25 (with 120mm mounting holes), 120x120x25
Scope of delivery:


NF-A15 PWM premium fan
Low-Noise Adaptor (L.N.A.)
Anti-vibration pads and fan-clips for second NF-A15 (optional)
NT-H1 high-grade thermal compound
SecuFirm2™ Mounting Kit
Noctua Metal Case-Badge

Warranty:

6 years
Fan Specifications:

Model:

Bundled Noctua NF-A15 PWM
Retail Noctua NF-A15 PWM
Bearing:

SSO2*
SSO2
Max. Rotational Speed (+/- 10%):

1500 RPM
1200 RPM
Max. Rotational Speed with L.N.A. (+/- 10%):

1200 RPM
900 RPM
Min. Rotational Speed (PWM, +/-20%):

300 RPM
300 RPM
Max. Airflow:

140.2 m³/h
115.5 m³/h
Max. Airflow with L.N.A.:

115.5 m³/h
88.7 m³/h
Max. Acoustical Noise:

24.6 dB(A)
19.2 dB(A)
Max. Acoustical Noise with L.N.A.:

19.2 dB(A)
13.8 dB(A)
Input Power:

1.56W
0.96W
Voltage Range:

12V
12V
MTBF:

> 150.000 h
> 150.000 h
SSO2 = Noctua's 2nd Generation Self-stabilising oil-pressure bearing, a type of fluid dynamic bearing design with a magnet placed close to the rear of the rotor axis