Page 2 »
The Dragon Rider glides into a market filled with enthusiast, full tower cases. Components have been getting bigger, badder and hotter over the past year. It is only fitting that the enclosures adapt as well! For those running a "fire breathing" machine with lots of components, does In Win's new offering saddle up the performance? Or does it leave you gasping in a puff of smoke? Read on, intrepid adventurer!

Sponsor: In Win
[hr]
What makes a Dragon Rider?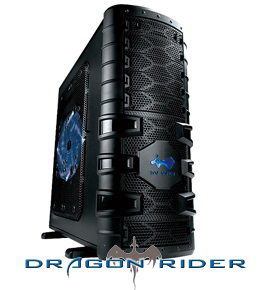 A Dragon Rider, in common thought, is a bit of an armored bad ass! This is a person who has somehow tamed a creature capable of killing them. But somehow, through some freak of circumstance, the two coexist and team up for some greater purpose. Taming a dragon is no small feat! InWin seems to have the same thought in mind… except the "dragon" in this case (*chuckle*) is the beastly equipment that this enclosure is capable of controlling. Make no mistake on this folks, this thing is big and roomy!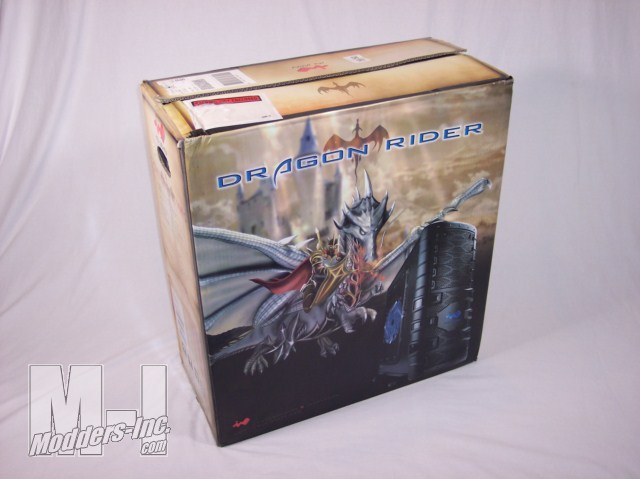 The box arrived in all of it's full color glory. Many boxes as of late have been 2-3 color affairs. Nothing to really show of the contents or give the buyer a feeling of what is inside. InWin went the opposite way of this thinking and created a medieval themed case box. Full Color on all sides, top/bottom/sidepanels…. the whole thing. The narrow sides have an old parchment paper theme with the system specs.  One side (above) has the dragon rider, and the other side is a shot of the back side of the case (area behind the motherboard).Opening the box, I was greeted with foam packing. Not press formed styrofoam packing, but heat cut and glued foam. I much prefer this to styro packing. It likely costs a bit more, but it does not make a mess, feels much more durable than styro, and seems to have a softer cushion that styro as well, which means that less shipping shocks make their way to the case.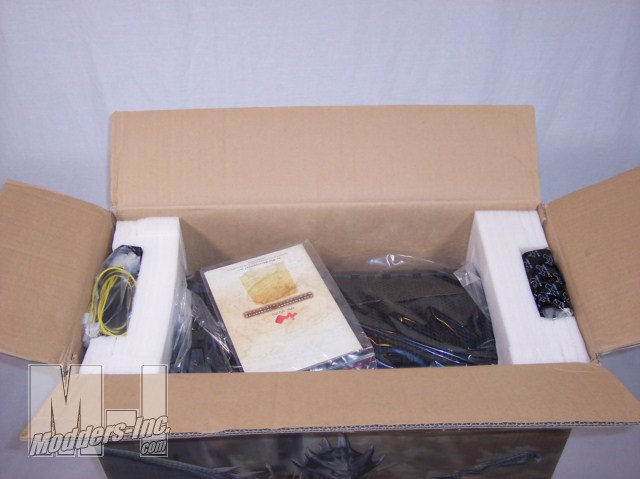 Inside the box is a full colored foldout manual. Kind of like a small poster than a manual. There is also a bag of extension cables as well as a bag of all of the necessary bolts, standoffs, and general assembly bitsies needed to breathe life into this case. Dragons are not exactly subtle creatures. And I guess, their riders need to present an equally "unsubtle" appearance. This case is about as subtle as a brick in the face! I pulled it out of the box, and it made no pretenses about showing off.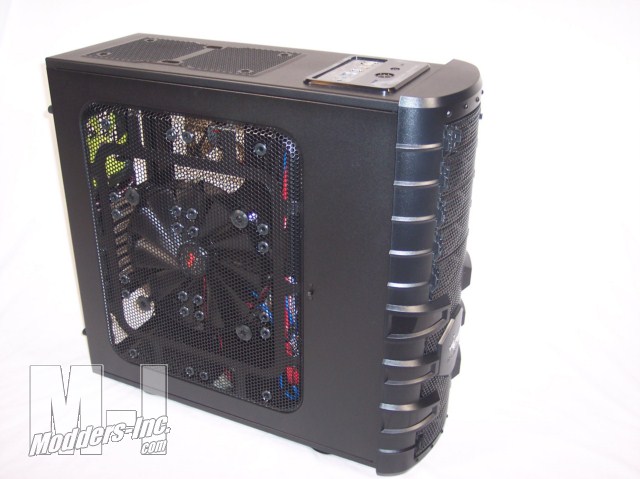 Per InWin,
"With elegance, power and control firmly in its grasp, the Dragon Rider is designed to protect and cool even the most demanding of components. Enveloped totally in black, the dark design is only punctuated with bolts of striking yellow to create a subtle but distinct appearance. The unique side panel shield design creates the necessary space for tidy cable routing and multiple fan mounting points for up to 11x 120mm fans make it the ultimate chassis for cooling customization. Pre-fitted with a large 220mm side fan for effective graphics card cooling, the Dragon Rider also features additional front, top and rear fans for fantastic cooling potential. With the latest eSATA and USB 3.0 front panel ports, a back-supported CPU cooler removal hole, anti-vibration hard drive rails and tool-free installation, the large E-ATX Dragon Rider is packed with the latest enthusiast-class case features."
Destiny Extreme Series
| | |
| --- | --- |
| Case Size: | Full Tower Chassis |
| | |
| --- | --- |
| Material: | 1.0~0.8mm SECC Steel |
| | |
| --- | --- |
| Dimension(HxWxD): | 556 x 239 x 578mm (21.9" x 9.4" x 22.8") |
Power Supply:

1. ATX 12V

2. PSⅡ Size and EPS
| | |
| --- | --- |
| I/O Expansion Slots: | PCI-E/PCI/AGP SlotX8 |
Thermal Solution:

1. Rear 12cm Fan x 1

2. Front:12cm Fan x 1

3. Top:12cm Fan x 1 (Maximum Supports 12cm Fan x 2)

4. Side:22cm LED Fan with switch x 1 (Maximum Supports 12cm Fan x 6)

5. Water-Cooling Hole Ready

6. 12cm LED Side Fan
M/B Form Factor:

1. E-ATX(12″X13″)

2. ATX

3. Micro-ATX
Drive Bays:

1. External 5.25" x 5

2. Includes FDD Cage x1(5.25" converted into 3.5")

3. Internal 3.5"x6

4. 2.5" x 1
Front I/O(Ports):

1. e-SATA×2

2. IEEE 1394A×1(FireWire)

3. USB 2.0 x 2

4. HD/AC'97 Audio

5. USB 3.0 x 2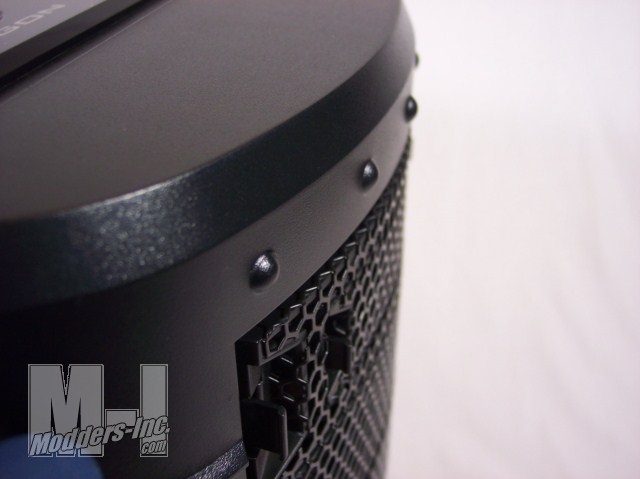 The Dragon Rider has the look of dark, black armor, with its black finish through out, its faux "rivets" across the top, the hexagon "chain mail" metal mesh used for the front bezel, to the protruding plastic accents on the front, as well as the protruding sides ….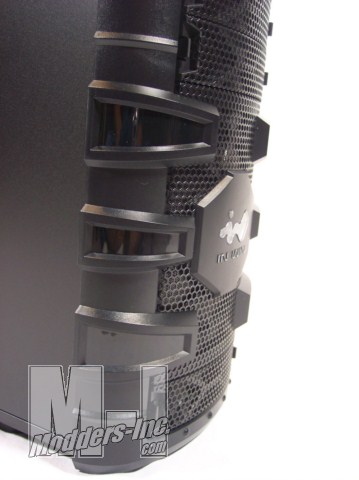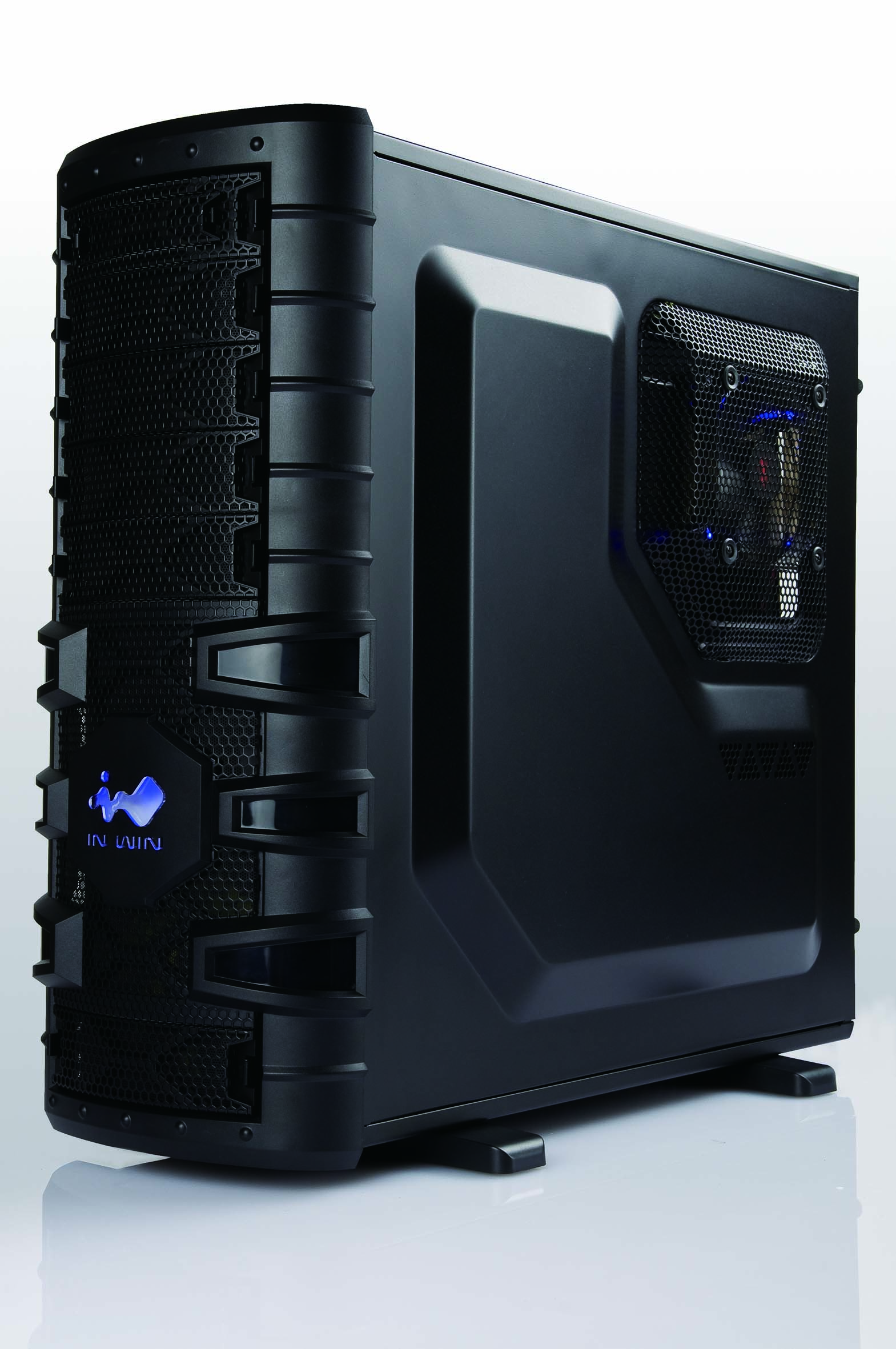 It just looks like a bad ass!