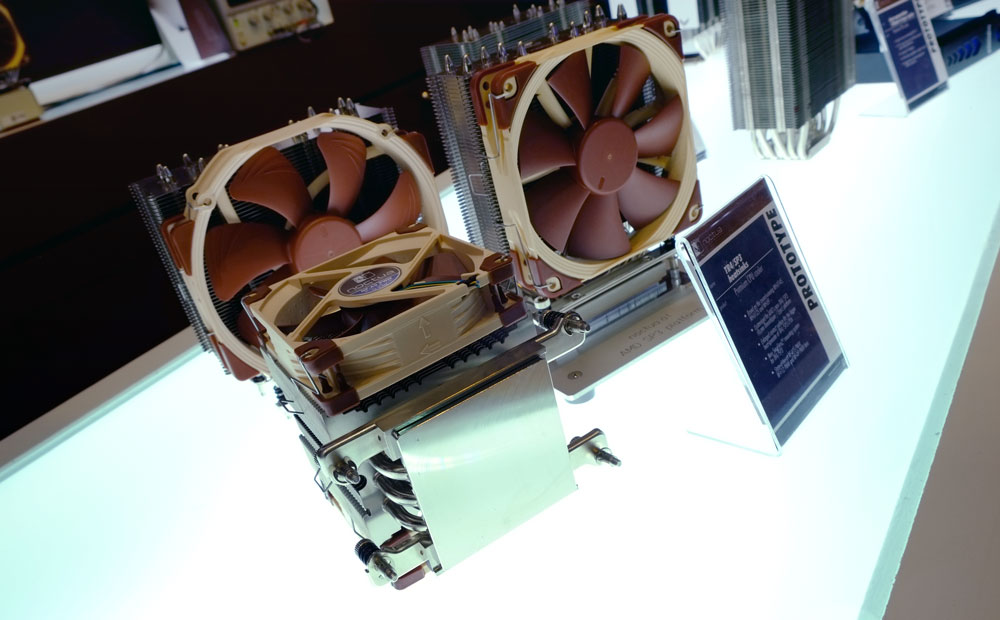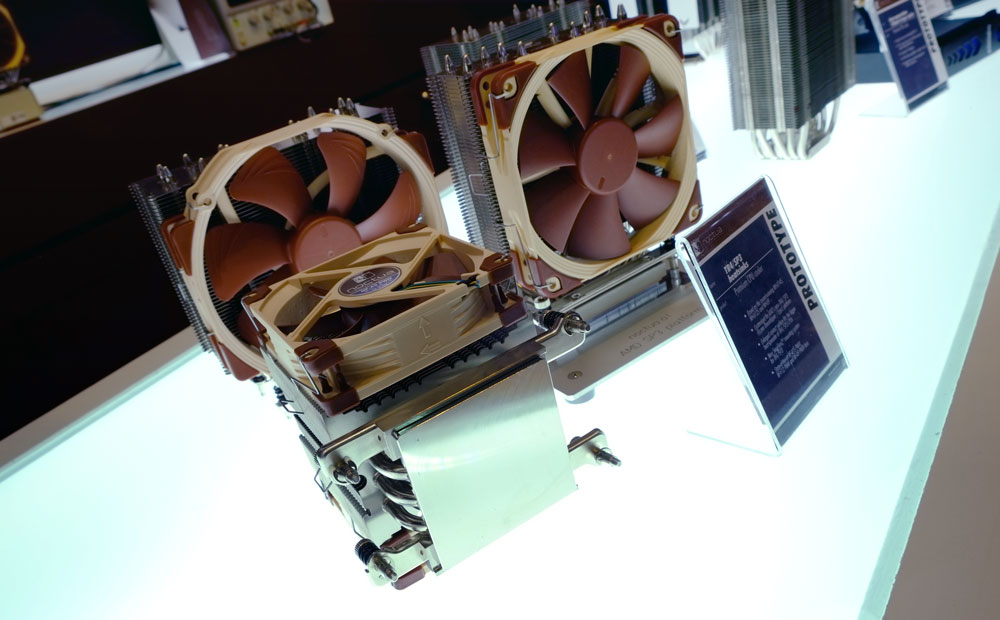 Aside from revealing their most comprehensively-developed fan yet, Noctua showed off Threadripper-compatible heatsinks and new 5V fans at Computex 2017. These new Threadripper-compatible heatsinks are based on existing Noctua products but are available separately. On display is a 92mm Noctua NH-U9S, NH-U12S and NH-U14S. For Intel users curious about LGA2066 support, thankfully it shares the same layout as an LGA2011 socket. This means that existing Noctua coolers which already have LGA2011 mounting will be compatible out-of-the-box.
Threadripper Compatible
For the first time in Noctua's history, the Austrian cooling company will not be able to offer upgrades for AMD's Threadripper CPUs. Historically, the company offers socket upgrades for free everytime a new socket type is released. These updated mounting mechanisms let users install heatsinks even from Noctua's 1st generation of coolers to the latest socket. AMD Threadripper CPUs are a different story however.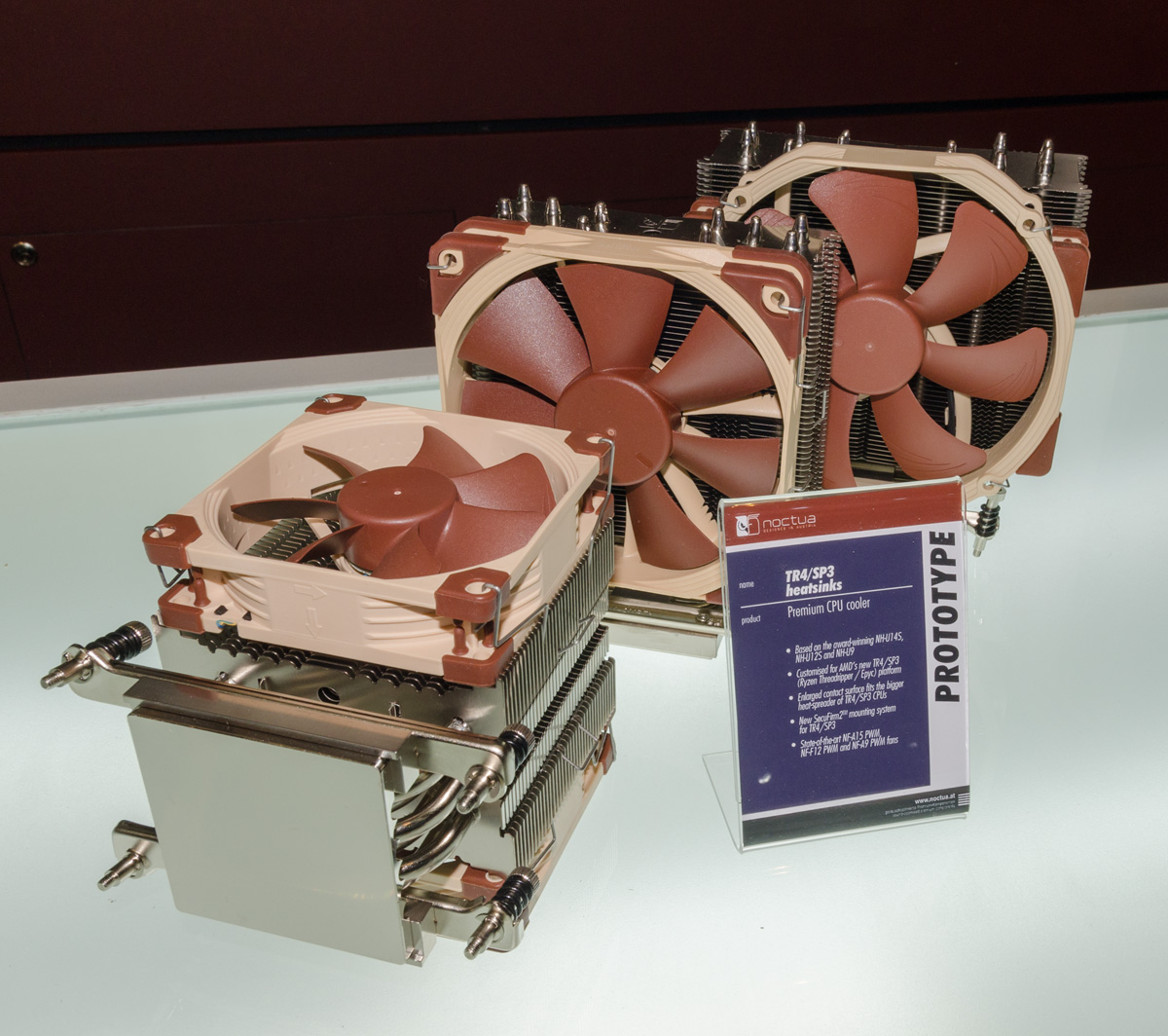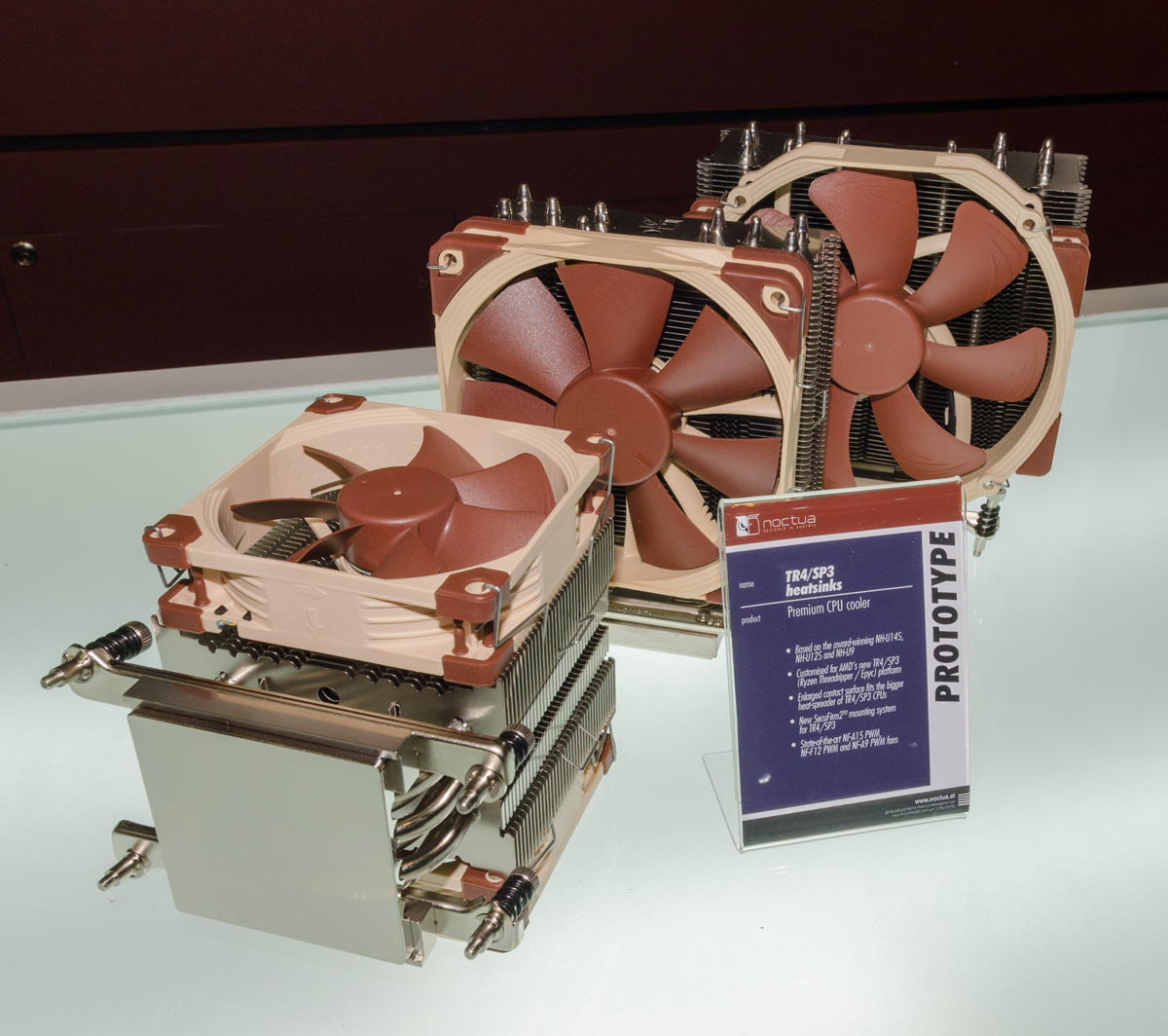 In case you have not seen the photos of the AMD Threadripper CPU yet, the integrated heatspreader is almost literally twice the size of current CPUs. It is essentially two 1800X CPUs in one, linked via Infinity Fabric. This provides a 16-core/32-threaded solution in a single socket. The CPU heatspreader measures somewhere in the neighborhood of 75×49 mm. This completely discounts all Noctua heatsinks, including the NH-D15. The flagship dual-tower cooler has a contact surface of 40 x 38mm, so a replacement mount is not enough to cool Threadripper CPUs properly.
Colorful Chromax Heatsink Covers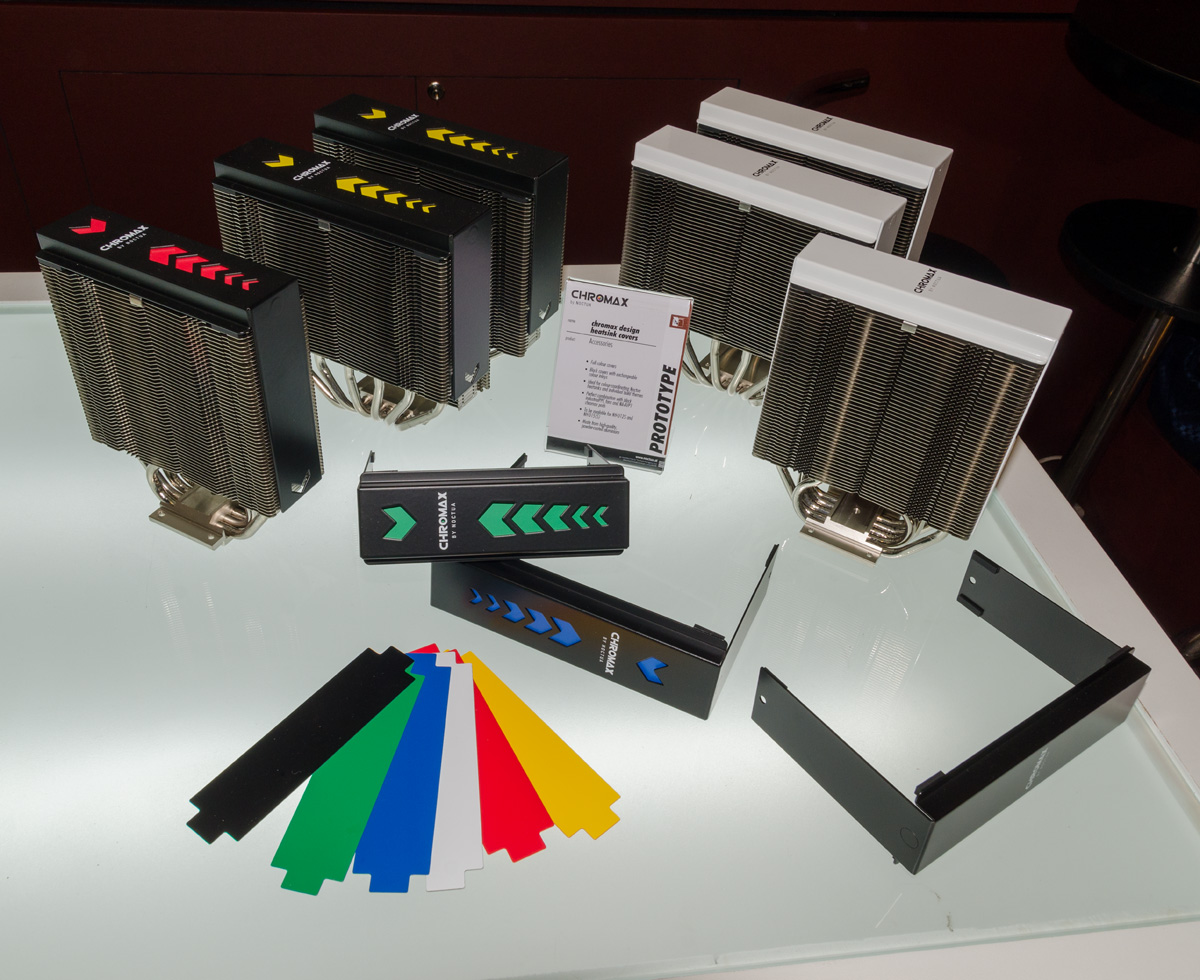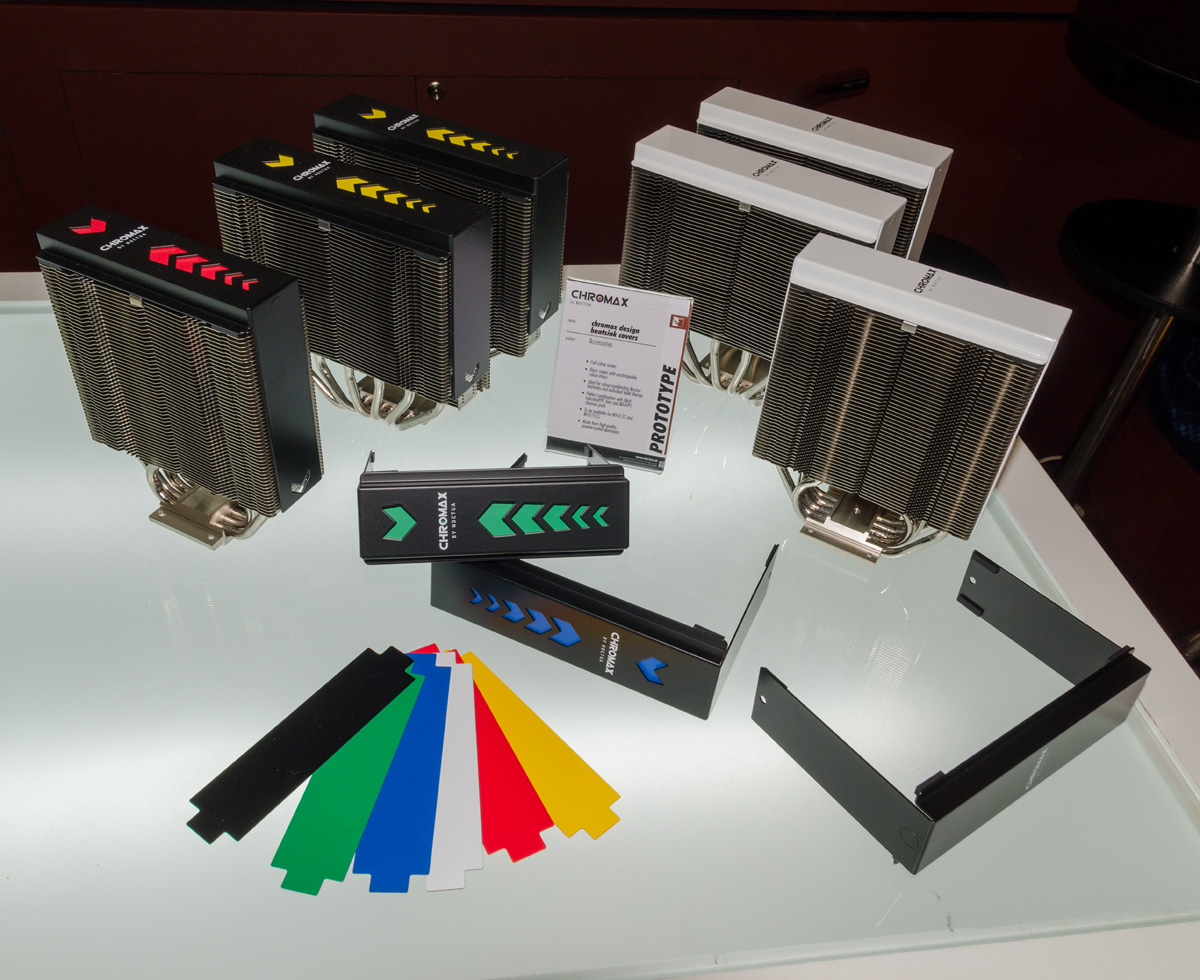 Noctua's colorful Chromax inserts were on display at Computex last year. This time, Noctua updated the mounting mechanism so it is easier to install. The Chromax cover itself is available in powder-coated black or white aluminum. Cut-outs at the top allow for color-inserts to be seen. These inserts are available in black, green, blue, white, red and yellow.
Updated 120mm and 140mm Tower Heatsinks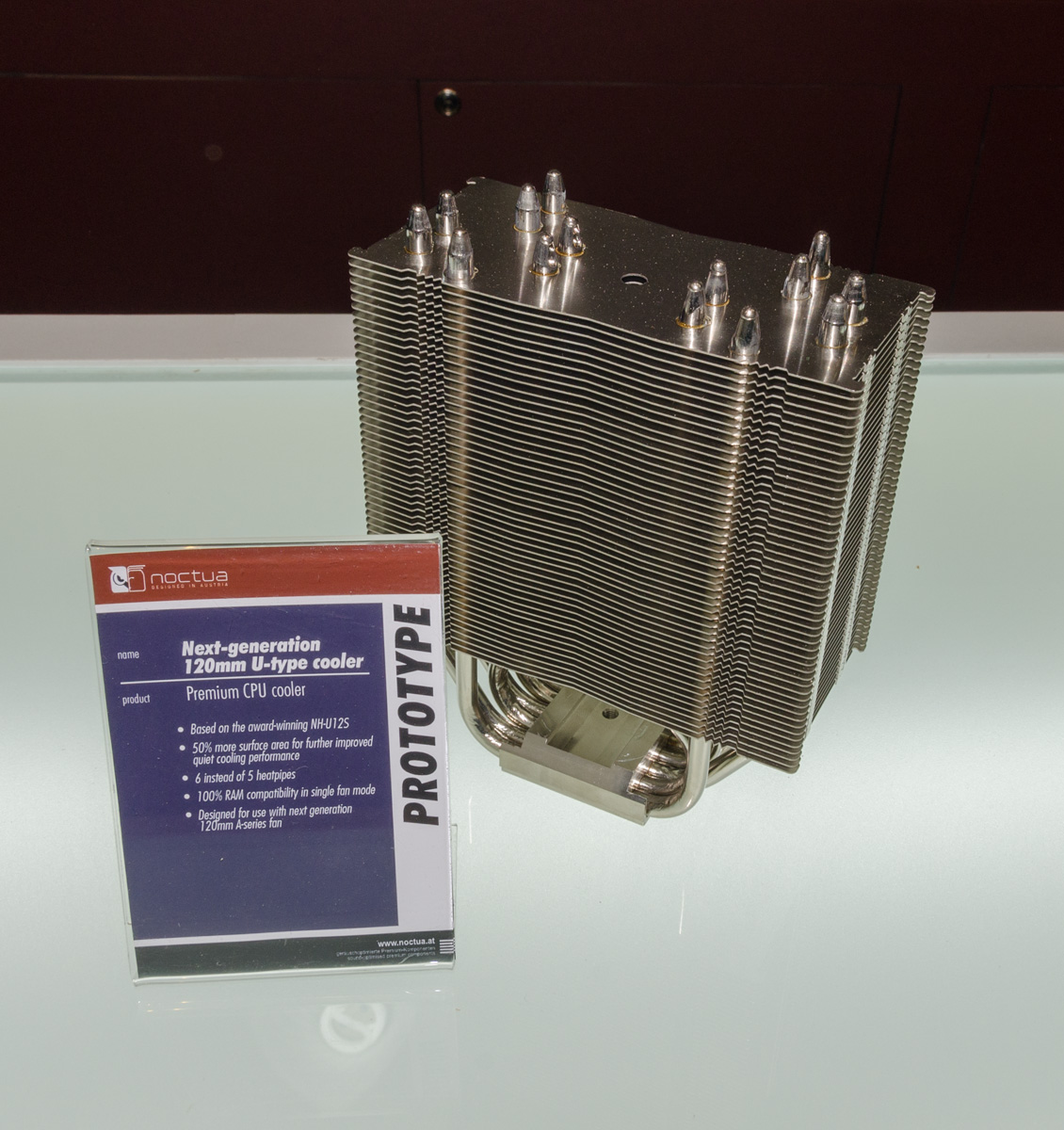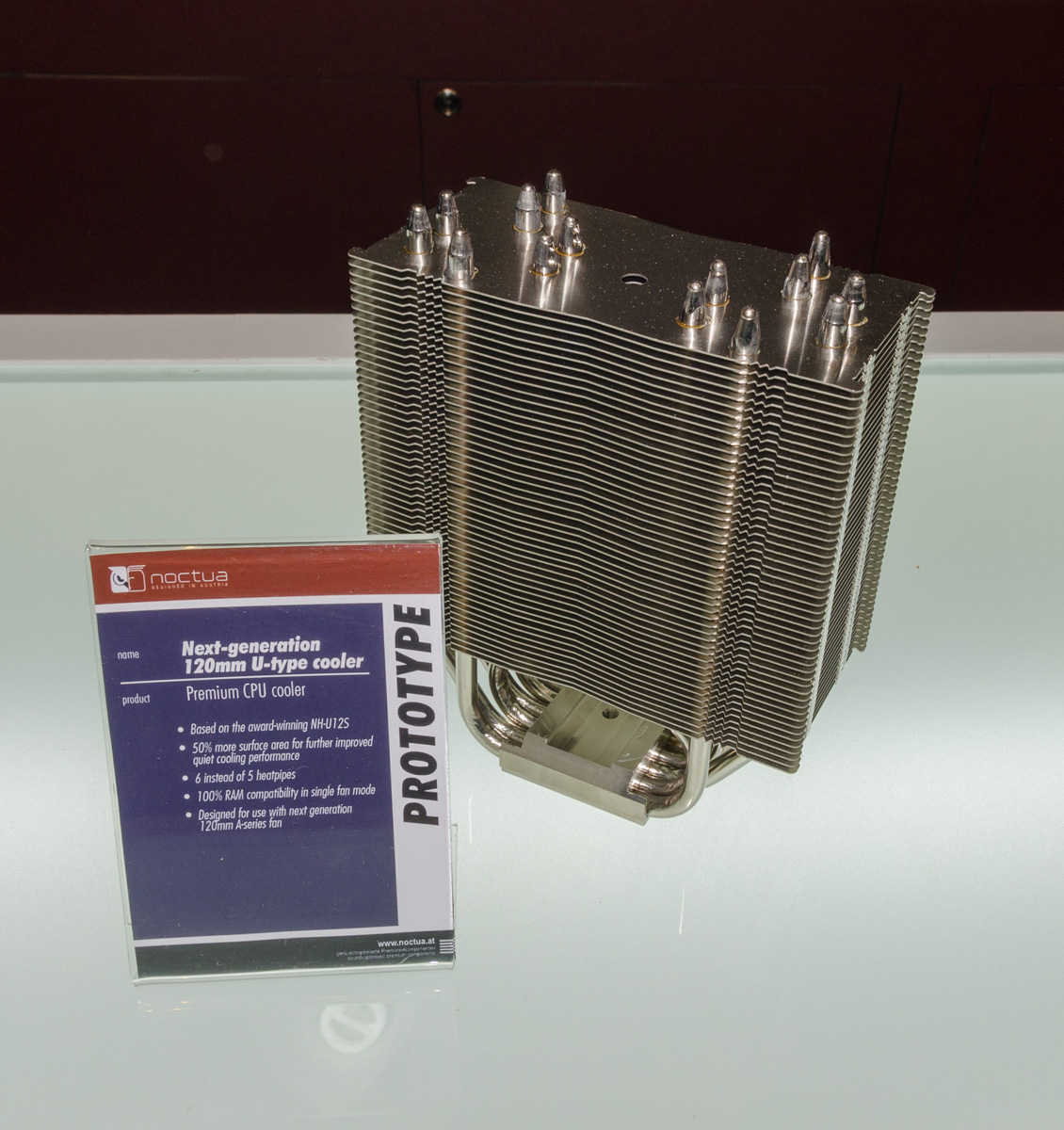 Two other tower-style heatsink prototypes were on display in Noctua's booth. These include the next-generation U12 and U14 tower heatsinks. These redesigned coolers allow for additional heatpipes and uses 50% larger surface area. The 140mm U-type cooler now has seven heat-pipes while the 120mm version now has six. Despite this additional cooling capability, these next-generation tower heatsinks still provide 100% RAM compatibility with fans installed.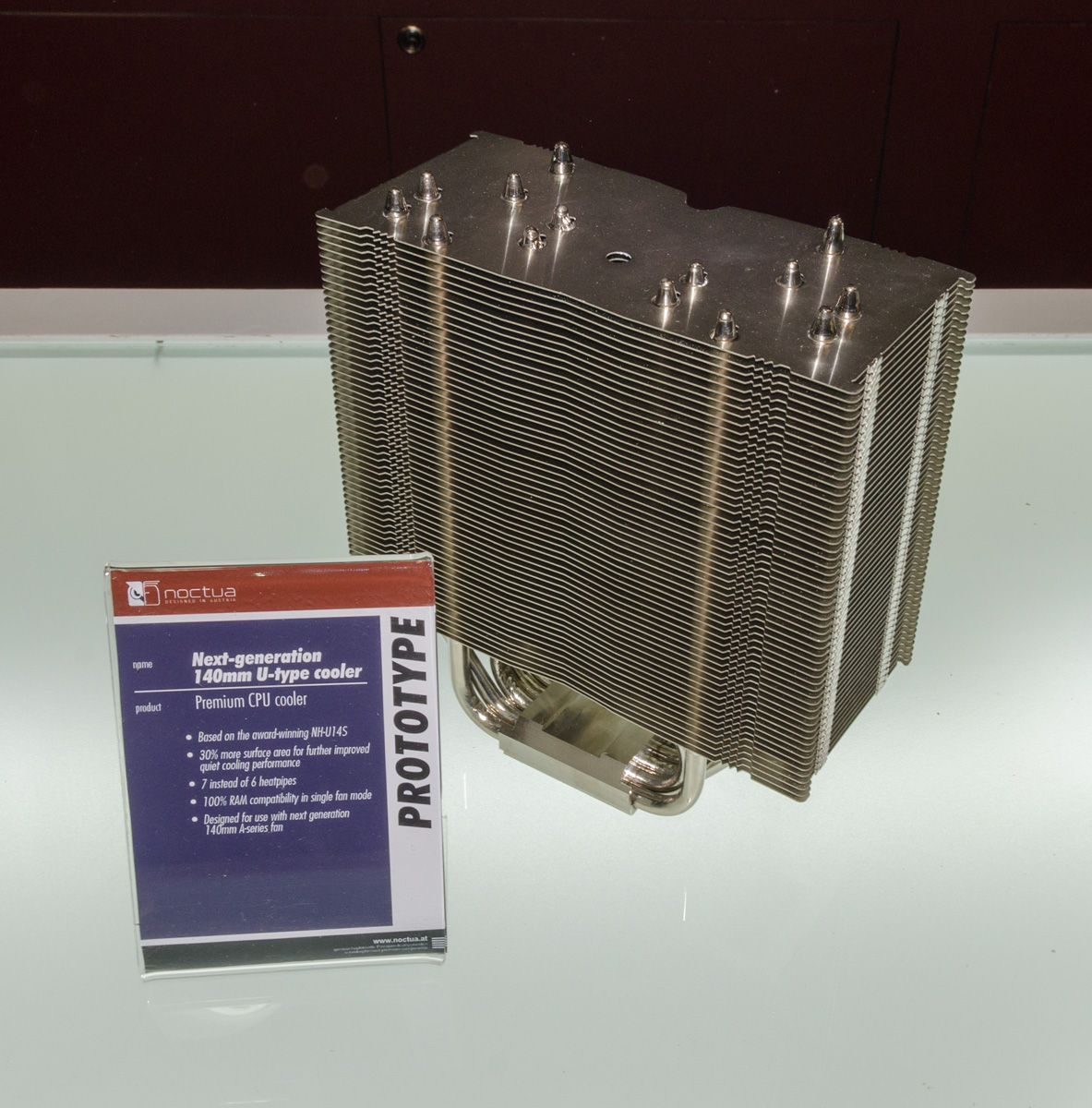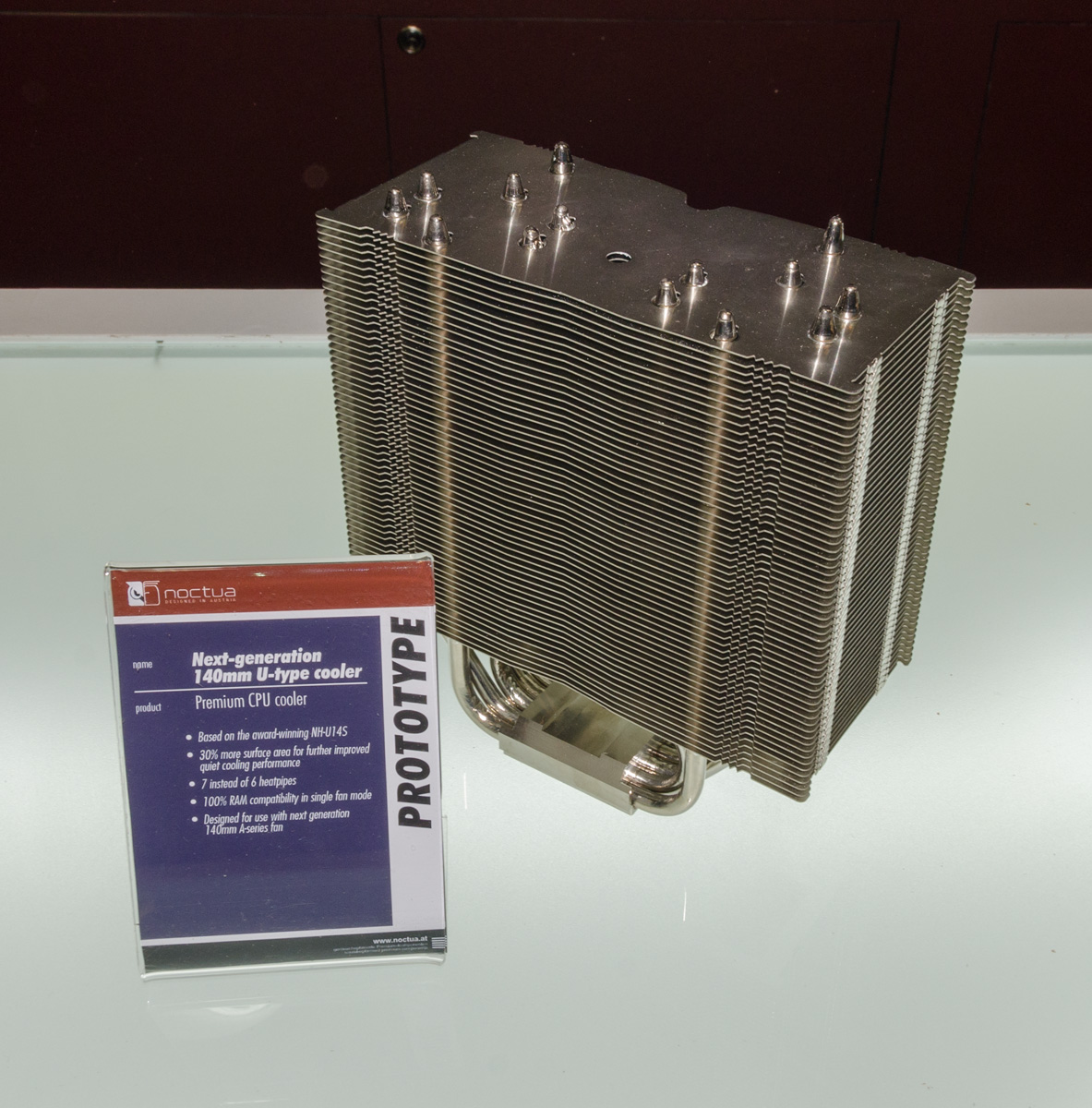 Noctua 5V Fans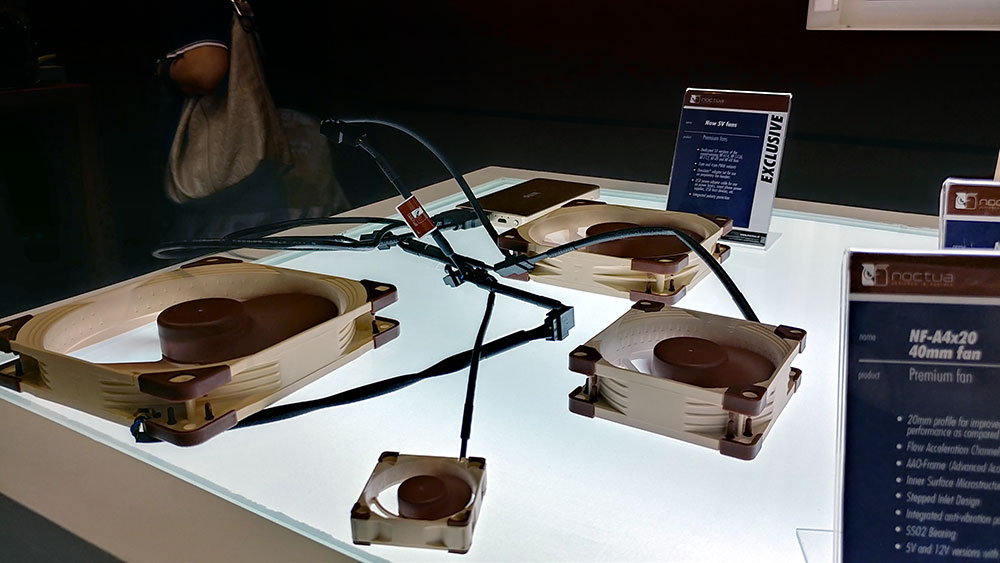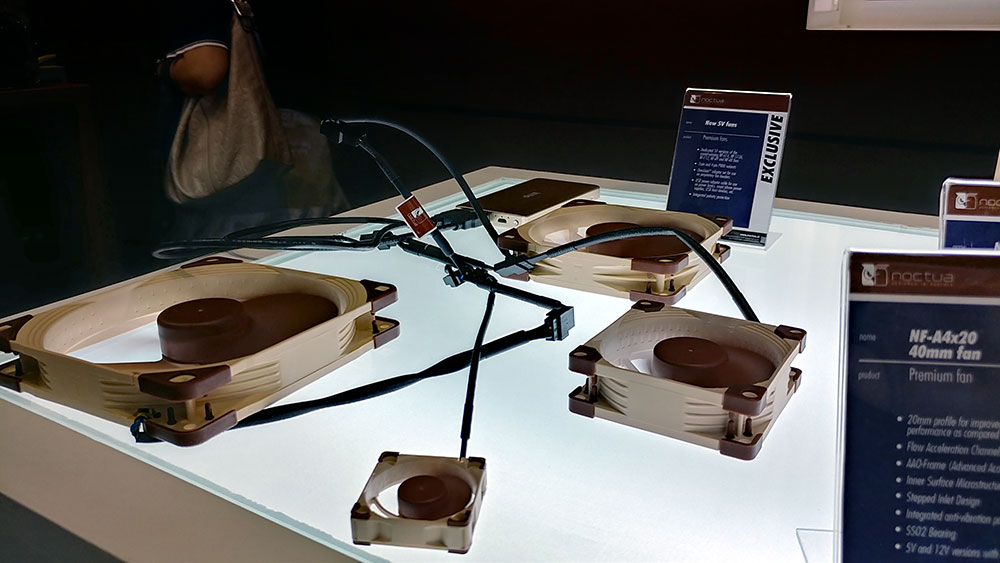 An entire line of 5V fans is also on display at Computex 2017. Although this might sound underwhelming at firsts, it is nonetheless very interesting. It allows fans to run via a USB power bank unlike standard 12V fans. This requires an adapter of course, but the good news is that these +5V versions operate at the same specifications as their +12V counterpart. The lineup includes 5V variants of NF-A14, NF-S12A, NF-F12, NF-A9 and NF-A8 fans. Just like previous Noctua 5V fan models, it will come bundled with an OmniJoin adapter for proprietary connectors as well as the USB adapter. These fans are also available in either 3-pin or 4-pin PWM connectors.