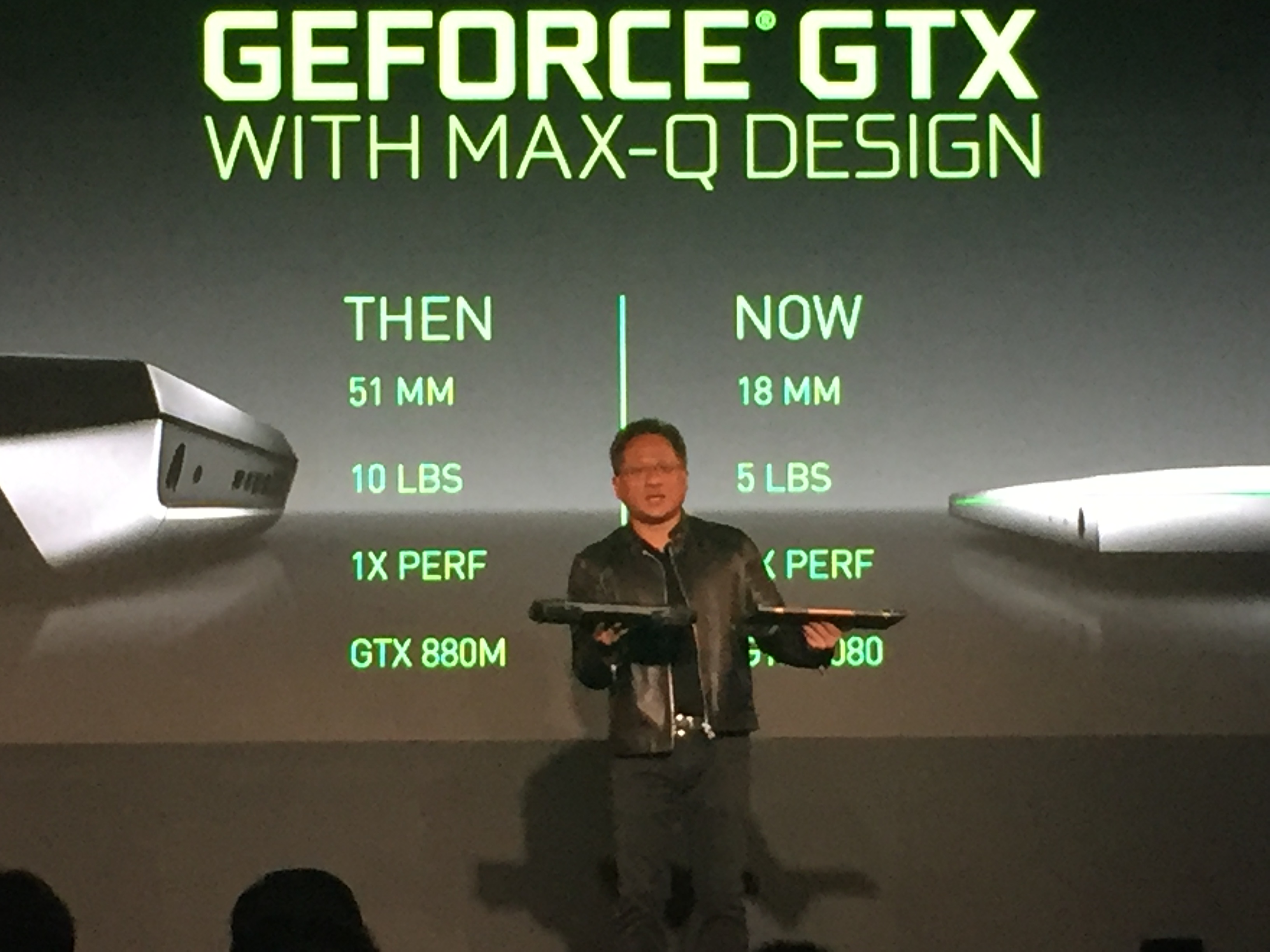 NVIDIA CEO Jen Hsun Hang himself announced the company's Max-Q gaming laptop initiative during his 2-hour keynote address at Computex 2017. While the AI forum keynote mostly discussed NVIDIA's advancements in deep learning, the NVIDIA chief dedicated some time to also talk about the evolution of mobile gaming PCs. Max-Q is not just a fancy new marketing term, it is a big leap in terms of portability and performance that provides the most powerful gaming experience yet on the notebook platform.
Most notably, the Max-Q design approach pushes for thinner gaming laptops, having a height of 18mm or less. Jen Hsun Huang held two notebooks on hand to demonstrate the dramatic design shift. On his right is a high-end NVIDIA powered gaming laptop from the previous generation that is 51mm thick. The new laptop also boasts half the weight at only 5lbs compared to 10lbs. All of this while providing 3x the performance of an NVIDIA GTX880M powered GPU. As Notebookcheck.net discovered last month, these new Max-Q notebooks also are equipped with a custom Pascal GPUs tuned to be more power efficient. While the MaxQ GTX 1080 performs just a little over a regular GTX1070 GPU in 3Dmark, it is expected to consume a lot less power and be tailored for mobile computing.
Availability and Options
Acer was the first to unveil their Max-Q laptop with the Triton 700 announced at their ACER @ New York event. NVIDIA has announced that other models are also coming from:
Aftershock
Alienware
ASUS
Clevo
Dream Machine
ECT
Gigabyte
Hasee
HP
LDLC
Lenovo
Machenike
Maingear
Mechrevo
MSI
Multicom
Origin PC
PC Specialist
Sager
Scan
Terrans Force
Tronic'5
XoticPC
Users will have the option of either GTX1060, GTX1070 or GTX 1080 GPUs.