Page 2 »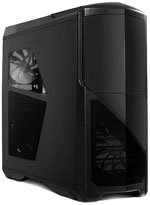 NZXT is no stranger to the world of the high performance gaming chassis. In fact they have a long lineage of gaming and professional cases, from both their Classic Series to their Crafted Series of cases. Not too long ago they added the Phantom cases to their Crafted Series, starting with the full tower Phantom, then the mid tower Phantom 410 and next came the full tower Phantom 820 (a monster of a case). With each addition to the Phantom series NZXT has steeped things up with superb features, excellent fit and finish and a sturdy chassis as well. So, it comes as no surprise with the success of the Phantom series cases that NZXT would offer up another Phantom to better them all, the NZXT Phantom 630 High Performance Modular Ultra Tower. Thanks to the good folks at NZXT Modders-Inc.com will be taking a look at the new NZXT Phantom 630 High Performance Modular Ultra Tower. Stayed tuned as we see just what this full tower case has to offer.  
[sc:sponsor sponsor="NZXT" product_link="http://www.nzxt.com/new/products/crafted_series/phantom_630″ product_name="Phantom 630″ ]
Packaging: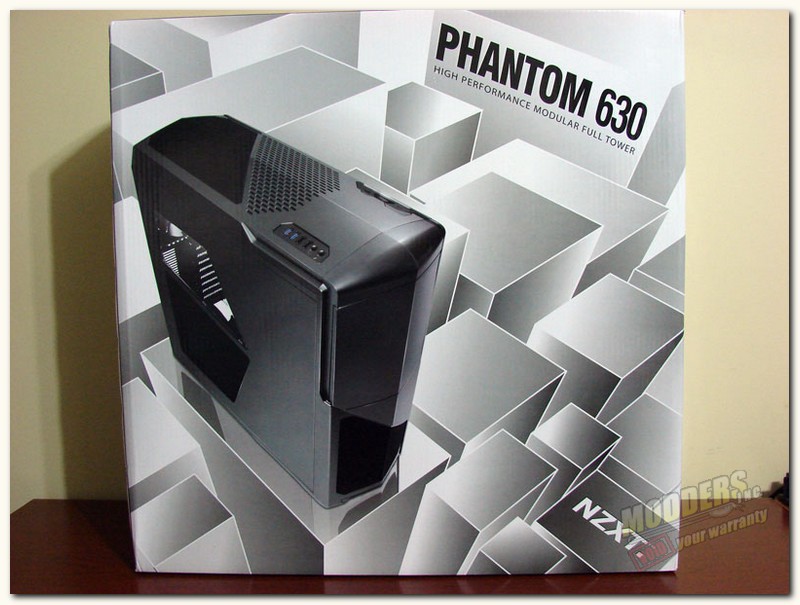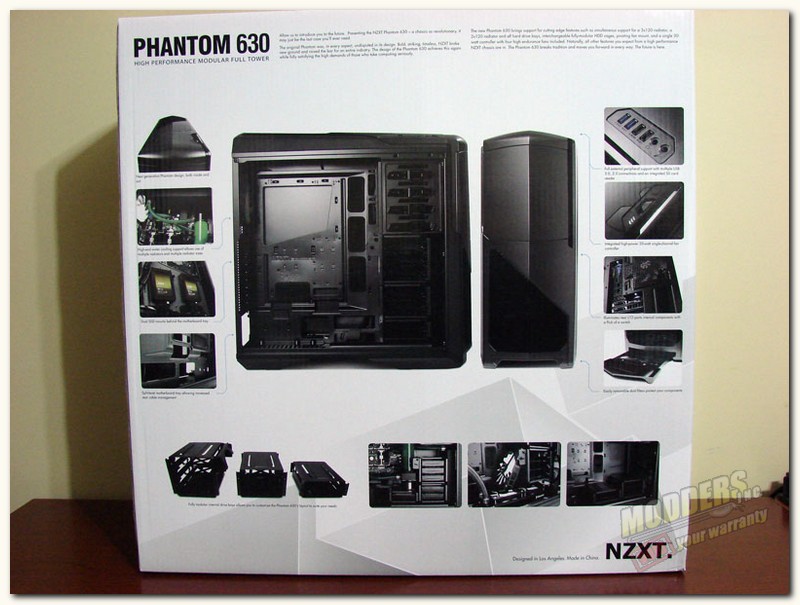 I received the Black version of the NZXT Phantom 630 High Performance Modular Ultra Tower. It came packaged in a "huge" stylish white box with a cubed spire design which somewhat displayed the Phantom 630 up on a pedestal, along with it's name and the NZXT logo on the front of the box. The rear of the box displayed several views of the NZXT Phantom 630's features, both inside and out. Of course the sides also contained pertinent information along the lines of features and specifications. All to give the consumer a good idea of what to expect of the product inside.
  Upon opening the box we are presented with the heavy foam padded encasement that keeps the NZXT Phantom 630 well protected during shipping. Once the chore of pulling the heavy foam encased huge case out of the box you can see it has been wrapped well to keep dust and debris from getting on or into the case, and that the thick foam has kept the case well protected
[dhr]
Specifications:
Case Colors:
– Matte Black – White – GunMetal
Case Material:
– Steel, Plastic
Tower Size:
– Full Tower
Motherboard Support:
– ATX, Micro-ATX, XL-ATX
Side Window:
– Yes
Power Supply:
– None
Front Ports:
– USB 2.0 – 2
– USB 3.0 – 2
– 1 x Audio/Mic
– SD Card Reader
Expansion Bays:
– 5.25 – 4
– Internal 3.50/2.5in – 8 (2 x 2.5″ behind MB) 1 x 3HDD cage, 1 x 2HDD cage, 1 x 1HDD cage (Fully Modular)
Cooling:
– Front: 1 x 200 or 2 x 140 or 2 x 120mm (1 x 200mm included)
– Top: 2 x 200 or 2 x 140 or 3 x 120mm (1 x 200mm included)
– Side: 1 x 200mm (included)
– Rear: 1 x 140/120mm (1 x 140mm included)
– Bottom: 2 x 140/120mm
– HDD: 1 x 140/120mm
Watercooling:
– Support
Dimensions(W x H x D):
– 245mm x 627mm x 600mm
Warranty: 2 Years
[dhr]
Features:
Next generation Phantom design, both inside and out:
-Fully modular internal drive bays allows you to customize the Phantom 630's layout to suite your needs
-Split-level motherboard tray allowing increased rear cable management
-Dual SSD mounts behind the motherboard tray
-High-end water cooling support allows use of multiple radiators and multiple radiator sizes
-Integrated high-power 30-watt single-channel fan controller
-Rear-mounted fan hub for simple and clean fan control installation
-Easily removable dust filters protect your components
-Illuminates rear I/O ports internal components with a flick of a switch
-Full external peripheral support with multiple USB 3.0, 2.0 connections and an integrated SD card reader
[dhr]